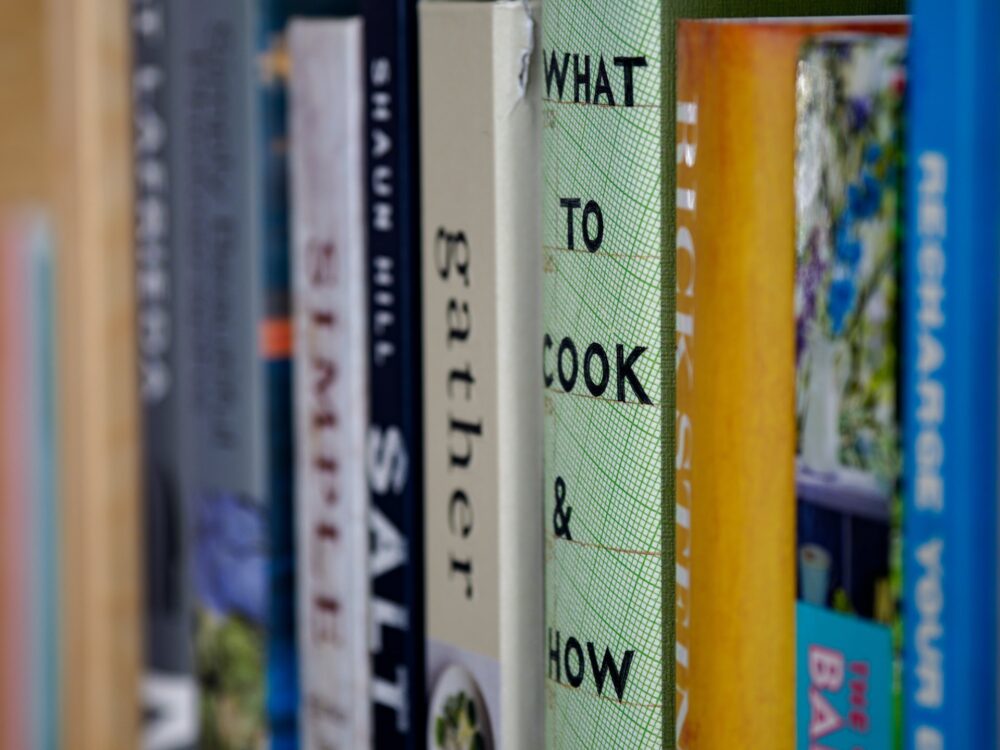 In the course of a hectic life, transitioning from summer jobs back to teaching and numerous side projects I have neglected some old friends. Some have been with me since the early days in Mom's kitchen. My cookbooks. Long before the days of 24-hour food networks and well-written and informative Internet food columns, there were few places to learn about cuisines and foods from around the country and globe. Books of all sorts have always been important in my family. Dad always stressed that books were far better than the movie and reading has always been a family pastime. My Mom and her good friend Phyllis Kessler have always been excellent home cooks and have exchanged cookbooks from around the world as far back as I remember. This passion for food and culture has driven me to explore and experiment with different foods in my career.
One of my earliest experiences with cookbooks was a punishment. Before becoming a Persnickety Chef, I was a persnickety child, or as Dad always pronounced it, "Pain in the A–." After complaining one too many times about what Mom had cooked that evening, Dad pointed to the cookbook shelf in the kitchen and told me if I didn't like what was for dinner, to find something and cook it myself.
I took him at his word. I met Julia Child on that shelf and explored classic French cuisine years before I would study it at culinary school. I discovered and tried to recreate dishes like Coq Au Vin and Beef Bourgogne. Even then I always liked dishes with booze. A trip to New Orleans led to the Commander's Palace and Brennan's restaurants' cookbooks joining Julia on "the shelf," which led to experiments with Bananas Foster. No one got burned, but a few nice tablecloths were transformed into dishrags, Hollandaise sauce and gumbo.
The Feast of Santé Fe cookbook led to a lifelong passion for chilies and the distinctive flavors of the Southwest. The books showed me that it had to be better than school lunchroom Taco Tuesday and nachos with canned cheese.
Mom's kitchen became a laboratory of cuisines –some not so successful – an electric wok and a Chinese cookbook led to a dish that could only be described as Egg Foo Wrong. Mom, Dad, my brother and my sister were mostly good sports during this phase.
Some dishes that I learned from "the shelf" have never left my repertoire. Neither have the chefs I first met there. Julia Child will always have a place on the shelf as will Jacques Pepin, both of whom I later met in person.
Not all cookbooks made the honored spot on "the shelf," some were relegated to cookbook purgatory – the bookshelf in the family room. "The shelf" was reserved for books that were often used. The Joy of Cooking was there, as was Robert Carrier, a favorite of Mom and her friends. Betty Crocker and various women's church group cookbooks found a home, some stayed for a while, some made room for newcomers like The Silver Palate cookbook and the Moosewood Cookbook (a revolutionary vegetarian cookbook from the 70s. Not sure how that got there.).
James Beard, Craig Claiborne and Pierre Franey were there as well. These denizens of "The Shelf" stimulated my early culinary appetite and some are still with me today, sorry mom. The dishes I learned there are still some of my favorites. I have since progressed from doggedly following the recipes and grasp the concepts much clearer than the 12-year-old boy who first tackled Coq Au Vin and Beef Bourgogne with mixed results.
Cookbooks are now an inspiration in creativity with fabulous photos and imagery stirring the technical side of my culinary mind. But I still have and cherish old un-illustrated cookbooks such as my grandmother's Boston Cooking School Cookbook by Fannie Farmer and The New York Times Cookbook and I will never relinquish my copy of The Joy of Cooking.
This month try my versions of dishes inspired by my old friends from the shelf, Coq au Vin and Beef Bourguignon. Until next month, Bon Appétit.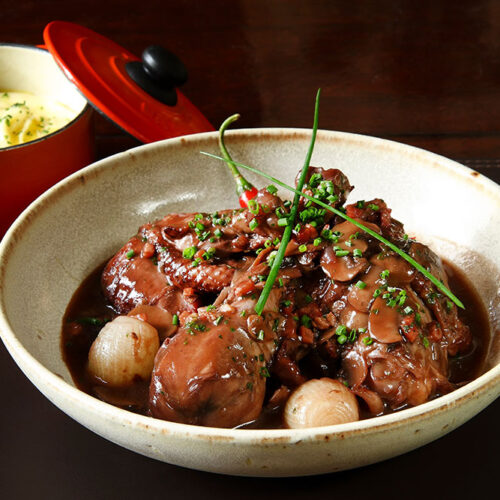 Coq au Vin
This dish requires some extensive preparation, but is worth the work. Pour a glass of red wine for enjoyment as you cook. Julia would!
Ingredients
8

oz

slab bacon julienned in 1 x ¼ inch strips (Lardoons)

3

pound

old rooster or stewing hen

alas, in modern times, we must settle for a fryer, cut into 8 pieces

3

tablespoons

butter

3

tablespoons

olive oil

1

clove

garlic

Salt and pepper

16

pearl onions browned and braised in butter

12

small mushroom caps sautéed in butter reserved

1

bay leaf

4

sprigs thyme

4

cups

Zinfandel or Syrah

young good table wine

1½

cups

chicken stock
Instructions
Blanch lardoons for five minutes in water, rinse, and pat dry. Pan fry and reserve the pork fat.

Season the chicken. In the same pan used to fry the lardoons, brown the chicken four minutes per side. Good color will yield a better looking sauce. Add a little oil if necessary.

Add garlic and brown lightly.

Deglaze with wine, scraping pan with wooden spoon.

Add stock, thyme and bay leaf. Cover. Cook in 300 degree oven for 35 minutes until tender.

To make sauce (and this dish is all about the sauce), remove chicken to warm serving platter. Top with warmed lardoons, onions, and mushrooms.

Degrease braising liquid. Reduce by one-third.

Mix 2 teaspoons softened butter with 2 teaspoons flour. Mix to form beurre manie (equal parts flour and butter kneaded together). Whisk beurre manie into sauce.

Add chicken and garnish into sauce to baste.

Serve with chopped parsley crusty bread and a couple of glasses of red wine.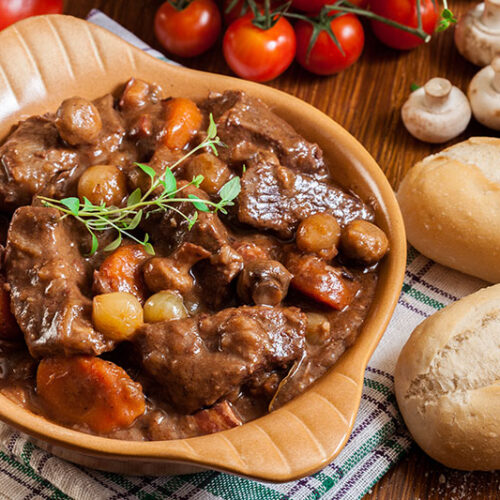 Beef Bourguignon
Ingredients
4

pounds

beef chuck cut in 2" pieces

4½

cups

dry red wine

⅓

cup

Marc de bourgogne or ⅓ cup cognac

2

white onions peeled and quartered

4

carrots peeled and rough chopped

6

cloves

garlic peeled and sliced

1

bunch parsley stems reserve leaves

2½

teaspoons

dry thyme

2½

teaspoons

rosemary

12

black peppercorns

3

aloves

3

allspice berries

1

bay leaf

8

tablespoons

butter

reserve 2 tablespoons softened for beurre manie*

2

tablespoons

olive oil

1½

tablespoons

tomato paste

1

pound

peeled pearl onions

1½

pounds

small mushrooms

12

ounces

slab bacon cut into lardoons

blanched for five minutes in water, rinsed, patted dry

Salt

pepper

2

tablespoons

flour
Instructions
In non-reactive container, marinate beef, carrots, onion, herbs, spices, wine and cognac. Refrigerate overnight.

Next day, drain reserving liquid and vegetables into large Dutch oven. Heat 1 tablespoon olive oil and 2 tablespoons butter. Brown lardoons. Remove. Add meat in small batches to brown evenly. Repeat until all meat is brown.

Remove all but 2 tablespoons fat. Add vegetables and browned meat back to pot. Cook 5-8 minutes.

Add tomato paste and marinade. Simmer 5 minutes. Cover.

Cook in 275 degree oven for 3 hours. Remove meat. Strain sauce for vegetable garnish.

Place pearl onions in saucepan. Cover with water. Add 1 tablespoon butter and 1 teaspoon sugar. Simmer until tender. Increase heat. Reduce liquid to 2 tablespoons. Cook stirring until onions are glazed and brown.

In yet another skillet, add 3 tablespoons butter and lardoons. Add mushrooms. Season with salt and pepper. Cook until golden brown.

Add mushrooms and onions to stew. Simmer. Whisk in beurre manie until thickened. simmer adjust seasoning serve with butter noodles.
Notes
* Equal parts flour and butter, kneaded together.