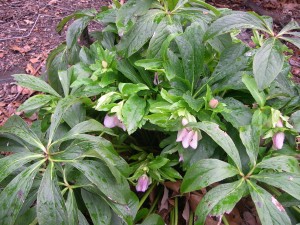 Many folks want to plant plants when they see them in bloom. Sometimes this just doesn't work with the Hellebore, more commonly known as the Christmas or Lenten rose. Usually nurseries are not set up with plants when these are in bloom. Often the ground is frozen or there is snow everywhere. This charming plant blooms for a long time, often beginning the end of December and going well into spring. I remember being in Italy one January and seeing large fields and hillsides of Hellebore. I once saw a yard in Vineland where most of the lawn in one section under trees was all Hellebores. It was awesome!
This really early flowering plant is a perennial usually called Hellebores. There are several different kinds, but the first to bloom is the Helleborus niger or Christmas Rose. The one that blooms a month or so later is Helleborus orientalis, often called the Lenten Rose. For variety, try the green Foetidus or some of the colorful hybrids. Often times the plants will cross-pollinate in your garden and the offspring will be a new and unusual variety. Many times several different shades might be found on one plant.
This plant is as far from a rose as one can get.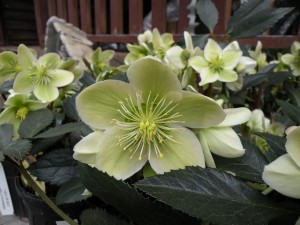 It is a low growing evergreen perennial that likes a shady, somewhat woodsy environment. Not an outrageously showy plant, this dependable evergreen is a delightful winter blooming plant for a shady, perennial border. It is a good companion for all the spring bulbs and the early perennials, Virginia Bluebells and wild flowers. Later on Hosta, and Astilbe, which are much later to come up and bloom, look handsome near the Hellebores. Thus, all account for color at very different times. These do well in my garden and look really good most of the year. Each year I try to add a few more to shady areas. I don't think there are any perennials that bloom for such a long time.
The dark green, shiny evergreen leaves of Hellebores give the garden a finished look all winter, since the others stop blooming from frost until the first Bluebells join the bulb flowers in late April and May. The dark green leather-like foliage is a dependable foliage that keeps on going long after the Bluebells have disappeared, adding some depth to the early tips of Hosta and the fringy look of the Astilbes that bloom so prettily in shade during mid summer.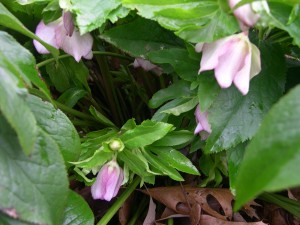 Hellebore spreads moderately once established. Since dividing them usually sets them back for more than a year, it is best to allow them to reseed and then dig the small plants once they are at least two years old. Always move them early in the spring as they are best transplanted before they are in active growth. They grow better in the ground than in pots, so we try to wait until the plants look sturdy and healthy, but aren't too established before we dig any of them up to pot. A two-year-old plant will usually bloom the next year after being transplanted. A time-released fertilizer, applied early in the spring, will insure a nice healthy plant. Since they don't like a real damp soil, avoid heavy mulch if the soil is already on the wet side. Light mulch however is good to keep a sandy loam cool and woodsy. Compost and composted leaves work wonders for these plants. Too much sun will cause the leaves to brown, so choose a spot with morning sun or mostly shade. At the shore, they do well on the north side of the house with some Sweet Woodruff, Lady's Mantle and spring bulbs planted nearby. Pulmonaria, which likes dry shade, is another good companion plant.
Visit botanical gardens like Longwood Gardens during off seasons to see plants like these and the others that bloom when they have the solo spot in the bare winter garden. Remember that Witch Hazels, Red Twig Dogwood, Nandina, Chokecherry, Holly and Edgeworthia all add winter bloom to the garden. Plant them this spring so you will be able to enjoy them in the garden next winter. Take photos or jot down names of plants that you would like in your garden and set out to add them to your garden design now.

Lorraine Kiefer has gardened all of her life. She is a garden writer, floral designer and professional horticulturist. Lorraine teaches many classes at Triple Oaks nursery and Herb Garden in Franklinville, NJ. Email Lorraine@tripleoaks.com for garden help or leave your questions below! www.tripleoaks.com