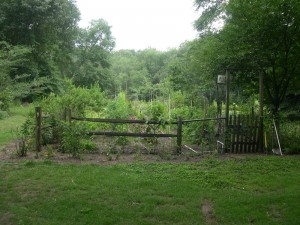 A favorite old French proverb seems so comforting on these chilly days, "Eat soup first and eat it last, and live till a hundred years be past."
Many gardeners like to get outside, even in cold weather. A lot of gardeners also like to cook using their garden vegetables. Many love to have soup simmering in this cold winter season. Knowing you have warm soup simmering on the stove makes doing chores out in the cold a bit easier.
Soup making is basic to life. It changes with the rhythm of the seasons, time and ingredients. Soup is one of those foods that you can almost make from instinct using what is in the cupboard. Most every country of the world has a favorite or special soup that everyone makes and loves. Winter weather often dictates the need for soup in various households. From a fresh asparagus soup in spring, or a gardeny mix in summer, to a creamy pumpkin blend topped with nutmeg in fall and then a hearty dried pea or lentil soup in winter. Soup reflects the abundance of certain foods and the weather.
Once you get use to making soup you will find that you can add just about anything you like to a broth. Some cooks say they can read a recipe and know just what they want to change before they make it. With soup, there is much freedom for the chef.
Soup making differs from household to household, but always uses whatever is at hand, creating a delicious product from very humble ingredients. It is a way of life in many cultures that has prevailed since ancient times. The start of the "soup" kitchen was at a monastery where monks provided soup and bread for anyone who knocked at their door. The frequent chore of gathering garden bounty or combining leftovers to make the best of soups was combined with the thought:  Soup can always be made more. Soup making, soup sharing and soup giving makes for joy for all involved.
Gardens …source of life and soup. St. Anthony, often called the first monk, tended his garden to provide food for himself and the other monks; as well as for the poor and the pilgrims. They took to heart that "one must eat from the labor of one's hands." This food that was shared was most often soup and bread. St. Benedict in his Rules insisted that the monks grow food for themselves and to feed others. Again the most likely dish that could be made with seasonal or dried produce was soup.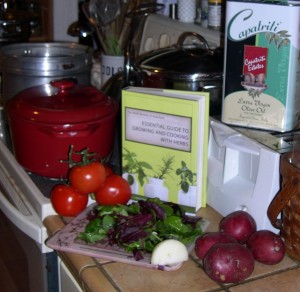 Making Soup. Basic soups can be prepared from either a meat or vegetable stock. This can be started by sautéing an onion and garlic in olive oil and butter. (Margarine just doesn't "do it.") When the onions and garlic become light golden in color water, other ingredients can be added. Very few seasoned cooks adhere to a recipe for soup as the variety and creativity is regulated only by availability of ingredients. Always cover everything with water, add seasonings to taste. At this stage many cooks boil and then simmer bones for hours to attain a rich tasty broth. Watch the water level, remove the bones and skim any foam from the top. Proceed with your recipe or add vegetables in order of the time they need to cook. For a typical hearty soup dried beans, peas and grains of course are added first and simmered or about 20 minutes, then the hard vegetables such as carrots, celery and potatoes added in that order. Tender vegetables like cabbage or zucchini and especially bags of frozen mixed soup vegetables are added last so they will not over cook.
Always cook any pasta to go in the soup in a separate pot of water, drain, rinse off starch and add to soup just before serving. Cooked fresh herbs can be added often during cooking, but save some so soups can be topped with chopped fresh herbs and a sprinkle of grated cheese.
Many families have favorite soup recipes that are handed down by word of mouth or made side by side. The mother stands next to the grandmother and watches, her daughter does the same. Now this is good soup!
Lorraine's Favorite Monk's Garden Soup
3 to 6 pounds stewing beef or chicken breasts*
2 quarts water, more added as needed
1 onion, chopped fine
2 bay leaves
10 peppercorns
1 cup each of barley, corn, lentils and beans**
½ cup dried peas, all rinsed**
2 cups carrots, sliced
2 cups celery, chopped
1 chopped onion
3 potatoes, peeled and cubed
½ head cabbage, chopped
3 beets, peeled and chopped
Any other vegetable you have or like (i.e. beans, cauliflower, etc.)
2 16-ounce cans (With chunks if possible) tomatoes
1 bag of mixed frozen vegetables
Salt to taste
½ teaspoon marjoram leaves
½ cup freshly chopped parsley
½ cup grated cheese
* This is optional if you do not have time to boil or simmer bones for several hours. Go meatless by just adding the water to the sautéed onion with the addition of garlic.
** This is a lot, so a lot of water will have to be added all along.
In large kettle, cover bones with water, heat to boiling. Add bay leaf and peppercorns. Reduce heat, cover and simmer 2-3 hours, remove bones, bay leaf and pepper corns and proceed. If you are only using the beef cubes or chicken sauté, with first onion add water and simmer an hour. Let stock cool slightly, skim off fat. Add dried ingredients to meat and stock. Simmer 30 minutes. Add hard raw vegetables. Simmer 30 minutes. Add frozen vegetables. Reduce heat. Cover and simmer 10 minutes or until all are cooked. Throughout the cooking time, add hot water to the soup to keep a good amount of broth. Do not allow the dried vegetables to stick to bottom. Keep from a hard boil or it will burn. This soup gets better each day. Add tomato juice or broth if it thickens too much. The barley et al will absorb liquid. Top each bowl with freshly chopped parsley and grated cheese … delicious ~ serve with crusty bread and real butter
Barscazc (Peasant Style Beet Soup)
8 beets, peeled and diced
Garlic clove
2 onions, finely chopped
½ stick butter
2 quarts water
Salt, pepper, garlic salt
5 potatoes, peeled and diced
3 carrots, peeled and sliced
½ head purple or green cabbage, chopped
2 tablespoons sugar
2 tablespoons vinegar or lemon juice
2 tablespoons dill
2 bay leaves
6 whole cloves
6 peppercorns
1 large can chicken broth (optional)
Sauté garlic, beets, onions in butter, adds water, salts and pepper. Add potatoes and carrots, cook for 1 hour. Add cabbage, sugar, vinegar, and dill. Tie cloves, peppercorns, and bay leaves in bouquet garni bag or cheese cloth, toss in with mixture. Add chicken broth and cook 15 minutes. Remove garni bag and serve. Top with sour cream and dill.
Chicken Soup with Greens
4 large chicken breasts with bone and skin, or whole chicken cut up
6 large carrots peeled and sliced
6 stalks celery with leafy tops, chopped
2 onions
2 parsley roots
1 cup of barley
½ cup parsley
6 cups of washed and chopped spring greens (spinach, escarole, or a mixtures of dandelion and other spring greens)
Salt and pepper to taste
Bring the chicken and water to boil. Simmer for at least an hour or two. Remove chicken and add hard vegetables and barley. Simmer about 20 minutes. Add greens and simmer until tender. Some folks like to blanch the greens separately and then add, but there is more flavor and vitamins when cooked directly in soup. Remove skin and bones from chicken. Cut into bite sized pieces and add to soup before serving.
Garnish with chopped parsley and grated Parmesan cheese.
Tomato Soup
1/3 cup olive oil
4 leeks* thoroughly cleaned and then minced
3 carrots, peeled and minced
1 medium red onion, chopped finely
3 cloves garlic minced
Grated zest of 1 orange
2-3 teaspoons thyme (depending on your taste)
½ cup fresh parsley for topping
1 tsp. nutmeg
2 cans large sliced tomatoes or 12 ripe tomatoes, seeded and diced
3 cans plum tomatoes (placed in blender with additional ½ cup parsley, blend)
2 quarts chicken stock
1/2 cup lemon juice
1 teaspoon. baking soda
Salt & freshly ground pepper
* You may substitute scallions or small onions
Heat the oil in a large stockpot and add the leeks, carrots, onion and garlic. Cook for 15 minutes. Add the orange zest, thyme and cook, stirring frequently for 3 minutes. Add all the tomatoes, stock and orange juice and stir to combine. Simmer over medium heat for 30-45 minutes. Remove from heat. Let cool a little. Working in batches, purée in a food processor or blender. Season with the salt and pepper. Return the soup to the pot and bring it to a simmer add 2 cups sour cream or half and half, do not allow to boil, stir in nutmeg and salt and pepper to taste.
***
Like the monk of ancient times savor each change of the season. Have welcoming soup in your kitchen to add some warmth to the coldest winter day when it is shared with family and friends.
Taste Lorraine's homemade soup following the plant walk and talk on March 14 , Look for winter interest and signs of spring on this tour of the gardens. Free event but RSVP required. Call 856-6694-4272.

Lorraine Kiefer has gardened all of her life. She is a garden writer, floral designer and professional horticulturist. Lorraine teaches many classes at Triple Oaks nursery and Herb Garden in Franklinville, NJ. Email Lorraine@tripleoaks.com for garden help or leave your questions below! www.tripleoaks.com