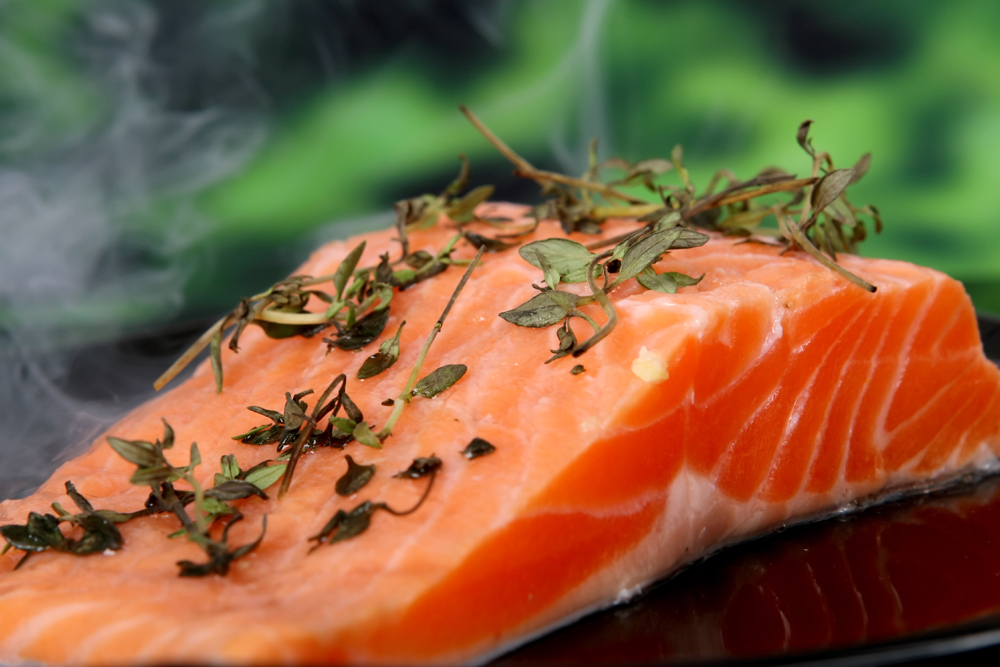 When people find out I am a chef, invariably they ask me where I buy my tools. They want to know about the latest gadgets that will help them "cook like a pro." People will wax poetic about their latest finds at Williams-Sonoma, J.B. Prince or any of the multitudes of culinary stores that have sprouted with the resurged interest in all things food related. I love the looks on their faces when I tell them I shop at the local hardware store.
It is partly heritage. Besides being persnickety, the Scots are also renowned for their proclivity to stretch a dollar. And, it is partly a matter of practicality. The pretty shiny gadgets at most culinary stores fail to hold up to the rigors of restaurant reality.
A favorite trick of chefs is using ring molds to shape foods into perfect circles. This works great for salads, bread puddings and even savory dishes such as Braised Short Rib Shepherd's Pie. Metal ring molds are available in a multitude of sizes in most culinary boutiques. They tend to be of thin gauge metal which gets bent easily, leaving you less than perfect dishes. These types of molds also have seams that can rust over time. The solution is to head to the plumbing section for some PVC pipe. Pvc pipe can be found in all different dimensions and thickness. Buy a length of pipe and have the store cut it to the lengths you desire. These ring molds are dishwasher safe, durable and have no seams. Armed with these you can turn out flawless salads and bread puddings with just a little practice.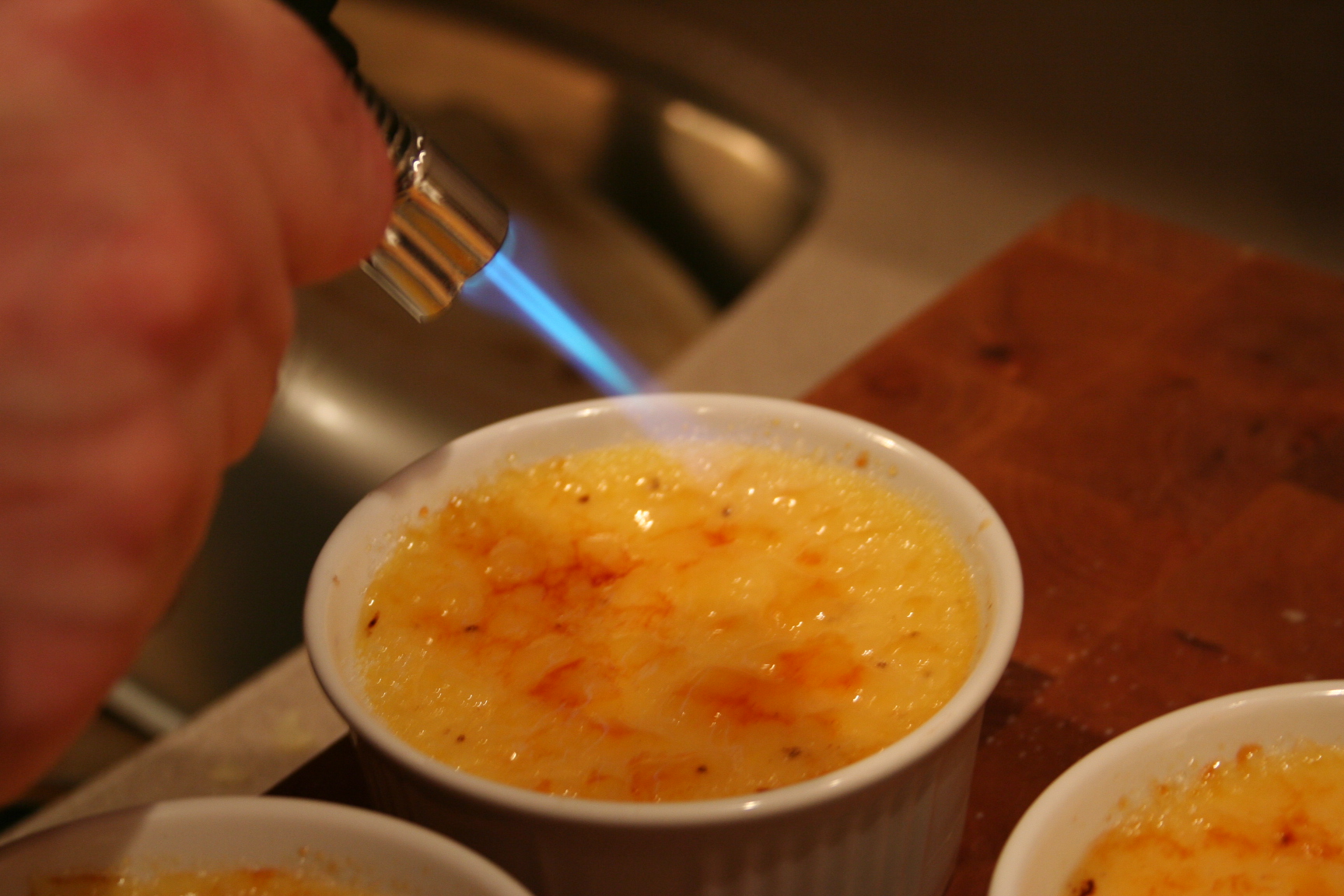 Our next stop is the lumberyard. A Pacific Northwest classic is cedar-planked salmon. Even with proper care, cedar planks only last a couple of uses. The planks available in most stores look fashionable but run $8-$12 a piece. At the lumberyard find a nice thick cedar board and have it cut into 10-inch pieces for single servings or larger for a whole fish. It is very important to specify that you want untreated lumber. Grills, chemicals and food can be a lethal combination. Soaking the boards for 3-4 hours prior to cooking will yield moist fish and be less likely to cause unintended flambé dishes. For repeated use, wash and soak lightly in bleach solution. Air dry before pre-soaking prior to next use.
Our next dish requires some serious firepower. It is ironic that one of the most delicate desserts that comes out of a kitchen requires a blowtorch to execute properly. Crème Brûlée. That's right. After the finesse of baking custard, we need a blowtorch to achieve the crunchy caramelized sugar shield that is the signature of Crème Brûlée. Culinary catalogs and shops feature special crème brûlée torches that look like something found in a science lab. If look and appearance is a priority, then these $50 torches with expensive refill cartridges are for you. I opt for the all-purpose blowtorch, cost between $12-$16 with refill canisters costing $2 or $3 dollars. While not as pretty, these torches deliver a larger, hotter flame that will yield the crunchy crust you are looking for. The torch can also be used for browning meringue pies or finishing gratin dishes.
For specialty kitchen equipment, thinking outside the box can save you money. Expensive is always better, sometimes it just costs more. Hand-held immersion blenders can run anywhere from $15-$80 dollars depending on durability, motor speed and attachments. Some hardware stores have a small appliance section where you can find good deals on culinary tools.
After your trip to the hardware store, head into the kitchen with these recipes for Crème Brûlée and Cedar-planked Salmon. Until next month, Bon Appétit.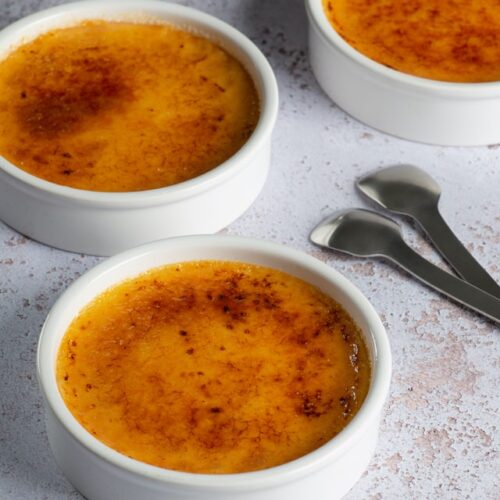 Crème Brûlée
Ingredients
8

egg yolks

1

pint

heavy cream

⅓

cup

sugar

1

teaspoon

pure vanilla extract DO NOT USE IMITATION

¼

cup

demerara sugar for top
Instructions
Preheat oven to 300 degrees.

Use 4-inch round, ¾-inch deep custard dishes. Place in casserole dish and fill the dish half way with water.

In a stainless steel bowl, whisk yolks and sugar until sugar dissolves and mixture is pale yellow. Add cream and whisk until smooth. Strain, skimming off any foam or bubbles.

Divide into dishes. Bake for 40-50 minutes until custard is set and tooth pick inserted in center comes out clean. Let cool to room temperature. Sprinkle with sugar and brown with blow torch. Keep torch 5 inches from custard, spinning dish to evenly caramelize.
Notes
Chef's Secret: If you like fresh vanilla beans, store beans in your sugar canister. This will scent the sugar and you can eliminate the extract from the recipe.
Variations
Frangelico: Add 2 tablespoons Frangelico with cream
Baileys Irish cream: Add 3 tablespoons Irish cream to cream
Kahlua: Mix ¼ cup Kahlua, plus 1 teaspoon instant coffee into cream
Grand Marnier: Mix 3 tablespoons Grand Marnier, plus zest of 1 orange. Let steep 20 minutes. Strain then bake.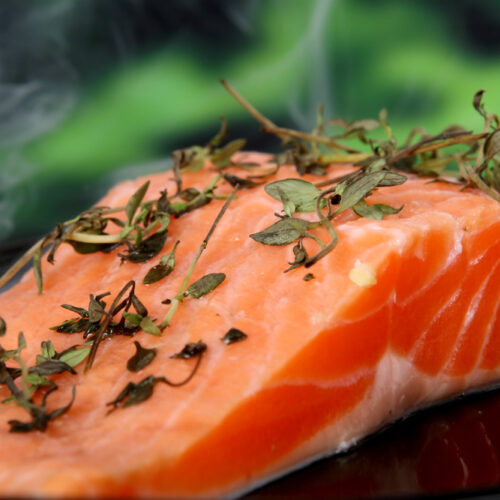 Cedar-Planked Salmon
Ingredients
Fish
2

pounds

salmon filets

cut into 8-ounce pieces
Sea Salt Mix
2

teaspoons

fresh thyme

Juice and zest of 1 lemon

2

teaspoons

chopped parsley

3

tablespoons

canola oil

2

shallots

minced

1

teaspoon

cracked black pepper

Sea Salt
Instructions
Sprinkle Sea Salt on salmon. Mix remaining ingredients to create marinade. place in Ziploc bag. Add fish and let marinate 30 minutes.

Heat oven to 450 degrees. Place rack on top level.

Take 4 pre-soaked cedar planks and place a piece of salmon on each. Top each fish with 3 lemon slices. Bake for 12-15 minutes for medium fish. Serve on cedar board.