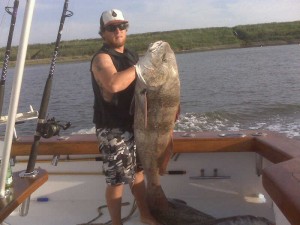 Drum, Drum, Drum! The fish are here, where are the anglers?
The water temps are in the high 50's, the weather has become much more like summer, air temps are in the 60's at night and 80's in the day. The striper bite has slackened in the last week or so. But the Drum bite is on and we've got the weights and pictures to boot. Tussy's is the place that a majority of the boats are headed. The Drum bite has been hot during this full moon. Flounder fishing opened up Saturday (29th), I personally pulled in 2 first thing in the morning within 10 minutes of each other. This week here at South Jersey Marina all of our boats have gone out for the most part. We've had the Cape May Lady running daily (4hr trips) and all of our 6-packs are and have been ready to go.
Is everyone ready for the SHARK TOURNAMENT? The shark tourney here in Cape May is one of the biggest shark tournaments in the ENTIRE United States!! It's coming and I'll have the pictures and reports to go with it! Stay tuned ladies and gents, we're in for a heck of a summer!