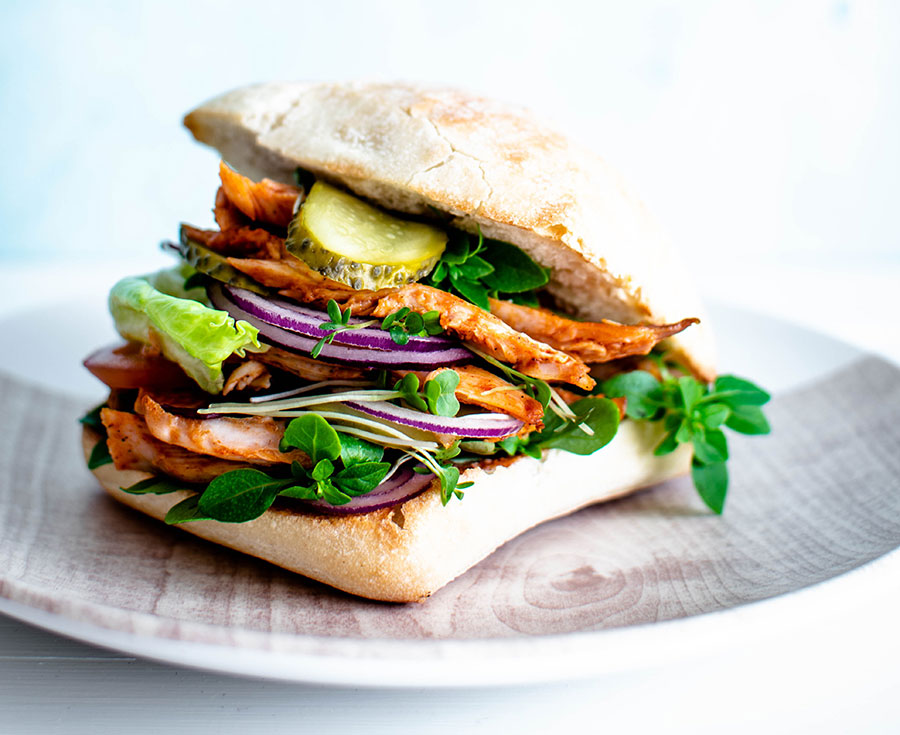 The difference between eating and savoring food is often defined by the quality of the ingredients. Even with the humblest of foods, the sandwich, the quality of the ingredients matters. The sandwich is the stalwart staple of the American lunch. As we mature so do our palates. Baloney and cheese on Wonder Bread yields to mortadella and aged provolone on a ciabatta roll. There are three basic components to any sandwich: the bread, the filling, and the spread or accompaniment. Each part contributes to making a sandwich greater than the sum of its parts.
Includes recipes for Grilled Herbed Goat Cheese on Brioche with Homemade Tomato Jam, Fig and Gorgonzola Panini, and Farmhouse Cheddar on Sourdough.
Start with good bread
The secret to a good sandwich begins with good bread. Once you pass the age of eight, Wonder Bread doesn't cut the mustard as the foundation for a real sandwich. The type of bread has a dramatic effect on the finished fare. The quality of the bread may be of more importance to the final product than the quality of the filling.
Try an experiment; grab a couple of slices of good artisan bread and regular white bread. Put the same filling and toppings on each sandwich and see for yourself which one tastes better. A crusty baguette with its dense chewy texture elevates humble ham and cheese. Rye bread's slight acidity and hints of molasses add depth to sliced turkey and mayo.
The general kitchen rules of flavor pairings apply to bread and fillings in sandwiches too. Using buttery breads like brioche or croissant with creamy chicken salad or oil-laden smoked salmon accentuates the richness of the ingredients. In contrast, breads like sourdough or rye with their subtle tartness provide a counterbalance to the same rich components. Simply changing the type or style of bread can make the same old ingredients seem fresh and new.
Besides flavor, bread's greatest contribution to the sandwich may be texture. Living on the right coast, we have access to some of the best bread in the country. Crisp semolina loaves dusted with sesame seeds from an Italian bakery is a local favorite. Having lived in other parts of the country I can attest to the fact that quality Italian and rye breads don't exist west of the Appalachian Mountains. Good sandwiches are "bread," not born.
Choose quality fillings
Once you settle on your choice of bread, the next decision is what to put on the inside. Deli meats vary greatly in quality. Lower priced meats are loaded with fillers like starches, cereals, gelatin, and even wood cellulose. I want my lunch meats to contain meat, no wood cellulose for me, damn it. I am not a beaver. The neighborhood butcher and deli have largely been replaced by chain stores selling pre-sliced, pre-packaged meats and cheeses.
Good deli meats should be sliced tissue-paper thin so the meat piles high on the bread and melts in your mouth in an explosion of meaty goodness. Slicing corned beef and pastrami is an art form. Go to the city to an old-school Kosher deli and watch the men behind the counter. Bulky briskets of corned beef glide along scalpel-sharp blades yielding to the steel. The dark pink salty meat is streaked with creamy rows of fat waiting to be drizzled with coarse spicy mustard. Smoky peppered pastrami in long rectangular strips meets the same fate on chewy rye bread.
The only extra touches needed are creamy coleslaw and a whole pickle plucked from a brine-filled barrel. The marriage of artisan bread and artfully sliced meats is wedded bliss to the palate.
Elevate the sandwich with a good spread
The entity that binds meat and bread together can vary from sandwich to sandwich. Spreads and accompaniments elevate the ingredients to greatness. The BLT becomes a sandwich superstar thanks to real mayonnaise. By real, I mean Hellman's. Miracle Whip is culinary fraud like imitation vanilla and key lime pie dyed bright green.
Picking the right mustard for a sandwich is a little trickier. For corned beef and pastrami, Gulden's spicy brown is my preference, although there are several varieties of stone-ground mustard, mostly German, that are perfectly acceptable. Dijon goes great with ham. Bright yellow mustard is okay only if your sandwich is packed in a Brady Bunch lunch box. The BLT is one of the few acceptable places for adults to be seen with iceberg lettuce, its crunch and texture being an integral part of that particular sandwich's legacy.
For years I have petitioned Trenton to make it illegal to serve tomatoes on sandwiches in New Jersey outside of the summer growing season. The pale imitators, consumed the rest of the year, serve only to remind us how great a homegrown Jersey tomato tastes.
Boost the flavor
There are numerous ways to enhance the flavor of a sandwich. Bacon really does make everything better. Flavored mayonnaises add some personal pizzaz to the plate. Wasabi or chipotle mayo on grilled chicken or fish adds a little fire to the feast. For the indecisive, mustard and mayonnaise can be mixed together.
---
What makes a sandwich great is that it is your sandwich and can be personalized however you like. Sandwiches are the ultimate nostalgia food. We all grew up with some variation of a classic sandwich be it PB&J, liverwurst and mustard on rye, or the all-American grilled cheese. This month's recipes are my re-imagined versions of grilled cheese for the adult palate. Remember, all you need for a tasty sandwich is good bread, good quality fillings, and good friends to share it with. Until next month, bon appétit.
Grilled Herbed Goat Cheese on Brioche with Homemade Tomato Jam
A grown-up grilled cheese sandwich served on buttery brioche with homemade tomato jam.
Ingredients
8

Roma tomatoes

cored and quartered

¼

cup

cider vinegar

¼

cup

dark brown sugar

1

teaspoon

kosher salt

1

teaspoon

cracked black pepper

3

sprigs thyme

8

slices

brioche

Softened unsalted butter

8

ounces

herbed goat cheese
Instructions
Place tomatoes, vinegar, brown sugar, salt, pepper, and thyme in non-reactive pot. Bring to boil. Reduce to low. Simmer 30 minutes or until most liquid is evaporated. Puree with immersion blender. Adjust seasoning. Cool.

To assemble the sandwich, spread 1 ounce of goat cheese on each slice of bread. Spread jam in thick layer to ¼-inch from crust. Fold halves together. Butter outside of each side of sandwich. Heat non-sick skillet on medium-high heat. Cook sandwich 3-5 minutes per side until bread is golden brown.
Fig and Gorgonzola Panini
Ingredients
4

pieces

3"x6" focaccia

split

8

slices

prosciutto

sliced thin

6

ounces

dolce gorgonzola

crumbled

Fig Jam

extra virgin olive oil
Instructions
Spread the insides of the bread with fig jam (both the top and bottom pieces).

Top each side with a slice of prosciutto. Top with 1½ ounces of gorgonzola cheese.

Close the sandwich and brush the outside with extra virgin olive oil.

Cook for 5 minutes in a Panini press until crispy and the cheese oozes.
Farmhouse Cheddar on Sourdough
Ingredients
8

slices

artisan sourdough bread

8

ounces

farmhouse cheddar

sliced

Fiji apple

cored sliced in ¼-inch wedges

12

slices

applewood smoked bacon

cooked
Instructions
Place cheese on each slice bread. Top with 4 slices apple and 3 slices bacon.

Close sandwich. Butter outside.

Preheat cast-iron skillet over medium heat.

Cook sandwiches 4-5 minutes on each side until cheese melts and outside is golden brown.