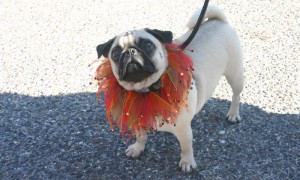 Wow! It's Halloween! Or is that "Howl-o-ween"! Time for Tricks and Safe Treats and "Paw-ties"!
A doggie howl-o-ween paw-ty can be so much fun for you and your dog(s) as long as you plan ahead and plan for safety. Here are some hints for a successful gathering and some recipes for safe doggie treats. Remember, NO chocolate and NO candy with artificial sweetener "xylitol."
Invite your dog's(s') friends. Dogs who already know each other will minimize the stress for you and the dogs and will allow you the freedom to take care of other needs rather than have to have everyone hovering over the dogs. Let the dogs run and play together without leash. If there is a shy dog, arrange for a slower, more managed meet-and-greet time so that all of the invited guests will be happy and comfortable. The object is to play and have fun.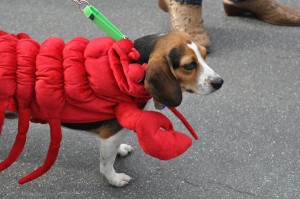 Plan your paw-ty for any day, but Halloween so that you, your 2-legged guests, and your 4-legged guests are not interrupted by knocks on the door or the door bell. Be sure your invitation includes your start time and your end time. Keep your paw-ty long enough to have some fun and treats, but short enough so that the dogs don't get to worn out. Your invitation should also include whether or not your 2-legged guests and/or your 4-legged guests should wear costumes.
Decorate your paw-ty area using your howl-o-ween theme and continue the theme into your treats and people foods – shape foods like bones, skulls, pumpkins, bats, etc. While decorating, keep safety in mind – keep decorations high enough so doggies can reach them to chew, no candles which could be tipped over in the fun, no electric cords which could be a chewing hazard, and no sharp edges on decorations which could cut or splinter in a run by. As for foods, doggie and people foods can be purchased or, for even more fun, make your own. When purchasing or if making your own, if there are any ingredients/foods you are not sure of, either check with someone who knows, or just don't include it.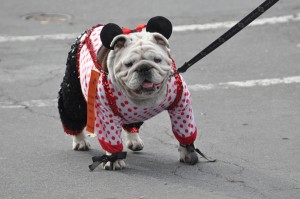 If having any or all guests wear costumes, you can have prizes for best costume in various categories such as scariest, funniest, most creative, etc. Though you'll want to plan on one or two games, have the costume contest first, in case any of the attendees prefer to play sans costume, or in case they get so into the games that the costumes are left in the dust.
And, take pictures/videos! You can enjoy the fun over and over, share pictures with your attendees, or use them on your next howl-o-ween paw-ty invitations!
Pumpkin is the fruit of the season, and dogs not only love pumpkin, but it's good for them, too. I also associate sweet potatoes with the howl-o-ween season. My dogs, Jameson and Guinness, both love sweet potatoes, too. Here are two of my favorite recipes for fall doggie treats.
Pumpkin Cheesecake
Edible by dogs and people, too!
Cups/Shells
2½ cups whole wheat flour
½ cup whole rolled oats
½ cup natural, crunchy, peanut butter
1 egg, beaten
1 cup water
Preheat oven to 350 degrees. Combine all ingredients. Mix well. Roll out onto a floured surface to ⅛ inch thickness. Cut 24 to 28 rounds with 2-inch round cookie cutter or jar lid. From leftovers, cut 24-28 mini-circles for decoration. Grease mini-muffin pan. Lay large circles over and press into pan. Lay mini-circles on cookie sheet. Bake both for 26 to 30 minutes. Remove and cool completely.
Cream Filling
¾ cup natural pureed pumpkin (fresh or canned but not pie filling with spices)
8 oz. cream cheese at room temperature
Mix ingredients well. Put into cake decorator or pastry bag (you can also use a sandwich bag with the corner cut off). Fill cups. Decorate with mini-circles. Refrigerate in sealed container to store.
Sweet Potato Crispees
Slice raw sweet potatoes to ¼ to ⅜ thickness. Place on non-stick or slightly greased cookie sheet. Bake at 250 degrees until "dry," turning over after tops appear dry. Cool completely. These last longer if dry and crispy – nutritious and delicious.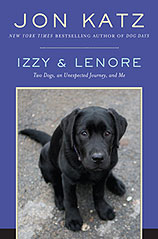 My Good Read recommendation for the month is Izzy and Lenore by John Katz, a great book about help and hope.
Speaking about help and hope, and I'll probably mention this again, I'd like to make you aware of an awesome organization which could use your help and hope. Lindsey and Jim Stanek, Rio Rancho, New Mexico founded Paws and Stripes, a non-profit that provides service dogs to veterans with post-traumatic stress disorder or traumatic brain injury. The dogs come from shelters and are provided to vets at no cost. Check them out at www.pawsandstripes.org I think you'll see that this helps both the dogs and the people. Maybe you'll care to help by sending in a donation. This information was taken from Best Friends Magazine. Thanks!