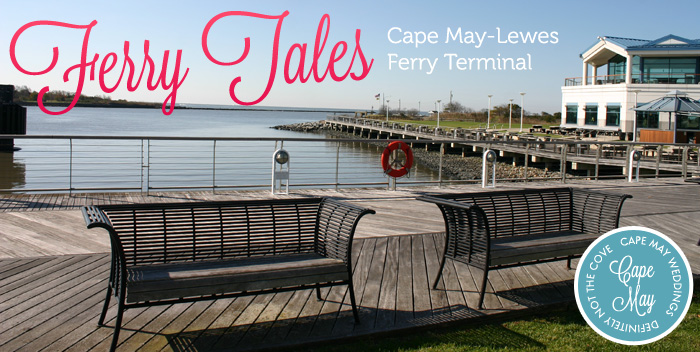 Imagine walking down the aisle with a backdrop of the Delaware Bay, a charming wooden boardwalk, 75 of your closest friends and family, and a giant ferry boat.
I'm talking about the Cape May-Lewes ferry terminal in North Cape May, situated at the mouth of the canal entering the Delaware Bay, just minutes outside of Cape May. I've been to two weddings at the ferry terminal: one an outside ceremony with a reception in the Sunset Lounge, the other a Lounge ceremony with an off-site reception. One was formal; one was beachy. The location lends itself to whatever you have in mind.
The Sunset Lounge is on the second floor of the terminal and looks out over the Delaware Bay. Just as its name implies, it offers sunset views during your ceremony or reception. For a ceremony, chairs can be set up facing the water, with a central aisle. For a reception, the room configuration is tighter, with little room for dancing if you have a lot of guests, but it does have a built-in bar and a second-floor deck where you can enjoy some fresh air. It can accommodate 75-100 guests. Caterers must be brought in (they'll provide you with a list of approved vendors), but the Ferry has a liquor license and offers open, hosted, or cash bars. That's one less thing to worry about!
The terminal offers plenty of on-site parking, and it's hard to miss the due to the multitude of signs! There are a few downsides. There is nothing that blocks the wind for an outside ceremony, so on a breezy day, instruct your maid of honor to do some serious veil holding (I watched one poor bride struggle with hers the entire ceremony). This is an active ferry terminal, so guests will be boarding and exiting ferry boats while you're saying your vows. Also, the ferry announcements (and horn) will sound even with your big moment taking place. As a guest, I found it humorous, but you might not like "Last chance!" being broadcast when you're about to say "I do." So if privacy and quiet are atop your list of site "must haves," an outside wedding here may not be the best choice for you.
If you're wondering whether you can have a wedding on the boat itself, the answer is yes. I've just never been invited to one of those.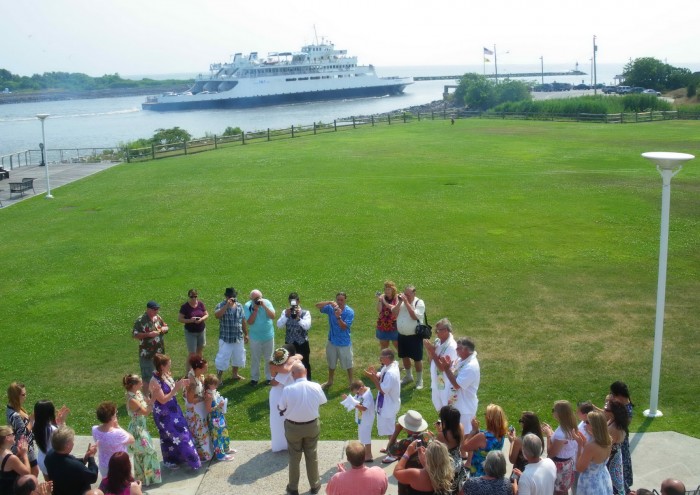 Cape May Lewes-Ferry Terminal
1200 Lincoln Boulevard, North Cape May
(800) 643-3779
cmlf.com
For more vendors & inspiration, visit our Cape May Weddings Directory