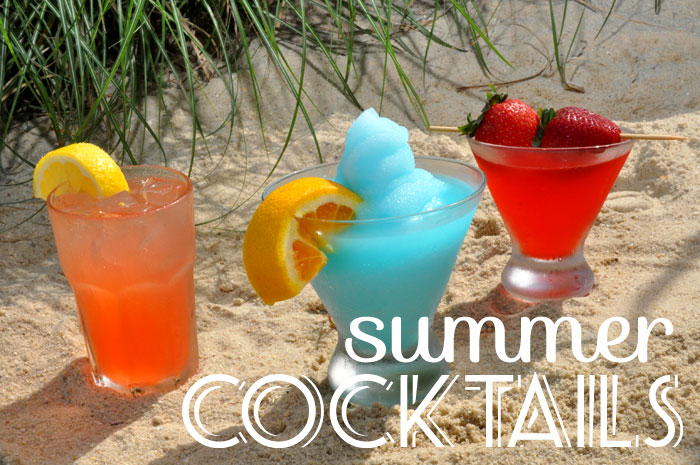 If you can't be in Cape May during the summer, why not mix up something that will make you feel like you're on vacation right in your own kitchen? We asked a few of our favorite watering holes for summer drink recipes to help you beat the heat. Since we're not mixologists ourselves, we rounded up simple shake & strain recipes that don't require too much effort (I don't even own a muddler), and ingredients you should be able to find at any liquor store. Don't own a shaker? Just use a travel mug to shake, and "strain" through the spout. Enjoy!
Cape May Mariner / Aleathea's Bar at the Inn of Cape May
4 oz Stoli Orange
3 oz Grand Marnier
2 oz Pomegranate Liquor
Splash of Lime Juice
Splash Cranberry Juice
Combine ingredients in a shaker with ice. Strain and serve.
2.5 oz Absolut Pear Vodka
2 oz St. Germain Elderflower Liqueur
1 oz champagne poured into martini glass as a floater
Pour vodka and St. Germain over ice. Shake and strain into a chilled martini glass. Garnish with a slice of pear. Yum yum!
1 part Cruzan Mango Rum
1 part pineapple juice
1 part cranberry juice
Shake over ice and strain. Serve with an orange slice in a martini glass or on the rocks. Make as little or as much as needed!
Gin & Sin 2012: our updated version of the classic Gin and Sin cocktail. It's refreshing and potent, with a bit of a grapefruit taste.
2 parts gin
1 part Cointreau
3/4 parts oj
3/4 parts cranberry juice
Shake on the rocks with an orange slice.
Summer Cherry Limeade / e.m. Hemingway's at the Grand
3 oz Pinnacle cherry vodka
3 slices fresh lime
2 oz fresh lemonade
2 oz water
2 tbsp sugar
1oz Roses lime juice
Splash of Grenadine
Mix all ingredients in shaker, shake vigorously, pour into a tall pilsner glass, and garnish with a lime and cherry.