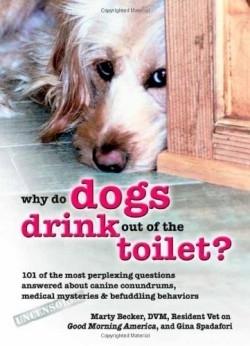 This month's Good Read: Why Do Dogs Drink Out of the Toilet? by Marty Becker, DVM, resident vet on Good Morning America and Gina Spadafori, writer of nationally syndicated weekly pet-care column.
As you may guess from the title, this book is both humorous and informative as it answers 101 of the most perplexing questions about canines. I got this book because of the title, but every page is worth the read. You will laugh, ahhhh, smile, enjoy, and love your dog even more as you read and gain a new understanding of….WHY?
***
One of the most loving things you can do for your new puppy/dog is to learn about crate training. Crate training a puppy/dog gives both the puppy/dog and you a stronger sense of security and peace of mind. You will know that your puppy/dog is safe from household hazards when you are not there to supervise, and your puppy/dog will feel comfortable, peaceful, secure and safe. Even if you are "just going out for a minute" your puppy/dog is safe in the crate and can't get into the things he/she is so curious about but which can be a problem or even a dangerous problem – wires, plugs, cabinets with caustic or toxic chemicals, even balls or socks can be a choke hazard – and it only takes a minute. For your puppy/dog, the crate is like a den, a safe and secure place to rest – and to save up energy so he/she can play with you when you get home. Guinness and Jameson love their crates so much, they go into them even when we are home, sitting with them. Buy a crate large enough for your puppy/dog to be able to turn around and move a little and big enough for them to "grow into." If you expect your puppy will grow to be a bigger dog, and the crate is too big initially, you can put a box into the crate to limit the allowable space while your puppy/dog grows so as to help avoid soiling in the crate.
DON'T LEAVE YOUR DOG, CRATED OR NOT, FOR TOO MANY HOURS, especially a puppy! Your puppy/dog needs your attention and love as much as possible and periodically throughout the day. I used to come home for lunch when I worked, even if I had to eat in the car. AND, your puppy/dog needs to be potty trained or house trained. If you leave the puppy/dog for too long, your pet will be harder to housetrain and may get used to soiling in the crate.
When it's feeding time, and you should check with the vet whether to feed twice a day or some other schedule, put the food down and leave it until finished or for 20 to 30 minutes, then take it away. Let your puppy/dog outside 20-30 minutes after eating or drinking, and mid-day from the crate. Praise them for "going" outside so your puppy/dog will learn to go outside repeatedly. Your puppy/dog will love the praise and attention, and he/she will repeat doing so to please you and to get more praise for doing so. Positive attention is the easiest and best training tool you have. And you will be happier, too.
Get your puppy/dog used to the crate by treating and/or feeding them in the crate with the door open. Put in a cozy blanket or pillow for comfort. Take the crate with you when going to bed so you can hear and respond to any needs that may arise in the night, especially initially. Take the crate with you when you travel. The crate will be your puppy's/dog's private space within their new home or anywhere they travel with you. Walk your dog before crating, especially when you are crate training, since a tired dog will relax into the crate sooner and easier.
When you are home, make sure you include your puppy in meeting friends who come over. This helps to socialize your puppy/dog into the family and serves as an opening to training by allowing you to help your puppy/dog learn how to "politely" great friends and guests rather than jumping up on people. You can always enlist a friend or two to help you initially, if you clue them in. We worked on getting Jameson and Guinness to sit and wait for friends to get into the house, since we have a small entry way and had to start by having them leashed to establish the ground rules.
Play with your puppy/dog because it's fun for you as well as for your puppy/dog, and because it contributes so very much to a positive loving relationship. Choose toys and games that will help to train your puppy/dog first, and then move into toys and games that will challenge your puppy/dog. Be careful not to use household items – like socks, shoes, etc. – as toys or that will encourage your puppy/dog to believe that those items are always toys. They can't tell the difference between the sock with the hole in it, or the shoe without a mate and the "good" ones. Once used as a toy, every sock or shoe looks like a toy. Initially your puppy/dog just wants to be with and play with you. Your puppy/dog wants to please you. If you walk and play together, your puppy/dog will feel the love and an exercised dog is a better behaved dog, plus you are praising your dog when playing and walking and sharing each other. It doesn't take very much, except time, to create a happiness bond that will last a lifetime. With time and proper training, your friends and people who love you WILL love your puppy/dog, too.
For the holidays, try to keep your dog's daily routine as close to normal as possible. Watch out forholiday hazards. If you have a live tree, secure it and don't allow your dog to drink the water which may have sap. Be careful of breakable ornaments, tinsel, ornament hooks, plant such as poinsettias, holly and mistletoe, strings of lights which your dog may get entangled in, candles, and holiday foods for people which can overload (in more ways than one) your dog.
If you make your holidays safe and happy for your dog, your holidays and your New Year will be happy as well.
In the New Year, may you enjoy the peace and beauty of nature, the security and comfort of family and friends and the love and joy of dogs!