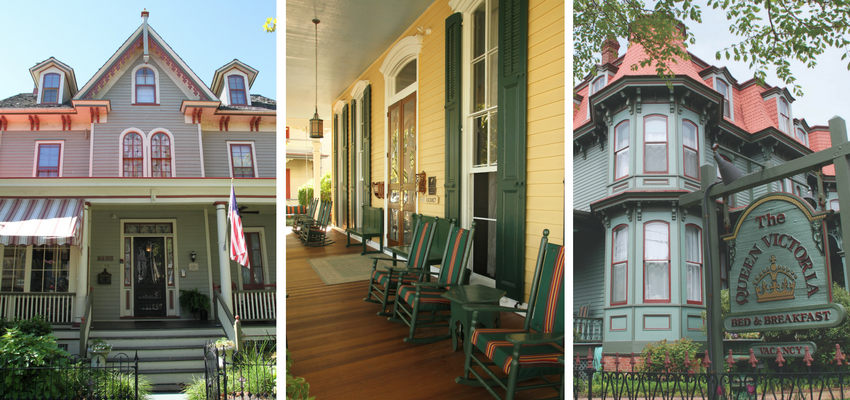 I'm a huge advocate of bed and breakfasts; I regularly travel and prefer booking a quaint B&B over a hotel any day. Bed and breakfasts, to me, provide a personalized experience during a trip. I love making conversation with the homeowners and getting their unique perspectives and insider tips on things to do when exploring a new place.
However, I know that there are many common anxieties when it comes to B&Bs.  For those of you are nervous about your first bed and breakfast experience, we've broken down five questions about these wonderful places to stay and provided some honest, factual answers, using Cape May's exquisite B&Bs as examples! Take a look:
Are B&Bs outdated and lacking modern amenities?
Far from it. Cape May's B&Bs help you experience the town's rustic charm while enjoying contemporary amenities at the same time.
The breathtaking Queen Victoria Bed & Breakfast is known for its extraordinary service and attention to detail when it comes to making sure guests are satisfied. Be assured of superior accommodations adhering to the high standards of Select Registry: a guide to identifying which property among the registry's association of hundreds is best for you.
Likewise, the oceanfront Angel of the Sea is a bed and breakfast that offers travelers a choice of 27 gorgeous rooms with complimentary wireless internet throughout the B&B, and bonus: free access to the B&B's beach chairs, beach cruiser bicycles, beach umbrellas, and beach towels!
Are shared bathrooms common at B&Bs?
No! Today, almost all B&Bs have private en suite bathrooms. If you are unsure about the bathroom situation wherever you're staying, you can call the location and they will be more than happy to answer your questions.
The colorful and vibrant Saltwood House in the heart of Cape May's historic district has four beautifully decorated guest units all with private baths. We recommend booking the Saltwood's luxurious Cape Island Suite: two bright and airy bedrooms and a full bath with a frameless glass shower enclosure, complete with a rain shower head.
Not only does The Mooring have all rooms and suites equipped with a private bathroom, they also recently revamped them all; fresh appliances and sparkling clean bathrooms await guests. Likewise, the Wilbraham Mansion's suites have beautiful bathrooms that include state-of-the-art jacuzzi tubs.
Since food at these B&Bs is homemade at the innkeepers' discretion, what if I don't like their options?
On the off chance you won't like innkeepers' delicious food, they'll make sure you get the kind of meals you want!
In fact, the Mainstay Inn on Columbia Avenue provides special consideration for any dietary restrictions or allergies upon request; they are happy to oblige and make sure guests are getting the food choices they desire. In the summer, the inn provides a tasty breakfast buffet and guests are encouraged to enjoy their meal on the veranda or in the Inn's lovely garden.
The Bedford Inn on Stockton Avenue (just one block from the beach, by the way) has their breakfast menu up for guests to check out before booking, boasting an impressive array of options like eggs florentine, Belgian waffles, omelets and stuffed french toast.
Will my B&B have air conditioning? Otherwise, I'll be too hot in the summer!
Absolutely, and will include other at-home comforts and necessities.
At Beauclaires, you can choose from 6 elegant rooms and suites, all with king or queen size beds, private bathrooms, color television with DVD players, hair dryers, iron and ironing board, and air conditioning. Each room also has a private sitting area with views of the beach, and most all even have fireplaces, if you're looking for some coziness during a winter weekend getaway. Rhythm of the Sea has similar perks: air-conditioning and ceiling fans in rooms to keep you cool and refreshed.
What about curfews or other odd policies?
This is a completely outdated idea!  Bed and breakfasts are in business to make travelers comfortable in every way, and to get travelers excited and involved with the city or town's goingson. The Albert Stevens Inn shows its guests their commitment to getting them involved in Cape May by being the closest bed and breakfast to all of the town's fun wineries and breweries, plus the closest to the strawberry, tomato, and lima bean festivals.
Hosts aren't worrying about if you'll disturb them by coming in late, since often they are in another wing of the inn. Most B&Bs have traditional check-in and check-out times like any hotel as well. All bed and breakfasts respect guests' privacy first and foremost, and strive to make sure guests feel welcomed, safe and happy.
---
We hope we've helped clear up some B&B rumors for you! Do you still have doubts? Let us know your questions in the comments section. For more options, visit our list of Cape May B&Bs.