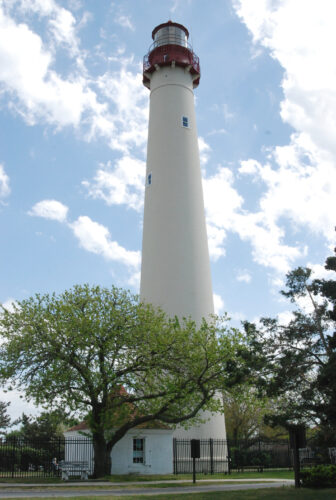 Visitors to Cape May for the 4th of July won't be able to climb the lighthouse or visit the WWII lookout tower unless the State of New Jersey lifts their closure of all state non-essential operations, which includes beaches, forests, and historic sites. The closures are due to a stalemate over the Fiscal Year 2018 NJ budget and went into effect July 1st – just in time for the Independence Day holiday weekend.
Michael Zuckerman, director of the Mid-Atlantic Center for the Arts and Humanities, a nonprofit that operates both the lighthouse and lookout tower, issued this statement: "Each day these two sites are closed means thousands of dollars lost in support of MAC's historic preservation mission. We regret this political impasse continues. It is disrupting thousands of visitors' plans for the holiday weekend and hurts non-profit organizations such as MAC. We urge the governor and legislature to come to a sensible agreement."
For Cape May visitors, the shutdown affects Cape May Point State Park (where the lighthouse sits), the WWII Lookout Tower, and Higbee Beach, which is a state wildlife management area. Cape May City's beaches – the ones with the beach tags – are open.
Update – July 4, 2017
Governor Christie has signed a budget deal and ordered all closed state parks to reopen for July 4th. NJ's government shutdown lasted three days. State government offices reopen tomorrow.