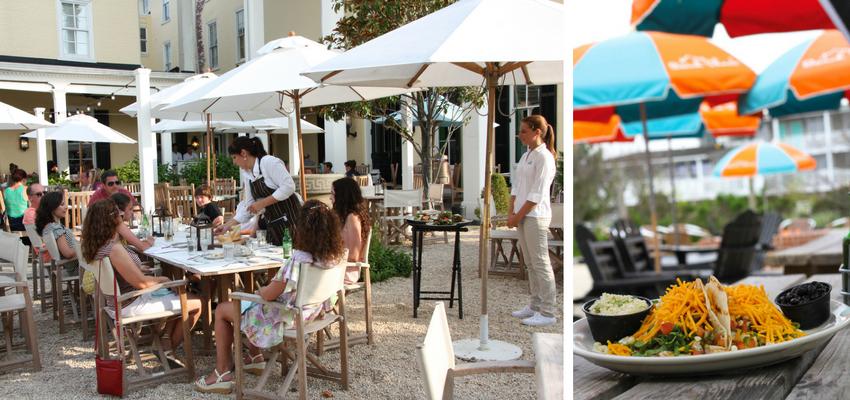 Summer isn't over quite yet! Get your fix of warm weather dining al fresco at one of Cape May's many beautiful restaurants. You're on vacation and shouldn't have to be doing any research, obviously, so we went ahead and compiled a list of all the hot spots to eat in town that have fun outdoor seating options. Take a look!
In the canopied garden or on the veranda, enjoy the tasty creations of Chef Chet Saign, such as local-caught tuna, lobster, and the restaurant's famous steaks and prime rib dishes.
A quaint, charming little cafe with amazing home cooking – think soups, fresh greens, wraps and seafood. Plus, their custom roasted Costa Rican coffee is delicious. They have seating outside in their pretty garden, and even a "pampered pooch patio" for man's best friend.
Blue Pig Tavern at Congress Hall
Classic American comfort food for breakfast, lunch and dinner. Sit on the Blue Pig's sunny porch during the warmer months, and in the winter, head inside to enjoy your hearty meal near the restaurant's cozy fireplace in the main dining room.
Cold Spring Grange embraces the "farm to table" concept and uses only the best ingredients for mouth-watering entrees such as soft shell crab, seasoned salmon and grilled flank steak. This two-story building, Grange Hall, is the only building in Historic Cold Spring Village which stands on its original site.
New restaurant near Washington Street's Acme shopping center. Unbelievable breakfast sandwiches made with the freshest eggs. Outdoor seating too, so you can have your breakfast and coffee while people-watching!
A fun and hip place to hit happy hour with friends. Enjoy live music, outdoor seating and the wonderful menu that boasts great appetizers, ample choices of seafood (order the crispy calamari) and amazing flatbreads.
Go here if you love watching the sunset! Accessible via car or boat, with indoor or outdoor deck seating with fantastic views of the water.
The largest indoor/outdoor bar of any Cape May beach! You can sit and enjoy your dinner with one of over 30 choices of draft and bottled beers while overlooking the beach at the oceanfront Montreal Beach Resort.
Open for lunch and dinner with a beautiful red porch for sitting outside. Authentic Mexican cuisine with a menu that features seafood, meats, and vegetarian dishes prepared with fresh, locally-sourced products. Take the owner's advice and BYOT (Bring Your Own Tequila!).
Located in the historic, exquisite Hotel Alcott. Dine on the intimate porch and enjoy the ocean breeze or enjoy your meal in the elegant dining room inside; you can't go wrong either way.
This waterfront restaurant's five dining rooms and full bar offer a family-friendly dining experience in a nautical setting. Enjoy a cocktail before dinner on the 130 foot-long authentic Grand Banks sailing vessel, the Schooner American, moored dockside.
Open year-round and famous for its breakfasts; we recommend the award-winning buttermilk pancakes! Visitors can dine on the beautiful and breezy front porch in-season, the garden terrace or the skylit dining room.
Traditional Southern cuisine that includes delectable fried chicken and corn pudding. And don't forget about dessert here! The blueberry cobbler is a must-try. Enjoy your meal on the restaurant's verandah during a warm summer night.
A family-run business with a huge variety of pizzas, complete with homemade sauce! Try their salads and garlic knots too. Located in the Washington Commons Mall, with seats inside and outside.
Peter Shields Inn & Restaurant
Executive Chef Carl Messick prepares all contemporary cuisine to perfection. Dine in one of the Zagat-rated restaurants five luxurious dining rooms or on the porch overlooking the sea.
Tasty lobster, shrimp and crab rolls and other assorted seafood choices in a lively and casual setting. Located on Beach Ave., right on the Boardwalk.
Open for breakfast and lunch. Take in the South Jersey Marina views while choosing from the unique and delicious food here, like the crabby benedict, the seasonal berry pancakes or the 'feelin' groovy' egg white omelet.
High-quality Italian dining and impeccable service. Located on South Broadway with indoor and outdoor seating. Be sure to save room for the tiramisu for dessert.
Flavorful dishes with hints of Mediterranean and Asian influence. Grab a drink at the low-key Tiki Ten35 outside while you listen to local bands.
Wonderful burgers and milkshakes to eat in or out for a quick refuel while walking Washington Street.
Enjoy your American/Italian cuisine indoors or outdoors here! Fine dining, open 7 days a week for lunch and dinner.
Local hot spot! Right on Washington Street, where you can sit under an awning outside right on the Mall. Great sandwiches and seafood entrees here. Try the chowder!
Over 15 types of pancakes, waffles and french toast, and omelets to test out at this classic breakfast staple in New Jersey! Pet-friendly outdoor seating.
Generous portions of delicious food – they roast their own turkey and beef! Dog-friendly patio for sitting outside.