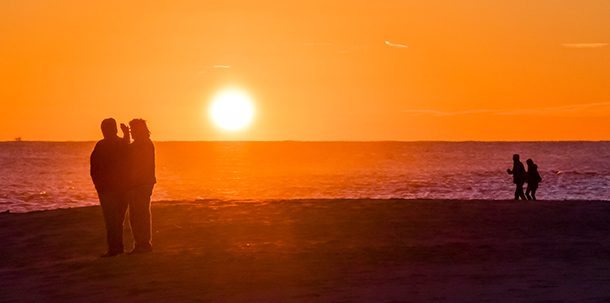 With the new year in full swing, we are quickly approaching that romantic time of the year everyone loves: Valentine's Day. Rose petals, rich wines, and chocolate treats after an exquisite dinner with a loved one are just a few of the highlights. So, you take care of the flowers and the chocolate treats, we will take care of the dinner suggestions!
Dining
Peter Shields Inn is hosting their Valentine's Day dinner from Thursday, February 14 – Sunday, February 17. The menu will be $95 per person, and includes quite an extravagant menu. Including items like wild mushroom terrine, rare seared yellow fin tuna, and chocolate cheesecake torte with pistachio ice cream, it will absolutely be a night to enjoy. For more information, call 609-884-9090.
The Inn of Cape May and Aleathea's Restaurant will be having some lovely specials. Aleathea's will open at 5:00pm on February 14 for dinner with choice of 3 menus. The first seating will be from 5 to 5:30, and include a regular menu or the special menu. The special menu is $100 per couple including your choice of a bottle of champagne or wine, a choice of soup, salad or appetizer, choice of entree and a dessert.

For rooms at The Inn of Cape May, the specials are as follows: city side room $130.90 per night or an ocean side $153.63 per night. Includes taxes, full breakfast and $40 Inn money – restaurant money used towards dinner or at the bar during this stay.

Join Beach Plum Farm for their annual farm-to-table Valentine's Dinner on February 9, and February 14. Featuring sustainable meats, poultry and hand-harvested herbs and vegetables, the romantic menu will be crafted by Beach Plum Farm's Chef Todd Phillips and will be inspired by what's fresh at the farm. $244.44 per couple, limited to just 28 couples so reservations are required. Price includes 20% service fee and tax. You can also stay the night in one of the romantic and cozy cottages. Exclusive cottage rates available for dinner guests. Please call 609-972-8070 for more information and to make your cottage reservation.
Willow Creek Farm & Winery will be hosting their annual Valentine's Dinner on Thursday, February 14 with seating times at 5:00pm and 6:00pm. You'll dine by candlelight at the farm while enjoying a specially crafted 4 course menu created by Master Chef Brian Parker from the Southern Mansion of Cape May, along with three 2-oz. samples from the winemaker, Kevin Celli. Cost is $75 per person, and does not include gratuity. For more information, call 609-770-8782.

The highly anticipated Chocolate Lover's Feast can be enjoyed at a new location this year, The Washington Inn! On February 16, you can enjoy a buffet of chocolate desserts and hear how each was created from the chef who prepared it. Limited event, be sure to reserve early. Admission is $40. For more information, call 609-884-5404.
The Y.B. is happy to announce their romantic Valentine's Dinner menu for February 14-16 at 5:00pm. The 3-course dinner is $40 per person, and includes a complimentary champagne toast. For more information, or to make your reservations, call 609.898.2009 and leave a message and they will call you back to confirm.
Congress Hall and The Blue Pig Tavern will be offering My Blue Valentine From February 1 – February 28. Treat your loved one to a special getaway in a special place. Whether you tied the knot here years ago, or its your first visit, you'll find the warmth and coziness within our walls as warm as your love for each other. Our guests will enjoy accommodations at Congress Hall. Welcome amenity 1/2 split of champagne on ice plus 2 Blue Valentine cupcakes, one stuffed blue pig, dinner for two in the Blue Pig Tavern, per stay*, breakfast for two in bed or start your day in the Blue Pig Tavern, per stay**, and late 1:00pm check out.***
*Dinner for two is a $75 dinner dining credit in the Blue Pig Tavern and breakfast for two is a $30 breakfast credit in room or Blue Pig Tavern. All dining charges must be charged to your room for credits to apply. Subject to availability and change. Credit is per stay for each dining experience. Dining reservations are required on Saturday nights and Valentine's Day. Special Valentine's menu will be available from Feb. 8th – Feb. 14th. Please call 609-884-8422 for reservations. Packages and special offers not applicable to groups or existing reservations. Tax and gratuity not included. 1:00pm late checkout not available on Friday and Saturday departures.

The Wine and Chocolate Trail Weekend is returning on February 9 – 10, and February 16 – 17. This surely is a wonderful way to spend time with that special someone, and enjoy a romantic trip through the Cape May Wine Trail. Doors open at 11:00am on Saturday and Sunday, and the first 50 ladies will receive a beautiful rose! Admission is $16 per person, and includes 8 wines to taste and 5 gourmet chocolate pairings. Souvenir glasses are included. For more information, call 609 846-7347 or email info@hawkhavenvineyard.com.
The Ebbitt Room is providing a beautiful four course dinner on Thursday, February 14. $85 per person, with a complimentary glass of champagne included. From charred oysters and sweet potato soup, to filet mignon and strawberry panna cotta, you will be in love with the food! $85 per person. For more information, call 609-884-5700.
Louise's Cafe will be re-opening for the season on Valentine's Day! They will be hosting a "Lover's Special" complete with an appetizer, entre, dessert, and a glass of champagne for $35 per person. Call ahead to reserve a table at 609-884-5882 or visit www.louisascapemay.com.
B&Bs & Hotels
If you're looking for a romantic getaway along with your dinner reservations, be sure to check out The Bedford Inn. Everyone that stays on Saturday, February 16, 2019 (minimum stay may be required) will receive a complimentary single rose and two chocolate covered strawberries in their room upon arrival. Please call 609-884-4158 about special packages available for purchase with your reservation, or visit their website at www.bedfordinn.com.
Stay at The Harrison or Casablanca for Valentines Weekend and enjoy a complimentary Wine Tasting of Natali Vineyards "Erotica Aronia" wine on Saturday February 16th at 5:30pm. Also receive a complimentary hand paraffin wrap, bubbly and chocolates with any spa treatment purchased at Cape May Day Spa.

Join the folks over at The Mason Cottage for a special weekend promotion, ending on February 16. Celebration of Love will include complimentary mini champagne bottles with a single long stem rose placed in every room. Breakfast each morning will be served with different Valentine's Day mocktails. For more information and bookings, call 609-884-3358 or visit https://www.themasoncottage.com/.
The Icona Cape May is hosting their Valentine's Sweetheart Getaway Weekend on February 8, 9, & 10, February 15, 16, & 17, and February 22, 23, & 24. The weekend includes two nights of accommodations for 2, a welcome reception Friday night with light hors d'oeuvres & cocktails, breakfast each morning at the Coastal Blue Restaurant in Diamond Beach, and a Saturday night 3-course "Valentine's Themed" dinner paired with a beer or wine. Shuttle service is available to & from Coastal Blue Restaurant. For more information, call 609-898-8100.
The Virginia Hotel and Cottages have a lot going on. Whatever the milestone, The Virginia Hotel will provide the gracious touch and exceptional service that ensure indelible memories. Reserve this package and stay during the month of February and receive a gift as extraordinary as Cape May with either a pair of beautiful Cape May Diamond earrings or a necklace. These precious gems are created from stones found right here on the Delaware Bay.
The romantic getaway includes: deluxe accommodations, welcome bottle of house champagne and chocolate truffles, Ebbitt Room dining credit ($100 per stay)*, continental breakfast for two each morning, and complimentary valet parking. Please make your dinner reservations after booking your package by calling the Ebbitt Room at 609-884-5700.
The Madison Avenue Beach Club is offering 20% off bookings between Thursday, February 14 and Sunday February 17 if paid in full. Booking is nonrefundable. For more information, call 609-884-8266 for details.
The Wilbraham Mansion will be expanding on their information as we get closer to Valentine's Day. For right now, we can say that you will receive a rose bud vase with each booking between February 14-18!

Everyone loves special free treats. At the Luther Ogden Inn, they are hosting a special Red, White, and Chocolate weekend special from Thursday, February 14-Sunday, February 17. The special weekend features a mini bottle of Cavit Pinot Noir, a mini bottle of Cavit Pinot Grigio, and chocolates in a signature Luther Ogden Inn gift mug. For more information, call 609-425-6365 or visit their website at https://www.lutherogdeninn.com/.

Things to Do
Cape May Wine School is always something to look forward to. The 2019 dates are: February 17, May 5, October 13 & December 7. You can learn all about delicious wines in this series at the Washington Inn. The theme for February 17 covers wines from Chile, Argentina and Uruguay. Price is $40 per person. Each date is limited to 80 students, so be sure to purchase your tickets! Purchase directly from the Washington Inn by calling 609-884-5697.
Romance at the Farm is a wonderful extension to your visit at Beach Plum Farm. Make the night or weekend extra special by staying overnight in one of the newly restored historic cottages and new Amish barns located right on the farm. The Cottages at Beach Plum Farm are the ideal romantic retreat, offering a quaint, secluded setting, just two miles from the beach and Cape May's historic district. Guests can start the magical night by toasting with glass of champagne, chilled to perfection upon arrival and sit fireside before heading over to the barn for an intimate dinner for two. This romantic, candlelit meal is crafted with the farm's freshest ingredients. Whether it's your first Valentine's together or your fiftieth, Beach Plum Farm is the perfect place to spend Valentine's Day with the one you love.
The stay at the farm includes: Cottage or Barn Accommodations, fresh homemade donuts and coffee delivered each morning, access to bikes and a Golf Cart, late check out of 5:00pm on Sundays. February 9th, 14, or extended through the weekend. Make it an extra special Romantic Getaway with these package enhancements: champagne and locally made chocolates to toast the evening, special Valentine's farm-to-table dinner for two, and spa credit for the Sea Spa at Congress Hall. *Package enhancements can be added to the stay when making reservations. For more information or to make a reservation, please call: (833) 327-6268

Uncorked Comedy at Willow Creek Winery is a great way to add some humor to your romantic weekend. Enjoy a three-course, wine-paired dinner and comedy show starring a different group of hilarious NY comedians each month. This is an event not to miss! Rated MA for Mature Audiences – Must be 21 years of age to attend.
Bae + Beers Valentine's Day at Cape May Brewing Company is taking place on Saturday, February 16th from 12pm-8pm. All further information will be announced on their website's event calendar shortly, just visit capemaybrewery.com/events.