Yesterday morning, we stood in pleasant 72-degree weather to celebrate the ribbon cutting ceremony at Boarding House, Cape May's newest hotel.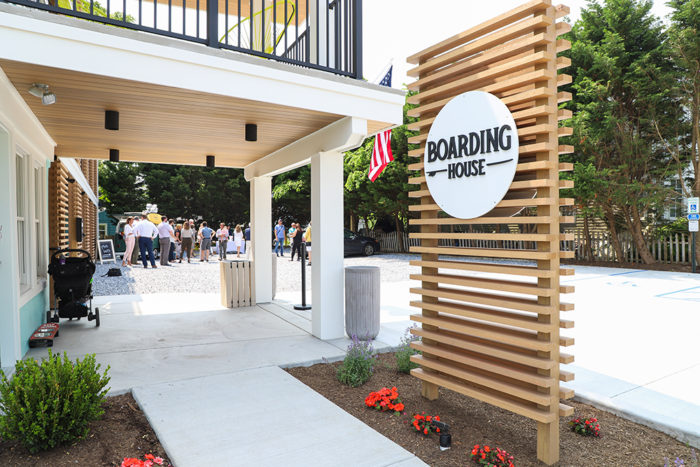 This past winter, the former Cape Winds  — now owned by the Hirsch family of Montreal Beach Resort — underwent a complete renovation, down to concrete and studs, and transformed into a modern surf-inspired getaway designed by Philadelphia firm DAS Architects.
The design is fresh and breezy. Eye-pleasing details are everywhere you look, from the speckled campfire-style mugs to the tile backsplash in the shower to the hand-painted lettering on the doors. The eleven guest rooms feature the vibrant ocean-inspired art of local artist David Macomber, whose work also hangs in the lobby.
And speaking of the lobby, there's tea and coffee, fusion water, fruit, and beverages. Every afternoon, they offer local beer and wine to guests (the 21+ variety — there's juice for the kids). And if your family has a dog in tow, they have jars of locally made dog treats. The hotel is dog friendly (the owners are dog people themselves–the dogs were even at the ribbon cutting).
There's no in-house restaurant, but you can add a breakfast basket to your room, which is delivered each morning. Guest rooms have a refrigerator and microwave.
Boarding House has eco-friendliness in mind. What stood out most to me was that the in-room coffee doesn't come in the single-serve disposable plastic pod variety. Instead, there's a glass pour-over coffee maker and reusable mesh filter. Stir sticks are wood, not plastic. They've also installed low-flow toilets, LED lighting, and use eco-friendly cleaning products.
Boarding House doesn't have a pool, but escape to the rooftop deck where you can lounge beneath sunny yellow umbrellas with a book and a snack (you can bring your own). And if you're headed to the beach, guests have free access to the Montreal Beach Club.
The Boarding House is at 810 Lafayette Street, Cape May. Explore the hotel on their website boardinghousecapemay.com and please join us in congratulating them on their official opening!
(In the above pictures, Hirsch family members Jonathan, Joe, and Larry are holding the surf board at the ribbon cutting. Jonathan Hirsch (and daughter!) cut the ribbon held by Joe, his uncle.)
---
Photos by Morgan Sacken