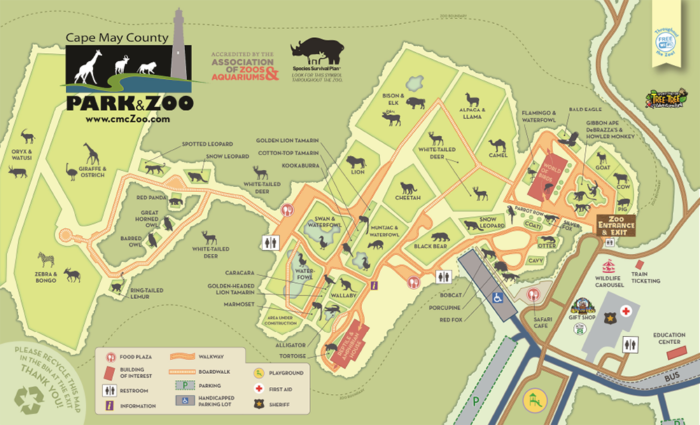 It was a hot one. I had the AC blasting as I pulled up to the entrance of the Cape May County Zoo. I rolled my window down and was greeted by a friendly smile and a map of the zoo. I dropped $2 in the donation bucket, rolled my windows back up to soak in the AC for as long as I could, and was directed to my parking spot.
The boiling heat hit me as soon as I opened my car door, so I got a bottle of water and SPF 50 for my travels. Once on my feet in the gravel parking lot, I joined in the crowds of other tourists making their way to the park entrance, about a 30 yard walk or so. On my way, I was surrounded by classic lamp posts with Cape May County Zoo flags, blooming flowers, and colorful gift shops accompanied with kids wearing butterfly wings and lion hats. I met up with my family at the entrance, and we walked through the grassy archway separating us from the real world and welcoming us to into the 220 stunning acres of wildlife habitat.
Before officially becoming Cape May County Zoo in 1978, the property opened as a park in 1942. Fun fact: Did you know the Cape May County Zoo houses more than 550 animals covering around 250 species? The African Savanna exhibit is home to zebra, giraffe, ostrich, oryx, watusi, and bongo. The zoo is especially known for its Snow Leopard breeding program.
The World of Birds exhibit, a free-flight aviary, houses beautiful and colorful birds like Ruddy Turnstones, Cattle Egret's, Scarlet Ibis', American and Chilean Flamingos, Northern Pintail and many more. Lots of them are not shy and will swoop down right over your head!
For the reptile lovers, the indoor Reptile & Amphibian House contains snakes, all kinds of turtles, crocodiles, lizards, and so much more! You really can get up close and check out the amazing details on all the animals in here. Outside of the reptile exhibit was a giant tortoise who slowly made his way over and was very interested in posing for my camera.
Outside of those specific locations you will enjoy exhibits for snow leopards, a bald eagle, lions, black bears, wallabies, otters, red foxes, deer, and so much more⁠—not to mention the beautiful free-roaming peacocks and the lively guinea hens!
Walking around the zoo on an empty stomach? Don't fret, there are plenty of food and drink stations within the zoo that offer a variety of yummy choices. I didn't venture off on this trip, but there is also a train ride and carousel you can hop on. Also, outside of the park entrance is a playground, perfect for burning off that last bit of energy the kiddos might have if walking around didn't quite do the trick!
The zoo is accredited by the Association of Zoos and Aquariums (AZA) and is donation based. Admission is free. They are open every day of the year except select holidays from roughly 10am-4pm. Private tours are available upon request. Everyone working at the zoo truly was incredibly friendly and knowledgeable on the animals within, and was genuine in keeping them all happy and healthy. I will definitely be back to visit the animals again soon!