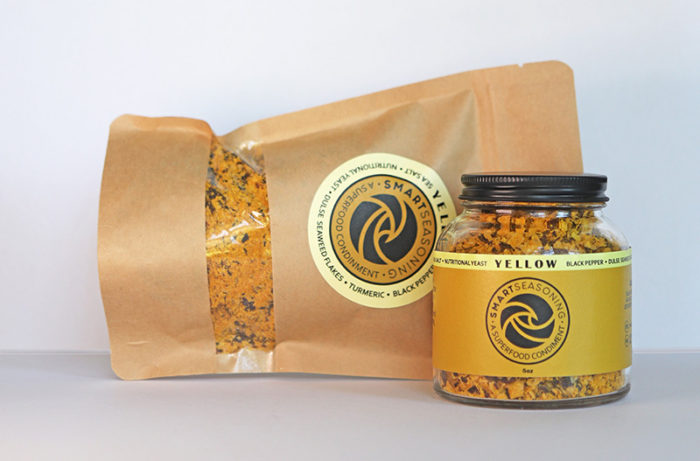 When COVID-19 forced a months-long ban on indoor dining across New Jersey, Lucas Manteca saw an opportunity. Along with his wife, Deanna Ebner, Lucas—the chef behind the Red Store in Cape May Point—decided this was the year to launch a new business. That's saying something for a couple that already runs four restaurants.
But this story actually starts in 2019. Last winter, the pair developed a seasoning blend to boost the nutritional value of their daughter's food. "We decided to test different combinations to find the right blend to use everyday and on everything," said Lucas.
The winning combination (today known as Smart Seasoning's signature Yellow Blend) was a mix of nutritional yeast, turmeric, seaweed, and sea salt—ingredients they selected for their health benefits as well as flavor. That first blend quickly became a family staple. They gave it as gifts to friends at Christmas, and it worked its way from their home and into the Red Store, making cameos on bagels and in smoothies.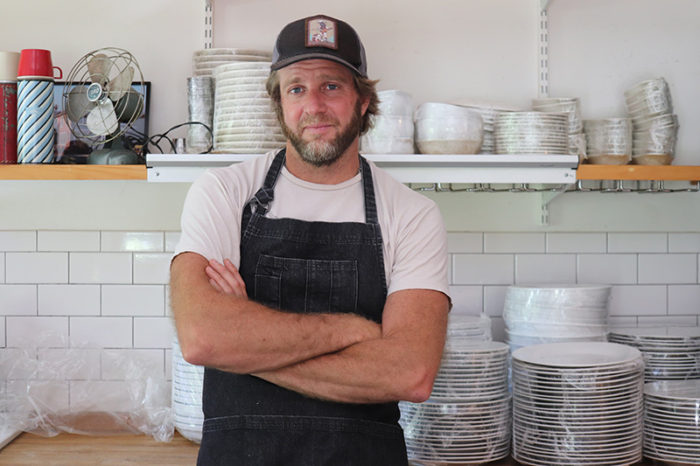 Then the pandemic reached New Jersey in early 2020, and a promising summer season was abruptly put on hold. To slow the spread of COVID-19, the state closed non-essential businesses, putting a stop to all indoor dining, but Lucas and Deanna kept their eyes forward. They turned to Kickstarter with a plan to take their new blend to the next level: offering it as a packaged condiment for home cooks. Their summertime campaign was a success. It raised 112% of the $15,000 goal needed to make Smart Seasoning a reality.
The vegan, gluten-free blend is handmade in small batches in the Red Store's kitchen, from organic ingredients whenever possible. Nutritional yeast contains fiber and protein, and can help you feel energized. Because of its nutty flavor, it's common in vegan recipes as a cheese substitute. Seaweed is a good source of minerals. You might know turmeric, a spice from the ginger family, as the sunny yellow component in curry powder. It contains curcumin, which has been studied for its anti-inflammatory properties. Together, these ingredients pack a flavor punch while providing nutrients you wouldn't get from salt alone.
Next month, the brand will debut the barbecue-inspired Black Blend: a warm, earthy mix of mushrooms, coffee, cayenne, and seaweed. If that combination isn't to your taste, or if you crave variety, you'll be glad to know more options are in the works. "Other blends will be launched first as a special release for an upcoming membership program," Lucas told us. "We want to be part of people's pantry."
So if you have a jar in yours, how are you supposed to use it? On pretty much anything that needs a flavor boost, according to Smart Seasoning's website. The Yellow Blend is an everyday spice. Sprinkle it on eggs or avocado toast in place of salt, rub it on chicken before roasting, or blend it into salad dressing. They recommend the Black Blend on proteins.
When it came to packaging, sustainability was not optional. "Eco-friendly is the way that we live and run our business," Lucas said. Despite the challenges and high cost, they chose recyclable glass jars and pouches made from biodegradable rice paper. The cost of the jars was a major reason the Kickstarter campaign was necessary.
You won't see Smart Seasoning in your grocery store just yet, but you can order online at smartseasoning.com. As demand grows, Lucas hopes to scale the business, bringing in new equipment and team members to keep up with production, though the goal is to keep things local.
"This is where we live, and we want our brand to be rooted here," Lucas said. "Capemade."
---
Learn more about Lucas and Deanna's restaurants at breadandbutterinc.com.