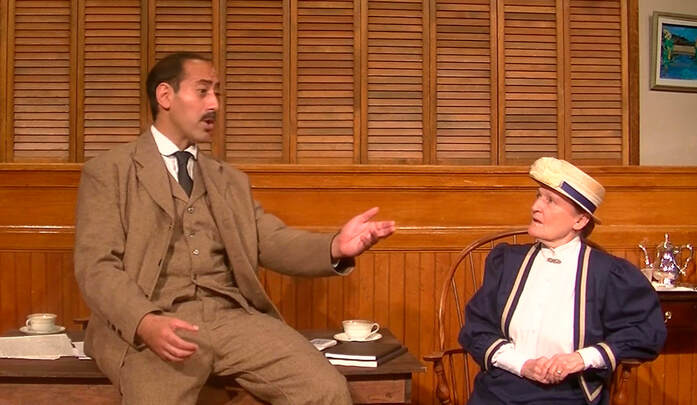 I've always loved the theater. On moving to Cape May, I dreamed of becoming a regular attendee at local productions. Season tickets! Opening nights! But real life responsibilities usually get in the way.
I'm searching for silver linings to 2020. Businesses have had to get creative this year to work around social distancing measures, and today's silver lining is that my dreams of theater-going have come true.
Last night, I attended an opening-night show. In my own living room. With two dogs and a glass of wine.
East Lynne Theater's current production Nothing Matters is streaming exclusively through YouTube. ELTC's artistic director Gayle Stahlhuth worked for three months to negotiate with the Actors' Equity Association in order to produce the show during a pandemic. ELTC shot this fully staged production on their Decatur Street stage, using three cameras and editing the final version for screen viewing. No matter where you are, you get a front-row seat.
The main character, brought to life by James Rana, is the real-life historic figure Ambrose Bierce. You might know him as the author of the short story An Occurrence at Owl Creek Bridge, one of the more famous examples of a twist ending. It was even adapted into a Twilight Zone episode (currently available on Netflix). In the play, Bierce is visited by a woman with writing aspirations. Over tea, he offers writing advice and recalls in vivid detail his time in the Civil War. Across the play's 75-minute running time, he searches for meaning through ironic one-liners, opinions on politics, and haunting descriptions of loss.
No matter where you live, you can enjoy this production at 8pm EST Wednesdays through Saturdays from now through November 21st. Tickets are just $15. Your confirmation email will include a link to the stream countdown. Once it reaches zero, you'll be able to open the video. Since it's hosted on YouTube, you can hit play when you're ready, pause, rewind, and turn on auto-generated English captions. I tested them and they were largely accurate. I paused the show 31 minutes in and switched to the living room so I could cast it to my TV.
I'm sure ELTC will be relieved when they can resume live performances, but I hope they'll consider offering a streaming option for other productions. Watching theater at home is a welcome change from Netflix.
Learn more about the production and buy tickets at https://www.eastlynnetheater.org/nothing-matters.html. And check out their YouTube Channel to watch the Tales of the Victorians series for free.
---
A head's up about content: Nothing Matters contains descriptions of Civil War injuries and references to the Donner party.