We were scrolling Instagram when a picture that made us do a double take. Emily Arenberg has created a technique that transforms flat wood surfaces into a birds-eye view of waves rushing onto the shore. At a glance they can pass for photographs, but these pieces are actually crafted from paint and resin. And since her studio is here in Cape May County, we reached out via email to find out exactly how she makes these pieces.
How did you develop your technique?
Emily: I started experimenting with epoxy resin about 3 years ago when I was living in California. I went to school for Studio Art at Marymount Manhattan College in New York City where I concentrated in Painting but was only trained in oils and watercolors. I taught myself the properties and techniques of resin after graduating by reading Reddit articles, watching videos online, and just playing around. There was a lot of trial and error over the years, but it wasn't until recently I really started focusing more on creating aerial waves pieces rather than just abstract fluid artwork.
What types of materials do you use?
I have a specific brand of epoxy resin that I really enjoy. I mix my resin with acrylic paints, ink, and pigment powders. I also use a specific pigment that I mix with the resin to create the "foam."
I use a food safe, non-toxic, UV resistant epoxy resin. There are no harmful chemicals you need to worry about contaminating your food. All the pigments I mix with the epoxy are also food safe.
How many days does it take you to complete a piece like a table?
Believe it or not, prepping the piece is the most time consuming. Since resin is so messy, I clean my studio and put down a plastic tarp before every pour. I then tape off the back side of whatever it is I'm about to pour on to prevent any of the epoxy getting on the underside of the piece. Once everything is prepped and my resin is mixed, I have to work very fast because the epoxy resin has about a 45 minute working time before it starts to cure… even less if its hot out. It then takes around 10 hours for the resin to completely harden before I can pour another layer on top. The amount of time it takes me to create something like this table here all comes down to how many layers of resin the client wants. I usually pour one layer of resin a day.
Does your technique only work on completely flat surfaces? What's the most difficult piece you've created?
When creating with resin your surface does need to be level or it will slide off the surface you are working on. The most difficult pieces I've ever created were actually some of my oil and acrylic paintings. Resin came pretty naturally to me compared to when I'm creating a landscape or portrait painting. I have to think a bit more about lighting, perspective, and other elements.
Do you create designs other than waves, or is water your focus?
I've always been inspired by nature and most of my paintings are influenced by the beach or mountains. However, I've been concentrating mostly on waves the past six months or so. I've become a little obsessed with perfecting my technique and seeing what sort of wave I can create.
Is this something you do full-time?
It started off as a passion project but it's becoming more full time, and I'm super grateful for that. I cut back my hours working my "day job" as a server and have been able to focus more on building and running my business.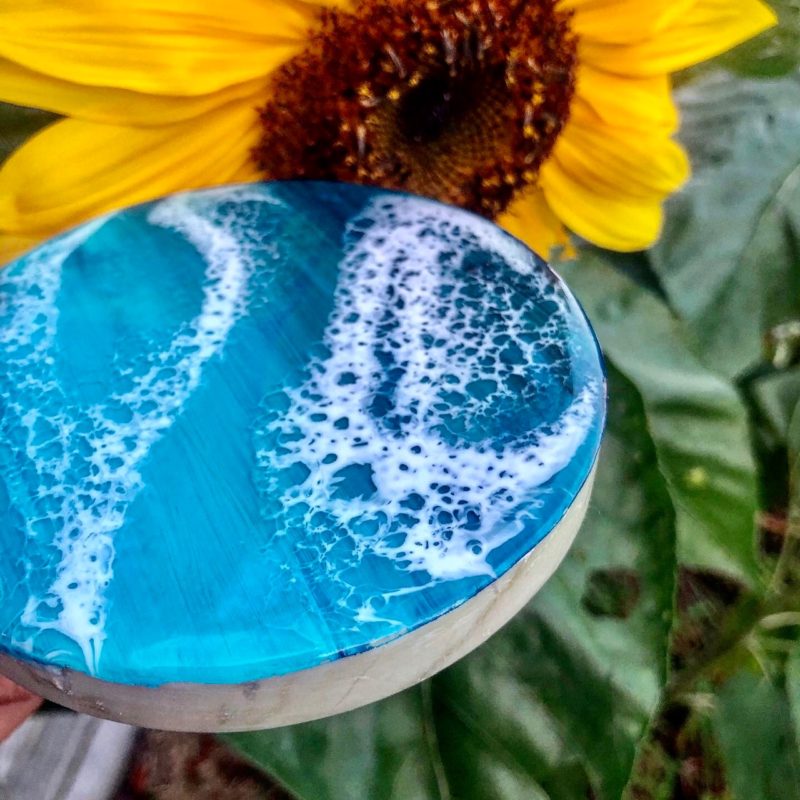 Where do you make your pieces?
My studio is actually brand new this week! I was working outdoors this past summer but I now have a small studio that my boyfriend built. He enclosed a part of our wrap-around porch with plexiglass and wood so I can still work throughout the colder months. The pictures look like I'm outdoors but it's just the glass. It is located on Seashore Road by Cold Spring Village.
Do you create custom pieces? For example, could you paint a wave on top of someone's dresser?
Yes! Most of my orders are custom pieces. Right now I'm currently working on a dining room table and a bar top for a customer. He gave me the size that he wanted, finish of the wood, and the colors of the resin. I've created wall coat hangers, key hangers, phone cases, poured on skateboards; pretty much anything that can be leveled. I haven't poured on a dresser yet but I'd love to try it!
---
Emily is working on getting her new website up and running, but for now you can follow her on Instagram at @em_a_art.
Emily provided all of the photos in this post.