Earlier this year, I asked my friend Nikki if she would take the bike path with me from Rio Grande to Willow Creek Winery. It sounded easy enough. Driving there only takes ten minutes, but on bikes we pedaled for eight miles. Going up the West Cape May Bridge was by far the hardest part. The people you see riding bikes on that bridge with no issue? I truly don't know how they do it. The best part was reaching the top and resting before going down into West Cape May. When we finally reached Steven's Road, we were ecstatic to see the winery entrance. After an hour enjoying the scenery with some wine and talking with other guests at a safe distance, we considered calling for a ride home to avoid the bridge, but we managed it, though we were exhausted once we reached the truck.
Now that the weather is cooler, I wanted to experience our local wineries again this fall—but this time by car. Visiting a winery can be a great way to get out of the house, relax, socialize, and maybe learn a thing or two. Here are three different ways you can experience Cape May County wineries right now.
Disclaimer: We're not wine connoisseurs and can only tell you about what we tasted.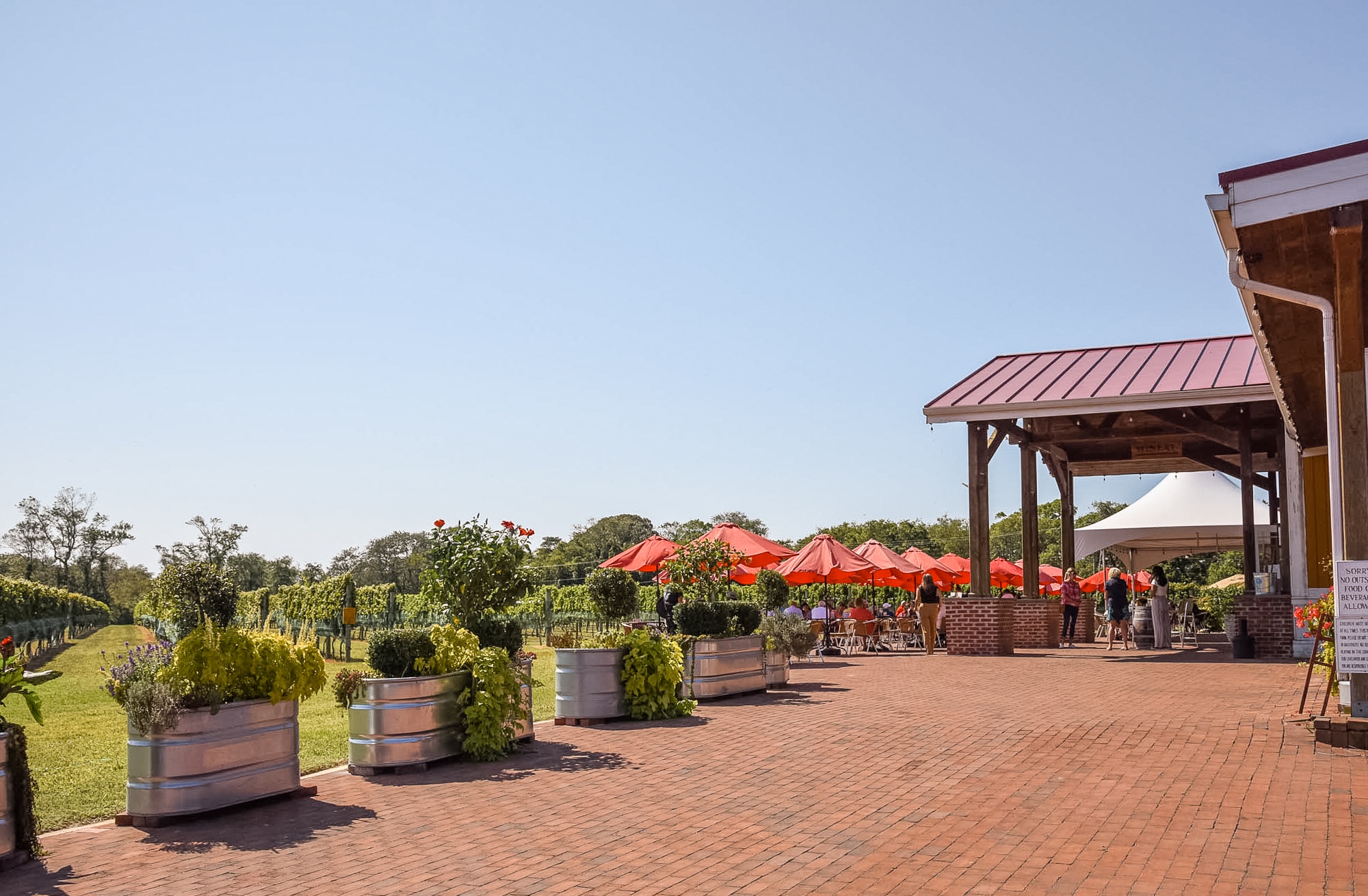 Self-paced flights at Willow Creek Winery
"With all the stress and uncertainty that 2020 has brought us," said Willow Creek's owner, Barbara Wilde, "Willow Creek Winery brings you the perfect escape with its vineyard vistas, locally grown wines, and delicious grill menu. It's a little taste of Napa without leaving the Cape."
I wanted to experience Willow Creek Winery a little differently than last time, so I made a reservation for 1pm. Nikki and I drove this time. As we pulled into the parking lot, we saw a lot of people, but everyone wore masks — guests and employees. The tables were spread apart and every server had on a mask. Our table was wiped down just before we took our seats, giving me confidence that I was in a clean environment.
It was a beautiful day, so we'd picked the table that was partly in the sun and shade. Our server was Patricia Gallagher, an eight-year employee at Willow Creek Winery. Patricia recommended their table flights: three glasses of wine in a tree-standing system. Private tastings aren't available right now because of the pandemic, but a flight lets you try more than one variety. I ordered the Wilde Cock Flight, which included Wilde Cock Red, Wilde Cock Apple, and their white sangria of the day. Nikki ordered the Sweets Flight, which included Wilde Cock Apple, Wilde Cock Cranberry Cabernet, and Wilde Cock Blackberry Merlot.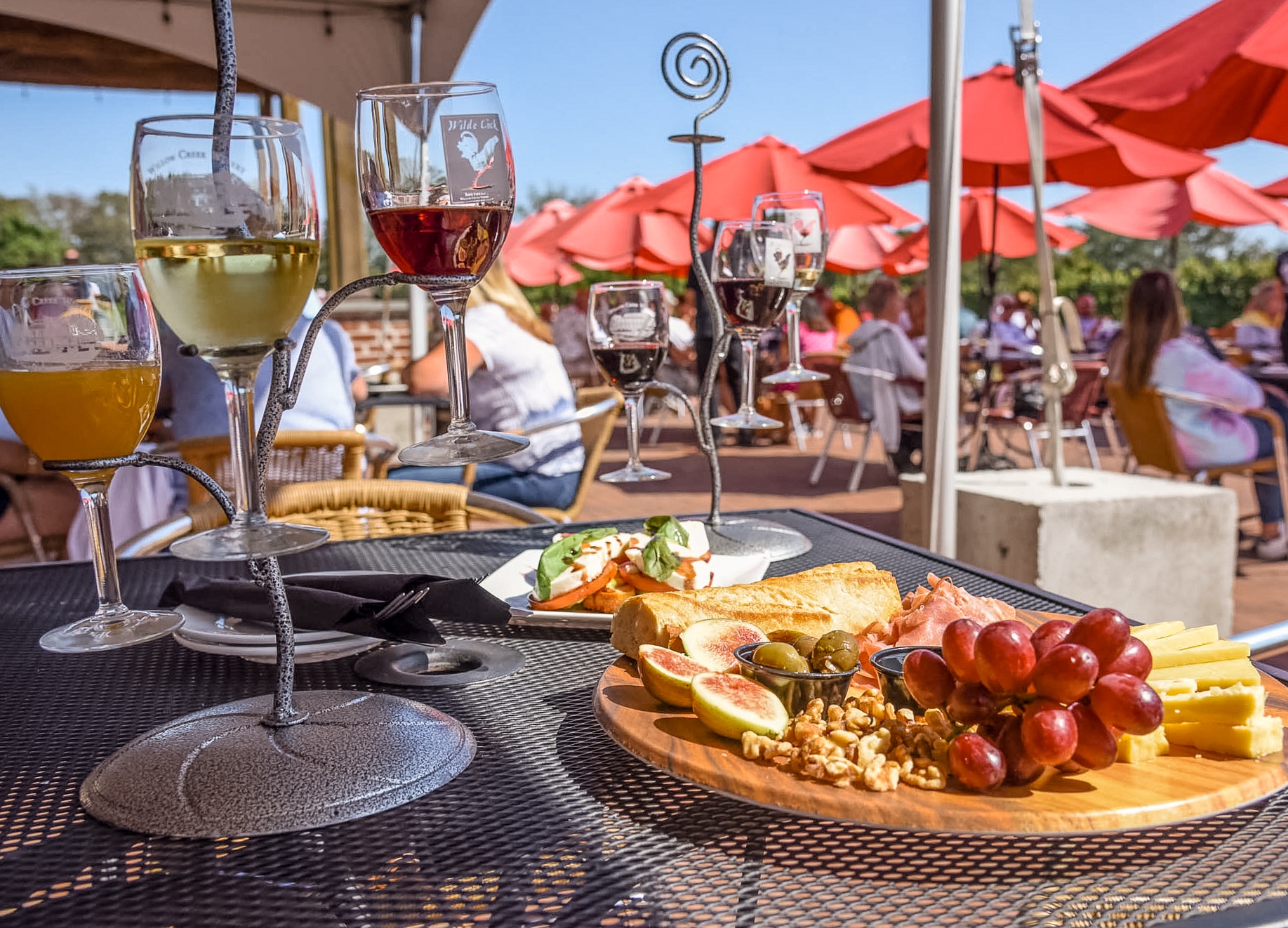 Since we were starving, we asked Patricia what food would go best with these flights. She pointed us to the Wilde Cock Cheese Board Combo. We had eight cheeses and three meats to choose from. We decided on Old Quebec Cheddar, Whiskey Cheddar, and Classic Parma Prosciutto. We also ordered the Avocado Toast. A server brought water as we admired the view and wondered what the wine would taste like.
When Patricia brought out our wine and food, she explained each wine and each cheese we'd picked, then left us to enjoy. We started with Nikki's flight. She loves sweet wine and I drink all different kinds of wine. Nikki said the apple wine tasted like a crisp apple. "This is really good," she said about the Cabernet. "I can taste the cranberry right away." Her third glass was the blackberry Merlot. "This smells delicious," she said. "This is by far the best-tasting blackberry wine I've ever had."
Then it was my turn. My first glass was the Wilde Cock Red. It was a little dry but went down easily. I wish I'd had more! The Wilde Cock Apple smelled like applesauce. It was a little tart, like biting into an apple. My third glass was the White Sangria of the Day, which I was excited about because it was Peach Pear White Sangria. This was a thicker wine, almost like a puree. It tasted a little bit of peach but more like pear to me.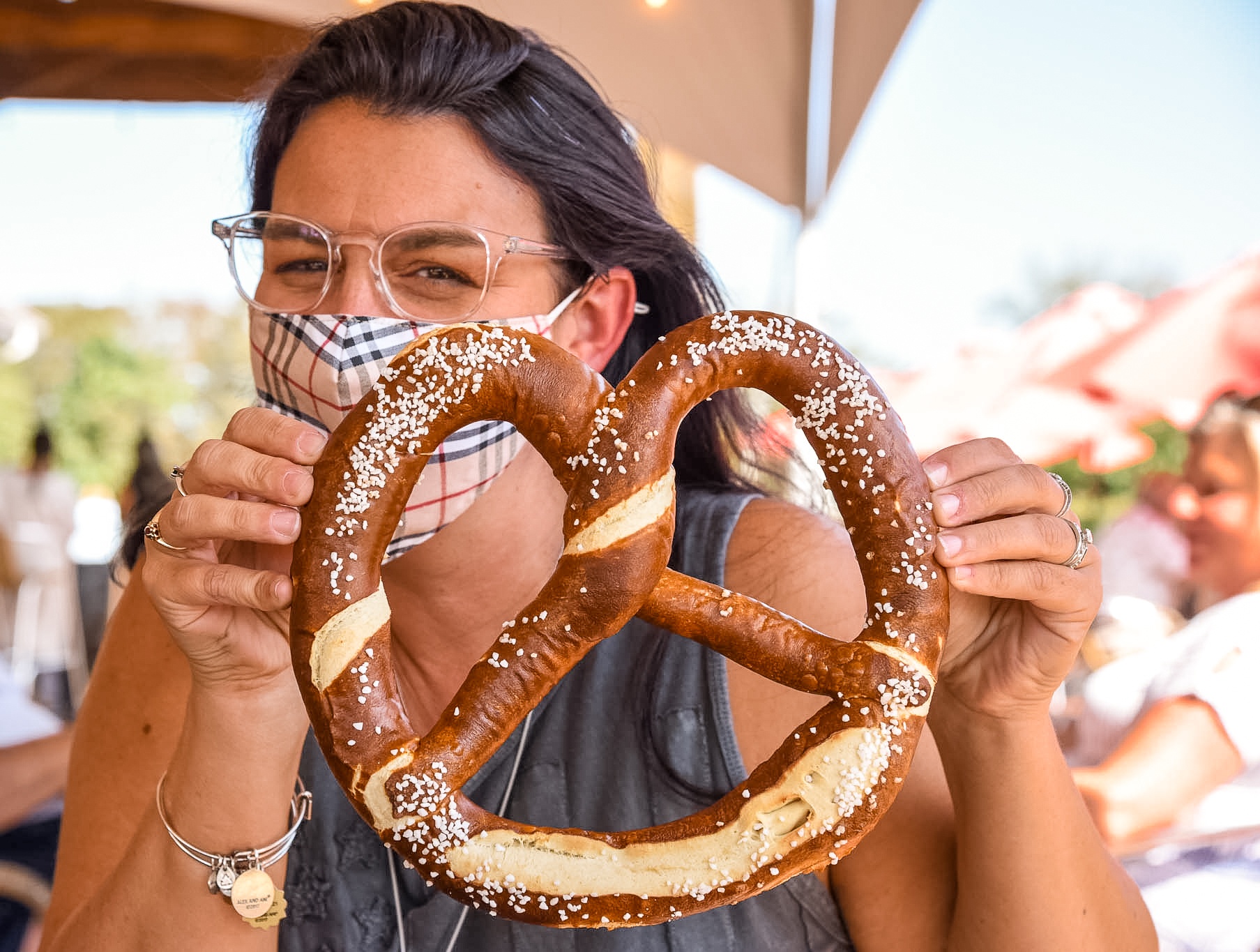 The avocado toast was amazing, though a little bit messy. I guess I should have been classy and used the fork and knife, but sometimes you just have to go all in. Both of us had it all over hands afterwards. Nikki said it was totally worth it. As far as the cheese board, we both loved the Old Quebec Cheddar but really liked the Whiskey Cheddar. The platter also had a fresh sliced fig. Nikki had never had one. Have you ever tried to explain what one tastes like to someone who has only had a Fig Newton? It's a little hard. (She ate it and liked it.)
Then a waiter walked by with us with this ginormous pretzel. We had to ask Patricia what it was: a Bavarian pretzel, one of the starter apps. We were finished eating at this point, but it looked so good. It was as big as my head. Then another waiter walked past us with a glass of wine and what looked like soft-serve ice cream. We asked about that as well and learned about Aloha Floats, a pineapple Dole Whip with either red or white sangria.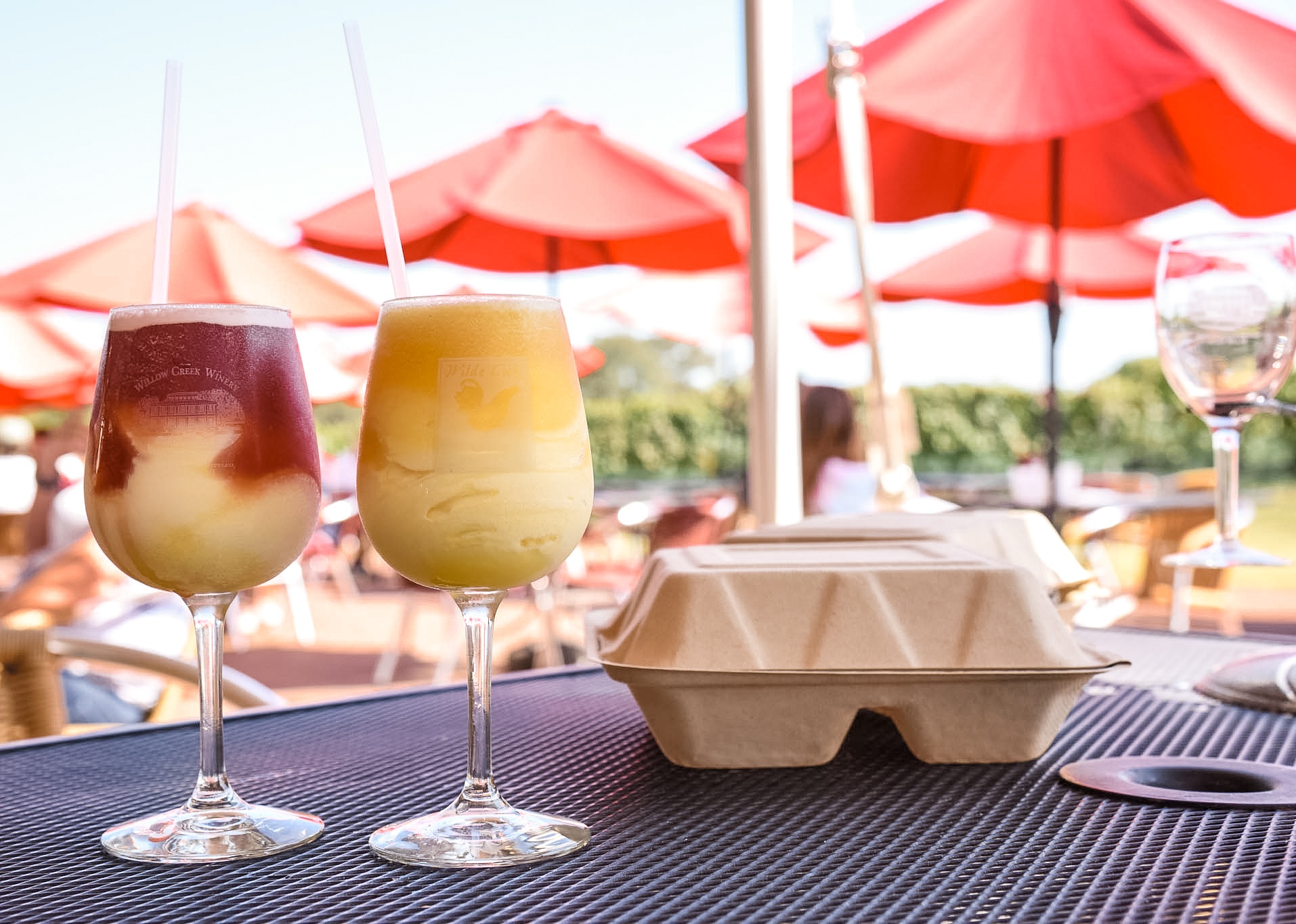 Okay, hello, we both love pineapples and hadn't tried the red sangria yet, so we each ordered one of those and a Bavarian pretzel to go. Of course, I had to take it out and see it with my own eyes on how big it was. It was nice and warm, and smelled divine. Not going to lie: the Aloha Floats (with Peach Pear White Sangria and Blueberry Pomegranate Passion Red Sangria) were heaven. We should have started with those first. I wish we'd known about them the day we biked eight miles. They would have definitely cooled us down!
Overall impression: We spent over two hours at Willow Creek Winery and it was extremely enjoyable. If you're looking for somewhere with great views and a staff that is friendly and considerate, I would recommend Willow Creek. Patricia was a great sport; she dealt with our crazy questions about everything that we ordered. Private tastings and tours are currently suspended, but you can get a table outside. Definitely make a reservation in advance.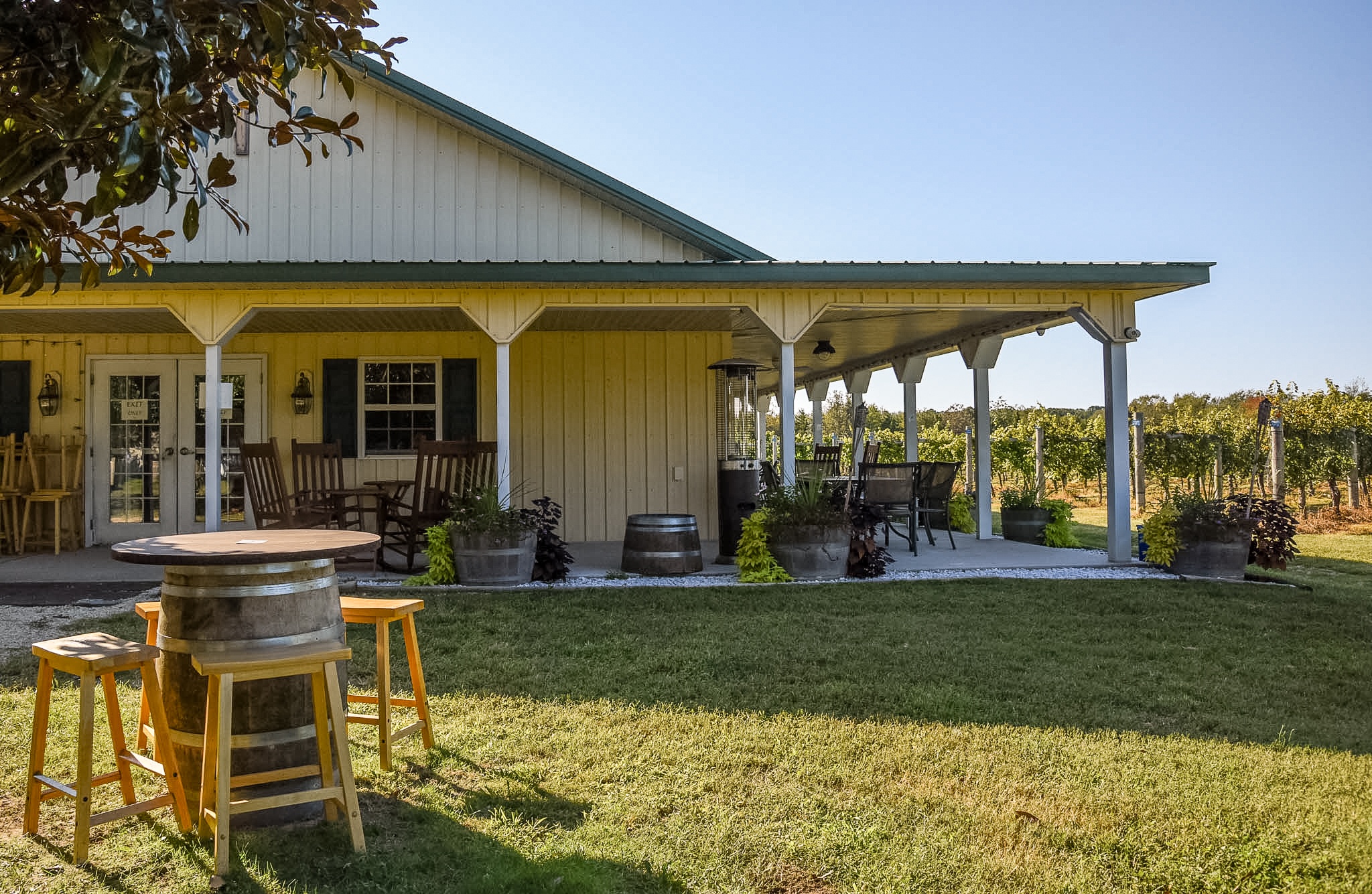 Wine by the glass at Jessie Creek Winery
Nikki had recommended a place down the street from her called Jessie Creek Winery. I hadn't gone there yet, and since she'd been there a few times — including once for a painting class — she suggested it for our next trip.
I called to ask what steps we needed to take to visit. We didn't need a reservation. They asked us to simply park (they have on-site parking) and wear our masks. They have a basket at the front door so we could choose our wine before we went into the building. We had the option of a glass of wine or a full bottle. Once we paid, we could enjoy it outside on the lawn beside the vineyard. They also offered different types of snacks.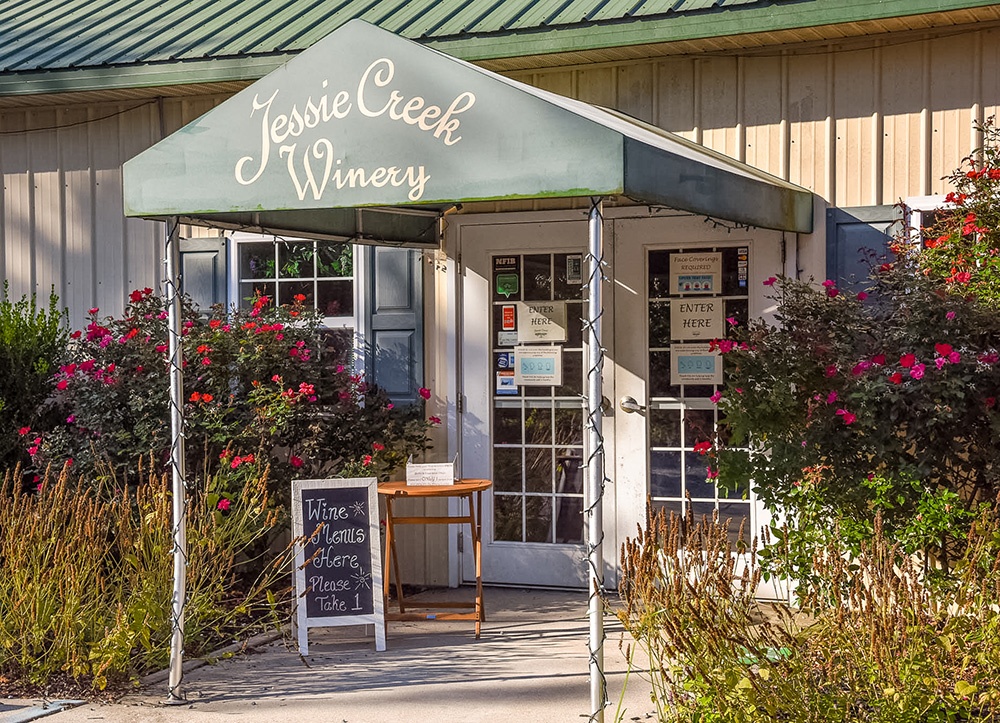 Jessie Creek wasn't as crowded as Willow Creek had been. We took our wine and went out to a barrel table positioned under a tree. Nearby, a couple was drinking a bottle of Coastal Red Blend. They said they'd come down to Cape May just for Jessie Creek, one of their favorite spots before heading into town. Nikki and I were excited to try the Bayberry Blush, a sweet wine that tastes like ripe strawberries and raspberries.
We sat there enjoying the views of nature and the beautiful weather. We differently want to come on a Saturday where they have live music and a food truck. That's for another day. When we went back in to return our glasses, they told us that we could keep them. How nice!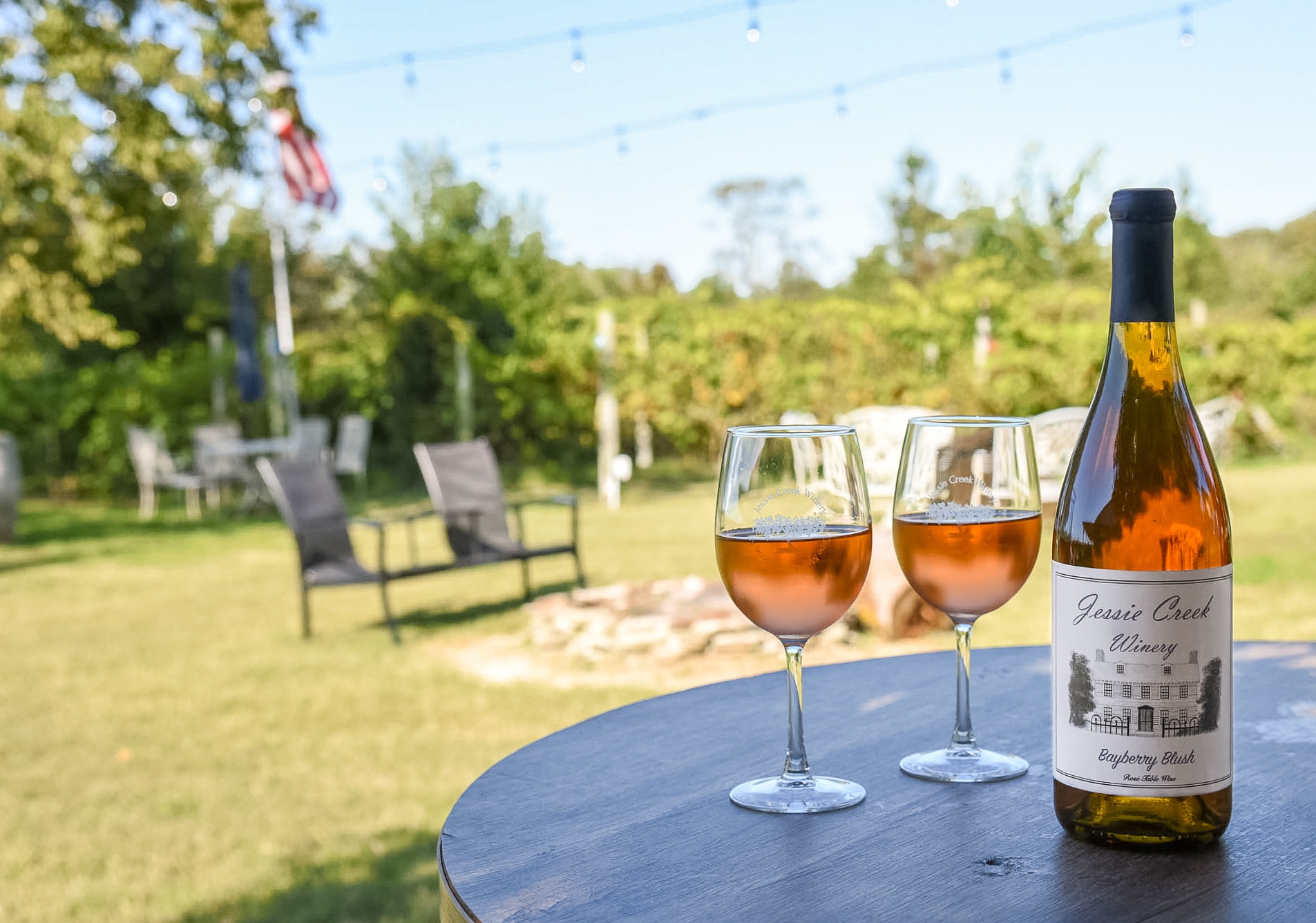 I also wanted to try their Limited Edition Cider Style Apple wine, so I bought a bottle to take home. We'd already planned a hot tub night and that sounded perfect! Jessie Creek considers this wine a cider with a kick. You can drink it chilled or warm. As soon as I got home, I stuck it in the refrigerator. It really does taste like cider. It snuck up on both of us pretty quickly. (We finished the bottle!) If you like cider, this is a limited edition wine, so hurry up and go before they're sold out. We definitely want to try it hot next time.
Overall impression: If you're looking for a less-crowded option, choose Jessie Creek Winery. No reservations are needed, but please wear your mask except when seated. Wine is available by the glass or bottle. On Saturdays, they have live music and a food truck. We're planning to stop by there again on a chilly weekend.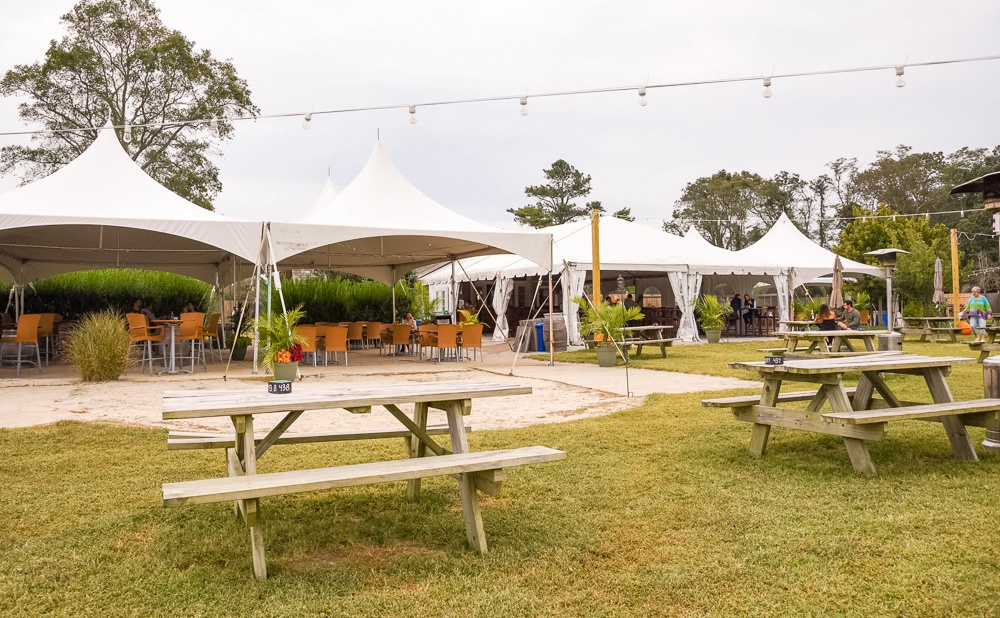 Private Guided Wine Tasting at Hawk Haven Winery
I've been to Hawk Haven Winery several times. Back in May, Nikki and I biked there from the Cape May Zoo just for a bottle of their Flying Press White. Hawk Haven is offering private tastings by reservation, so this time I called Jessica, our creative director, since she lives nearby. I made the reservation for a Thursday afternoon at 3pm. There was another couple in our group, so we wondered how Hawk Haven was going to handle a tasting while social distancing.
As we pulled into the parking lot, we noticed that there were a lot of cars already there, so we put on our masks and walked towards the front door. A sign said to go left if we were picking up wine or right if we were coming to enjoy. Unsure, we approached the hostess and let her know we had a tasting reservation. (She had on a mask, and all of the other employees did as well.)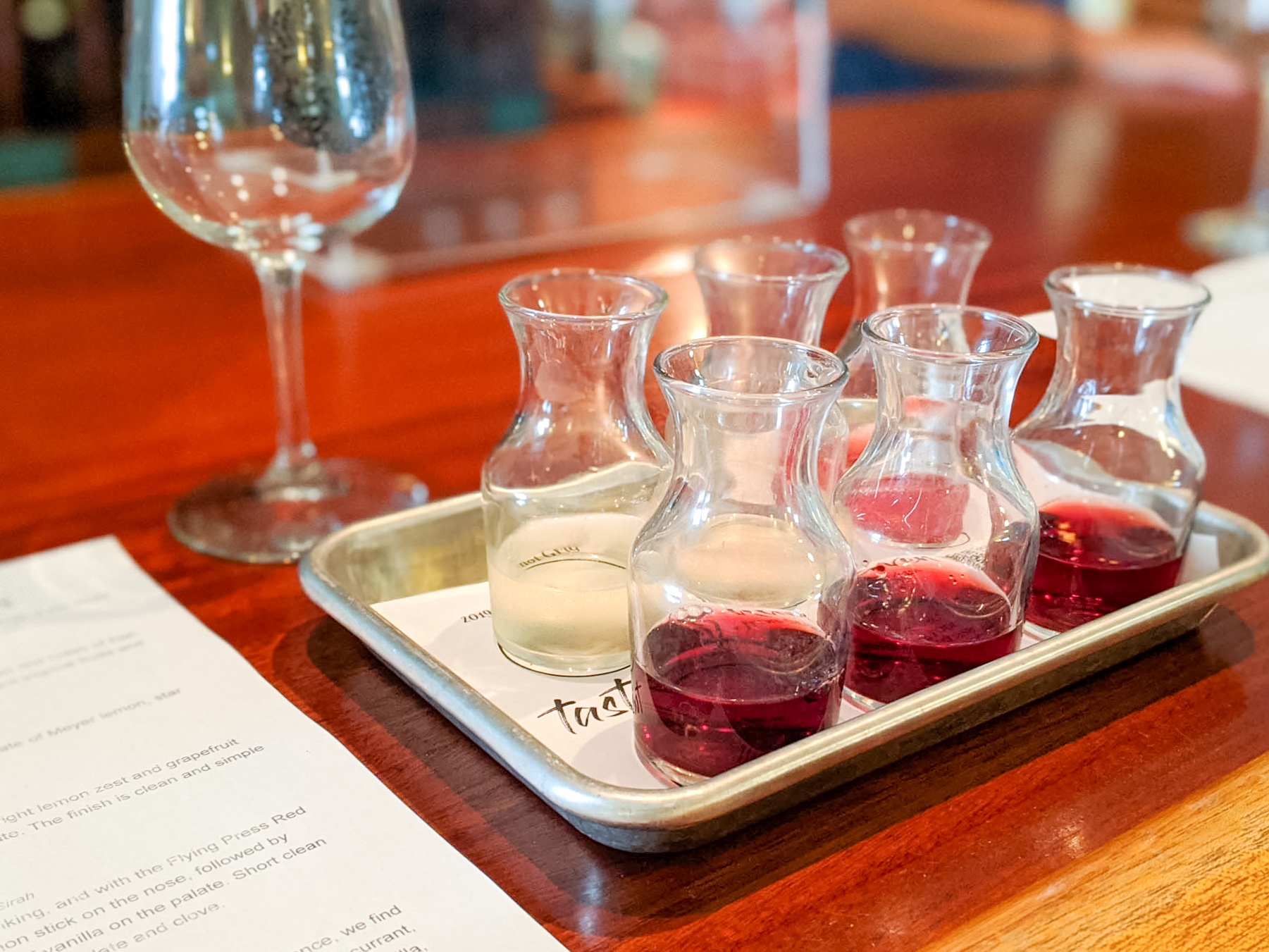 We followed her and the other couple, who had also arrived, at a safe distance. Inside, the couple was seated several feet away at the corner of the tasting bar. Our guide, Vinny Perrotta, was our guide for the afternoon. He stood behind a clear shield positioned on the counter in front of us (there was one in front of the couple as well). Normally at a tasting, the guide walks down the counter pouring a small amount of wine for each person. Social distancing makes that impractical. Vinny gave us a list of the wines we would taste, an empty wine glass, and a tray of six little personal carafes already filled with wine.
We started out with a 2019 Pinot Grigio. Vinny had us pour it into our empty glass ourselves, standing back as he explained its qualities. Jessica thought it was light, super drinkable, and good for dinner. I thought it had a light honey taste and went down really quickly. Next was the Flying Press White, which Hawk Haven uses in their sangria for Sangria Sunday. It's one of my favorites! It goes down fast and will definitely sneak up on you. Jessica thought it was fruity but not sweet; I thought it was crisp and light with a clean taste. It's pretty neat how taste buds differ from person to person.
Flying Press Rose was our next glass. Jessica said it had a big taste and called it fun — something she could imagine drinking on her deck. (I believe she bought two bottles.) I also enjoyed this glass of wine. I thought it was really, really superb. For me, Flying Press Red was the best tasting. This wine is aged 8 to 9 months and is what Hawk Haven uses for their red sangria. I could drink it every day if I had a bottle with me, not going to lie. We both liked the taste of that one (I even put a red heart next to it on my paper).
Next was the 2018 Proprietors Red Blend. Vinny said he always buys this wine, as well as Hawk Haven's Q. Proprietors Red tasted extremely good. I know what I'm buying next time I'm here. Our final glass was the 2018 Q, the wine Vinny recommends with your favorite steak. Jessica thought this dark wine lingered, and I said it had a little bite but really tasted great. I'm not a wine connoisseur, but I know what I like.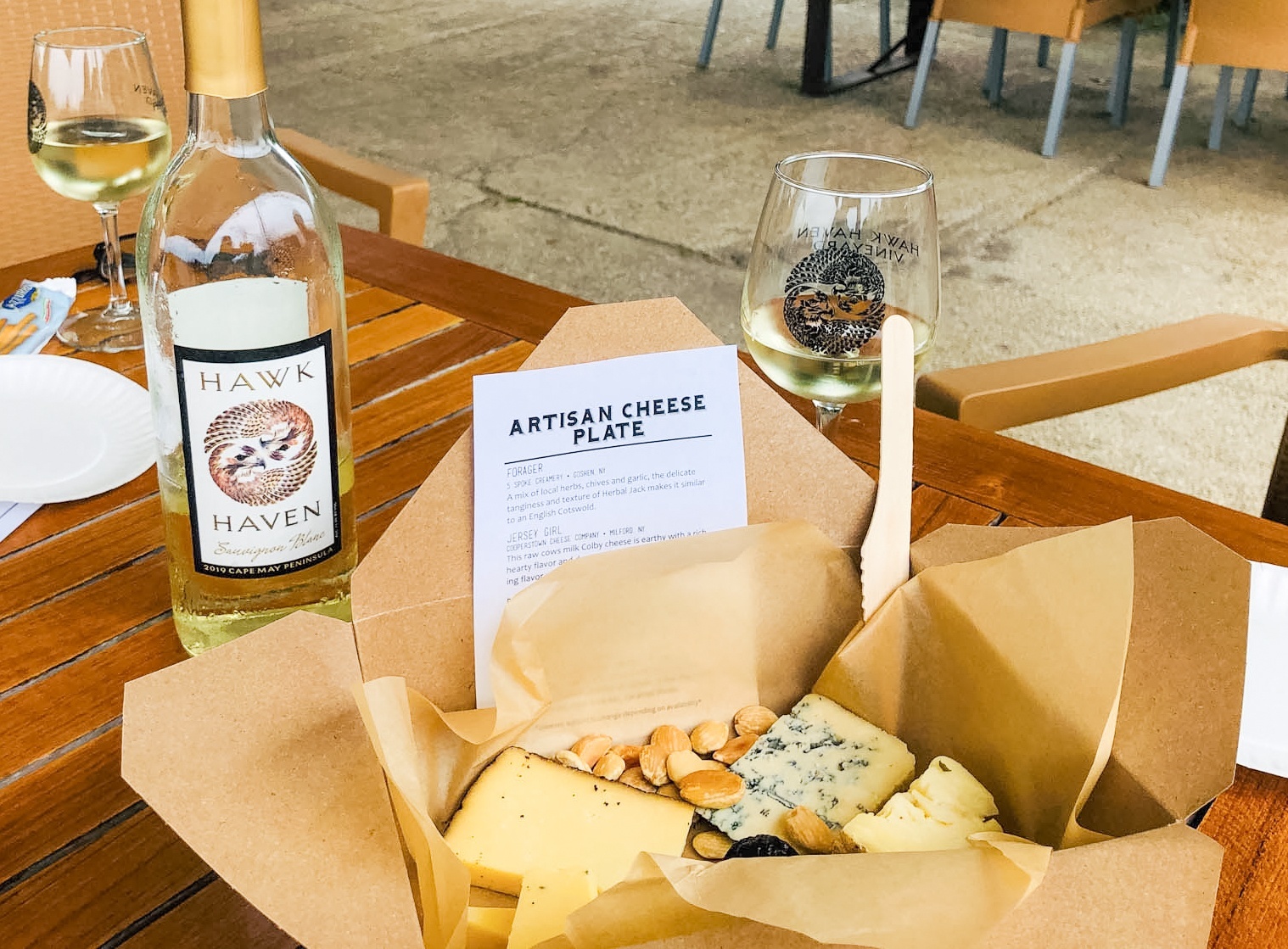 After the tasting, we went out to the patio and bought a bottle of the 2019 Sauvignon Blanc and the Artisan Cheese Plate. It had cheese from 5 Spoke Creamery in Goshen, New York; Jersey Girl from Cooperstown Cheese Company in Milford, New York; Barely Buzzed Beehive Cheese from Logan, Utah; and Bay Blue from Point Reyes Farmstead Cheese Company in Point Reyes California. My favorite was Barely Buzzed, which was an espresso and lavender rubbed imported with a butterscotch and caramel taste. All of the cheeses were amazing, though. We sat under the tent enjoying our time, talking and laughing until it was closing time. We want to come back when they have entertainment (and maybe a bit earlier to walk the vines).
Overall impression: If you want a traditional tasting experience, Hawk Haven is the way to go. Reservations are required for tastings. You don't need one for a table but they are recommended. You'll order and pay at the outdoor counter, then take your wine and food to your table yourself. There is no table service. Masks are required except when seated.
---
I hope you're able to enjoy wine in Cape May this fall (and I hope I didn't "wine" too much)! Want to go? You can find addresses and more information in our wineries directory.
Photos by Michelle Giorla, Nikki Martindale, and Jessica Leeburg.