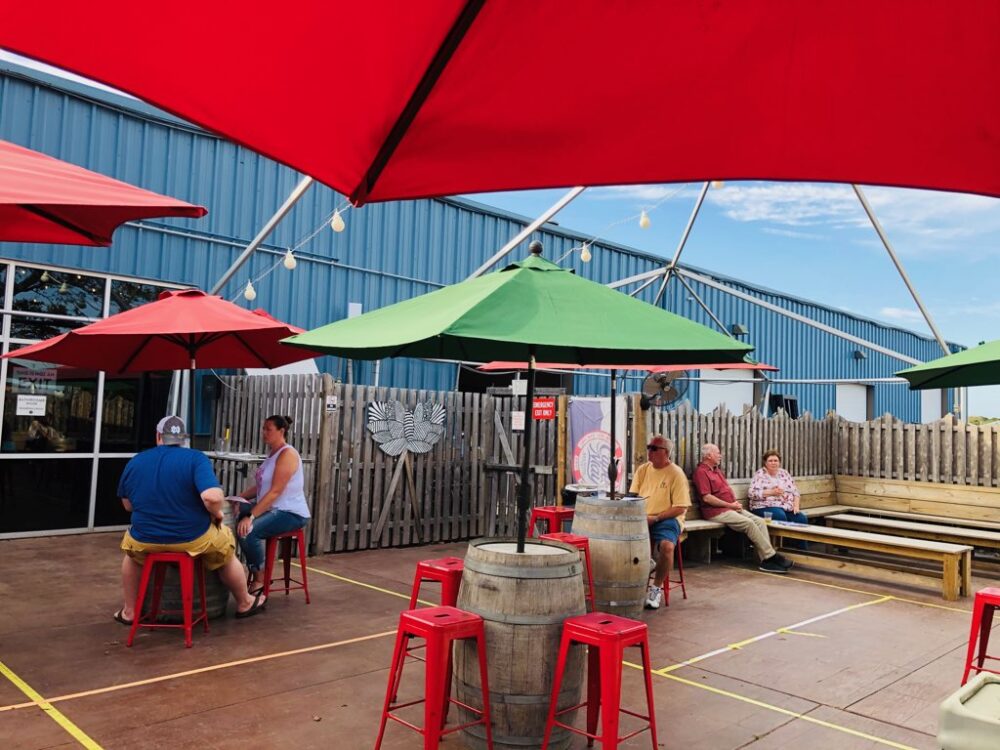 We're a third of the way into November and it's 72 degrees outside. Before we spend the winter months bundled up indoors, here are a few ways to get out and enjoy the last of the warm weather!
Try a new beer at Cape May Brewing Co.
Head to the Cape May Airport for a drink on Cape May Brewing Co's outdoor patio. Enter through the main door and navigate the queue to the host stand. It's one-way only, so you don't have to worry about passing someone. Staff will show you to a table spaced a comfortable distance from the others so you can take off your mask while you kick back with a drink and enjoy the fresh air.
A server will bring your drinks and take care of your payment at the table so you won't have to get up (in fact, they request that you stay seated). By state law, CMBC doesn't serve food but you can bring your own. (There's a taco shop next door.) When it's time to leave, exit at the rear of the patio and walk around to your car.
We tried the Mango Hard Seltzer and The Grove, a citrus shandy. They made our fall day feel more like summer. We'd hoped to try the Coffee Stout but missed it by two days. Next time!
Visit the Cape May County Zoo
The Cape May County Park and Zoo is free to visit year-round and offers plenty of space to stretch your legs. 
The zoo is keeping track of how many visitors are inside at any time, so you could be asked to wait a bit before you can enter. We visited last Friday and walked right in. For your safety, and the safety of animals and staff, masks are required. The zoo has modified pathways to avoid bottlenecks. They recommend keeping a zebra's length between your group and the next, and certain paths are marked as one-way only. The Reptile House and Aviary, both indoor exhibits, are temporarily closed to visitors.
Overall, the other guests were respectful of our space, though be prepared for small children to run past or to encounter meandering groups on narrow paths where it's difficult to pass. We found people a little less likely to distance on the walk back to the parking lot where the traffic is two ways, but we kept to the edge.
The zoo is open daily from 10am until 3:30pm. Entrance is free but please consider a donation! For more on the zoo's safety guidelines, visit their website.
Explore the nature trails at Cape May Point State Park
Lace up for a stroll through the nature trails at Cape May Point State Park. Great for nature lovers and photographers alike, the park offers three hiking options:
Duck Pond Trail – an easy half-mile hike that is wheelchair accessible and offers views of Lighthouse Pond.
Monarch Trail – a 1.2 mile hike that wanders different habitats including freshwater wetland marsh, coastal dunes, and beach.
Plover Trail – a 1.5 mile hike with more time on the beach and coastal dunes. The end of Plover Trail is only open during the fall and winter (it's closed in the spring and summer to protect beach-nesting birds), so this is the perfect time to check it out.
The pathways are clean and well maintained, with enough space to keep a six-foot distance. No matter which trail you pick, you'll spot birds and wildlife. And if you take the Duck Pond Trail to Lighthouse Pond, you should be able to see swans. Our photographer offers this tip: "If you're really quiet, you can sneak up and see turtles."
Download a trail map and more detailed descriptions of each hike on the NJDEP website. Happy trails!
---
For more things to do in Cape May, visit our activities guide.