With 2020 out of the way, I made a New Year's resolution to think positively. When scrolling on Instagram and Facebook, I'll only look for crafty ideas rather than gossip. I love seeing different things, videos, and pictures, but no more negativity or silly nonsense. I was excited when I saw a few videos of the "Rock Lady" Cathy Tveici painting different sites around Cape May…on rocks! I reached out to Cathy and asked a few questions, and she sent along some recent time lapse videos we've embedded below. I hope you find my New Year's resolution a happy one! Wishing you a happy, healthy, and positive 2021.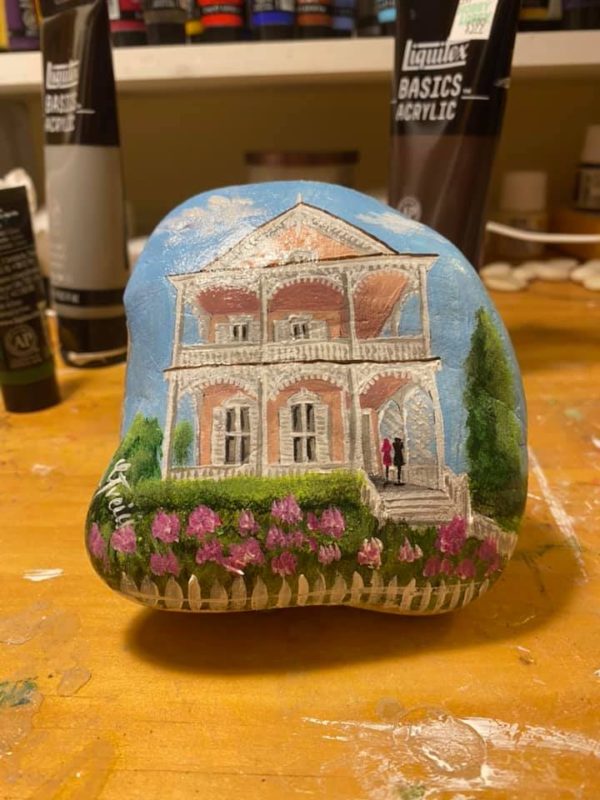 Why do you paint on rocks?
It happened by accident! Those that have been following me know that I am a graphic designer, and around four years ago I started doing oil paintings of Cape May. I was inspired by all the beautiful photography of Cape May, an artist named Steve Quartly (not a Cape May artist), and the beautiful and [seemingly] endless subject matter in Cape May to paint.
In early spring of 2020, my husband and I took a day trip to the Barnegat Lighthouse. At that point the pandemic was just a mere whisper. On my way down [to the lighthouse], I saw a rock with a simple painting of an owl on it. I picked it up and saw it was part of a kindness challenge from SouthJerseyRocks.com, and I thought, what a nice thing to do. I thought it would be fun to hide a rock in Cape May and make it a game. So, I painted a rock (the Sea Mist), hid it in Cape May, and I posted my poem/clue on my [Facebook] page. I had no idea at that point what I had started. Well to my surprise, the game was a huge success! Since then, I have done about six or seven rock hunts, and I am nearing my 300th rock. In fact, by time this posts, I will have surpassed 300.
People call you the Rock Lady. How do you feel about that?
My oil paintings are still my first love, but the rocks have become hugely popular and that makes me happy. I was not prepared for the response that I have received; it has become a truly rewarding experience. People have shared with me some very sad and happy stories, and to know that my rocks have brought happy tears to people just fills my heart with joy. I am humbled by their responses.
How do you decide what to paint?
It's no longer what I want; it's what you want (which is fine with me). People send me photos of what they want and the subject matter is diverse. Cape May images and landmarks top the list, but I get all kinds of requests: engagement photos, weddings, couples, people and pets that have passed, other locations, basically anything that sparks a happy memory that people want immortalized.
You paint on actual rocks. Where do you find them and what's the process of painting on them?
Finding just the right rock is just as important as the image. My husband and I go to a landscaping company that sell rocks in bulk. We go to the river rock pile and pick out the best we can find and fill a few bags. My husband's job is to wash them and put them out on two long tables in the garage so I can easily choose the rock. Of course, I always choose a rock that works with the photo; sometimes this is a little harder than it sounds. I prime the rock with gesso, then draw the image on the rock. I use Liquitex acrylic paints and finish it off with four coats of a glossy varnish. [The rocks] are then signed and numbered and sent off to their new homes.
We love the time lapse videos you share on Facebook!
I think the best part is the little videos I make of me painting. People really enjoy watching the process and the painting coming to life, I have to admit I enjoy it also. It gives people a glimpse of the work that goes into the rocks. People are shocked to learn that a 22 second video is actually anywhere from a two to four-hour process.
How has the pandemic affected you?
So now it is 2021 and although the pandemic has made life a little sad and for some unbearable, I have to admit it hasn't been all negative. The pandemic has given me time to build my fine art business, which helped speed up my goal of retiring as a painter. It also made it possible for people to get a little piece of Cape May because of cancelled vacations. It has raised my awareness of the history of Cape May. I have made a lot of new friends from across the United States, Canada, and even Europe. It has made me appreciate the little things in life, the beauty of our surroundings and the love that people have. For this I am blessed.
---
See more of Cathy's work on Facebook @Fine Art by Cathy Tveici or on her website https://ctveicifineart.net.