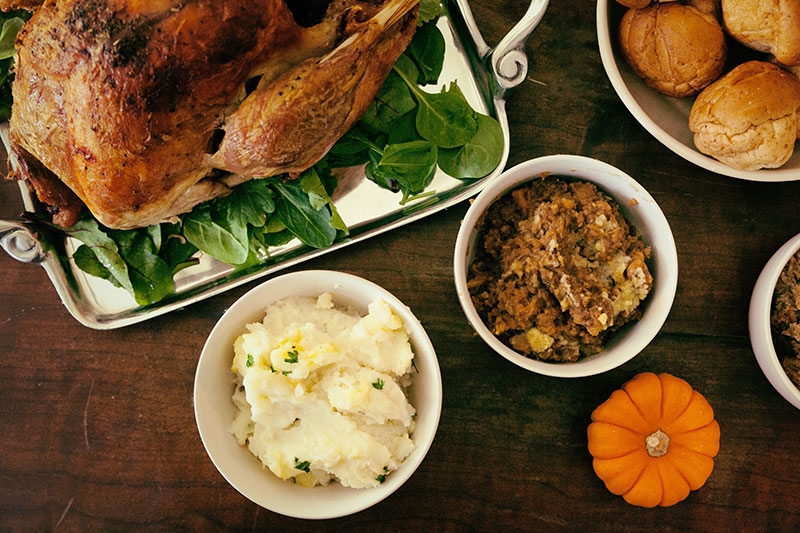 We're already receiving questions about who's serving turkey this year, so we reached out to Cape May's restaurants to find out where you can make reservations for Thanksgiving dinner. Here's everything we know about Thanksgiving dinner in Cape May in 2021 so far.
We'll continue to update this post as we receive information! Last updated November 23, 2021
Where to eat Thanksgiving dinner
Beach Plum Farm
Enjoy a family-style Thanksgiving dinner at Beach Plum Farm that celebrates locally sourced ingredients, including their farm-grown heritage turkeys. This multi-course meal is $125 per person, BYOB, and begins at 4pm.
Congress Hall
Celebrate Thanksgiving in Congress Hall's jewel of a ballroom. This year's menu will feature holiday favorites like turkey and mashed potatoes, and incorporate ingredients locally sourced from Beach Plum Farm. Limited reservations begin November 1st. Overnight stays are available at several of Cape Resorts' properties.
The Ebbitt Room
This year the Ebbit Room will be hosting a limited farm-to-table Thanksgiving dinner with a fixed-price menu from Executive Chef Jason Hanin. The menu will feature "creative new twists and Thanksgiving classics" and focus on local ingredients, according to the Cape Resorts website. Reservations are currently limited to overnight guests.
Hemingway's at the Grand Hotel
From 1-7pm, enjoy a fixed-price, family-friendly Thanksgiving dinner at the Grand Hotel. This year's menu includes turkey, crab cakes (this swaps to chicken fingers for the kids), or braised short ribs. Dessert options are an apple cobbler, pumpkin cheesecake, or a gluten-free option: chocolate mousse cake. Reservations are required. $48 for adults, $24 for children. Call 609-884-5611 ext. 550.
Peter Shields Inn
PSI's details are still in the works, but we confirmed that turkey will be a choice on the upcoming $85 prix fixe menu.
See the menu and reserve a table (we're not seeing openings on OpenTable, so you might want to give them a call!)
Union Park
Union Park will be offering a 3-course, $75 fixed price menu from 2pm to 7pm. Turkey is one of nine of this year's entree options, which also include a duck trip, North American lobster, and scallops. For children, Union Park is offering a $50 turkey plate. The complete menu is available as a PDF download on their website.
Reserve a table on their website
Thanksgiving dinner to go
Homestyle to Go
Andrew and Christina from Homestyle to Go in West Cape May are offering Thanksgiving takeout ranging from individual turkey dinners to a traditional menu that can feed 10-14 people. The pickup window begins Wednesday evening and extends into the morning of Thanksgiving Day.
The Washington Inn
The Washington Inn is back with their Thanksgiving Feast to Go. This option feeds up to 12 people and includes a 20lb turkey, traditional sides like mashed potatoes and cranberry sauce, as well as coffee and dessert. To order, call 609-884-5697 and press 1 when prompted. Leave your name and phone number, and the Washington Inn will call you back to take your order. Order by Monday, November 22nd. Pick up will be at Lucky Bones on November 25th.
Note: Prawn, which did serve Thanksgiving in 2020, told us via email that they are closed for the season.