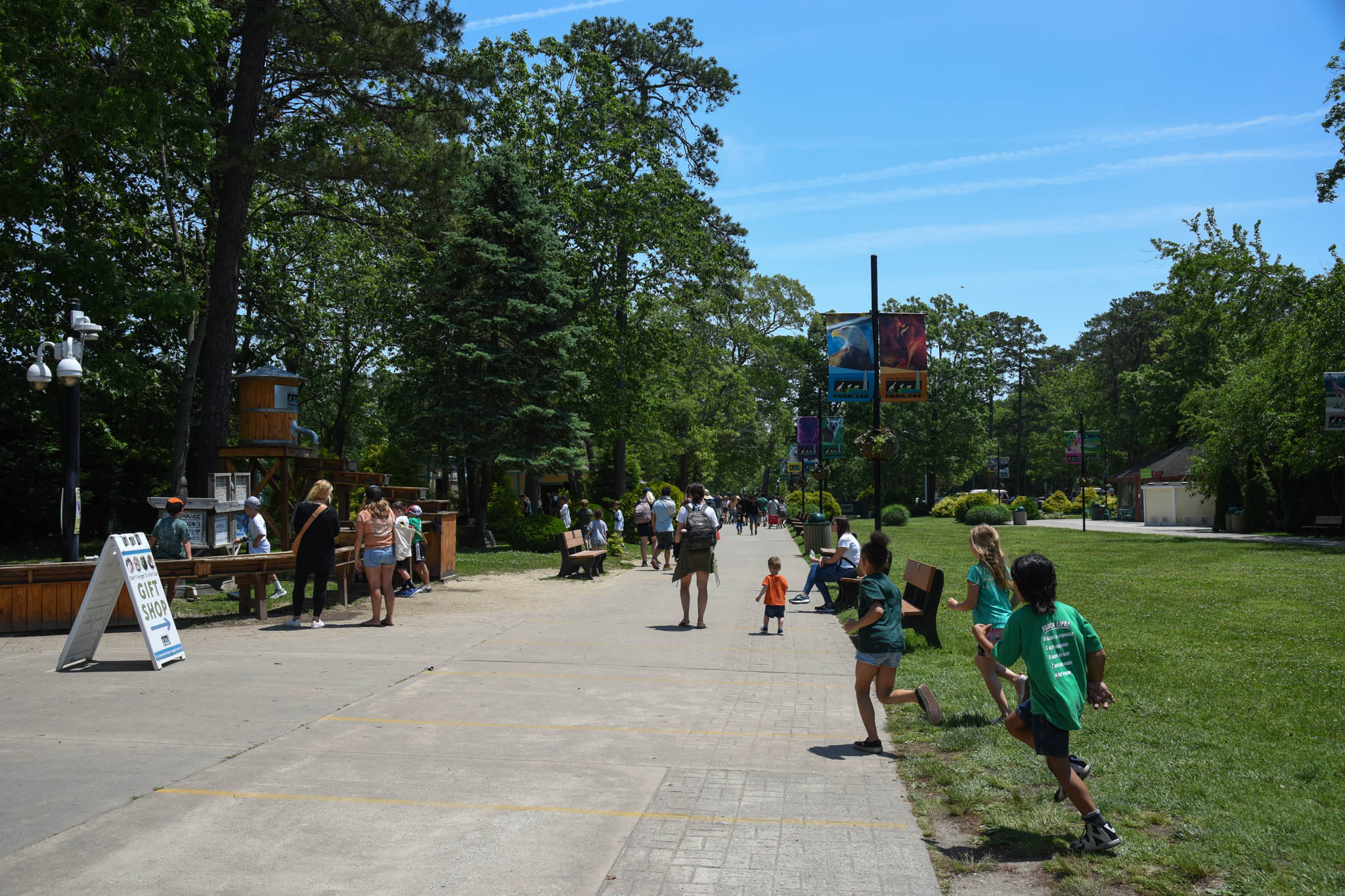 The beach isn't the only place where you can enjoy Cape May with kids! Parents, we have eight different options you may not have considered, from self-guided tours to educational water activities, and even a carriage ride! These options will make kids of any age smile.
Cape May Cycle Cruises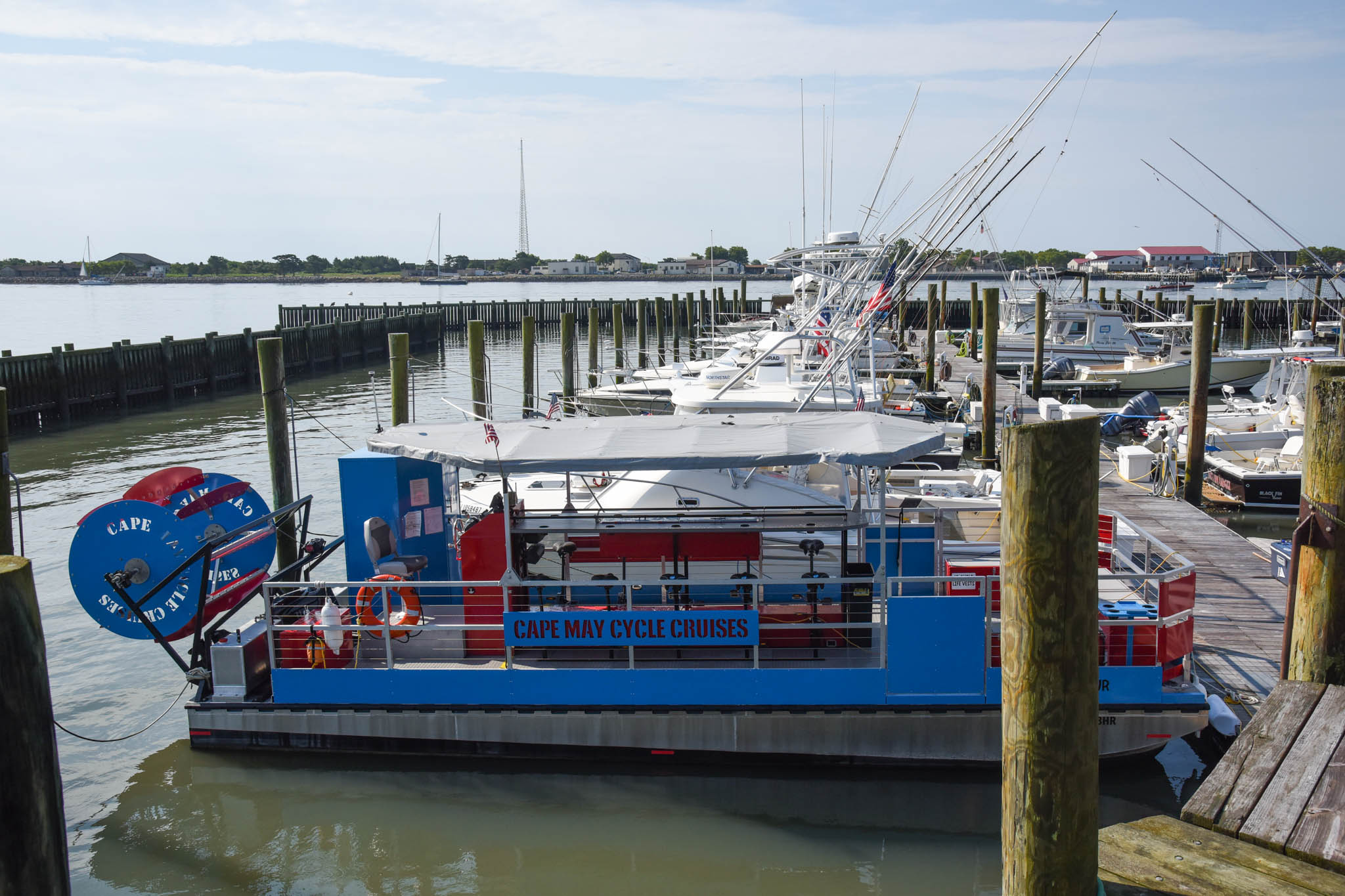 Cape May Cycle Cruises is a fun new way to see Cape May Harbor as you pedal past just about every dock! The public cruise can hold up to fifteen people, but you can book a private cruise for twenty people.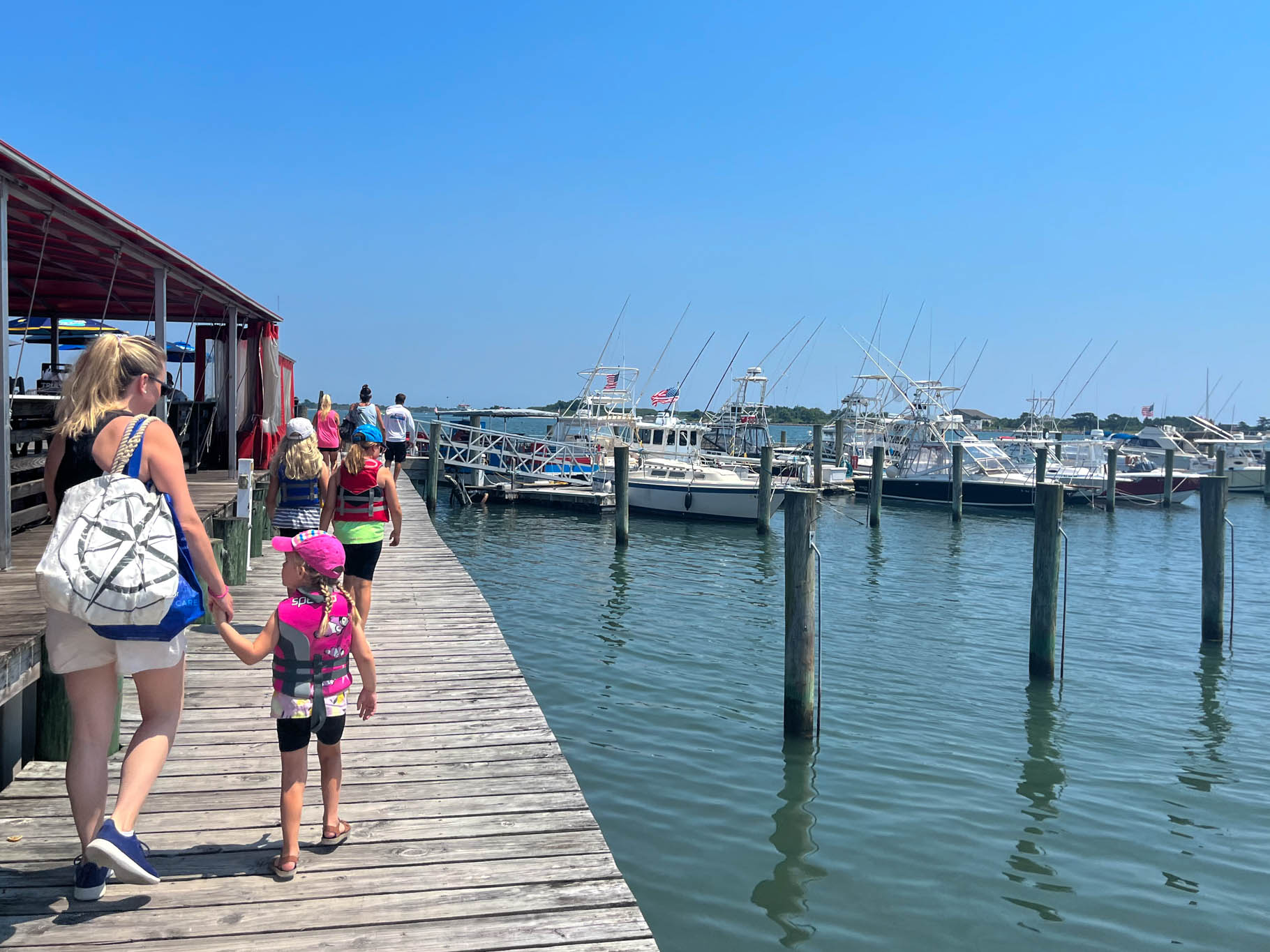 We parked at the Harbor View and headed to the docks. The boat has ten seats for peddling with a bar top and a cup holder in front of each bicycle seat. Cycle Cruises provides lifejackets for kids, ice, and an on-board cooler for food and drinks. They're BYOB. I took a two-hour cruise with my three young nieces. We brought our own cooler that Cycle Cruises let us have on board. The bike seats are adjustable, but if you have little ones, they might not be able to reach the pedals. The shortest in our group was 41.5" tall and could only pedal with her hands, sitting on the floor. But if your kids are 54" or taller, they should be fine. No need to pedal the entire time (or at all, there's a motor).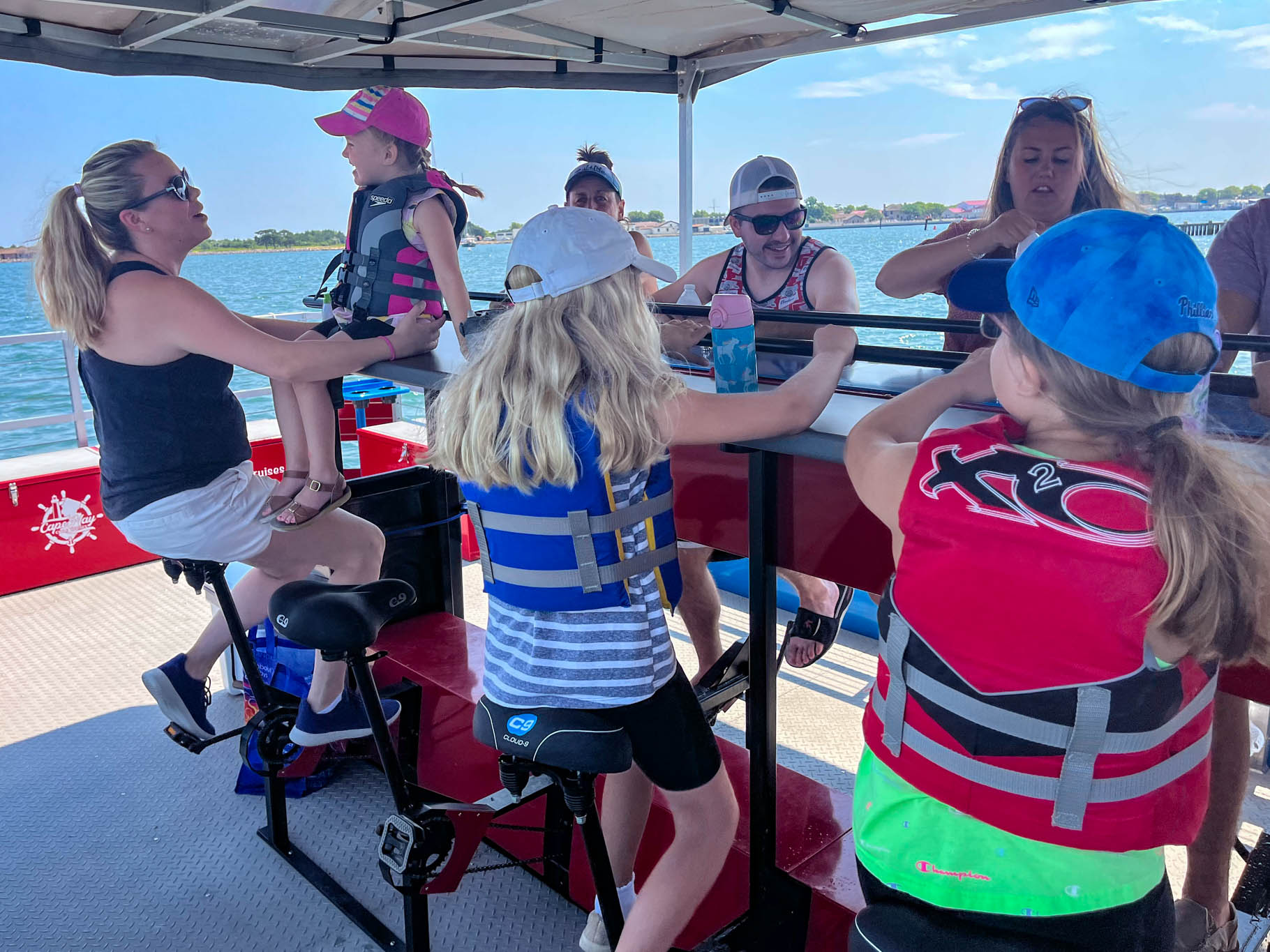 You're free to move around the boat. Bench seats and a few small tables can hold your drinks and things. The boat itself was really clean, and so was the on-board bathroom — we were happy to see that on the boat! The crew cleans and sanitizes before each trip. A canopy over the bikes kept the sun off of us even though the temperatures were in the 90s, and being on the water, we had a cool breeze. Captain Kyle played our favorite music and pointed out the sights. Despite the trip being two hours, the girls didn't get bored. They liked watching the paddle wheel as they were peddling!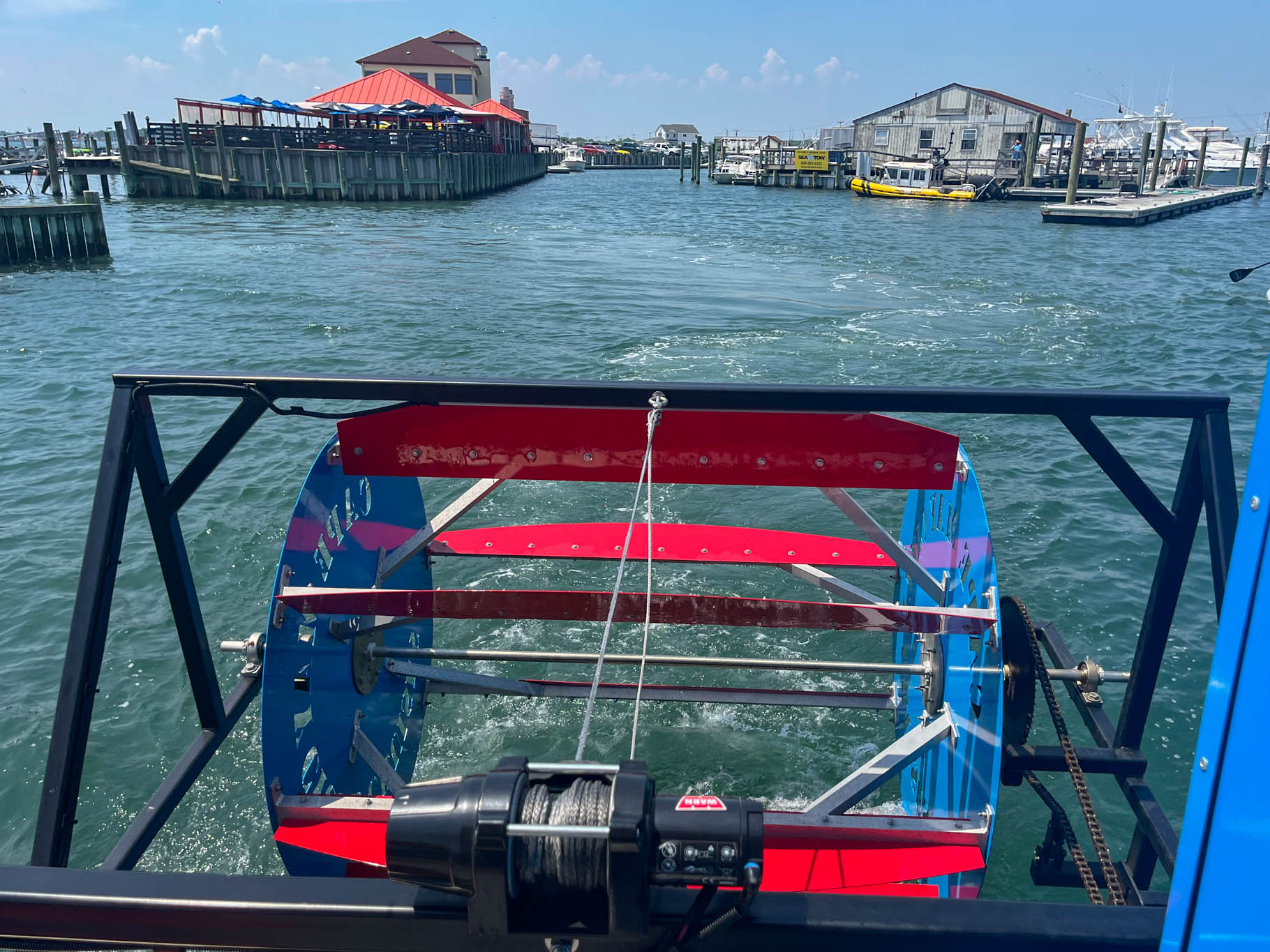 Perfect for: Groups who want a leisurely afternoon on the water but don't necessarily want to sit still
Ages: All Ages
Cost: General Cruise 4-64 yrs old $60.00, Seniors 65+ (valid ID required) $57.00, Military (ID required) $57.00, and Infants 0-3 Free. See their site for different cruises
Days & hours: Monday – Thursday 10 am – 10 pm, Friday – Sunday 10 am – 11:30 pm
Lifejackets: Provided for kids, or you can bring your own
Bathroom: Yes they have a bathroom on board.
Strollers: Private cruises only
Parking: Available at the Harbor View
Location: 954 Ocean Dr, Cape May, NJ 08204
Latitude: 38.95398 Longitude: -74.890201
Website: https://www.capemaycyclecruises.com/
East Coast Watersports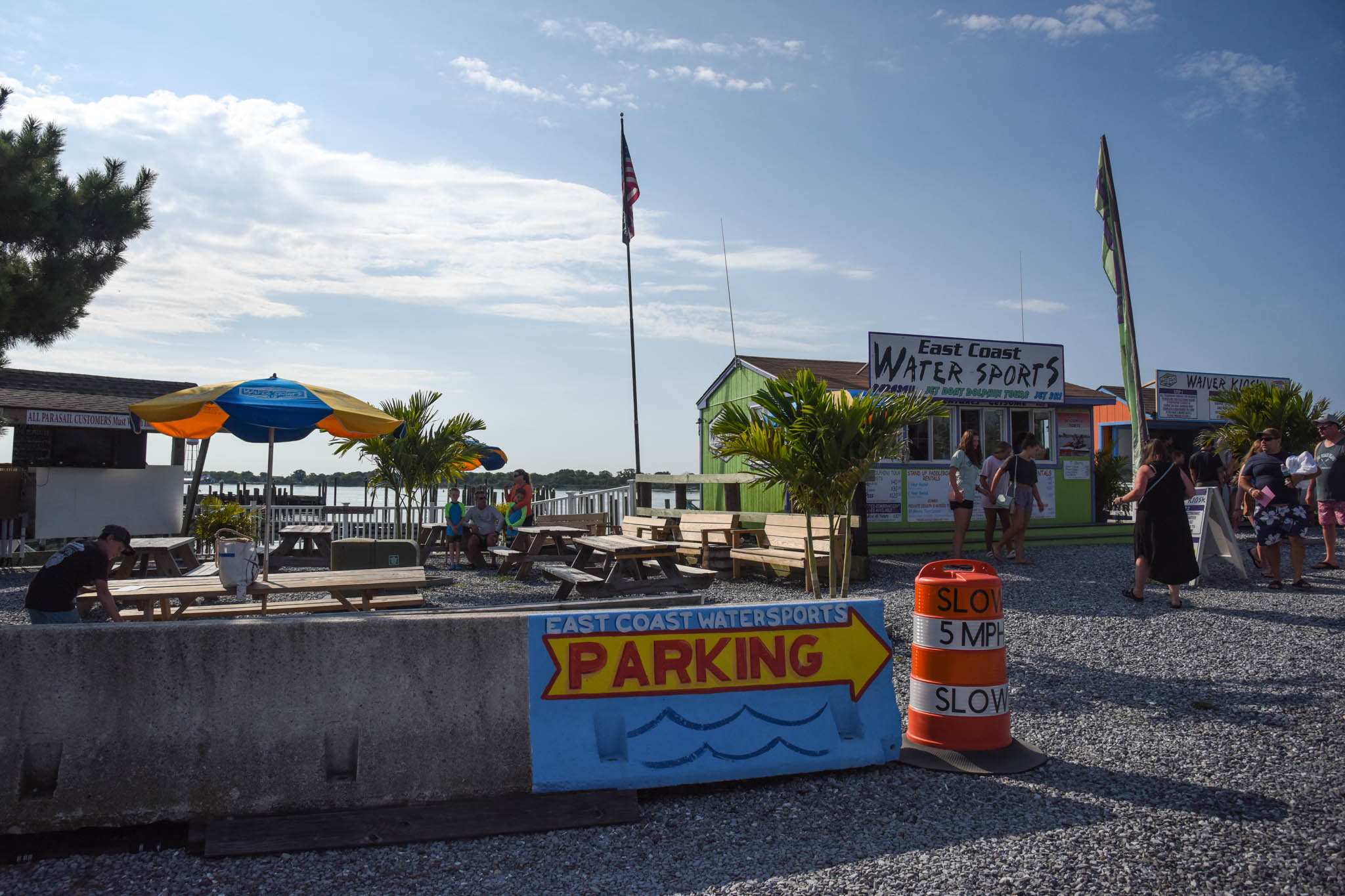 Go fast or fly high above Cape May with a jet boat ride or parasailing along the beach with East Coast Watersports! I took both trips on the same day. Let's talk parasailing first. To fly, you need to be five or older and at least 44" tall. Kids under twelve must be accompanied by an adult. Anyone under 150lbs must fly tandem with another person; the minimum combined weight for a flight is 90lbs. For safety, the captain has the final say on who can fly. You'll launch from the boat deck and also land there after your flight. An optional dip in the ocean is completely up to you. When you're flying, make sure you lean back in the harness, don't lean forward like I did. (I ended up with bruises on my arms.) The crew will help you get ready, move around, and make you comfortable. The boat ride was not bumpy at all!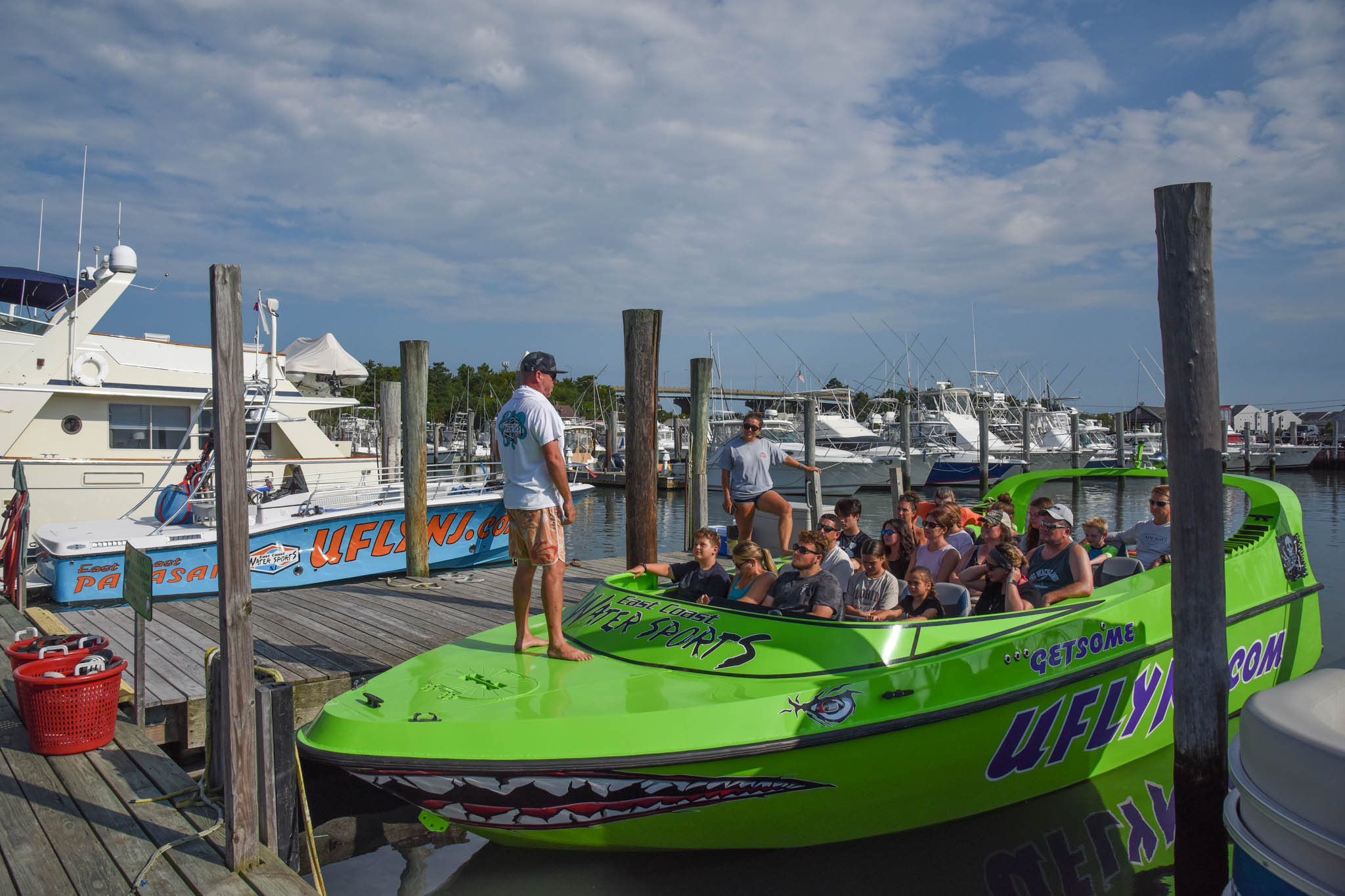 East Coast Jet Boat, on the other hand, is a bumpy ride, but the boat has extremely comfortable seats. We got sprayed a little, but I can't speak for other trips. The captain stopped so we could see dolphins up close. The boat sits low in the water and a few dolphins came right next to us. When the captain makes a spinning sign with his hand and sounds the horn, you'll want to hold on—he's about to spin the boat (although the twelve-year-old who went with me said he was fine not holding on).
If you're headed on either adventure, make sure you have your bathing suit, coverup, sunblock, sunglasses, a towel, and a hat, as there is no shade from the sun. If you forget yours, they sell sunblock, shirts, and towels. You will get wet on the jet boat and have the option to take a dip in the ocean while parasailing. No coolers are permitted on board, but you can bring a bag as long as it will be able to fit under the seat. For safety reasons, no glass is allowed on the boats. For both, kids must be five or older and at least 44" tall. They can accommodate toddlers on their Wildwood boat, the Silver Bullet. East Coast Watersports also offers stand-up paddleboarding and jet ski rentals.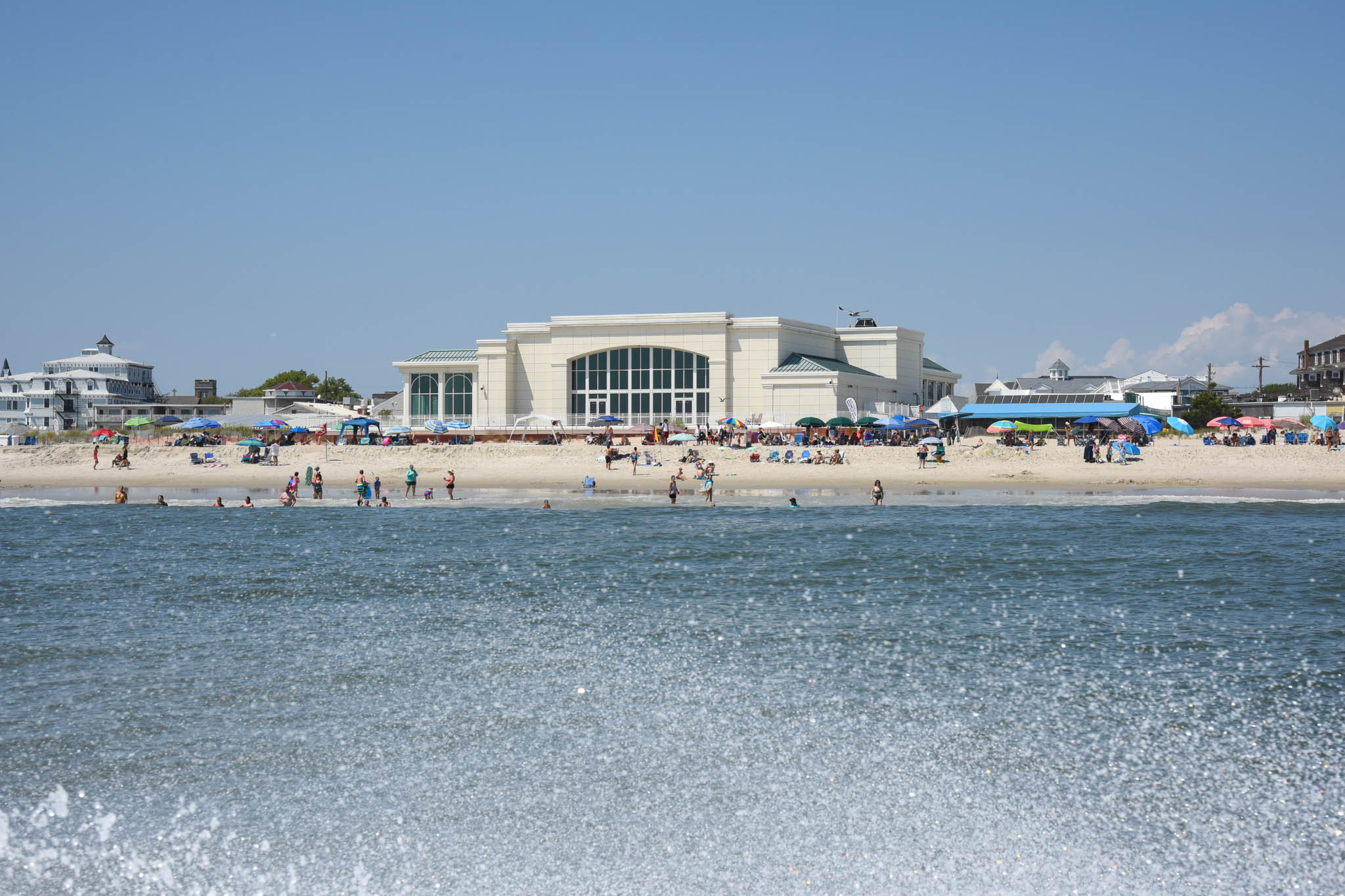 Perfect for: thrill seekers, people that aren't afraid of speed and heights.
Ages: 5yrs and up for the Jet Boat and Parasailing
Cost: parasailing starts at $85.99 *see site for other options. Jet Boat $30.99 per child (5-13), $40.99 per adult (14 & older) *see site for other discounts and options.
Days open: Weekend before Memorial Day to Labor Day weekend from 8am – sunset full time. After Labor Day, you must make reservations for the month of September.
Hours: 9:30 to Sunset
Location: At Utsch's Marina 1121 Route 109 Cape May, NJ 08204
Bathrooms: Porta Potty.
Strollers: Not allowed on boat
Parking: Yes
Latitude: 38.951517 Longitude: -74.906696
Note: We mistakenly mentioned an individual weight minimum. We've corrected that to a combined weight minimum.
Naval Air Station Wildwood (NASW) Aviation Museum
The Naval Air Station Wildwood Aviation Museum is mainly a self-guided tour. This place is hands on! You and your kids are able to climb in some of the helicopters and plains. The Franklin Institute of Philadelphia has donated many interactive learning stations that kids are welcome to use and learn. There are many viewing stations along with pictures and memorabilia from World War II. If you would like a guided tour, call ahead to schedule. The self-guided tour worked best for me as the kids wanted to stay longer at one section than another. The best part was seeing their faces light up in awe as they realized how big the aircrafts were up close, rather than how small they appear in the sky. The kids even talked about flying the planes themselves! Naval Air Station Wildwood is indoors and has a clean bathroom on-site as well as a gift shop.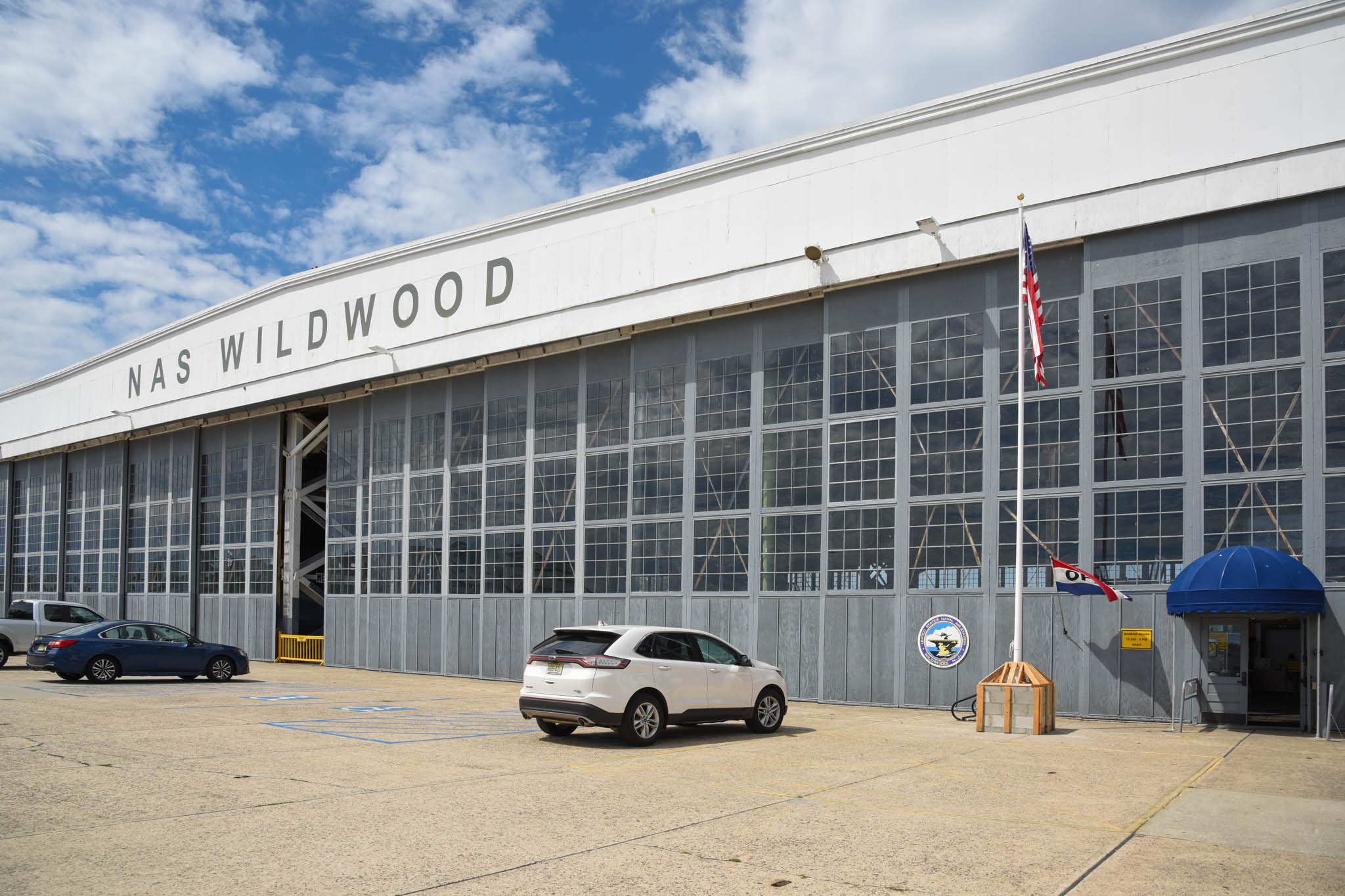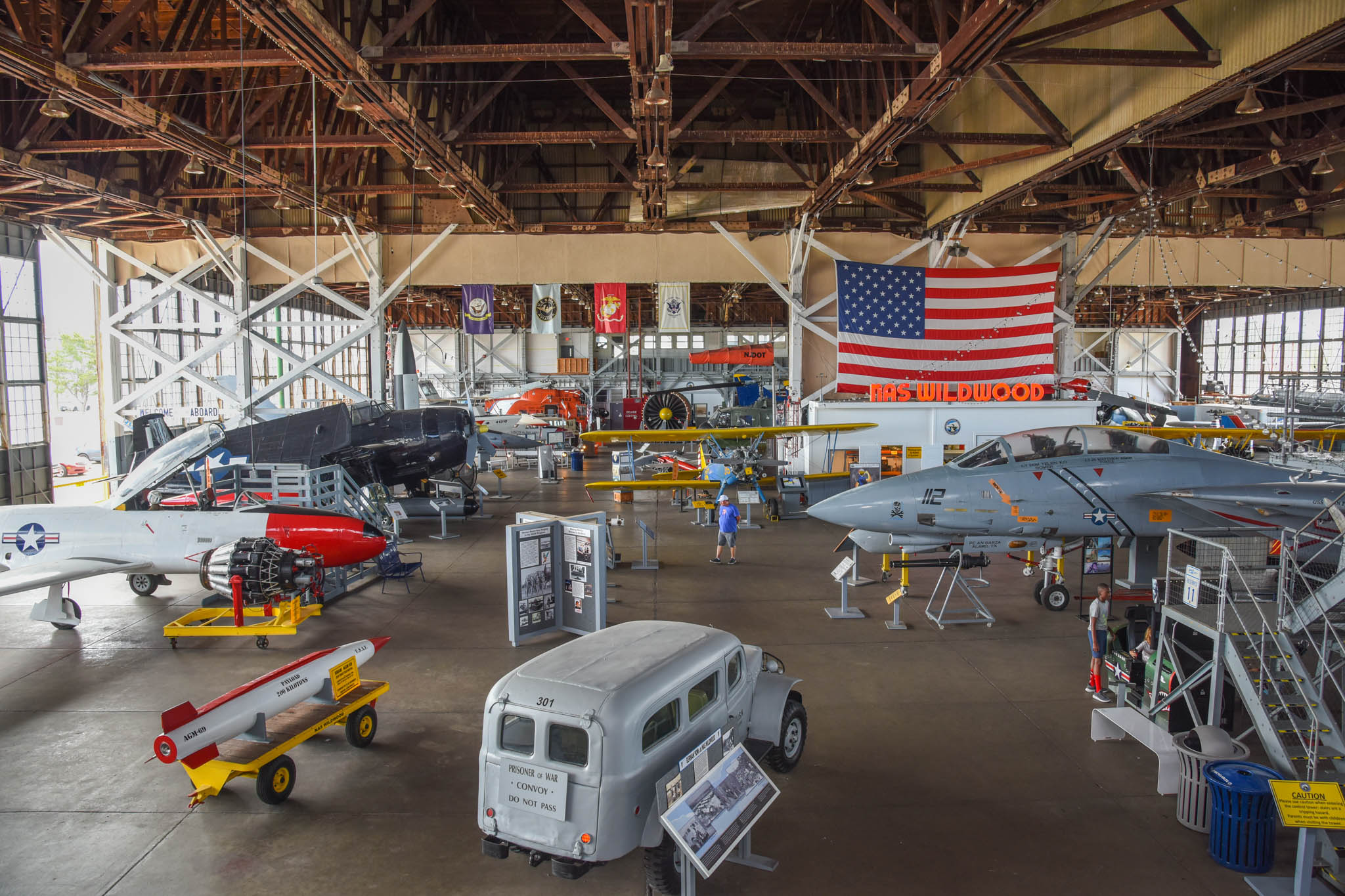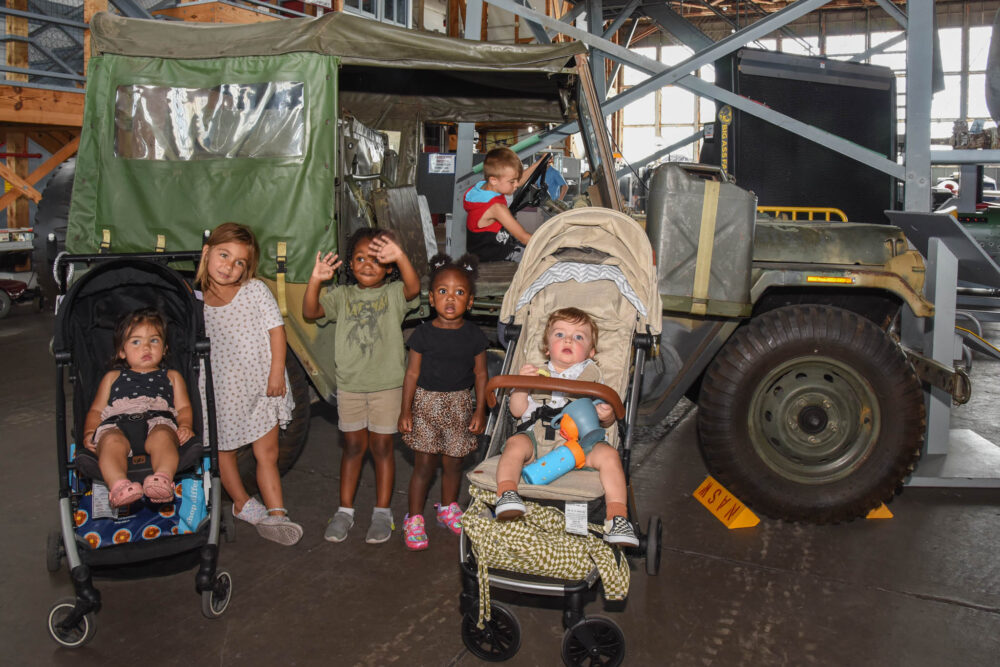 Perfect for: History enthusiasts, people looking for an indoor activity (great on a rainy day), people looking for sensory activities
Ages: All ages
Cost: Adults: $14, Children (ages 3-12): $10, Children (ages 2 and under): Free, Active Duty U.S. Military: Free, Members Free, *U.S. Military Veterans will receive a $2 discount, and *Military dependents must pay regular admission. See site for details
Days open: year round 10:00 am to 4:00 pm
Hours: In Season, March 5 through November 30 10AM-4PM Daily, and Off Season, December 1 through March 4 10AM-4PM Mon-Friday (Closed Saturday & Sunday) Closed: New Year's Eve, New Year's Day, Thanksgiving Day, and Christmas Eve/day
Bathroom: Yes, they have them.
Strollers: Yes, you can use them.
Parking: Yes, at location.
Location: 500 Forrestal Rd, Rio Grande, NJ 08242
Latitude: 39.00521 Longitude: -74.909733
Website: usnasw.org
Historic Cold Spring Village
Historic Cold Spring Village is a wonderful experience for kids of any age. Explore New Jersey's rich history in this walkable village spanning thirty wooded acres, with twenty-seven preserved buildings relocated from around the state. Each weekend offers a new theme. Kids of all ages are welcome to build a kite or hand-craft a doll, along with other activities. There are a few different places where you can grab something to eat while you're here, including the Ice Cream Parlor, housed in the circa 1850 Ewing-Douglass House. They also have a brewery in a restored barn from 1804 (no admission needed for the brewery). Dogs are welcome in the village, just keep them leashed!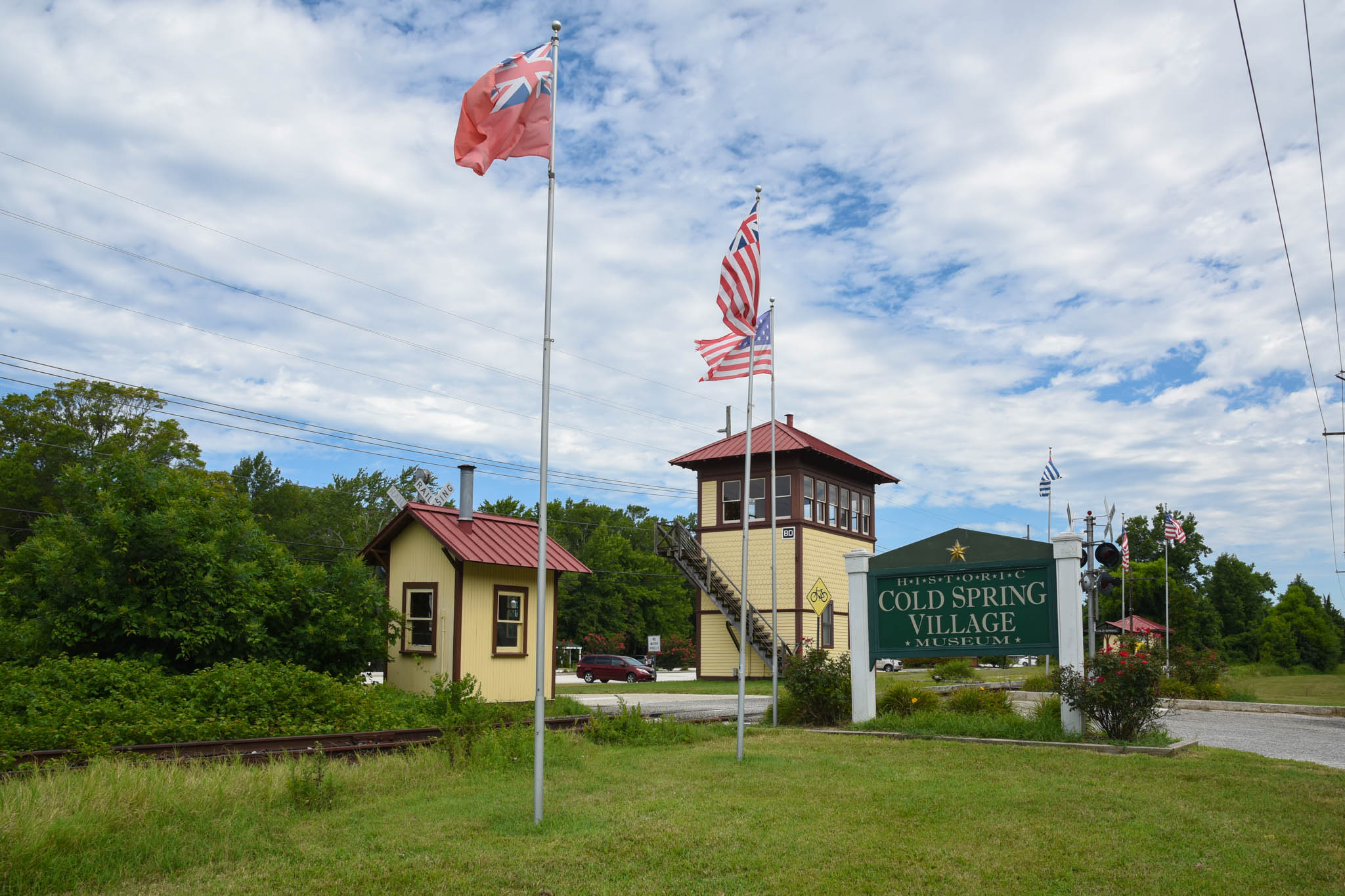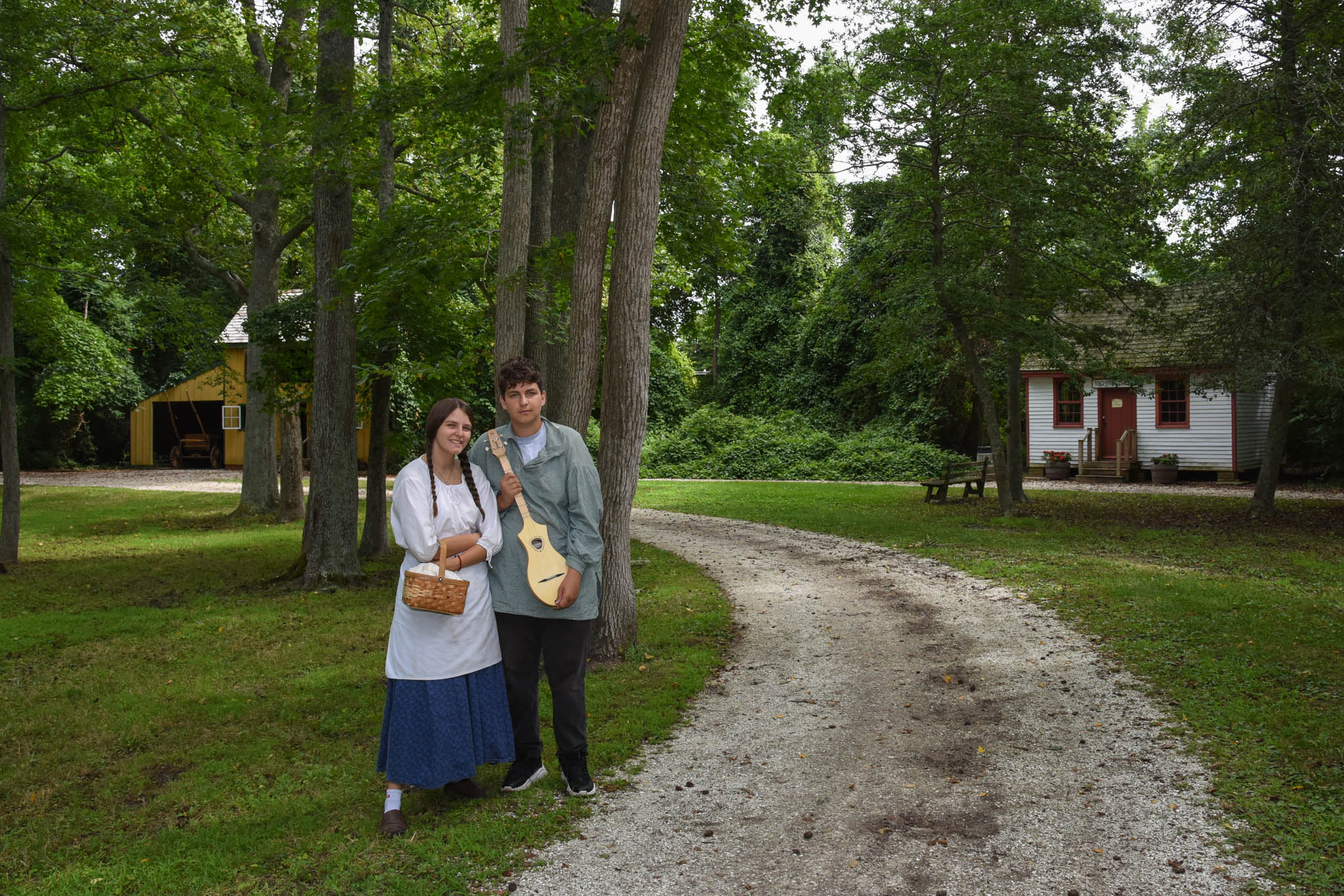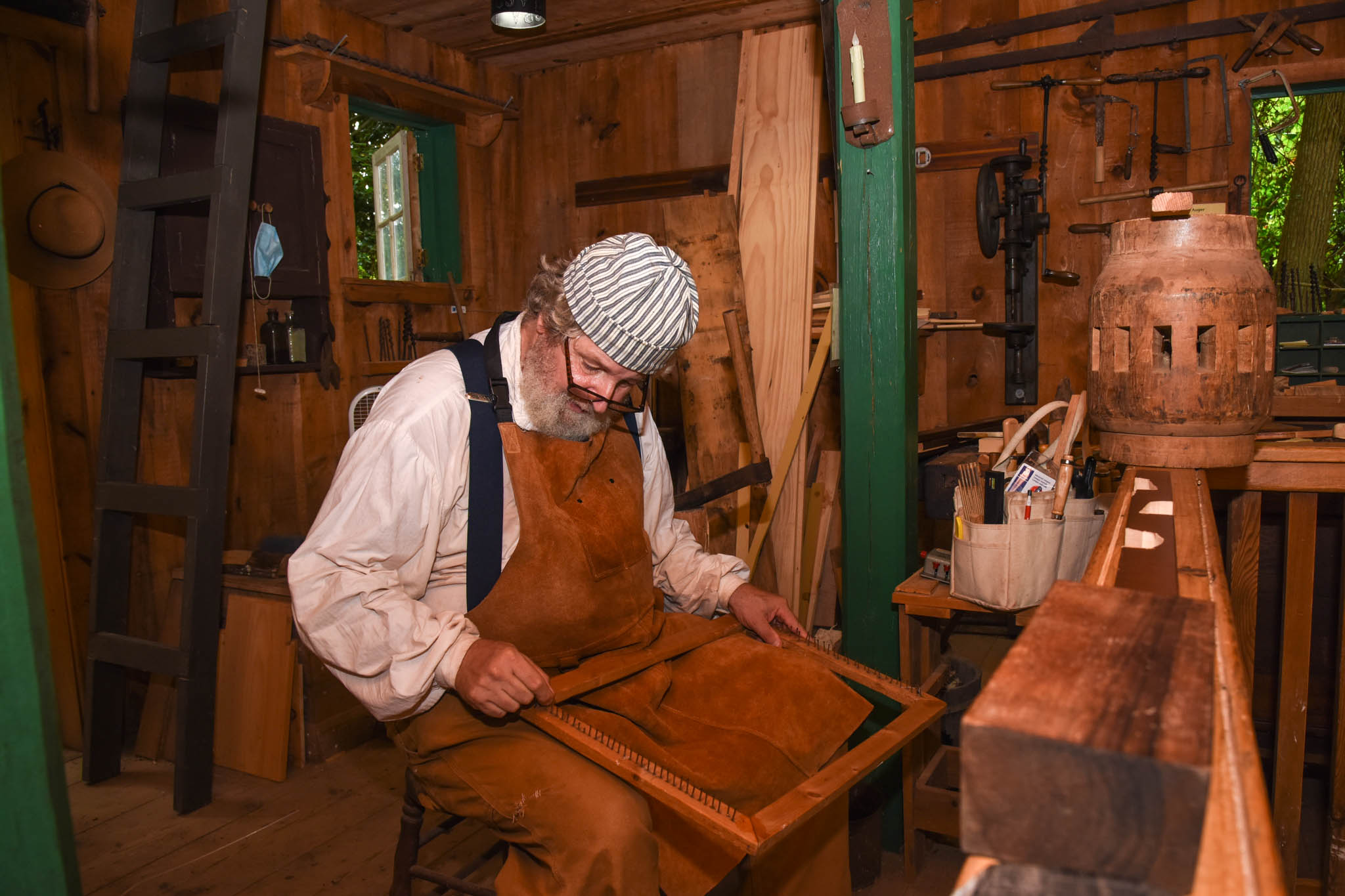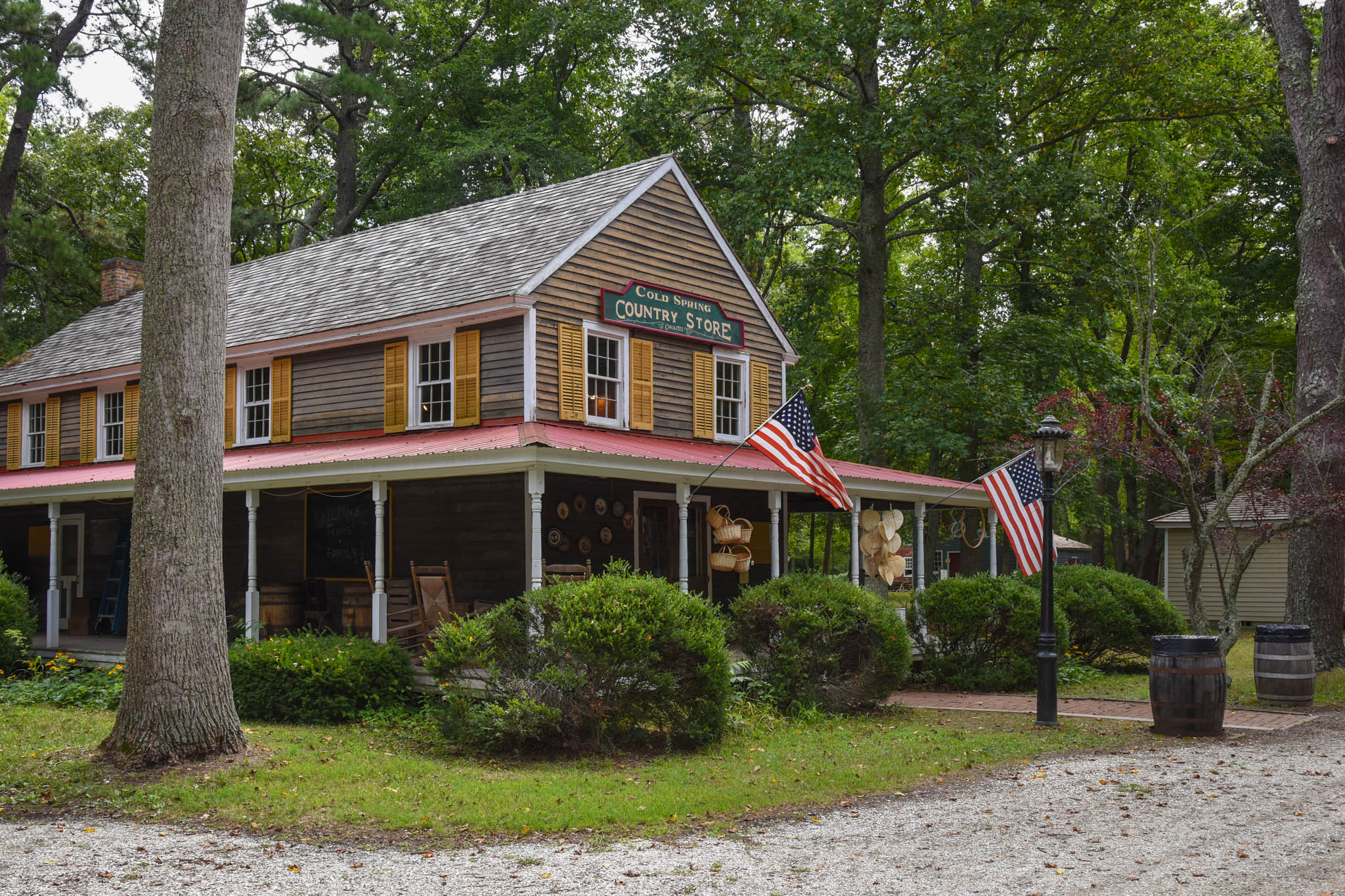 Perfect for: History enthusiasts, groups that want to be outside and walk around, kids who like hands-on activities like crafting, anyone with an interest in how people lived and worked in the past
Ages: All ages
Cost: Ages 3-12 $12 per, Under 3 free, Adults $14, Active Duty Military (with ID) Free * see site for details, and 10% discount for Military *see site for details
Days open: Village Buildings open Thursday thru Sunday 11 am – 4 pm Welcome Center Monday thru Wednesday 10 am – 4 pm
Hours: listed above
Bathroom: Yes they have them.
Strollers: Yes you can use them.
Parking: Yes, at location.
Location: 720 US 9, Cape May, NJ 08204
Latitude: 38.975795 Longitude: -74.911583
Website: https://hcsv.org/
Cape May Carriage
Taking a carriage ride through Cape May will bring your family back in time. Enjoy the slow pace of the horse pulling you and hearing the horse's steps while learning some local history. The kids will have many people waving to them as you ride by! Tours are private, so you won't be riding with strangers. There are two basic trips you can take: 15-minute or 30-minute. If you have a prince or princess who would love a night ride in Cinderella's carriage, only a 30-minute tour is available. Clear beverages are okay to bring, but for safety reasons, no glass is allowed. And no food is allowed on the ride, including ice cream. Make sure you dress for the weather! In summer, I would suggest sunscreen and a hat, and for the fall and winter, a warm coat.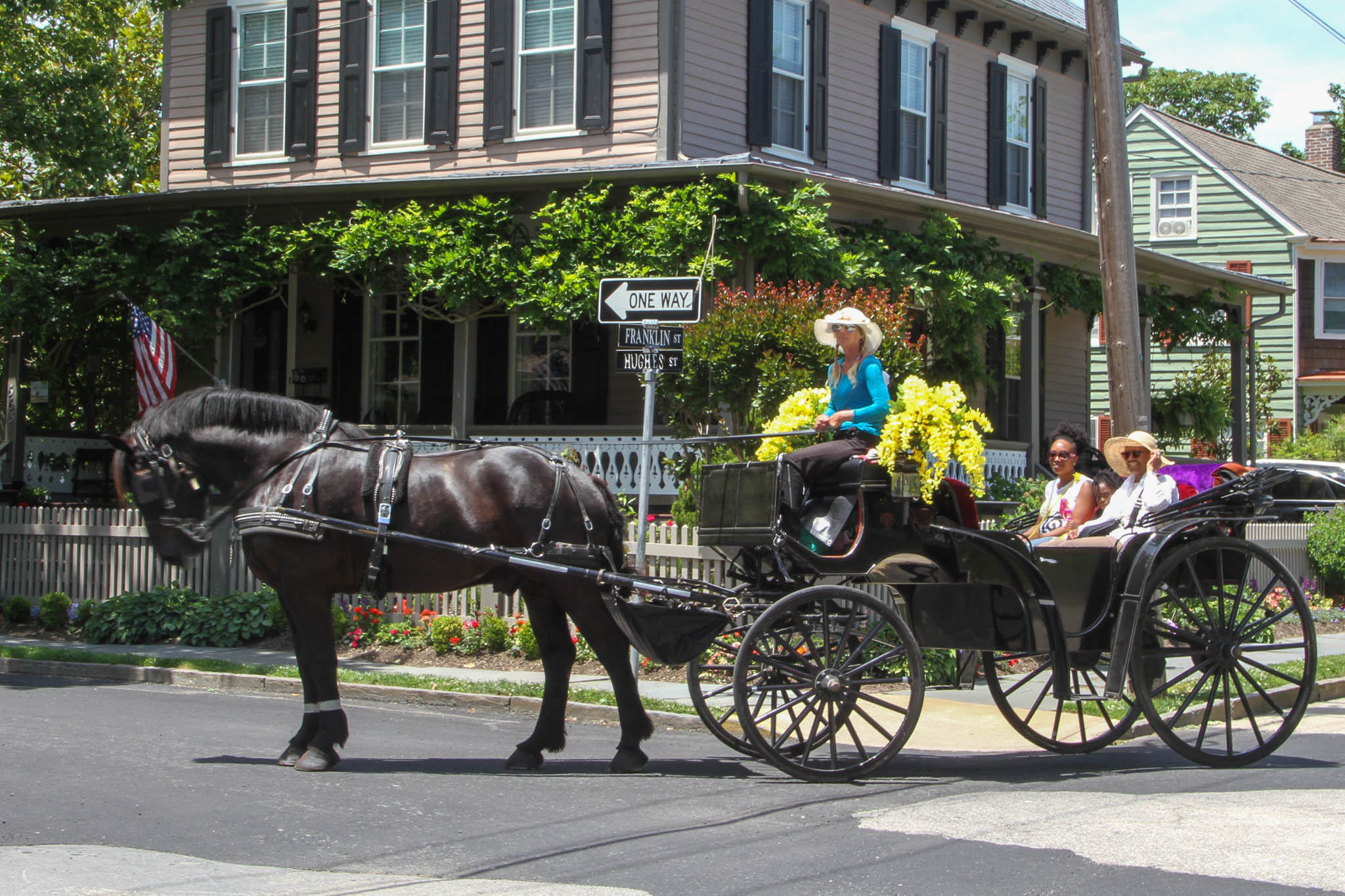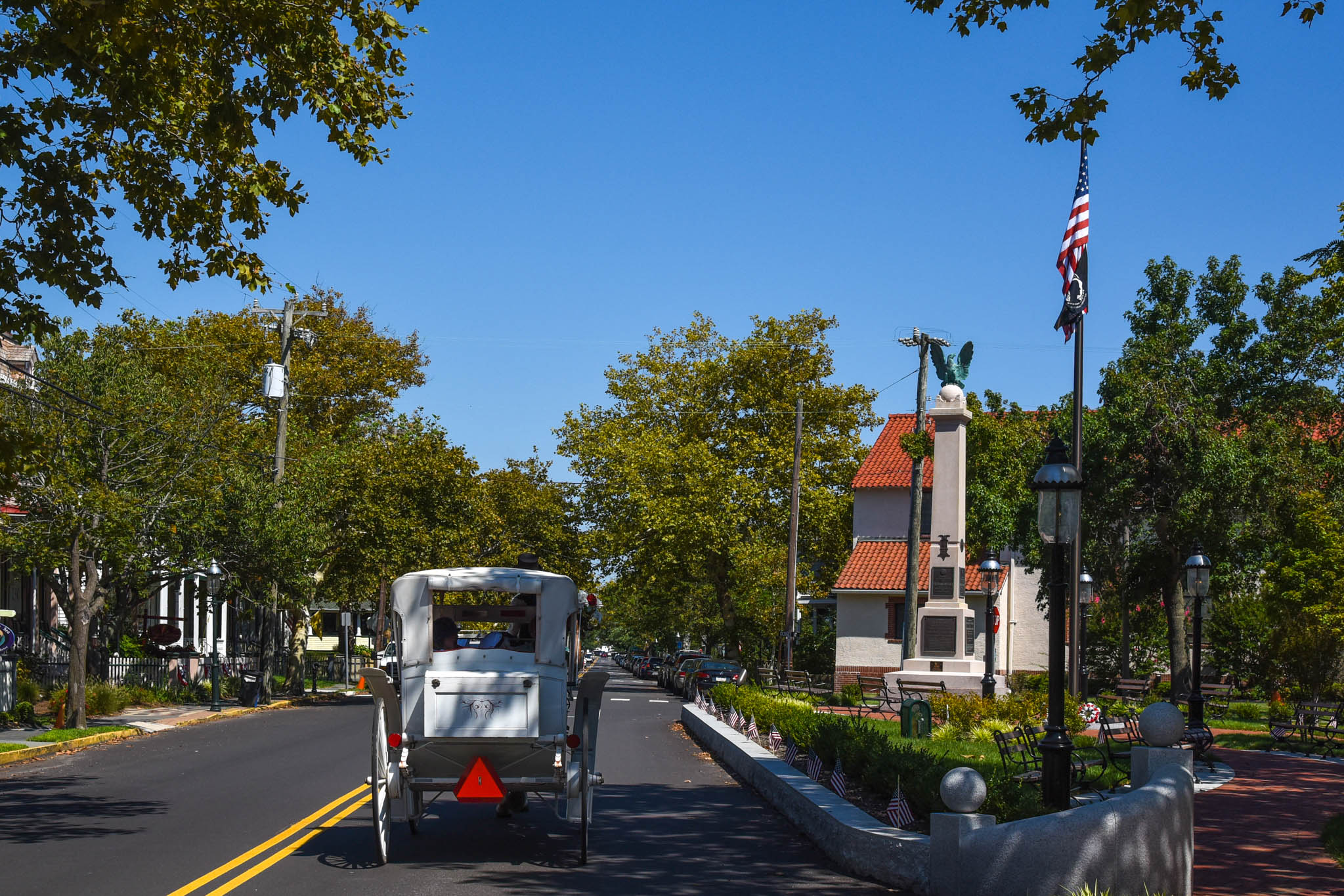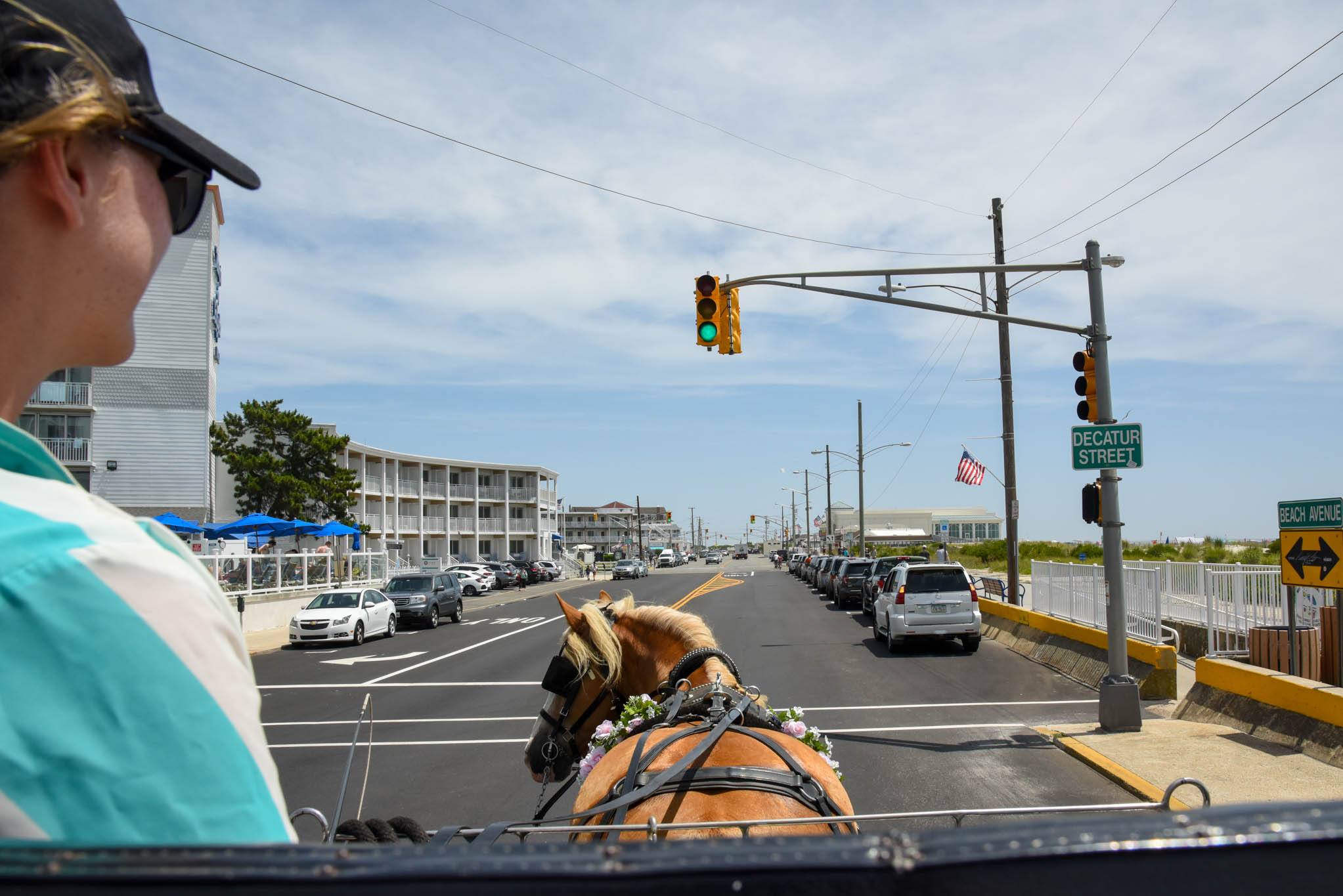 Perfect for: people who love architecture and history, small groups looking for a relaxing sit-down activity
Ages: all ages
Cost: rages between $60-$100 *see site for details
Days open: weather permitting
Hours: daily weather permitting
Bathroom: City Restroom next to the booth.
Strollers: Not allowed on carriage
Parking: No, so make sure you leave enough time to find parking.
Location: Corner of Ocean & Washington Streets
Latitude: 38.933301 Longitude: -74.921498
Website: capemaycarriage.com
Salt Marsh Tour
The Salt Marsh Safari is a neat way for kids of any age to experience wildlife on board the Skimmer. This two-hour tour is highly educational whether you're a kid or an adult. I took my friend's twelve-year-old son. Captain Travis is a biologist and biology teacher, and his first mate is an expert birder. Binoculars are supplied or you can bring your own along with your camera. On our tour, Captain Travis pointed out and explained what things were along the way. He also taught the kids about the water and marine life. Kids are able to touch some marine life and hold it as well. On the return trip, he had the kids drive the boat and everyone had a chance to ask questions.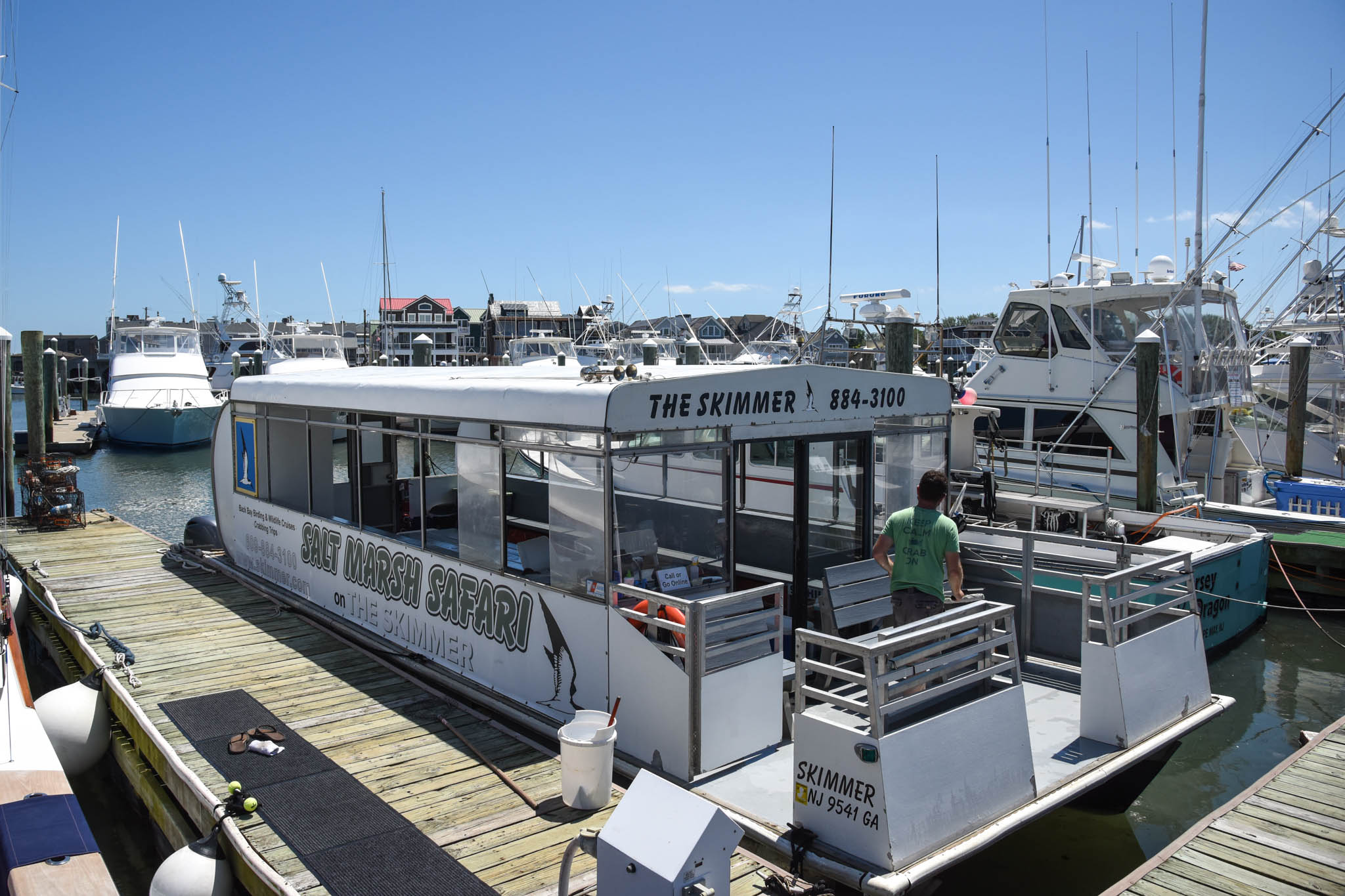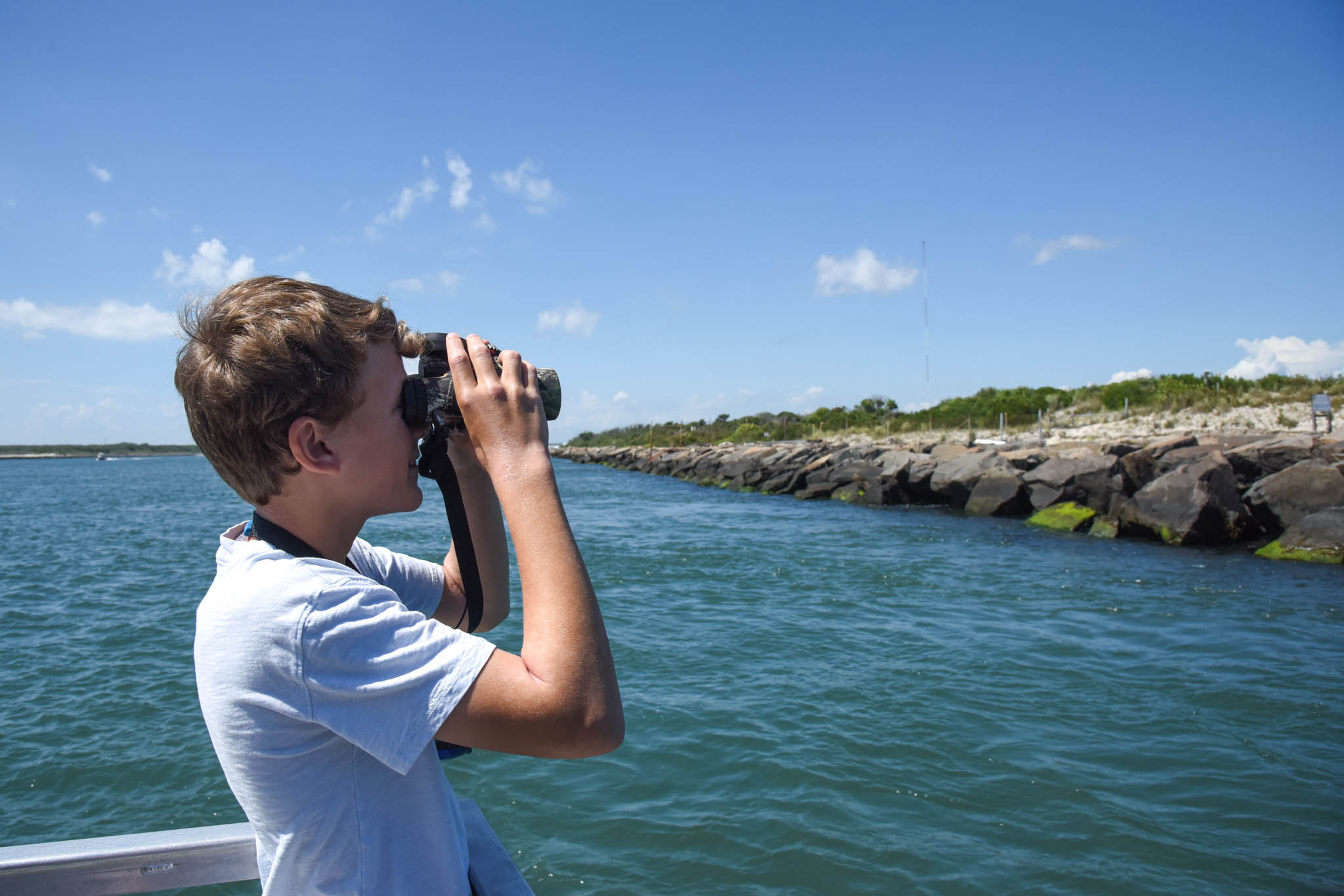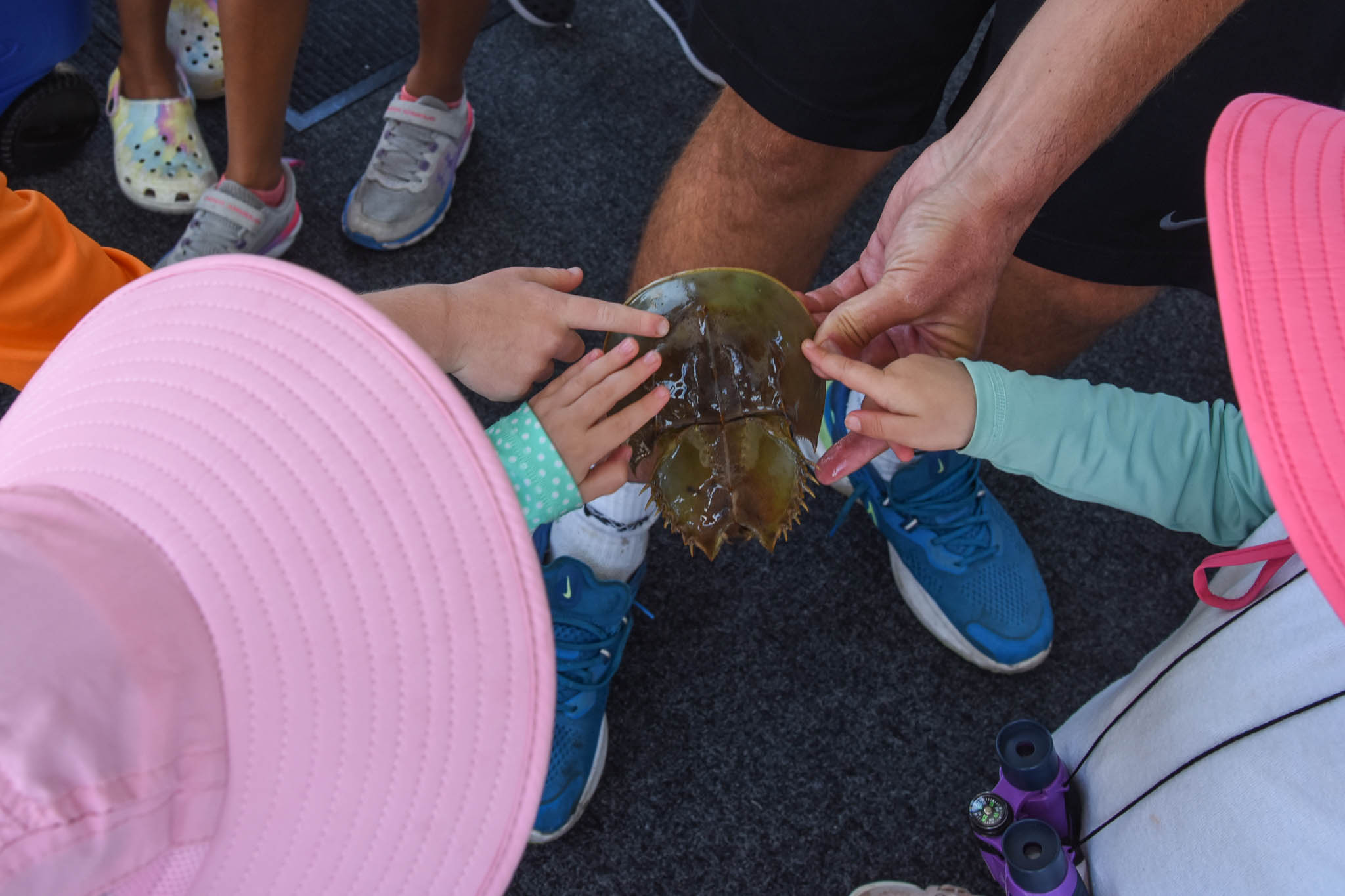 The Skimmer has bench seating, and the railing was made specifically with small children in mind. They have life jackets, although you don't need to wear them on the trip. There is a small marine bathroom on board for emergencies, but they ask you to use the restroom before boarding. The boat has windows and a roof to stay out of the sun. You're allowed to bring your own snacks, drinks, and it's BYOB. A small cooler is allowed. They also sell water, small snacks, and soda on board.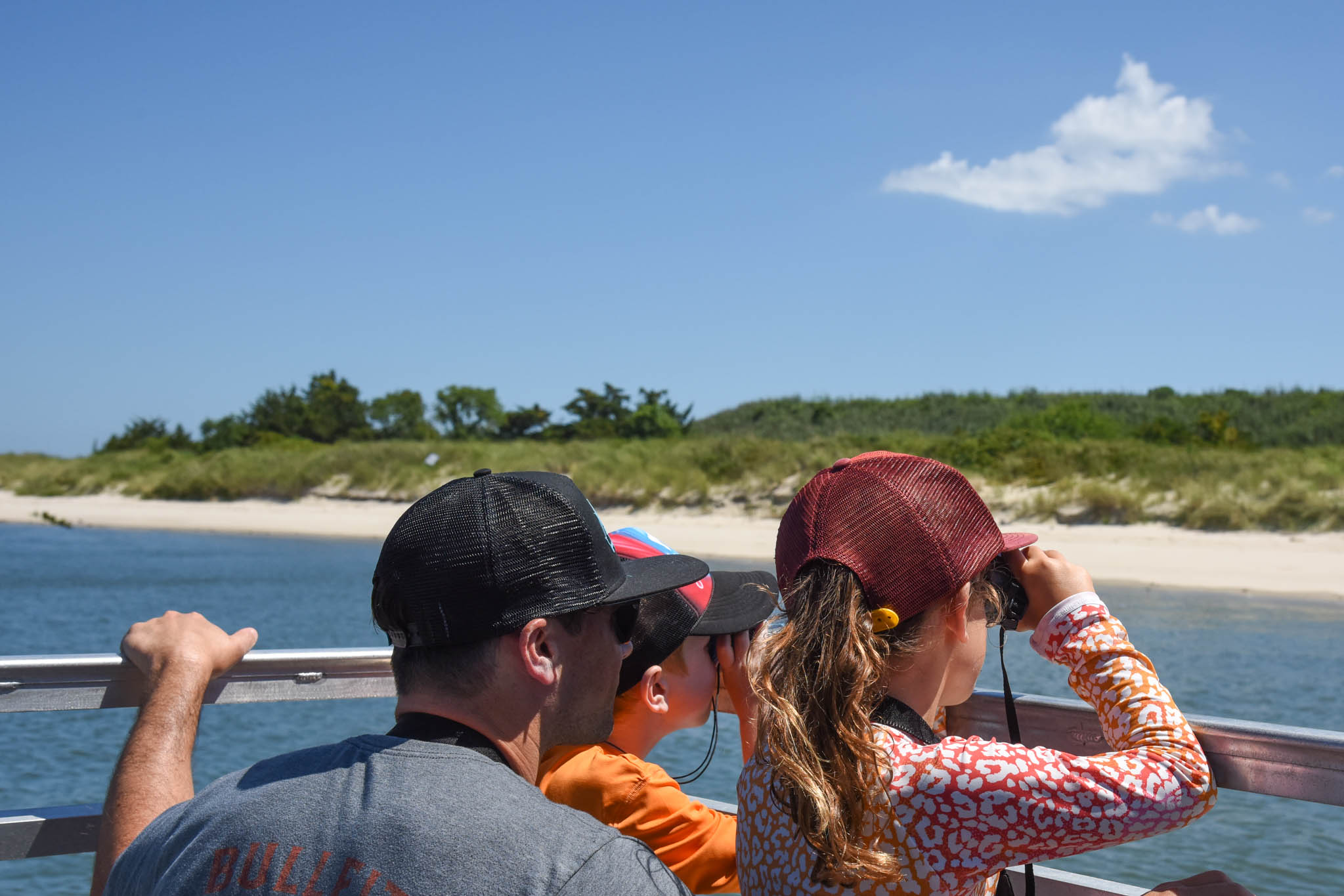 After the tour, I saw the salt marsh in a different way. My twelve-year-old companion liked seeing the birds and how the guide explained where each was from and what they ate. (He'd also like to do the other trip that focuses on biology even more and dredges the bottom!) I'd highly recommend this tour to anyone who wants to see a variety of birds, marine life, and get a little education all while enjoying a boat ride.
Perfect for: birders, nature lovers, people looking for an educational experience, great for a rainy day
Ages: All ages
Cost: Salt Marsh Safari $23/Child (ages 3-12) Kids 2 & under are free, and $36/Adult (ages 13 & up) See site for other option
Days open: 7 days a week in July and August. *see site for off season hrs
Hours: in season 10 am – 6 pm
Bathroom: emergency only marine toilet. Recommend using the bathroom before a trip.
Strollers: small strollers only
Location: South Jersey Marina 1231 Route 109, Cape May, NJ 08204
Latitude: 38.94881 Longitude: -74.909596
Website: https://skimmer.com/
Cape May County Park and Zoo
The Cape May County Park and Zoo is one of my favorite places to go! As a kid, my grandparents would pack a cooler and take us. We would walk around, see all the animals, and even get to feed a few as well. Then we would find a place to sit and eat our lunch and play on the playground. The zoo has a successful Snow Leopard breeding program that put it on the map as well as other conservation programs. You can walk through the zoo in about an hour or take your time and stroll past animals such as lions, black bears, alpaca, camels, giraffes, and bison.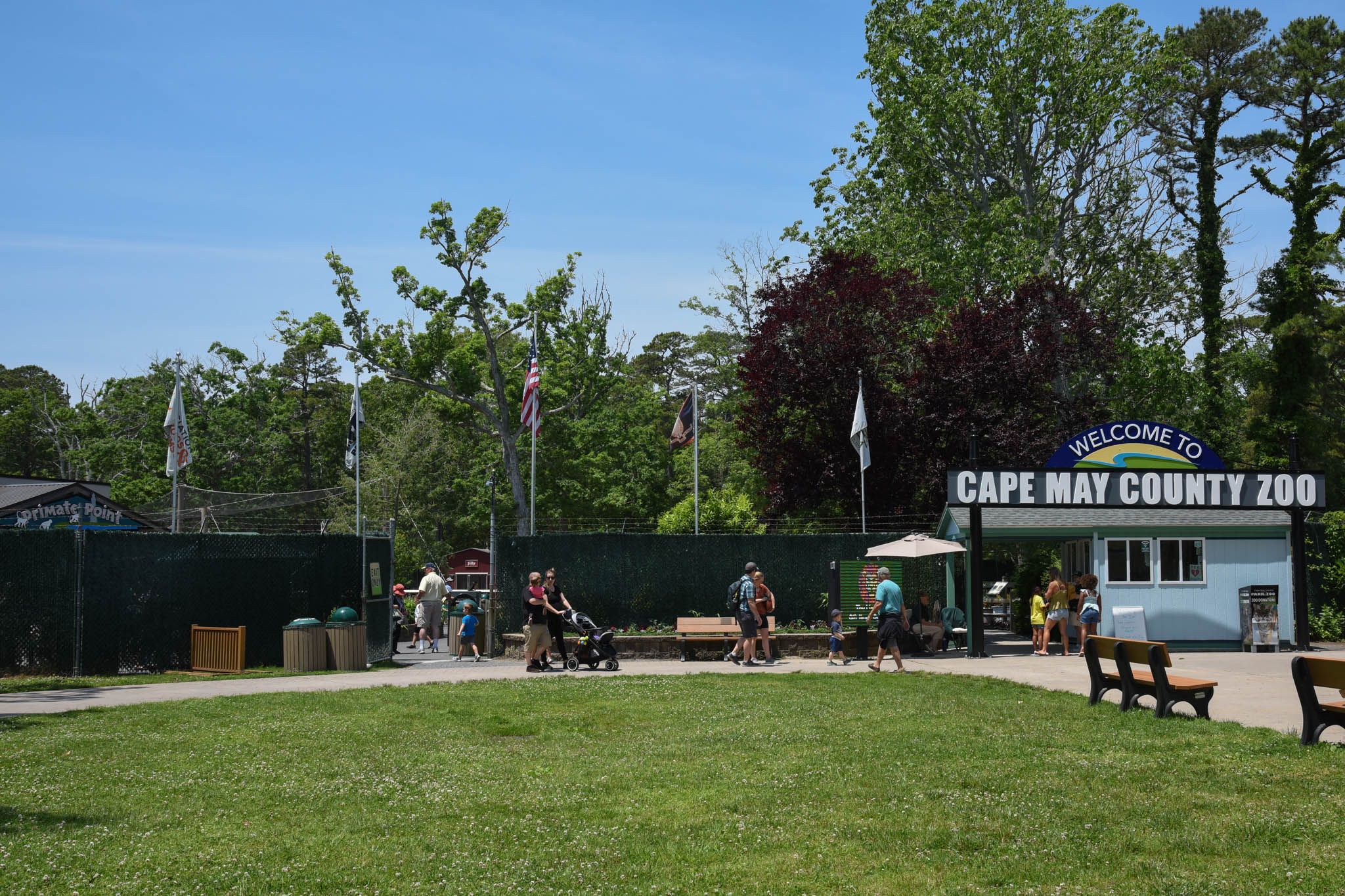 For an extra cost you can book a private tour or sign up for an Animal Encounter. These must be booked in advance on the zoo's website. In addition to the zoo, the park offers walking paths, disc golf, a playground, picnic facilities, and much more. No outside food is permitted in the zoo, but you can eat it in the park. Non-alcoholic beverages are okay. There are also spots to buy lunch as well as a gift shop.
The Cape May County Park and Zoo is free; however, when you come into the park they ask for a donation. This is how they keep the admission free.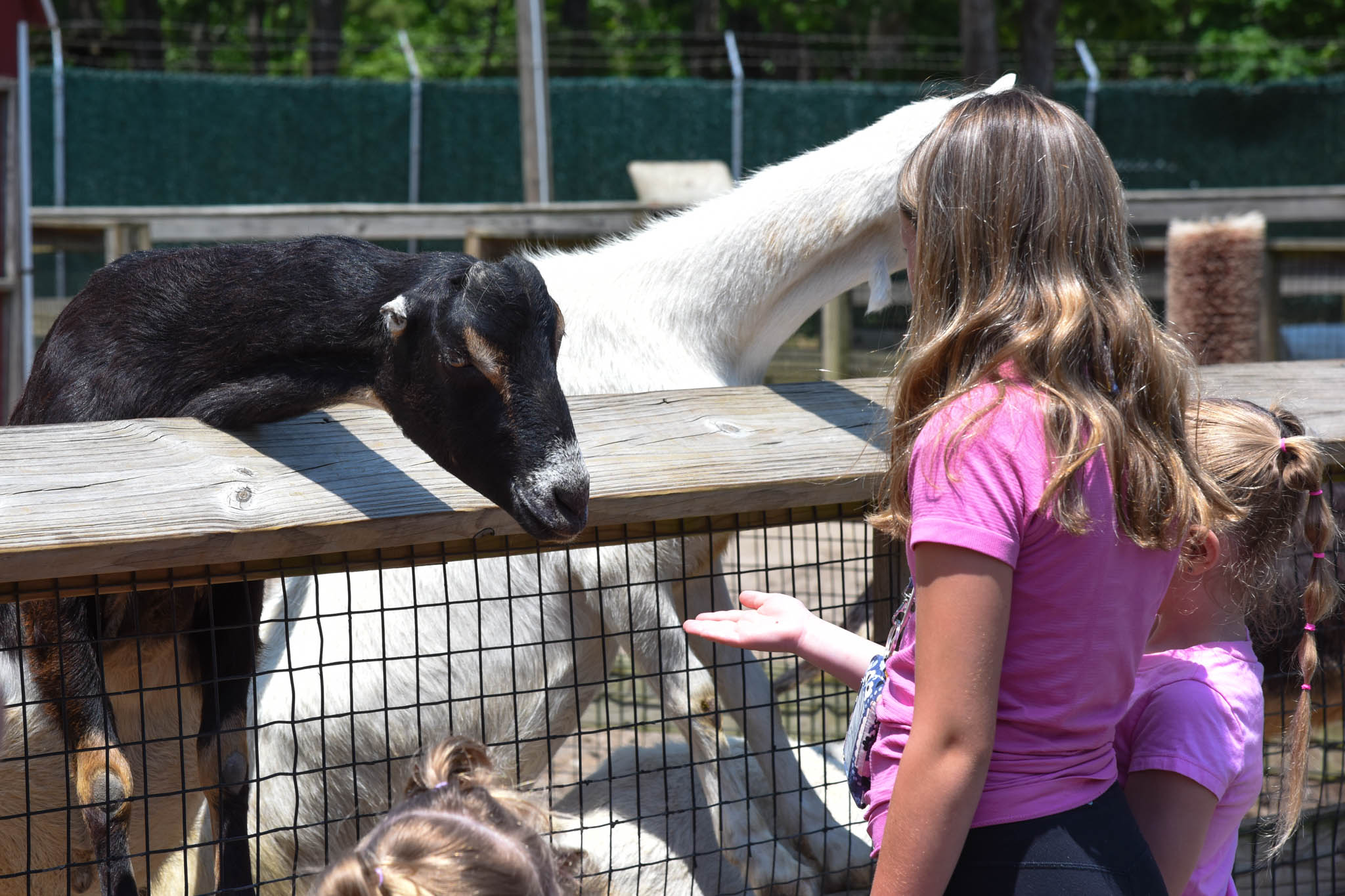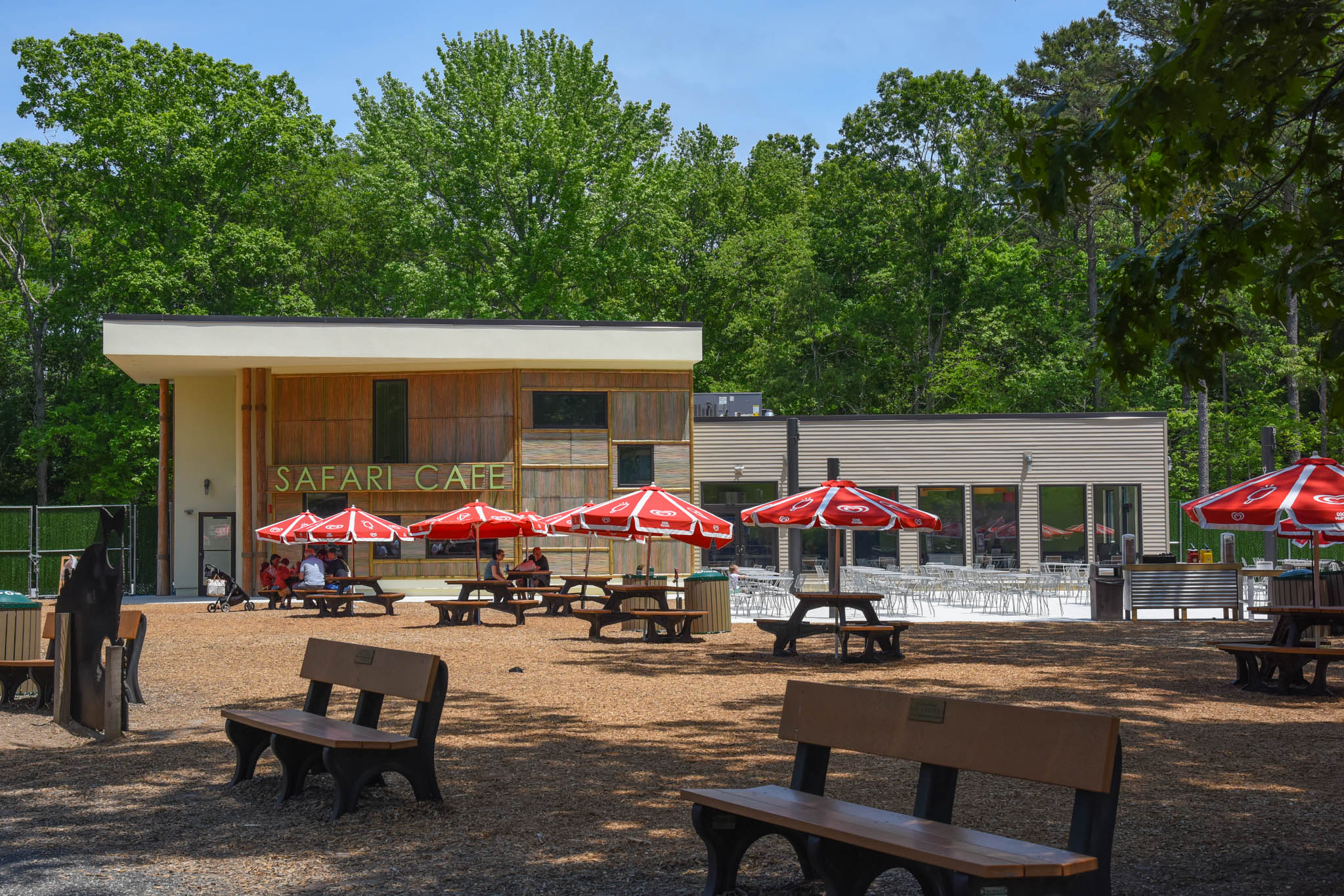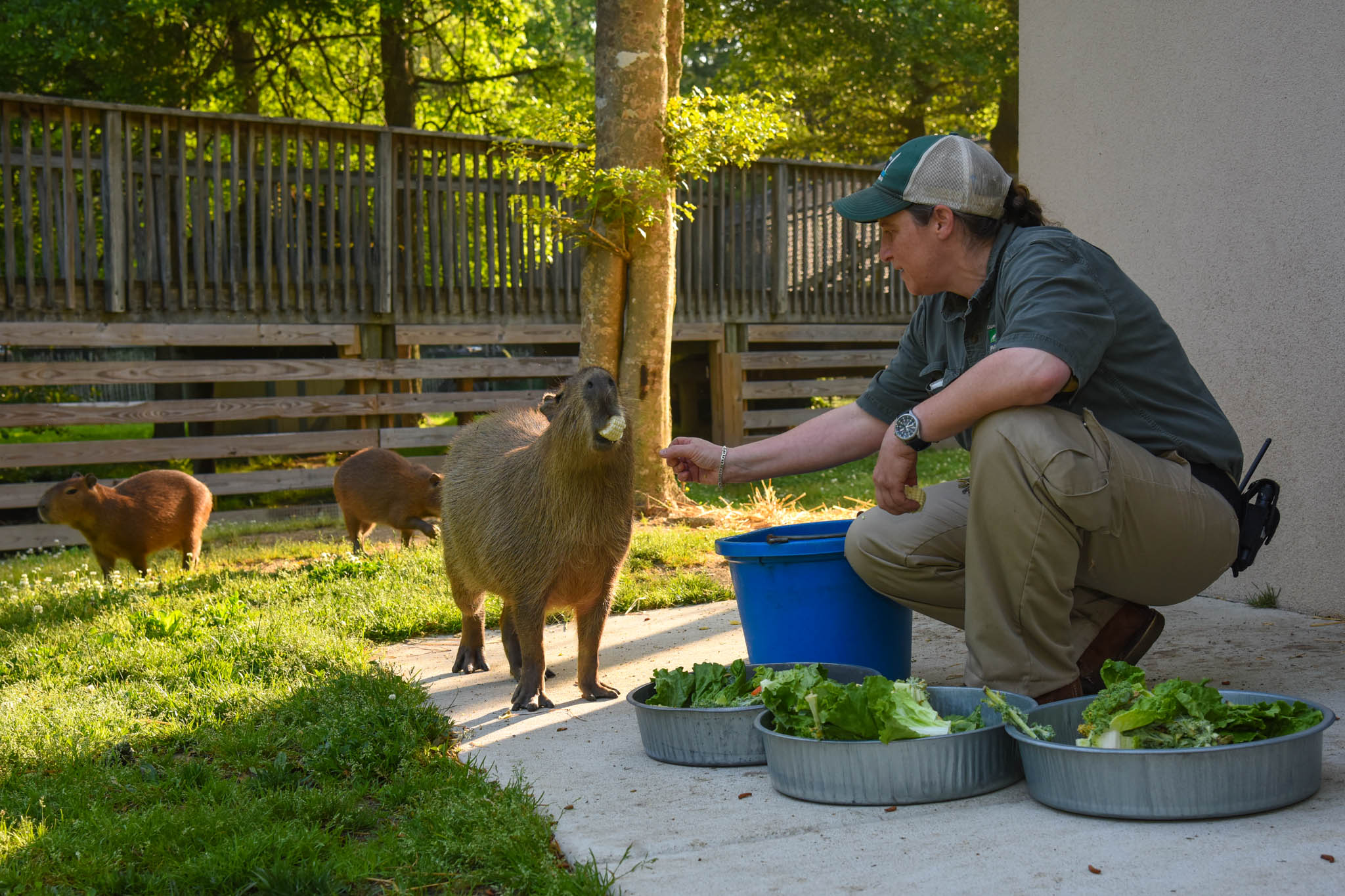 Perfect for: animal lovers, families looking to get outside, active families
Ages: All ages
Cost: Free asks for donations
Days open: Open all year. Closed Christmas Day
Hours: Zoo hours are 7:00 am to 4:30 pm
County Park hours are 7:00 am to Dusk
Parking: Free on-site parking for cars
Pets are not allowed, but services animals are permitted
Bathrooms: Yes they have them.
Strollers: Yes you can use them.
Location: 707 North Route 9 Cape May Court House, NJ. 08210
Latitude: 39.102982 Longitude: -74.813943
Tree to Tree
Get your inner monkey going at Tree to Tree, located at the Cape May County Park and Zoo, which offers zip lines, cargo nets, a rock wall, wobbly bridge, leap of faith, and more. Kids seven to nine can conquer the self-guided Kids Treetop Adventure Course while their parents watch from the ground. The course takes 1.5 to 2 hours to complete at heights of 10-25 feet. Guides provide instruction before the kids go onto the course. And there's a course for adults too.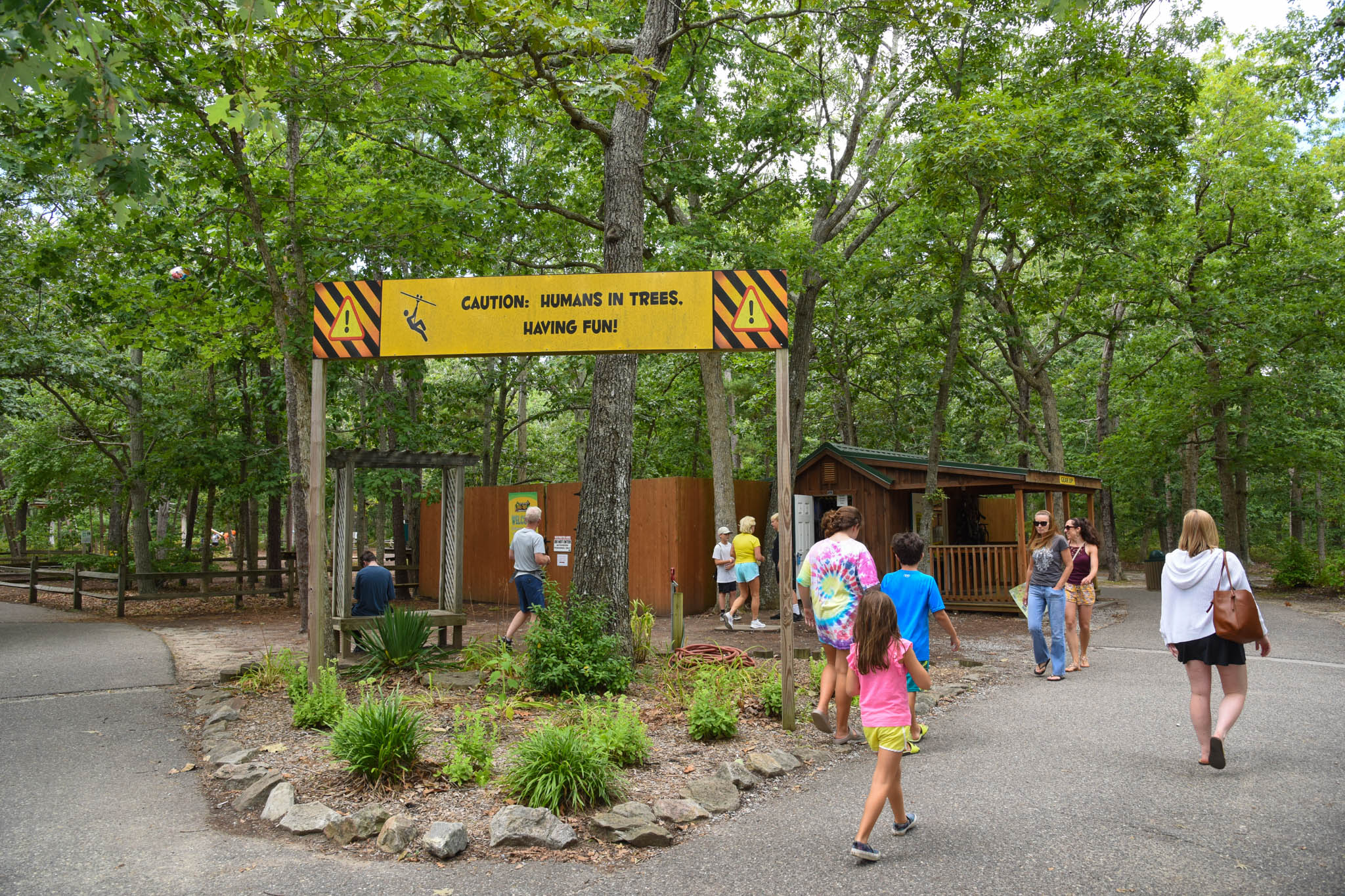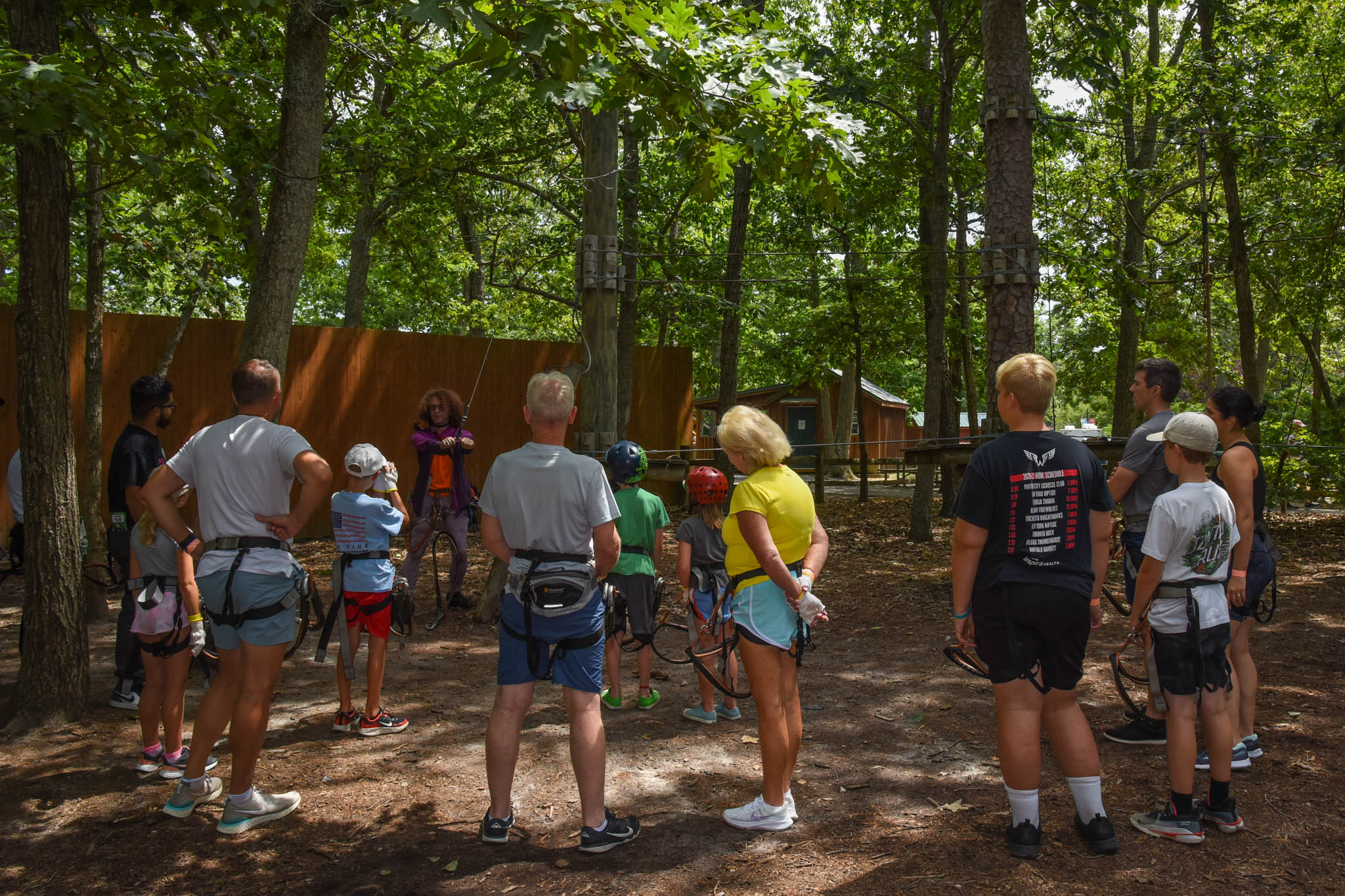 Let's talk safety. You'll need to wear closed-toed shoes. No sandals or flip flops are allowed. Long hair needs to be tied back in a ponytail, and you can't wear jewelry like necklaces or bracelets. Clothing should be fitted, not baggy, as you'll wear a harness at all times. The maximum weight limit is 300lbs; waists must be a maximum of 44 inches. Kids must be able to reach up to a height of 4 feet, 7 inches; adults must be able to reach up to 5 feet, 9 inches.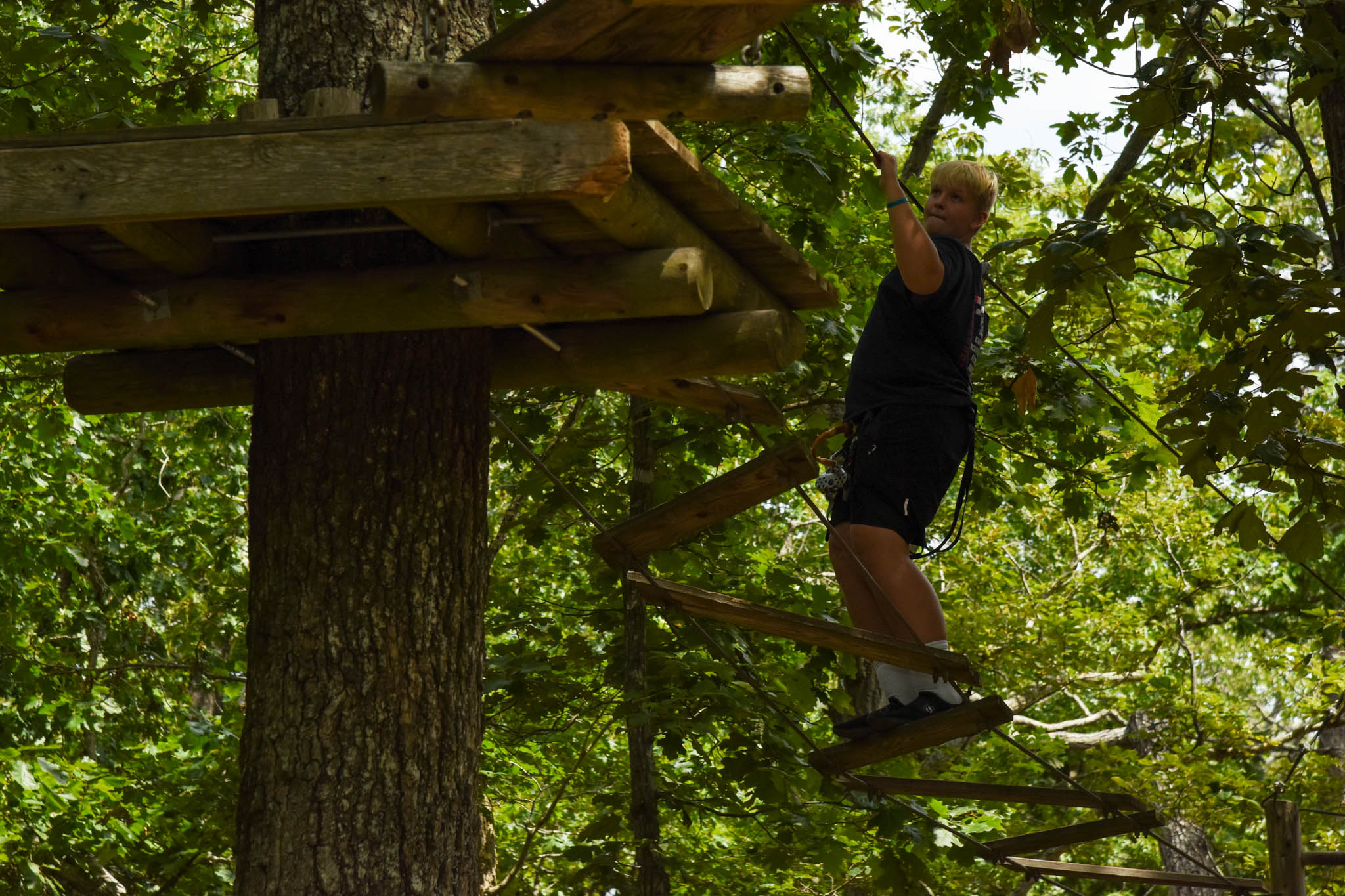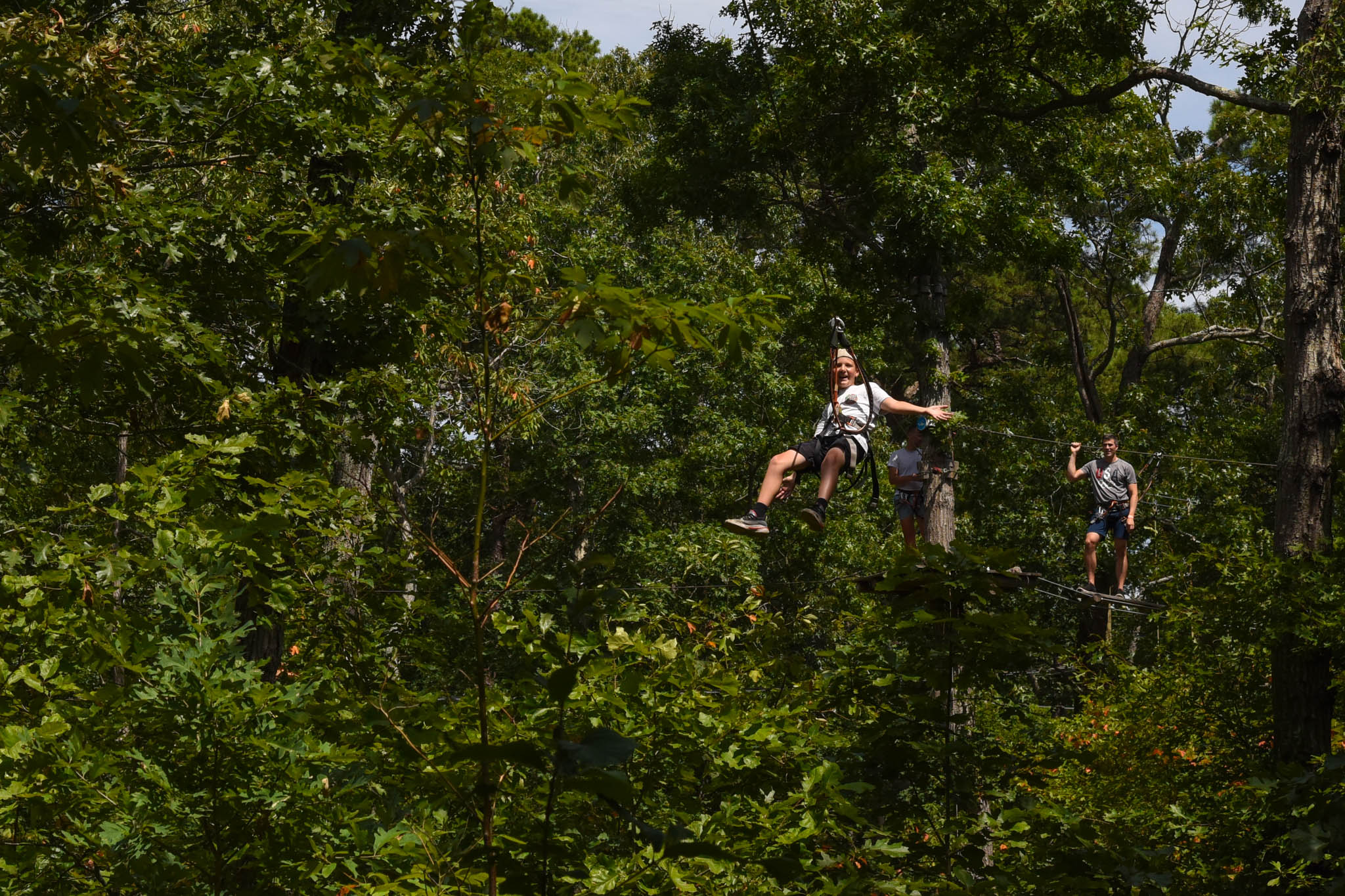 Expect sap and dirt to get on your hands and clothes, so dress accordingly. You can bring something to drink, but parents will need to hold them. You can buy food and drinks at the zoo's gift shop as well.
Perfect for: Active kids 7 and up, people who aren't afraid of heights
Ages: Ages 7 and up
Cost: $30 and up *see site for details
Days open: Open all year. Closed Christmas Day
Hours: 9 am – 2pm is the last time slot
Bathrooms: Yes, the County Park
Strollers: Not on course.
Location: Cape May County Park and Zoo 707 North Route 9 Cape May Court House, NJ. 08210
Latitude: 39.102982 Longitude: -74.813943
Website: https://treetotreecapemay.com/