Coast Guard Graduation in Cape May, NJ
Besides being America's oldest seaside resort, Cape May is home to the U.S. Coast Guard Training Center. CapeMay.com often receives inquiries from Coast Guard families regarding how to get here, where to stay, where to eat and what to do. Enjoy your visit, and our congratulations to the newly appointed Seaman Apprentice or Fireman Apprentice!
---
Graduation Information and Schedule
Graduations are normally held on Fridays on Parade Field (foul weather location is the gymnasium) from 11:00am to 11:45am (that's 1100 to 1145, military time). A parent's brief is held in the Ida Lewis Auditorium from 10:00 to 10:30am. For weeks on which a Holiday or Special event falls on Friday they will hold it on a different day.

The United States Coast Guard Training Center Cape May, N.J. is the Nation's only Coast Guard Recruit Training Center. The Center is open to the invited family members and guests of the graduating class every Friday from 8:30 a.m. to 1 p.m.

Military members presenting a graduation certificate must check in at 0930 in the Ida Lewis Auditorium. All presenters must be in the appropriate service uniform.
How do I contact the Cape May Coast Guard Training Center? Where is it located?
1 Munro Avenue
Cape May, NJ 08204
Phone: (609) 898-6900
U.S. Coast Guard Training Center official Facebook page
Coast Guard Graduation Videos
You can order a video of your recruit's graduation through VTS Video Taping.
Do I need tickets/an invitation to attend Coast Guard graduation? Do I need ID?
All friends and family members are welcome to attend graduation. We hear there's room for a few hundred people on base! All members, over the age of 18, that wish to enter the installation are required to have a valid form of ID ready as they approach the main gate.
There is parking on the base outside of the auditorium. You may be asked to show your vehicle license and registration to be allowed to enter the base.
---
Getting to Cape May / Directions to the Coast Guard Base
Most people drive to Cape May. Cape May is an island, accessible by one of two main bridges that cross the canal waterway linking the Delaware Bay with the Atlantic Ocean. The bridge nearest the base is found at mile-marker zero (the end) of the Garden State Parkway. The road straight ahead at that point crosses the canal and becomes Lafayette Street on the other side of Schellenger's Landing. The base is located at Pennsylvania Avenue, off Pittsburgh Avenue.
The base's official address is 1 Munro Avenue, Cape May, New Jersey, 08204.
From the Garden State Parkway
Drive to the end of the Garden State Parkway, which becomes Route 109 S. Continue over the large bridge (over the canal) and a second smaller bridge. Keep left; when the road divides, turn left onto Sidney Avenue. At the stop sign, make another left onto Washington Street. Immediately get into the right-hand lane, making the right-hand turn past the C-View Inn where the road divides. The road is now Texas Avenue. Stay on Texas Avenue as it curves right and becomes Pittsburgh Avenue. Take Pittsburgh Avenue to Pennsylvania Avenue and make a left. Continue to the Training Center's main gate.
If coming up from the south, you may want to take the Cape May-Lewes Ferry which leaves from Lewes, Delaware and docks in North Cape May. Follow 109 (toward Cape May). Turn right at the third traffic light onto Route 626 (Seashore Road) and drive straight across into West Cape May. This road becomes Broadway and terminates at the Ocean in Cape May City. You are now on Beach Avenue. Turn left. Stay on Beach Ave. until you come to Pittsburgh at the other end of the avenue. Turn left. Stay on Pittsburgh until you come to Pennsylvania Avenue. Turn right. Follow to the Training Center's main gate.
By Airplane
If you are flying into the area, the nearest commercial airport is in Atlantic City (ACY), about 50 minutes from Cape May. The nearest large airport is Philadelphia International (PHL), under 2 hours away.
Trains/Buses
Trains do not run from major cities to Cape May, but buses do. Click here for the NJ Transit Station schedule.
Car Rentals
Car rental reservations should be made at the airport for pickup at the time of your arrival.
---
Cape May Accommodations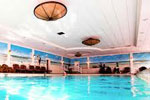 Grand Hotel
1045 Beach Ave.
1-800-257-8550 or
609-884-5611


Now you're here and you need a place to stay. One thing you should be mindful of – there's a huge difference between Cape May "in season," basically May through October when all the hotels, B&Bs, and restaurants are open and fully operational, and Cape May "off season," when the choices in all categories become far more limited.
Most accommodations have minimum stay requirements and strict cancellation policies. Call to reserve your accommodations ahead of time. Specify if you will be a late arrival. You may be surprised how many people neglect this process and end up disappointed. The largest motor inns are along Beach Avenue. The other main streets that are parallel with the beach include Lafayette, Washington and Columbia. The higher numbers are nearest to the Coast Guard Training Center. The lower numbers are in the historic district.
Are there accommodations for my family on the Coast Guard base?
The Coast Guard does not provide lodging for friends and familes of graduates. You will need to find lodging in Cape May.
If you are a military member, temporary loding is available. Please see see USCG website.
What accommodations offer military discounts and/or one-night stays / or graduation packages?
Coast Guard families, if any accommodation listed below refuses you these published discounts or offers to discount less than what is listed here, call us at 609-898-4500 so we may edit the offers or remove them from this list!
What accommodations are open year-round?
Most of these hotels and B&Bs either have a dining facility or have access to one nearby. This is very important during those winter months of January through March when the dining options are limited.
What accommodations are closest to the Coast Guard base?
---
Dining, Groceries, Convenience Stores
For those you coming April through December, the sky's the limit. Just remember to make your reservations early at any of Cape May's fine restaurants. If you'll be here during the off-season (Labor Day to Memorial Day), not all restaurants will be open.
Year-round restaurants in Cape May
The Lobster House at Fisherman's Wharf and FINS (formerly The Pilot House) on the Washington Street Mall are open daily year-round. The Blue Pig Tavern at Congress Hall is always open for dinner (not always lunch off-season). Others include the Ugly Mug or Delaney's on the Washington Street Mall, and The C-View Inn (close to base). View all Cape May year-round restaurants
Diners and restaurants in nearby towns of North Cape May (take Seashore Road north; turn left onto Townbank, which will take you to Bayshore Road) and Rio Grande (exit 4B off the Garden State Parkway; then turn left) are also open year-round.
Convenience and Grocery Stores in Cape May
Wawa, a popular convenience change, is located on Pittsburgh Ave.
Acme Grocery Store, located in Victorian Commons on Lafayette Street
CVS Pharmacy in West Cape May, at Park and Perry streets
Dellas 5 & 10 on the Washington Street Mall at Decatur Street
A larger Acme is located in North Cape May. Shop Rite is located in Rio Grande at exit 4B. From the Parkway, turn onto Route 47 toward Rio Grande and you can turn right in to the Shop Rite plaza.
Gas Stations
We'd recommend filling up before you get to Cape May. If you are coming via the Garden State Parkway, there is a Wawa in Rio Grande (exit 4B). From the Parkway exit, turn or merge onto Route 47 and continue to the intersection at Route 9. Cross the intersection. The entrance for Wawa will be on your right. If you're arriving via the Ferry, there is a gas station in North Cape May on Bayshore Road.
Riggins, at the merge of Texas and Washington Streets, is a gas station in Cape May near the base.
Walmart
Walmart is located in Rio Grande at exit 4B on the Garden State Parkway. From the Parkway exit, turn or merge onto Route 47 and continue to the intersection at Route 9. Turn right onto Route 9 and continue to the Walmart entrance on your left.
Banks
Banks and ATMs are situated in all of the most visited areas. Please ask your accommodation for the nearest bank or ATM. There are always ATM machines available at Wawa.
---
What to Do in Cape May
So now you're here – you have a place to stay – you know where you're going to eat – what are you going to do?
If you're spending a few days or weeks in Cape May, getting around town is easier and more fun on a bicycle. You don't need to bring your own. There are several bike rental agencies that offer daily or weekly rental periods and can even deliver the bikes to your hotel, motel or B&B. Riders need to follow traditional traffic rules and children under 13 must wear helmets (free with rentals). The best time and place to ride? On the promenade before 10am and along Sunset Blvd. to Sunset Beach - at sunset.
The best way to see Cape May is to walk through town. Cape May is a small island with so much to see that walking is the best way to explore the town.
Of course, there's always the beach, biking, and walking, carriage rides, miniature golf, the movies, golf, fishing, tennis – well, you get the idea. The Mid-Atlantic Center for the Arts (MAC) sponsors a number of tours of the Cape May's many historic homes. Check their website for information or visit their information booth located by Ocean Street on the Washington Street Mall.
In addition, the island is a huge draw for migrating birds and, therefore, migrating birders. The Cape May Bird Observatory at Cape May Point always has full schedule of events for the beginner as well as the seasoned birder.
The Nature Center of Cape May, right on Delaware Avenue near the US. Coast Guard base also offers a host of activities, especially on the weekends "in season." They also run a popular day camp Monday through Thursday June 30 and continuing until August 21.
The Cape May County Park and Zoo on Rt. 9 (take Garden State Parkway exit 11 to your left; cross the intersection to the zoo entrance) is open year-round. The zoo is open from 10 a.m. to 3:45 p.m. in the winter and 4:45 p.m. in the summer. Admission is free, and you can get there "in season" by taking the train which leaves from the Welcome Center on Lafayette Street. The train also takes you to Historic Cold Spring Village which is a 19th century, open-air, living history museum built on a 22 acre wooded site which includes 25 restored historic buildings. Costumed shopkeepers and craftsmen will guide you through your travel back in time.
If you're visiting during the summertime with children, don't forget to take the short drive over to Wildwood, which is a town devoted to the doo-wop theme and has any number of amusement parks and water slides to entertain the whole family.
Public bathrooms ("Comfort Stations") can be found near the Washington St. Mall and the Washington Street Commons as
Movie Theater
The Harbor Square Theater is a restored theater in Stone Harbor, NJ that re-opened in 2016 and has an on-site restaurant and bar.
The closest movie theater is in Rio Grande, the Rio Stadium 12 at exit 4B. From the Garden State Parkway, merge onto Route 47. Cross the intersection at Route 9 and continue to the entrance on your left (before the next traffic light).