They're talking about it in New York. They're arguing about it in Philadelphia. And in both cities, the town of Cape May crops up in the conversations. They're discussing the use of horse and carriages as entertainment. Animal rights activists are scrutinizing the trade, noting the animals suffer cruel treatment and work long hours. Both proponents and critics point to Cape May as example. "They do it in Cape May," they say. CapeMay.com  takes a look.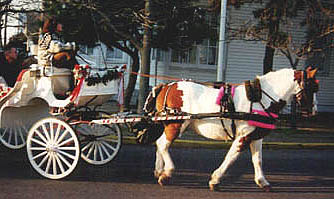 In Philadelphia, animal rights groups called for city regulations over the horse and carriage businesses, maintaining the horses shouldn't work in hot weather over 89 degrees. City regulations currently have a 94-degree limit for horses.
Philly's horse-drawn carriages were resurrected in 1976 during the Bicentennial celebration. Through the years, regulations cropped up governing the trade; the first in 1986 – limiting the number of hours horses could work to ten a day, and particular routes for buggy rides were mapped out in 1993.
In New York City, animal rights groups are accusing horse and carriage operators of forcing their horses into ill-fitting bridles, shoes and blinders. Activists point to mistreatment on numerous occasions. One carriage horse was electrocuted after stepping onto an electrical box, and another collapsed and died in her stable during 100-degree heat.
Most recently, in Philadelphia, carriage horses, found in an abused, neglected state, were rescued and taken to a country stable.
The clip-clop of horse's hooves along the pavement and the slow rolling carriages pass Victorian gingerbread homes just as they did 120 years ago. A tourist in his car is stuck behind the slow-moving carriage. He honks his horn in frustration, then finally zips down a side street, leaving the horse and carriage as it ambles at a leisurely pace amid the falling leaves. Times may have changed in Cape May, with automatic bank-telling machines popping up, bed and breakfasts replacing stately Victorian residences, and traffic meters squeezed on tiny, tree-lined streets.
Yet the horse and carriages of yesteryear remain with Cape May, one of the few re-sort communities with this particular brand of nostalgic conveyance. Traditionally, back when Cape May attracted Philadelphians who traveled by rail, horses and carriages were the only mode of transport through town besides the toe and heel express. You either walked, or you rode in a buggy.
At the beginning of the 20th-century, the horse gave way to the automobile. Cobble stoned streets once accustomed to hooves now yielded to tires, as families packed their cars for a jaunt to the New Jersey shore. For a while, it seemed the sensation of riding in an open-air carriage pulled by horses would be another experience mothballed into the realm of antiquity, shelved in a museum, never to be experienced by tourists in Cape May again.
In 1982, Beverly Carr changed all of that when she received permission from city council to begin carriage rides throughout the city. Carr, president of Cape May Carriage Company, started with one horse and now has a fleet consisting of 22 horses, five large carriages for seating groups, a special wheel-chair-accessible carriage, nine white carriages for weddings and special occasions, a few training carriages, and a sleigh for snowy days. The carriages run half-hour tours through the central historic district asking $40 for two-person private evening carriage rides and $8 for adults and $4 for children for larger group rides.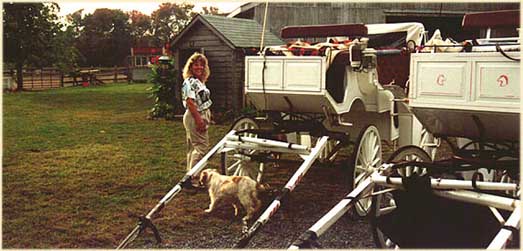 Carr, raised with horses, said inspiration hit her for Cape May carriage rides after she saw carriages in Charleston, S.C. (see sidebar) "I thought, why don't we do that down here? It's a nice, quiet way for people to go downtown. It's great for weddings because people like the Cinderella thing with the carriages," Carr told CapeMay.com.
It has been said Cape May ranks among the country's top ten "most desirable cities in which to get married." And perhaps that's true. Besides traditional church weddings, Cape May City's mayor marries over 100 couples annually. For weddings, Carr's company goes all out. Specially trained white homing birds are released at the weddings, a flurry of white flapping wings rising heavenward and home-ward back to Carr's stables. Carr said she's also proposing to have a carriage built resembling the one in the fairy tale Cinderella, to give the right happy ending to the ceremony.
Besides the fancy carriages are the 22 horses themselves, the crucial elements of Carr's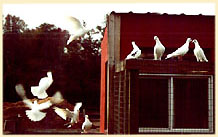 business. On Carr's eight-acre farm in West Cape May, the horses can be seen romping in fenced-in fields. Graceful as they may look, these animals are 2,000-pound draft horses, a mish-mash of Percherons, Belgians and crossbreeds. Because of their large size and subsequent capacity for fieldwork, these particular horses are utilized by Amish farmers in Lancaster County, Pennsylvania.
To say that Carr is a horse lover is an understatement. Professionally, she belongs to the American Driving Association, the Carriage Association of America, the Carriage Operators of America and the Brandywine Driving Club. "I drove ponies when I was a kid. It was fun. As I got older I rode horses a lot," Carr said. "I learned from the Amish how to drive horses. "If anything, Carr said she runs a clean company. Before working, the horses are bathed to eliminate pungent, equine odors, and wear special diapers to prevent their waste from falling in the street.
Life on the farm is an equine paradise for Carr's horses, complete with wide fields perfect for galloping. The horses are pampered and properly maintained. According to Carr, each horse received shoeing from a qualified Amish blacksmith, a horse dentist cleans their teeth, and a veterinarian tends to their medical health.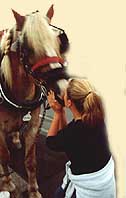 The horses also eat well, consuming 25 pounds of food a day, roughly a quarter bail of hay. Carr said her horses work in day and evening shifts, one lasting from ten in the morning to three in the afternoon and the other from six in the evening until eleven. Horses are rotated between day and evening shifts, each walking half-hour trips with ten minute breaks in between. If the weather is too hot of cold, the horses won't work, Carr said. "The horses are acclimated to the climate, but you need to water them and cool them off between walks," Carr said.
The Cape May Carriage Company works its horses during the prime summer tourist season, from June to September. During the fall months, carriage rides also run through town, but aren't as intense as the summer crowds. Carr condemns owners who neglect their horses, adding it only stains the whole carriage business by generating negative press.
"People who overwork their horses are doing a disservice to their horses and to the carriage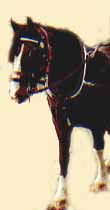 industry," Carr said. "Unfortunately, people seem to think all horses live that way. You always have to defend it."
Carr said one tourist, after witnessing the horses pulling carriages wrote a letter to the local Chamber of Commerce condemning the business as cruelty to animals. Carr wrote back and explained her horses aren't overworked at all and they rest between walks.
"We go the extra mile." Carr said. "A lot of people recognize they are happy, well horses."
Visit the Cape May Carriage Company web site www.capemaycarriage.com