The juxtaposition of decades-old photos with the same scenes to be found today is meant to emphasize the sense of timelessness that Cape May offers to her visitors and residents alike. The old pictures in our photo essay are mainly derived from Don and Pat Pocher's  Cape May in Vintage Postcards.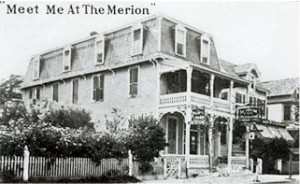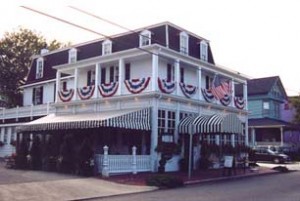 The Merion Inn, has been a "cafe" in Cape May since it first opened in 1885. In 1906 the chief steward of the posh Merion Cricket Club purchased the establishment changing the name and adding Philadelphia Main Line clientele.
Renowned for its elegant bar and lengthy cocktail list, the Merion Inn today is an upscale restaurant and lounge that has retained the same flavor of its past.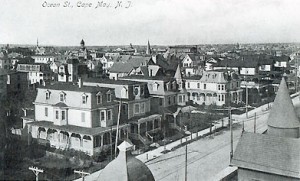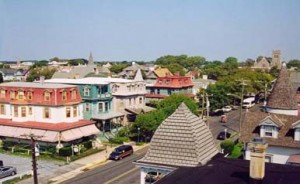 Ocean Street, 1906. This view is from the Colonial Hotel Tower. The third house in the row of mansard-roofed cottages belonged to Essen of Essen's  Bakery and Ice Cream Saloon. (Mentioned in last month's story Main Street U.S.A.)
Ocean Street rooftops as seen from top floor of  the Hotel Cape May (aka. Inn of Cape May), July 2002.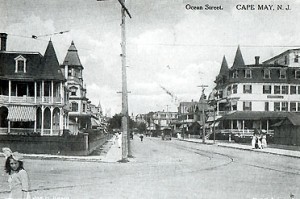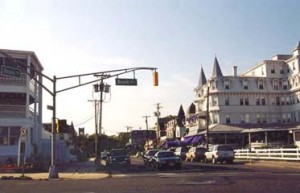 The old Colonial Hotel is on the right; the Weightman Cottage and the Star Villa on the left.
Today the Marquis de Lafayette Hotel has stretched it way to the corner and a swimming pool (unseen here) is behind the white fence where there once were bath houses.