There's a party going on. A celebration.
The tiny borough of Cape May Point marked its 125th anniversary by inviting all the year-round residents of Cape May Point – 250 in all – to a sit-down dinner.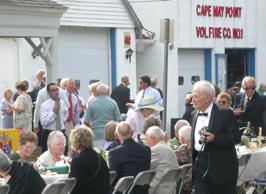 Catered by the Washington Inn, organizer Bob Moffatt used as much homegrown, locally fished, or New Jersey grass-fed food as possible. Live music greeted the formally dressed visitors as dinner started at 4 o'clock on Saturday September 6th.
Everybody knows Cape May Point is a very special place; so when I read the news about the anniversary dinner, I set out to discover just exactly what it is that makes it so special.
I rode my bicycle down Sunset Boulevard on a brilliantly sunny Sunday afternoon. With a bicycle, I had no worries about parking, and, more importantly, I was free to navigate my way around the streets and avenues looking for the answer – which, it turns out, is plural.
Really, it's just like figuring out why you like someone. It's never about one thing. There are many things that come together to make a certain person stand out. So it is with Cape May Point.
There's the sea of course, but Cape May has the same ocean. Ah yes, but here's the first distinction – Cape May also has a land mass to buttress the town from the sea. Right from the start one can sense the Point's vulnerability to nature.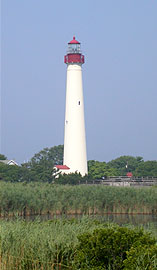 What is here today may not be here 125 years from now and much has already been lost in the 125 years that has gone by.  Because of its location at the very southern-most tip of New Jersey, the Point is also home to the lighthouse. The first Cape May lighthouse, built in 1823, was replaced by another in 1847 and yet another one in 1859. It is the second oldest, continuously running lighthouse in the United States. Its older sister stands overlooking Sandy Hook in northern New Jersey. The lighthouse brings nearly a million visitors each year – the attraction not just to climb the 199 spiral steps and look at the view, but to understand the beacon's glimpse into life gone by, a life of simplicity yes, but also of isolation.
I don't think it is a lonely isolation that characterizes the Point, but more one of a meditation with nature – Cape May Point is a wildlife sanctuary – a stopping off point, a retreat – for an impressive number of migratory birds.
And there is a spiritual quality about Cape May Point, a quiet which other resort towns lack. Other than the General Store at Cape Avenue and the Pavilion Circle which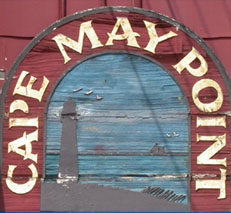 provides the same service as an old-fashioned convenience store and from time to time has had a small restaurant in the back, the borough offers no hotels, no grocery stores, no drug stores, and no restaurants. And there are none of the seashore's traditional array of store, other than the lighthouse's tiny gift shop.
In 1994, the borough passed an ordinance declaring the community a single-family dwelling closing the lid on any future commercial development.
But long before that, back between 1875 and 1876 when Cape May Point was named Sea Grove and founded by Alexander Whilldin as "a moral and religious home," the
small community was on the brink of becoming very commercial. No less than four hotels – Sea Grove House, Cape House, Centennial House and The Shoreham Hotel – were built along Beach Avenue or just one block away from it from 1875 to 1890. Of these, only The Shoreham, now St. Mary's By-The-Sea, is still in existence. In fact, Beach Avenue is conspicuously empty. All hopes of financial success on the part of the founding fathers, including successful Philadelphia retailer John Wanamaker, ended up in the sea. What remained, however, was the religious tenor upon which the borough was founded – that of a retreat.
I've always been vaguely aware of the importance religion has had on Cape May Point. Even to the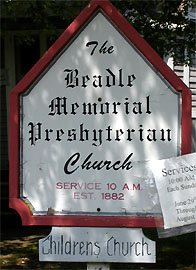 casual observer, one notices a disproportionate number of churches and retreat houses for such a small community. As I peddle up Cape Avenue, for example, I pass Beadle Presbyterian Church. Built in 1882 near Beach Avenue, it is named after the Reverend Elias R. Beadle, pastor of the Wanamaker family at the First Presbyterian Church in Philadelphia and a frequent summer visitor to Cape May Point. It was the second church to be built at the Point and is an example of the "stick-style" architecture common at the time. It was moved three times to protect it from beach erosion and the perils of violent storms that have plagued the borough for decades.
A little further up on my right at the corner of Cape and Pavilion Avenues is St. Agnes Roman Catholic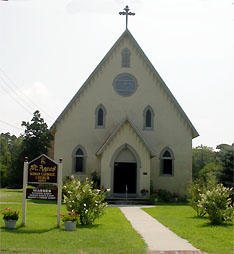 Church. Built in 1885, it is an example of "carpenter gothic-style" architecture. There is no bell tower or steeple. A large cross sits atop a steep gabled roof.
Straight ahead is the Pavilion Circle. Someone recently asked my why they call it "Pavilion" Circle when there's no pavilion. Ah, but at one time a very large pavilion stood in the center of Cape May Point right where the grassy park is now. It was one of the first structures to go up in 1875 and was designed by the Philadelphia architect and fellow Sea Grove founder J.C. Sidney. It was built as a shelter for Sunday worshippers – a fancy version of the tent revival.
The pavilion could accommodate up to 2,000 people and had a central steeple with a bell and watch tower that reached 85-feet in the air. Initially, according to the recently published Cape May Point – The Illustrated History: 1875 to the Present written by Point resident Joe J. Jordan, the pavilion served worshippers from all faiths until 1880 when the various Christian denominations – five in all – started building their own churches. This was also about the time that the great vision of the Sea Grove Association led by messieurs Whilldin, Wanamaker, and Sidney, fell apart. It seems people weren't as keen to buy property in a community with such strict taboos regarding the individual's lifestyle.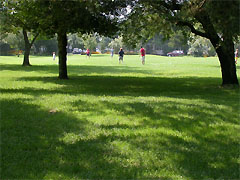 Amusement parks were strictly forbidden as was the sale of any kind of alcoholic beverages, and I suspect along with those restrictions came a certain expectation regarding one's deportment.
And there were further restrictions regarding construction. Structures had to be built within three years. Construction plans had to meet the approval of The Sea Grove Association. (This doesn't sound so very different from today.) At any rate, the incorporated Association ended up in bankruptcy. Everything they held -cottages, Lake Lily, the beaches, all three hotels, and hundreds of lots – went up on the auction block. The pavilion sold for $400 simply for its timber.
The Pavilion Circle is now a small park where families go to picnic, play Frisbee or just to sit and look at up at the sky.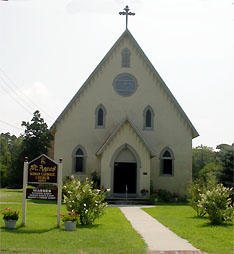 As I peddle my way around the pavilion circle, I come to Union Chapel. Built in 1885, Union Chapel was originally a Baptist church, but all denominations were welcomed to use the chapel. In the early 1900s, Lutheran services were conducted there. Constructed in the same carpenter gothic style as St. Agnes, it had a steep gabled roof over a rectangular structure. A narrow 30-foot bell tower with a plain steeple topped off Union Chapel which stood tall until an electrical fire in 1968 destroyed the historic building beyond repair. According to author Joe Jordan, Cape May Point resident Edith Mather found the chapel abandoned when she moved to the borough in 1910. Through her efforts, the chapel reopened and has been a place of worship for various denominations since.
Some historic Cape May Point buildings have become religious retreats. The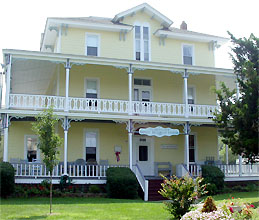 John Wanamaker cottage at Cape and Yale Avenues, for example is now the home of the Marianists. The cottage, which originally stood on Beach Avenue and was later moved to its present location,  was donated by Wanamaker to the Presbyterian Orphanage, a.k.a. Sunny Corner, in 1916. It remained an orphanage until 1959. In 1962, the Marianist Society Inc., of New York, a group of Catholic Brothers acquired the property for a summer retreat. Currently, it is used for family retreat programs.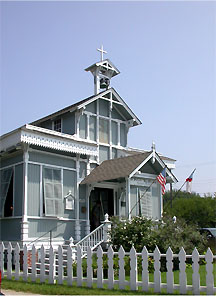 I bike over to my favorite church, architecturally speaking, which turns out to be the first denominational church at Cape May Point – St. Peter's By-The-Sea. History has it the building was moved to Cape May Point from the 1876 Philadelphia Exposition. Relocated from its original Beach and Cape Avenue location, across from Sea Grove House, in 1903, the Episcopalian church, now sits on a triangular patch of land at Lincoln, Lake, and Ocean Avenues. An example of stick-style architecture, St. Peter's opened its doors on July 25, 1880 and has held summer services ever since.
Of course, one of the most famous buildings in Cape May Point is St. Mary's By-The-Sea. Originally built in 1890 as the Shoreham Hotel, the property went up for sale around 1909 and was purchased, according to Cape May Point: The Illustrated History, for $9,000. Four years later, a beach front cottage was purchased as a rectory and in 1923 a second beach front cottage was acquired.  After the devastating storm of 1962, both were relocated to Lehigh Avenue, opposite St. Mary's.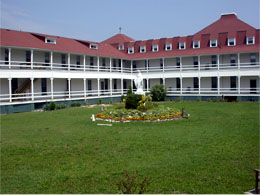 St. Mary's tugs at the heart of anyone familiar with Cape May Point. At one time its location was safe from the danger of falling into the sea but each year beach erosion and the threat of another dangerous storm forces the religious retreat to walk a tightrope with nature. In fact, all of Cape May Point walks the same tightrope – not only in its fight to preserve the land, its wildlife and its historic buildings, including the lighthouse – but to also preserve the quiet, the restorative elixir that makes Cape May Point a very special place indeed.
So, here's to Cape May Point! May it all last more than another 125 years!