When it comes to buying an old house and renovating it, Joanne Tornambe has one guiding principle – "In life you have to be flexible."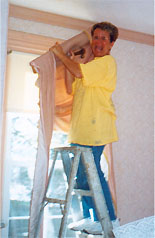 Joanne and Joe Tornambe are the current owners of Woodleigh House an 1866 Victorian farmhouse turned bed and breakfast located at 808 Washington Street and the third Washington Street house which the Tornambe's have renovated in the past 9 years.
Their Cape May adventure began in 1994 when they bought a 1902 Queen Anne style house at 1023 Washington Street as a summer home.
Previously, the Pennsylvania residents spent their summers in Avalon but the charms of Cape May were such a lure that they soon began trying to figure out how they could afford to live here year round. The answer? Become an innkeeper of course.
They could have an income and enjoy the pleasure of renovation all at the same time. "But owning a B&B wasn't the draw, the draw was Cape May," said Joanne. And facing the daunting task of period renovations? "It's our relaxation," said Joanne.
Joanne took a sabbatical from teaching and signed up for the Mid-Atlantic Center for the Arts' (MAC) annual March Inn Deep Workshop. She also started working at the Wooden Rabbit to see if she would like playing hostess. "I liked it," she said, and thus their innkeeper career began in 1996 with their next purchase The Trellis Inn at 822 Washington Street.
The Trellis Inn had been a rooming house which they converted to a Bed & Breakfast. This required a license from the city in addition to extensive repairs. "It was a labor of love," she says now looking back on it. While running the Trellis Inn, the Tornambe's continued to live at 1023. Three years later the opportunity to purchase Woodleigh House presented itself.


"Woodleigh House," said Joanne, "afforded us the opportunity to have five rooms to rent, plus resident's quarters." Eventually, they sold their other two properties.
Although structurally sound, Woodleigh House needed a complete facelift which required 57 rolls of wallpaper and new wooden floors.
Looking around the cozy parlor, Joe Tornambe said the biggest challenge in renovating an old house is that "you don't know what your going to find" once you start scratching the surface,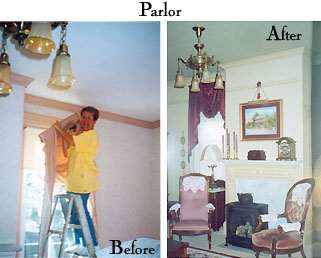 hence the "in life you have to be flexible" philosophy. For example, he said, they had trouble peeling the wallpaper off one of the downstairs rooms. There was at least three layers of wallpaper some of which had been on there for 137 years.
When they finally started to get close to the bare walls they started noticing a foul odor like that of a decaying animal. They came to find out that in the old days horse hair was used in the plaster to strengthen it.
"It sure worked," said Joanne, "because the walls were in good shape."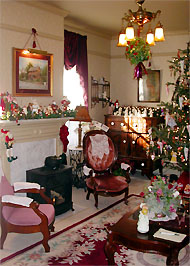 Being prepared for the unexpected in an old house is particularly true, Joe said, when it comes to tackling existing wiring and plumbing. This is an area where the old and the new require some serious creative thinking.
The second biggest challenge, Tornambe said, is finding the right materials that go with the time period of the house. This requires research and in some cases, travel time.
The Tornambes do all the renovations and redecorating themselves and to say that Joe Tornambe is "handy" is a bit of an understatement. He once put on a 1200 square foot addition to one of their Pennsylvania homes. That project required tearing out a bearing wall (that's the thing that holds the house up). Proceed with caution, he warns, when it comes to doing something as major as tearing out walls or "your two story house could turn into a rancher."
Looking at some of the details of Woodleigh House a little closer reveals beautifully constructed crown and picture molding. The fireplace in the parlor has a small gas stove similar to one which would have been used at the turn of the century. The mantel has marble which is original to the fireplace but Joe Tornambe reconstructed the actual mantelpiece.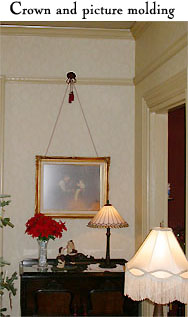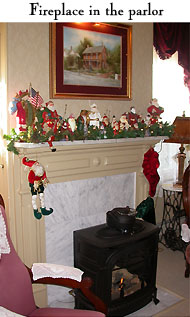 His biggest source of pride is the work he did on the stairway as you walk in leading to the upstairs bedrooms. The wood was rotting and the stairs were carpeted using hundreds of staples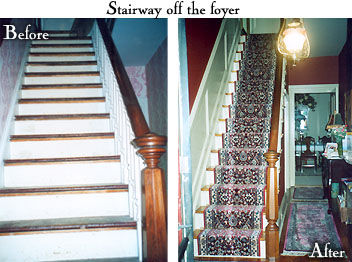 which had to be removed before any further work could begin.
How did they learn how to do all this? Books. Every time they started to tackle something that they knew nothing about Joanne would say to Joe "We'll just get a book and learn.
One day he said to me if you say one more time we'll just get a book and learn…."
But learn they did. They have never tackled a project which they couldn't figure out and have sold all of their houses in relatively short period of time.
Another learning tool which has been beneficial for them is travel. In the off months – January, February and March – the Tornambes close the inn and travel south visiting other B&Bs, talking to the owners and getting new ideas. So you'll have to wait until spring to get a first hand look at Woodleigh House which is decorated in a "country Victorian" theme.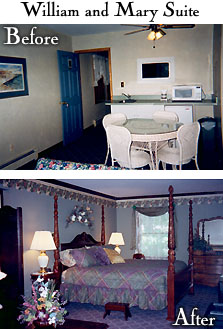 And if you're planning to buy an old house yourself and fix it up? Joe Tornambe's advise is to look at the town first and "be sure that this is the place you want to be. That's number one. After that, you'll be satisfied."
And if you want to be an innkeeper, Joanne Tornambe advises prospective buyers to take the Inn Deep Workshop offered by MAC in March.
Is it worth the aggravation? Yes, they both agree. They love hearing compliments from guests and visitors and they love waking up each morning to see their finished product all around them. And yes, they would do it again.
"Opportunity always presents itself," said Joanne, "Whether you take advantage of it or not is the key. Regrets are chances you didn't take."