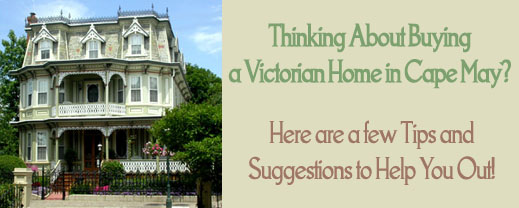 Have you always dreamed of owning an old house, one that dates back to, say, Queen Victoria? If the answer is yes – the next question is what would you be getting into? What better way to find out than to ask some of the people in Victorian Cape May who have already undergone the task.
Mike Brogan recently purchased the former Poet's Inn now called 35 Jackson at, appropriately enough, 35 Jackson Street. He is no novice to renovations and offers the following tips.
1. Make sure you get a copy of the city's Historic Preservation Commission (HPC) Design Standards.
He says the guidelines are well done and you want to be sure to follow them,
particularly where it concerns exterior painting, and window replacements.
One thing you don't want to do is to find out too late those modern
replacement windows do not conform to the standards outlined in the booklet.
2. Look at the number of electrical outlets in each room.
Then look at the number of extension cords leading from each outlet. It will give you an idea of whether or not a room will need to be rewired or, at the very least reconfigured. This is of particular concern if the property is to be used as a rental or a Bed and Breakfast.
3. There is no good explanation for a water stain in the ceiling. If you spot such a stain get a full explanation as to what it is. Often, he says, such stains occur on the first or second floor ceiling because of radiator leaks in the winter. A third floor leak could indicate a roof problem but also a nor'easter often blows the rain in such a way
that it gets under the shingle and leaks down into the ceiling.
4. Open every window. Many of the older homes have windows which have been painted shut. If you live in the historic district of Cape May all window frames must be wooden in order to conform to HPC standards. So, a little window test will tell you where you stand with regard to future repairs and renovations.
5. Avoid a crooked house. A leaning house is an indication that a center beam has dropped which indicates a serious structural problem. Another indicator that the house has dropped is when the doors to a room have been cut an angle to accommodate a slanting floor.
5. Use the Internet to find outlets and resources to purchase period materials such as wooden shutters, hinges, reproduction plumbing fixtures, and electrical adornments as well as doorknobs and the like.
6. Was the house used in the winter? The answer to this gives the buyer an indication of whether or not the heating system works but also whether or not the building was allowed to repeatedly freeze over successive winters thus causing stress on the walls, the beams, as well as the plumbing.
Joe and Joanne Tornambe have owned and renovated three properties in Cape May. Their most recent is Woodleigh House, at 808 Washington Street. It is an 1866 Victorian farmhouse. They give the following tips to prospective owners.
1. Have lots of money unless you plan on doing the renovations yourself (which they do) and even then, have lots of money.
2. A home inspection prior to settlement is invaluable in detailing what is in store for you as the new owner.
3. Check that the foundation is sound and that you are dealing with a solid structure.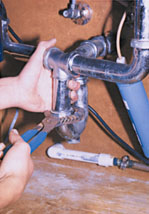 4. Is the roof sound? If not, how much will it cost to make it so?
5. What condition is the electrical wiring in? These are hidden concerns which require an expert eye.
6. What condition is the plumbing in? Again, someone knowledgeable in this area should do a walk-thru for you.
Joe McLaughlin, Realtor, former owner of the Poet's Inn at 35 Jackson Street and current owner of one of the historic Seven Sisters homes at 18 Jackson Street offers the following tips.
1. Figure out, before you make an offer on the house, what you plan to do with the house. Will it be used as a private residence, a rental property or a Bed and Breakfast.
2. Have an home inspection done. Like the Tornambes, McLaughlin feels a home inspection is important as a guideline for future repairs.
3. Plan, as best you can, what you want to do to the house in terms of renovation and/or redecorating and get an estimate of what it will cost. Add that to the cost of the purchase price to give you a more realistic idea of how much you're going to be spending. For example, when McLaughlin was thinking about the 35 Jackson Street property he knew ahead of time that he wanted to expose the old porch and put in new wooden floors. He had a list of things he wanted to do the house and got estimates on how much each repair would cost.
4. Historical and Modern. The secret of buying an old house is to figure out how to keep the integrity of the house, yet add the modern conveniences needed for today's living i.e. kitchens and bathrooms need to be modernized in order for the occupants,
be they permanent residents or guests, to be comfortable.
5. Do it right the first time. Use quality materials and don't skimp on the workmanship because it'll cost twice as much to redo it a second time.
6. Add 50% to the estimated cost of repair or renovations. You never know what you're going to run into in an old house once you start tearing things down so be
prepared for the unexpected.
7. If using a contractor make sure it is a company with experience in renovating old houses. Get references and before and after pictures.
8. Keep your own before and after pictures. They're invaluable when you go to sell the property and interesting to look at. And try to find other old pictures of the house either from previous owners, neighbors or newspaper files. The more history you can collect on your house, the easier is to keep the integrity of it alive.
9. Keep receipts. When you sell the house proof that you made certain improvements which are hidden such as rewiring will help in the sale of the
house.