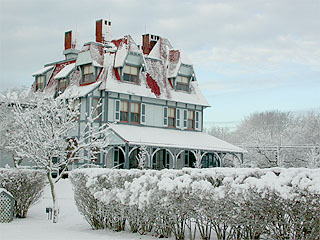 Any beach town can pull off summer but few can compete with Cape May when it comes to Christmas.
Think Victorian, think Charles Dickens and enjoying Wassail at the Physick Estate. Where else can you experience all that? Cape May is just as special to those of us who live here and what better way to share with you the experience of Christmas in Cape May than to ask those who live here what it means to them.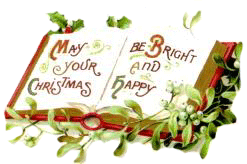 The first person we thought of is Cape May Mayor Jerome Inderwies, who probably performs more weddings in town than any two ministers put together. For Mayor Inderwies a Cape May Christmas has an added spiritual quality:
"The warmth of the town during Christmas has always been a highlight for me. The true meaning of Christmas is always present in our churches around town. I enjoy bringing my family and friends to see the beautifully lighted B&B's, private homes, the Mall, the Bandstand."
Michel Gras owner of La Patisserie Bakery makes the wedding cakes for so many couples who choose Cape May for their wedding site. He said he often recommends that the couples come back to Cape May at Christmas to enjoy a more relaxing stay.
"Summer is about the beach. Christmas is about the town. Actually, I think it is the best way to see Cape May the first time. It is how Cape May should be all year round. The lights, the carriages… It's not over done. Also for me, I have more time to look at it. It is not so fast going. It is a time to see our friends. I have more time to talk to other business people. I remember when we had the retail store, so many people came in for coffee on hospitality night and they were happy to be here… It's very nice. It's like a storybook."
Scottish native Jack Wright is the editor and publisher of Exit Zero. This year he is looking forward to all the things Cape May has to offer at Christmas.
"It's only my second Christmas in Cape May. Last year I was in Scotland for a month (and was sick the entire time). The year before, I sat in on my own in a basement apartment on Atlantic Terrace, watching the Godfather 1, II and III. I'm not sure why, but it wasn't so memorable. Christmas in Cape May means, to me:
Standing freezing cold at the Christmas Parade, dreaming of hot chocolate and then some drinks by the roaring fire in The Brown Room.
Shopping for friends (and then keeping the things for myself) at some of my favorite places – Good Scents, Environs, the MAC Museum Shop, Simply Unique, Wanderlust, Madame's Port, the Whale's Tale, and Kaleidoscope come to mind.
Walking along Jackson Street, sniffing the aroma of fireplaces, taking in the beautiful buildings and the lovely lights, and having a romantic, candlelit dinner at The Ebbitt Room.
Taking the MAC Christmas tours and reliving the Dickensian Christmas experience – then going home and watching A Christmas Carol (the one with George C. Scott).
Strolling the mall and popping inside Carli's Country Connection, the best-smelling shop in the universe.
Watching It's A Wonderful Life, sipping a glass of sherry (it should only be drunk at Christmas), cuddling up to my puppies April and Friday, who are wearing Christmas hats, and bawling my eyes out (I know that has nothing to do with Cape May, but no Christmas could possibly be complete without it)."

Jenn Cupp, manager of Pearl's boutique, on the Washington Street Mall thinks Cape May is the kind of town where people can come home again, especially at Christmas.
"At Christmas time it seems everyone comes back. It's neat to see people you haven't seen for a long time. And it's a small town so you never know who's going to show up.. You can not see someone for five years and when they come back it's as though they were never away. It's a good time to see old faces. My favorite, favorite thing is the little white lights on the mall and first snow fall. It's just magical."
John Karapanagiotis, owner of George's Place, on Beach Avenue is looking forward to not cooking on Christmas, at least not for those of us who regularly come to his restaurant. Of course, we could always come over to your house. Just kidding John.
"Christmas in Cape May means a day off. It means hot chocolate and marshmallows, family, friends & Charlie Brown Christmas specials. To watch the glow from children's faces reminds me of what childhood is all about. I like to walk up and down Washington Street Mall admiring the lights (classy) and Christmas caroling around the town(not me personally). It's a time of year when there isn't a wait for chipped beef, and I actually get a chance to talk to my guests in the restaurant. Cape May Police Department is easier in the holiday season. All around Christmas brings out the best in everyone. A Christmas stroll along the boardwalk sounds good. Me and Fay(my wife) will have a glass of Riesling at the Pelican Club. I'll take Michael (my son,2 1/2 years old,) to WaWa for his chocolate glazed doughnut. OK, one for me to. I hope he remembers Christmas in Cape May. It's ok if he doesn't. I have it on tape. I love my family. I love my guests in the store. I love Cape May. Merry Christmas! A quick thank you to all of the residents who have put up Christmas lights. They look fantastic! "
Long time resident Norris Clark is the eldest of The Rev. Carl McIntire's 13 grandchildren. Rev. McIntire at one time owned three of Cape May's most historic buildings: The Windsor Hotel, The Christian Admiral, and Congress Hall (which is still in the family). Norris had these thoughts about the holidays.
"My Cape May Christmas memory begins with the mulled Swedish wine, called Glogg, that is sometimes served at the Swede Things in America shop, followed by a journey along the Washington mall to find some truly unique Christmas cards and tree ornaments. Finally, I take a stroll up Jackson street past the Virginia Hotel to see the holiday decorations."
Laura Zeitler and her husband Jim bought Columbia House last year. They moved to Cape May with their two children this summer so this will be their first Christmas in Cape May. When we called, she was busy hanging Christmas decorations on the porch. We received this thoughtful reply the next day.
"When you first asked me to reflect on what the holidays mean to me, I didn't have an answer. I actually went blank, as if it were the million dollar question. Then I realized how sad that actually was…what do the holidays mean to me? And I drove in my car that day I started to reflect on all the things that took place in my life over the last few years and realize that the holiday season is actually like a changing "season" within itself in one's life. As corny as this sounds, as a child it was season about waiting for gifts. As a mother, it became a season I just needed to "get through" in order to get back to my hectic everyday life. That's when I realized that this year, after experiencing so many major changes in my life and halting the roller coaster it seems like our family has been riding for several years, this holiday season (our family's first in Cape May) is finally turning out to be the season it should be…one about spending lots of quality time with my family and being thankful for all that we have been blessed with in our lives. I hope it's a "season" that I can stay forever…just like a beautiful summer in Cape May!!
Thanks for asking me this question. It made me realize how special this Christmas will be for my family. We're really looking forward to the holidays this year."
Billmae Cottage owner and newly elected Chamber of Commerce director Linda Steenrod, didn't even hesitate to answer.
"To me," she said, Christmas in Cape May "means organizing our Giving Tree. It means I can work with the Cape May Elementary School kindergarten children in collecting money and gifts for the Cape May County Animal Shelter and for Butch's Fund."
Butch's Fund was started shortly after Butch, a Rottweiler was found nearly dead on Cape May's Poverty Beach in July 1991. Butch needed extensive surgery to repair his broken jaw, legs and ribs. Funds were raised and Butch was adopted by a loving couple in North Cape May who had two other Rottweilers. Last year Butch development cancer and died but his legacy lives on. "Butch's Law," was passed by the NJ State Senate making New Jersey one of 40 states with legislation making intentional animal cruelty a felony. Animal abusers in New Jersey are subject to prison terms of up to 18 months and fines of $10,000. If the offenders are juveniles, they must get counseling.

Butch's Fund continues to help other abused animals in need of surgery or medical care. In addition to monetary contributions, Steenrod said the fund also collects old blankets and quilts for the dogs and cats to lie on in the shelter and bleach is always needed to clean the facility. Treats and food are welcome as well. Volunteers are busy grooming and bathing dogs preparing them for adoption for the holiday season.
Every Christmas she and her husband Bob put their Giving Tree on the porch to make sure all the doggies and cats have a Merry Christmas and that's what Christmas in Cape May means to the Steenrods.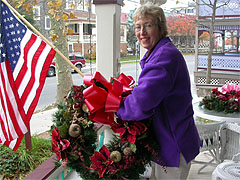 Barbara Masemore and her husband Chip, owners of the John F. Craig Bed and Breakfast on Columbia Avenue were busy transforming the outside of their Victorian house into a Christmas wonder when CapeMay.com caught up with them – well – we caught up with Barbara. Chip was on the roof and conversation with him might have been a wee bit hazardous to his health.
"Christmas is a magical time in Cape May. It' a fantasyland in which the innkeeper sets the stage," said Barbara as she tweaked and fussed with the Christmas wreaths about to be hung. "In our lovely town, that's what people come for. The wonderful sounds of the horses clop, clopping down the street and the ocean, the smells of cookies baking in the oven. A full cookie jar" sitting out poised for unexpected and invited guests.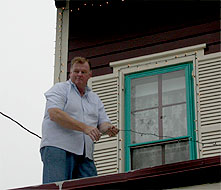 Christmas in Cape May, she said looking down Columbia House, which even on a grey and cloudy day looks like the perfect definition of pristine elegance, is "like any other time when you have affirmations – We behave better when we're dressed up. We're happier when we're laughing. So that's where the magic is. It is magic because that's what we believe it to be. Christmas in Cape May is the way you'd want to remember" a Christmas."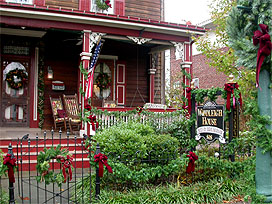 Like a director, checking the stage, she looked up at her husband stringing lights across the second floor windows. She nodded her head in confidence, "By Thursday it will be ready, transformed."
Even after a decade of innkeeping, Joe and JoAnne Tornabe's still look forward to Christmas in Cape May. Owners of Woodleigh House on Washington Street, the Tornabes moved from a highly commercialized area to small town and found the change refreshing.
"Christmas in Cape May captures the child in all of us. Moving here 10 years ago, we were delighted by the fantasy of it all. Coming from the King of Prussia area (home of The Mall at King of Prussia) where Christmas is highly commercialized, we found Cape May to be a step back in time.
We love how the town comes out for the tree lighting in the square, the arrival of Santa and the reading from "The Night Before Christmas." Decorated fire trucks from all over fill the streets for the annual Christmas Parade (Dec. 4th this year at 5pm). High School Bands and floats that remind us of the true meaning of Christmas put all of us in a festive mood.
We especially like to walk the mall when all the shops are bustling, the tree lights are twinkling and everyone seems to be in a jolly mood.
"Hi, how are you?" "Merry Christmas" and carolers singing are some of the sights and sounds on Hospitality Nights (this year Dec. 9th & 10th from 7-9pm) when the shopkeepers offer refreshments and everyone gets in a holiday mood.
Last but not least, the clip clop of the horses pulling the decorated carriages with riders bundled up in blankets. Sleigh bells ringing out into the night and if you're lucky – a flurry or two – will decorate the scene.
Cape May is special year round but at Christmas, it is that little village under the tree. Except, you're in it!"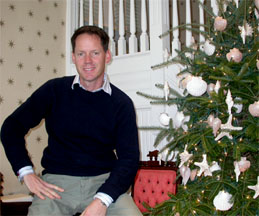 Patrick Logue is the Director of Sales and Marketing for Congress Hall and The Virginia Hotel and offers this poetic perspective.
December is so often associated with darkness, but I don't see it that way. The majesty of the natural world is so much more apparent during the holiday season, since there are no crowds to contend with. The clear, brisk days end with spectacular winter sunsets that are unmatched by any place I have traveled in the world. There are colors in the sky you just don't see at any other time of the year. The beach and ocean take on these colors and create a magical picture that's unique to this time of year.
Walking around Cape May, you can hear the crash of the waves on the beach from almost any location, simply because the town is so quiet. And at night you can walk under starry skies, smell the air scented with the smell of fireplaces, and look in the glowing windows of the occasional guest house, hotel or restaurant that's stirring with other people who enjoy the peaceful beauty the beach brings at the holidays.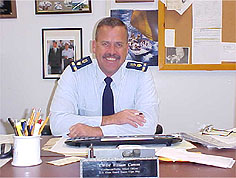 CWO Bill Carson is the Public Affairs Officer for the Cape May Coast Guard Training Center.
As I approach my 28th Christmas in Cape May I reminisce back to the days I led the Coast Guard Training Center Band in the annual Christmas Parade, kicking off the season. It seems thousands would turn out no matter what the weather, both young and old with enthusiasm, filled with the holiday spirit.
My family and I stroll through town admiring the Beautiful Victorian Homes decorated to the tee, and one can't miss Hospitality Night at the Washington Mall. It gives us all a sense of warmth and community.
My highlight of the season is hosting Operation Fireside, organized by the Cape May County American Red Cross, hundreds of Recruits spend the day with local host families enjoying the holiday away from the hectic training curriculum. When the Red Cross first started this program we had to advertise in the local newspaper and even radio. Nowadays, the turn out by Cape May area families is phenomenal. Weeks before the holiday, the Red Cross has to start a waiting list. It's an awesome time for both the Recruits and the Families, creating relationships long after the Recruits graduate from Basic Training.
Along with my Shipmates here at Coast Guard Training Center Cape May we wish one and all a very safe and Happy Holiday Season!

Mark Garland is the Senior Naturalist at Cape May Bird Observatory in Cape May Point.
Christmas in Cape May is a time for walking. Except for the weekends, when we have a modest influx of visitors, the town is empty, quiet, and peaceful during the Christmas season. I love to walk the streets of Cape May on December evenings, seeing the lights and decorations in the historic section of downtown, then wandering dark, nearly-deserted streets in other neighborhoods, bundled up against the chilly night and dazzled by the stars overhead. As a birder, I can't help but think about the long tradition of the Christmas Bird Count, begun over a century ago. On Dec. 19th this year, dozens of us will gather to scour areas all around Cape May in search of birds. Most years we find more species than any other count on the east coast – you have to go to Texas or California to find counts with higher totals. It's a wonderful celebration of the richness of bird life here, even during what's considered to be the "off season," and a great excuse for fellowship, a day a field, and a party at day's end.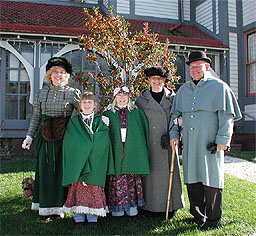 The Thiel and Van de Vaarst families get together to celebrate Victorian Christmas each year dressed in period costume. John and Mary Van de Vaarst own a house in Cape May and the off season is the only time the families can take advantage of it.
"We stroll around town and take the Holly Trolley tour. The reaction from passers by is terrific and lots of folks want their pictures taken with us!
Later on we bundle up and head over to watch the West Cape May Christmas Parade.
Cape May truly gets us in the holiday spirit of an old fashion Christmas with family and friends."
It's hard to write about Christmas in Cape May without getting all mushy but it really is a special time for those of us who live here. While others, who live in the suburbs or the cities, rush about, it is a quiet time here. During the week, the shops generally close at 5 or 6 p.m., making Hospitality Night all the more delightful.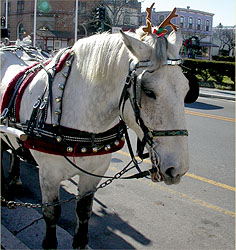 On weekdays there very people on the street and it is such a small town (population under 5,000) that we generally know everyone we pass. It is a time of year when we can actually stop and talk and catch up.
But it is on the weekends when the tourists return that we are reminded how delightful it is to live here. Work throughout the week is geared toward providing visitors with a taste of what life is like in a small town and what life was like more than 100 years ago. The town – restaurant owners, B&B and Guest House owners, and shopkeepers all pull together as a community to present a Victorian Christmas to our visitors. We pull together to take people to a place where they've never been before.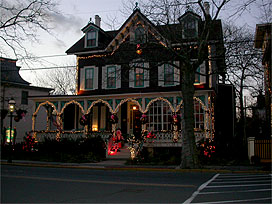 We hope you'll get a chance to visit us during this special time of the year so we can personally wish you a Merry Christmas but in the meantime from us to you – We wish you a very, Merry Christmas.
Would you like to tell us what Christmas in Cape May means to you? Please leave your comments below.