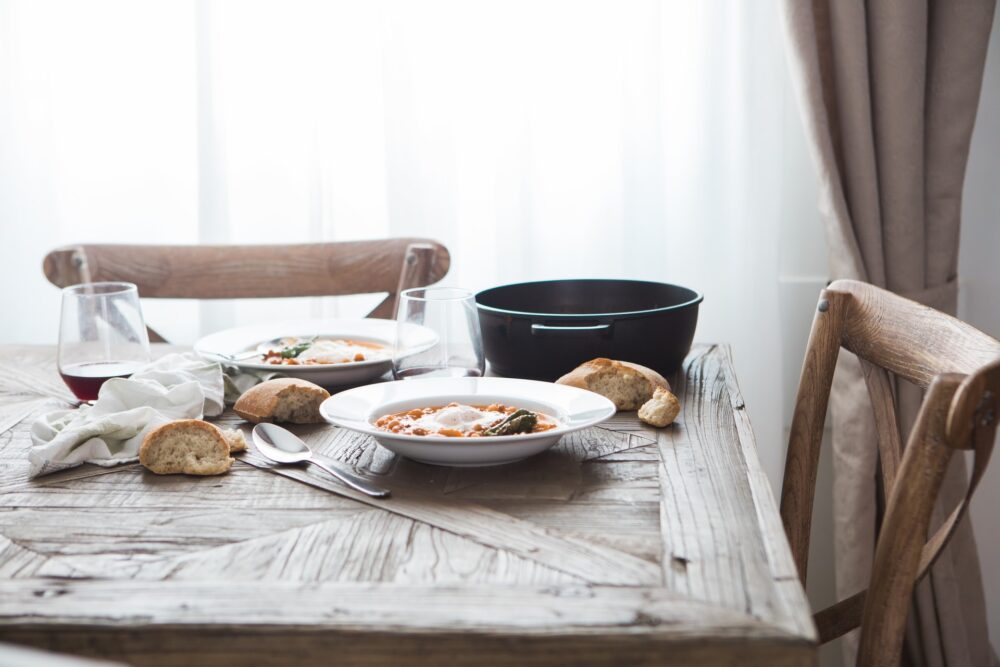 Ah, 2009, the last year of the first decade of the new millennium. This New Year will, in my opinion, bring some major shifts in the culinary universe. Due to the economy, high-end restaurants that are little more than exercises in culinary narcissism are going to disappear. The country is getting back to basics, and so will the food service industry. Portion sizes are going to get back to normal as chefs and restaurant owners struggle to stay profitable. I also believe the food itself will become more simplified. Simple does not mean mediocre. What it does mean is that weird ingredients for shock value will be gone as consumers focus on perceived value. Is the five-dollar-a-cup gourmet coffee necessary when the buck-and-a-half cup is also very good? Consumers are going to be less likely to take risks on dining out and look for a comfort level with their meal choices. That means comfort foods will once again rule.
This is good for chefs also because it will force them to focus on flavor and technique.
I also foresee a trend where people will realize that it can be more affordable to cook at home. The crock-pot, yes, that relic of the 70s, has already started to reemerge. The crock-pot is braising for dummies. Braising and stewing are cooking techniques that take tough but flavorful cuts of meat and, through slow cooking with added moisture, break down the connective tissue. The end result yields a tender flavorful product. The extra bonus is these cuts are usually less expensive. These dishes are often considered peasant or poor people's food. I will let you in on a little chef's secret – the peasants eat more flavorful food. I would rather have a good beef or chicken stew than a filet mignon or poached chicken.
Two of the most flavorful American regional cuisines are Cajun and Amish. Both cuisines borrowed heavily from their French and Germanic roots, but adapted the recipes to local ingredients and indigenous culture. The poor are usually more willing to adapt than the wealthy and the world of cuisine is richer because of this fact. Frugal is the word I use to describe this style of cooking. Frugal is a very misunderstood word. Most people think it means cheap. Frugal: Practicing or marked by economy; as in the expenditure of money or the use of material resources. Growing up with a Scottish grandfather, it was a term I heard early and often. In terms of cooking I prefer to focus on the second part of the definition.
Economical use of material resources. Being an Agrarian based society, the Amish excel in this and there is no better example than scrapple. The name says it all. Made from what's left after making sausage the scraps are mixed with cornmeal and cooked. The great American novelist James Michener gives an excellent description of scrapple and other Amish delights in his book The Novel.
As a nation we are facing times where we may need to become more economical with our resources. Rather than eat fast food or cheap frozen meals, if you cook from scratch, you can stretch your resources. If you serve a roast chicken, don't throw out the carcass, but put it in the soup pot and with a few vegetables and maybe some pasta you now have a second and even more flavorful meal. Buy a bone-in ham and turn the leftovers into bean or split pea soup. Save your empty soup cans and you can make delicious and inexpensive Boston Brown Bread. Try these dishes and you will find that the peasants really ate like kings. Until next month, Bon Appétit.
Lancaster County Wet Bottom Shoo-fly Pie
Ingredients
1 9-

inch

pie shell

unbaked

Pre-heat oven to 325 degrees
Crumb topping
1

cup

flour

½

cup

light brown sugar

¼

cup

shortening

½

teaspoon

salt
Liquid bottom
1

cup

boiling water

1

cup

molasses

1

teaspoon

baking soda

1

egg beaten
Instructions
Mix crumb topping ingredients together until fine. Set aside.

Mix water, molasses and baking soda together. Whisk until foamy.

Beat in egg. Pour into pie shell using large spoon.

Mix the crumb mixture into filling.

Bake at 325 degrees for 30-40 minutes.
Boston Brown Bread
Ingredients
1

cup

rye meal

¾

tablespoon

baking soda

1

cup

cornmeal

1

teaspoon

salt

1

cup

whole wheat flour

1¾

cup

milk

¾

cup

molasses

6

empty soup cans
Instructions
Sift dry ingredients in bowl. Add milk and molasses.

Grease soup cans. Fill two-thirds of the can with batter.

Grease foil wrap and tie foil around cans.

Place in sauce pan.

Fill with water. Cover. Steam for 3½ hours.
New England Clam Chowder
Ingredients
1

dozen quahogs

scrubbed and rinsed

8

ounces

salt pork

diced

1½

cups

onions

diced

1

cup

celery

diced

4

potatoes

peeled and diced

3

tablespoons

butter

1

cup

flour

as necessary

Fresh thyme

chopped

3

cups

milk

4

cups

clam broth

Cream

as desired
Instructions
Place clams in large pot. Cover with cold water. Simmer until clams open. Remove. Strain liquid reserve. Cool and chop clams.

Render salt pork. Remove. Add onions and celery. Sauté until softened. Dust with flour to form roux. Cook 2-3 minutes. Add clam broth and warm milk. Whisk to avoid lumping. Add thyme, potatoes, clam meat and salt pork. Simmer until potatoes are cooked. Finish with cream, salt and pepper.
Chicken and Dumplings
Ingredients
1

chicken cut in eighths

Seasoned flour

2

onions ½ julienned

6

ribs celery

bias cut

4

carrots

bias cut

Butter

Chopped parsley

Chopped thyme

rosemary

3

quarts

of chicken stock
Dumplings
4

cups

flour

6

teaspoons

baking powder

2

teaspoons

salt

Chopped parsley

½

cup

shortening

½

cup

milk
Instructions
In Dutch oven, flour and brown chicken in butter. Remove. Sweat veggies. Add more butter if necessary. Add chicken. Add rosemary, thyme, salt and pepper. Add stock. Simmer until chicken is tender.

To make the dumplings, sift dry ingredients. Cut in shortening. Add milk and parsley.

By the spoonful, drop dumpling mix into the soup. Cook for ten minutes uncovered. Serve.