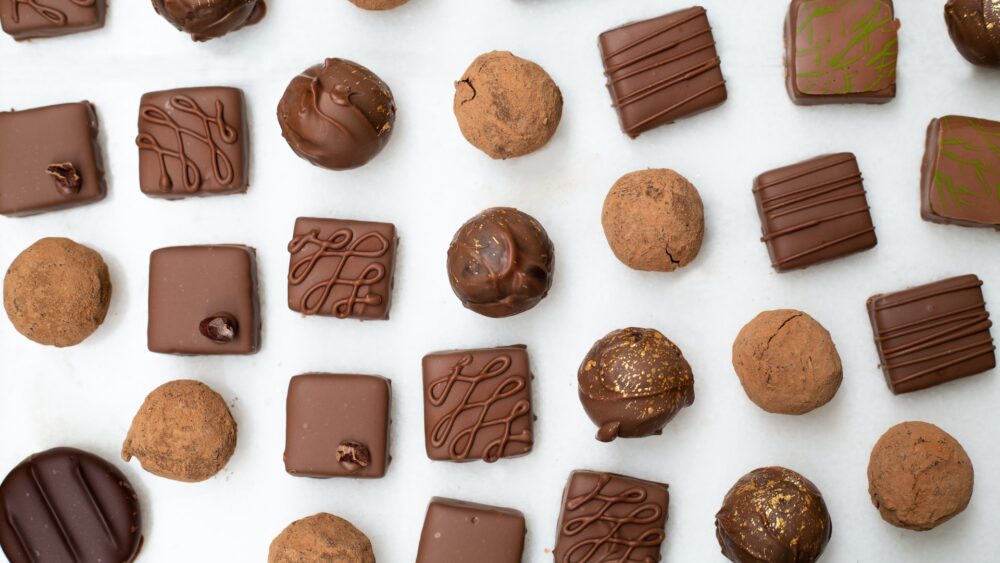 Food and holidays often become intertwined with the original connection lost through time. It is doubtful that the Pilgrims and Native Americans dined on turkey at the first Thanksgiving, but I challenge you to serve something else on the fourth Thursday in November. It is also doubtful that any of the three St. Valentines that inspired the modern winter romantic holiday had even heard, let alone tasted, chocolate. A man that does not buy chocolate for his significant other on February 14th is either foolish or has a girlfriend with a chocolate allergy. The other 51 weeks in the year women buy 75 percent of all chocolate, but in the days leading up to Valentine's Day men make 75 percent of all chocolate purchases.
How did a holiday, around since the earliest days of the first millennium, get mixed with a substance not known outside Aztec culture until the 16th century?
In Aztec culture chocolate was prized for its libido enhancing properties and was only consumed by royalty. Montezuma drank over fifty cups a day. Modern science has shown that there may be some truth to the belief of chocolate as a drug. Chocolate has been linked to stimulating neurotransmitters, most notably serotonin, which can stimulate euphoria and sexuality. It acts as an antidepressant. Chocolate contains other chemicals that have an opiate-like effect on the brain without the addictive properties.
Bottom line, chocolate tastes good and makes us feel good. The first Valentine heart-shaped box of chocolates is traced to the Cadbury Company in England in the 1860s. Since then the connection between Valentine's Day and chocolate has become inseparable.
Chocolate's feel-good effects have made the chef's life easier. Adding chocolate to any dessert makes it an instant crowd pleaser.
In recent years chefs have introduced chocolate in unsweetened forms into savory dishes as well. Good quality, unsweetened chocolate pairs well with the earthy flavors of game such as elk, venison and even game birds like quail and squab. It also works well in barbecue sauces and classic Mexican moles. Chile peppers and chocolate flavors work very well together.
This year, Valentine's Day falls on a Saturday. This gives you a perfect opportunity to have a chocolate-filled culinary weekend. Start the morning off with Chocolate Pancakes with Raspberries. Enjoy an afternoon sipping Decadent Hot Chocolate and Kahlúa®.
In the evening savor a Grilled Pork Tenderloin with Chocolate Barbecue sauce. Watch movies such as Chocolat and Like Water for Chocolate to experience chocolate's sensual side in film.
Chocolate is a food with a sensual history and a reputation. Maybe that is the real reason why it has become so entwined with a holiday set aside to celebrate romance. Until next month, Bon Appétit.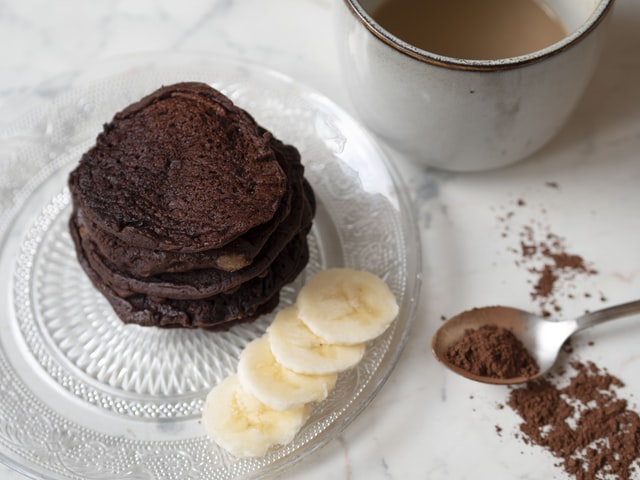 Chocolate Pancakes
Ingredients
1

Cup

all purpose flour

½

Cup

demerara granulated sugar

6

Tablespoons

unsweetened non-alkalinized cocoa powder

note: not Dutch process which contains alkalis that will give a bitter taste with the baking powder

1

Teaspoon

baking powder

Pinch

salt

½

Cup

dark chocolate chunks

⅔

Cup

milk plus 2 tablespoons

4

Tablespoons

unsalted butter melted

2

Large eggs
Instructions
In bowl, sift dry ingredients. Fold in chocolate chunks.

Whisk in milk, melted butter and eggs until just combined. Don't over mix.

Cook on non-stick griddle or pan.

Serve with fresh raspberries and whipped cream.
Kahlúa® Hot Chocolate
Ingredients
3

Ounces

bittersweet chocolate shaved

4

Ounces

semi-sweet chocolate shaved

3

Cups

milk

Sugar to taste

Splash vanilla extract

Whipped cream

for serving
Instructions
In saucepan, heat milk to simmer.

Whisk in chocolate until dissolved.

Add vanilla. Bring back to simmer.

Add one ounce of Kahlúa to coffee cups.

Top with hot chocolate.

Top with whipped cream, if desired.
Chocolate Barbecue Sauce for Grilled Pork Tenderloin
Ingredients
Chocolate sauce
2

Tablespoons

olive oil

1

Medium white onion diced

2

Cloves

garlic minced

1

Jalapeño diced

2

Peeled roasted and diced poblano peppers

3

Cups

tomato puree

¼

Cup

dark brown sugar

3

Tablespoons

molasses

½

Cup

cider vinegar

1

Tablespoon

chipotle powder

1

Teaspoon

smoked paprika

1

Cinnamon stick

1

Teaspoon

cumin

1

Teaspoon

toasted crushed coriander

¼

Cup

fresh orange juice

4

Ounces

dark chocolate

80 percent cacao or higher

Salt and pepper to taste

3

Tablespoons

chopped cilantro
Instructions
In saucepan, heat oil. Sauté garlic and onions over medium heat until golden brown.

Add vinegar, molasses, peppers, orange juice and spices. Reduce by half.

Add tomato puree. Simmer on low for 45 minutes.

Slowly add chocolate until melted.

Season with salt and pepper.

Add cilantro. Serve with grilled pork tenderloin.