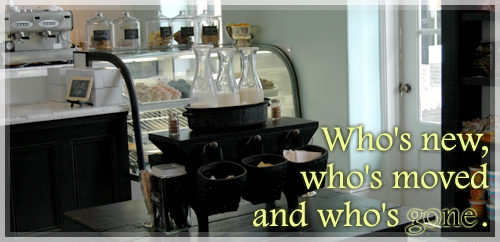 Many of you have been asking for it. Well here it is.
CapeMay.com's 2009 look at Who's New, Who's Moved, Who's Gone and who's turned it over to someone new. A couple of things to note – first off, there are several new stores along the way, but we won't be able to tell you what they're called because their signs weren't up at press time. Secondly, this is obviously the year of the bakery. There are three, count 'em, three bakeries new to the Island. So put another notch in your belts and get ready to sample. And last, but not least, we have a surprise for you, so read on.
---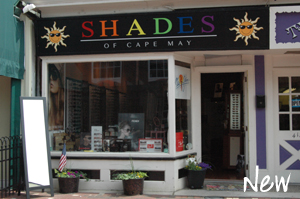 Let's start our walk along the Washington Street Mall. Nothing new in the 500 block, but there are a couple of changes one block over. DelSol is gone and Shades of Cape May, also on the beachfront, has opened another location in that spot. Create-A-Bear has long been gone from the 400 block and store has been vacant for a couple of years now, but Beach Bums, a T-shirt emporium, is in. Beach Bums, is operated by the same owners of the T-Shirt Shop in the 500 block and on the beachfront.
---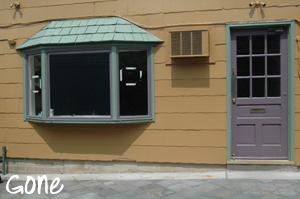 Over in the 300 block on Sawyer Walk, Wildberries is sadly gone and a caramel popcorn store is slated to go in.
---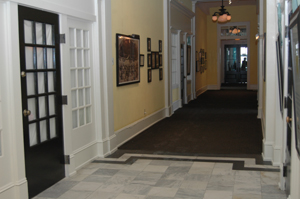 If you meander across Perry Street to the newly named Arcade at Congress Hall, you will see that the real estate offices of Cape Advisers are gone. In its place is Victorious which has moved from across the hall.
Tommy's Folly is expanding into the now vacated Victorious spot.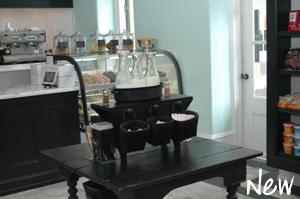 And make sure you turn left when you walk in – there you will discover a wonderful find. A coffee bar and bakery have gone in which Catilin, the coffee guru at Congress Hall, assures us offers goodies baked on the premises, fresh daily. Yum!
Further down the hall, Cape May Day Spa is gone (they are still at their Jefferson Street location) and is being replaced at some time in the near future by Sea Spa and Congress Hall Fitness Center.
---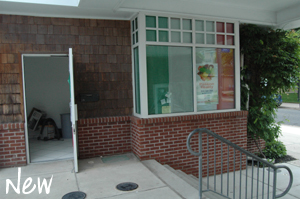 Moving over to Washington Commons, home of the Acme Grocery Store, a shop which has been vacant for a couple of years, next to the Washington Commons Art Gallery, has a new tenant whose sign brags of offering the "Finest Authentic Gelato, made fresh daily with fresh ingredients." Yum!
---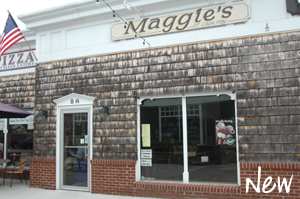 Maggie's of Cape May opened sometime last summer in a space subdivided from the WashingtonCommons Gallery. Known for their wraps they boast  "New Jersey's best shrimp salad." So take them up on the challenge.
---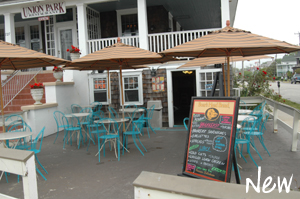 Moving on down to the beachfront to the Macomber Hotel, on Beach Avenue and Howard Street, The Green Room Café is gone. Cape May Hot Bagels is in.
New to the Macomber last summer was Astrology Boutique, whose hours of operation are a little erratic, but it looks interesting.
---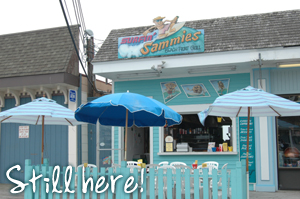 Also new to the scene last summer, Surfin' Sammies Beachfront Grill across the street on the promenade. The Cape May Beach Patrol certainly sings their praises, if you're looking for a review.
Nice to see that Tisha's (owners of Surfin' Sammies) and Pete Smith's Surf Shop are still thriving, despite the problems with the still condemned and closed Convention Hall.
---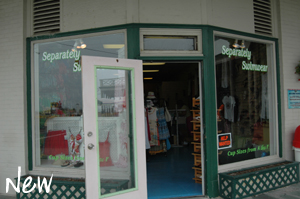 Back across the street near the Beach Theatre, which is currently open for the summer season, one of the little clothing boutiques (sorry can't remember the name) is gone and Separate Swimwear is in. Perfect location for that merchandise.
---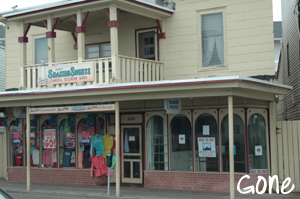 Let's move on down the beachfront to Carney's and Cabanas. Sorry to say that after nearly ninety years, there is no longer a candy store at this location. Petroffs – remember the taffy pulling machine in the window? – left a few years ago, replaced by Seaside Sweets – now they are gone. The store is still empty.
---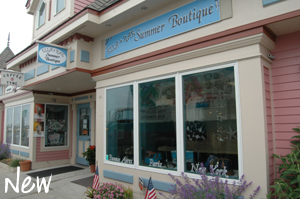 Not too many changes in the 300 block of Beach Avenue with one exception, The Leather Shop is gone due to the untimely death of its proprietor Gus Correia and Ella & Rae's Summer Boutique is in. It looks like a nice "little black dress" kind of place. Check it out.
---
For your information, the Rusty Nail is still closed and undergoing MAJOR renovations. Plans to chichify the restaurant and the adjoining Coachman's Motor Inn have been delayed and a more scaled-back renovation is slated for the newly named Beach Shack complex.
---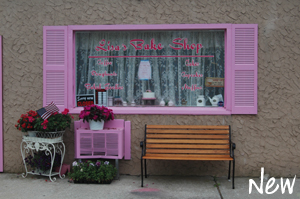 And that's brings us to Broadway in West Cape May where we find two more bakeries – Ellie's Bakery at 301 N. Broadway is in and Bakery Shoppe is out.
Over on Park Boulevard, Joe the Plumber has scaled back and his wife Lisa has moved in with Lisa's Bake Shop, right next to our friend Steve's Seaside Cheese Company. Double Yum!!
---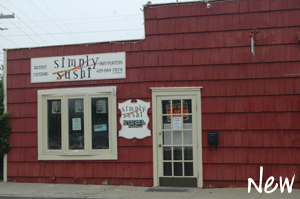 On West Perry Street, Simply Unique is gone. Simply Sushi is in. Simply Unique also occupied both side of the site and we have it on good authority that a coffe shop/natural food store comong soon.
---
New shops are going in at the site of the old West Cape May Video Rental, next to Perry Street Bakers. We are told they will be a consortium of antique and collectible dealers.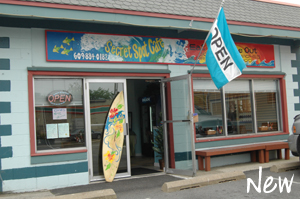 Now where should we go from here? Oh, Sunset Boulevard, a right turn off Broadway. Right across from the 7-11, are a cluster of three stores. Burt's Grill is gone and a place we hear good things about, Secret Spot Café, is in.
Further up the road where the Teak Shop and Village Bike Rental places are, Art Gallery is opening – well that's what the sign says "Art Gallery coming soon."
---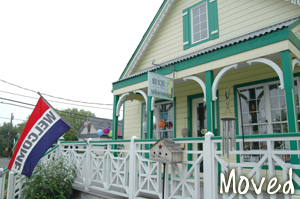 And where those pretty little birdhouse-looking shops are, a couple of changes. Sea Level is gone. The Birdhouse of Cape May, which was four stores down, has moved up in the world and is in its place. The end store is still vacant.
---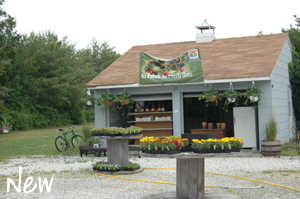 Sunset Produce on Sunset Boulevard seems to have gussied up their location. Their produce stand is primed and ready to offer New Jersey's finest in Fresh Produce.
---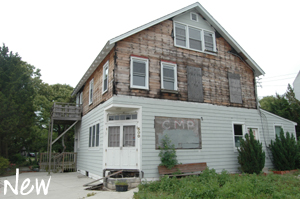 Here's the surprise – the General Store in Cape May Point on Pavilion Circle, which has been closed for several years because of flood damage, received approvals back in April to begin renovations and is making a comeback.
The store opened in the 1930s and  was the only place in the small community to buy a sandwich or pick up necessities such as milk and eggs. It also featured beach toys, fishing gear and a spacious candy counter. At one time, it also sold gas, but pumps were removed long ago. When the store will reopen is still unknown – by the looks of it – no time soon. Hungry residents could shoot on over to Cape May Point State Park, however, which for the first time is allowing two commercial vendors – one food and one bicycle rentals – to set-up I front of the Lighthouse.
---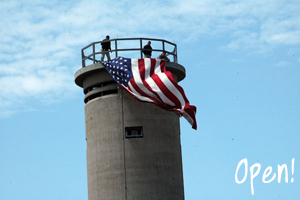 One new attraction on Sunset is the new World War II Lookout Tower, otherwise known as Fire Control Tower #23.
Fire Control Tower No. 23 was part of the immense Harbor Defense of the Delaware system known as Fort Miles.  Built in 1942, the tower was one of fifteen concrete lookout towers that helped aim batteries of coastal artillery, stretching from North Wildwood, N.J. to Bethany Beach, DE. Four were in Cape May County, N.J.-the towers located in North Wildwood and Wildwood Crest were torn down and a third tower is located inside Cape May's Grand Hotel, Beach and Philadelphia avenues. The tower is open to the public daily; times vary.
---
Well, that's the scoop for the summer of 2009. Give the new kids on the block a try and keep patronizing the tired and true. If we've forgotten anyone, give us an email, adieu until next year.