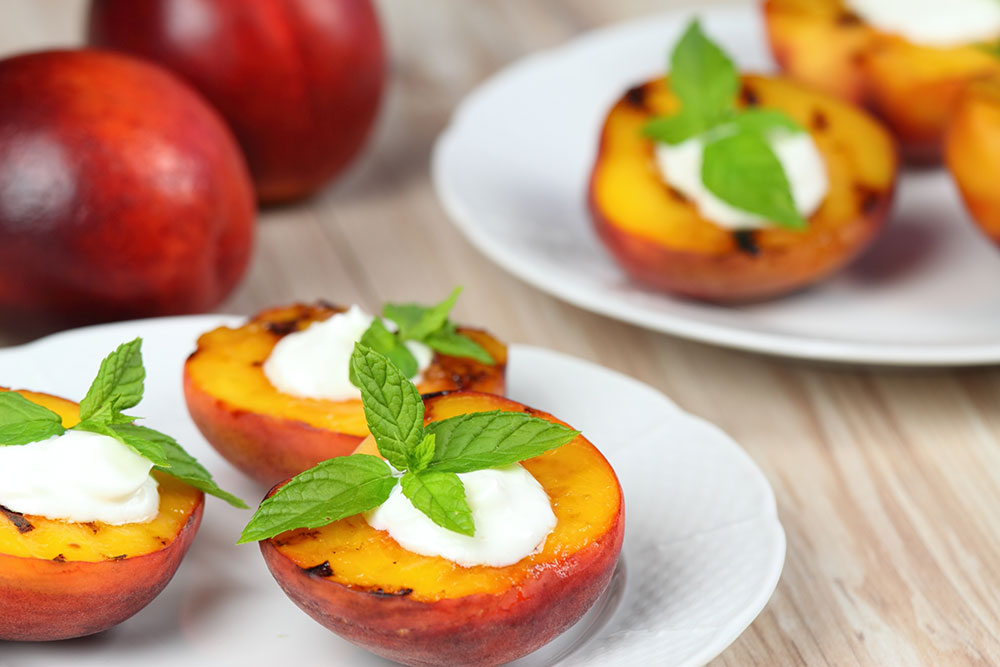 There are two distinct clans in the culinary world. Hot foods chefs and baking/pastry chefs. Not exactly the Hatfields and McCoys. Nevertheless, there is a distinct line of demarcation between the two groups. They work differently and think about food differently. Both groups are creative to be sure, but how that creativity is expressed is very different. Hot foods chefs are jazz musicians they take basic themes and throw a little improvisation and solos in the mix. Each hot foods chef lends his/her own distinct licks to a basic repertoire.
Pastry chefs are classical musicians that must play the notes as written and each note must be played perfectly to achieve the desired result. One off note can destroy the whole piece. Pastries require precision, patience and practice. I have all but three of those skills. So this summer while on break from teaching, the opportunity to bake presented itself and I jumped at the chance to hone a set of skills I haven't practiced since culinary school. Let's just say baking isn't exactly a piece of cake.
Even in a small restaurant hot foods chef work as part of a larger team of station chefs with specific tasks. If it's a dessert or something baked, the pastry chef does it alone, often late at night or early, very early, in the morning. The first thing I learned quickly is I had to rethink what organization meant.
In hot foods, if a sauce is reducing too quickly, you simply adjust the heat. Baking is chemistry and once the reactions take place you can't change or slow it down. Everything is time sensitive. Baking is patience. Icing a cake seems like a simple task, but in trying to even and smooth out the layers with a trim here and there, my first chocolate-layer cake ended up resembling a Hostess Ring Ding, rather than a triple-layer cake. I won't be on the show, "Can you decorate a cake better then a fifth grader" anytime soon.
But not all desserts require advanced skills that take years to master. Panna Cotta, the classic Italian dessert is elegant, yet simple to make. If you can boil milk and bloom gelatin, you can make this dessert. Panna Cotta can be made in many variations of flavors from basic vanilla bean to honey lavender or flavored with fresh fruit purees. When working with gelatin don't use fresh pineapple. The enzymes won't allow the gelatin to set.
Summer desserts can be simply prepared by featuring fresh seasonal fruits. Peaches are one of my favorite summertime treats and are very versatile. Cobblers and pies work well and peaches blend great with blackberries and raspberries. The tart berries and sweet peaches make for a great combo. Some selections transcend both hot foods and pastries. Flavors remain the same. The technique in blending them and bringing out those flavors is different. Peaches, for example, can also be grilled and layered with mascarpone cheese for a perfect ending to an August night of grilling.
Pies and tarts also straddle the hot foods pastry line. Most hot foods chefs can make quiches and savory tarts. Pie dough is as simple as 3-2-1 That is the ratio for basic pie crust: 3 parts flour, 2 parts fat (butter, shortening or lard), 1 part cold water, with a pinch of salt and sugar and you have a basic flaky pie dough. Armed with this all-purpose recipe, now you can make apple, peach, cherry or berry pies.
Pâté A Choux, the basic dough for éclairs, cream puffs and some types of fritters, is really as simple as making a roux. In fact, it is often referred to as baker's roux.
Lemon Curd and pastry cream are both boiled liquids that have tempered (another technique used in hot foods, taking a hot liquid and mixing with a cold liquid then adding back to the hot liquid to minimize the risk of curdling) egg yolks added to them and are then brought to a second boil.
I am ready for a group hug. Hot foods and pastries have lots of techniques in common. There is no reason to fear baking. The real key in baking is following directions and measuring exactly.
Take time this month to get in touch with your inner pastry chef. Start slow. Try Grilled Peaches with Mascarpone Cheese, then progress to the kitchen for Coconut Milk Panna Cotta with Mango Sauce. Then it is time for real baking with Peach Blackberry Crumb Pie.
To quote the old commercial, "It's time to make the donuts." Until next month, Bon Appétit.
Coconut Milk Panna Cotta with Mango Rum Coulis
Ingredients
Panna Cotta
6

tablespoons

water

2

envelopes Knox gelatin

2 14.5

ounce

cans coconut milk

unsweetened

3

tablespoons

honey

5

tablespoons

sugar

1

teaspoon

vanilla
Mango Rum Sauce
2

mangoes peeled and chopped

3

tablespoons

dark rum

1

cup

water

4

tablespoons

demerara sugar

1

teaspoon

minced fresh ginger
Instructions
Sprinkle gelatin over water. Let sit 10 minutes to bloom.

In saucepan, heat, but do not boil, coconut milk, sugar, honey and vanilla, stirring to dissolve sugar. Add gelatin mix to coconut milk mix. Stir to dissolve completely. Pour evenly into custard cups. Refrigerate at least two hours.
Rum Sauce
Place all ingredients in sauce pan. Simmer on low heat until mango softens. Puree with stick blender. If sauce is too thick, add more water. Taste and adjust sugar if necessary. Strain and cool.

Place a 1½ ounces of sauce on plate. Unmold Panna Cotta. Loosen lightly with butter knife and invert. Top with toasted coconut.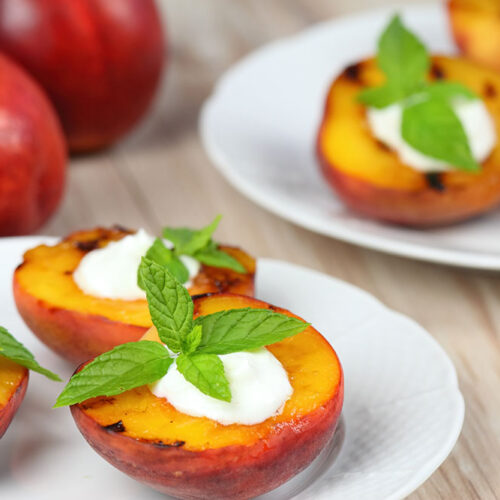 Grilled Peaches with Mascarpone
Peaches grilled and layered with mascarpone cheese are a perfect ending to an August night of grilling.
Ingredients
3

large ripe peaches

pitted and quartered. Do not peel

1

cup

Mascarpone

1/2

teaspoon

vanilla extract

Chilled Riesling

Fresh mint for garnish
Instructions
Heat grill to medium, lightly brush with oil. Grill peaches 3 minutes per side until soft.

In bowl, mix 3 tablespoons demerara sugar, 3 tablespoons brandy and 1½ tablespoons fresh lemon juice. Remove peaches from grill. Toss in bowl with brandy mix. Let marinate 15 minutes.

In separate bowl mix, 1 cup Mascarpone and ½ teaspoon vanilla until smooth. In large red wine glasses, place ¼ peach. Pour chilled Riesling over top. Place a dollop of Marscapone on top. Top with another ¼ peach. Serve and garnish with fresh mint.
Peach Blackberry Crumb Pie
Ingredients
6

peaches

¾

cup

sugar

Juice of 1 lemon

12

ounces

blackberries

¼

cup

cornstarch

One 9-inch pie crust

Crumb topping

½

cup

brown sugar

½

cup

flour

1

cup

chopped pecans

Pinch

nutmeg

Pinch

cinnamon

5

tablespoons

unsalted butter

cubed
Instructions
Line nine inch pie tin with pie dough.

In bowl mix 6 peaches, peeled and sliced thick. Add ¾ cup sugar, juice of 1 lemon, 12 ounces blackberries and ¼ cup cornstarch. Let sit 20 minutes. Pour into pie shell.

Prepare crumb topping in mixer with paddle attachment. Mix brown sugar, flour, pecans, nutmeg, cinnamon, and butter. Mix on low until mix is the size of small peas.

Top pie with crumb topping and bake 10 minutes at 400 degrees. Reduce heat to 350 degrees. Bake 30 more minutes. Cool slightly. Serve.