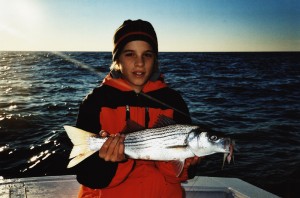 This article originally appeared in Cape May Magazine, Fall 2008.
Crisp west winds awake the Cape. Yes, fall is finally here! It's the beginning of the season, for the most sought after fish – Striped Bass! Striped Bass or "Stripers" as the locals call them, is to New Jersey what Salmon is to Alaska. Stripers have made the biggest comeback of any fish species in modern history. In the late 70s and 80s the Stripers were on the endangered list. Before the 70s they were so abundant they were used for fertilizer. The comeback of these fish has created a spark in the local economy. It's extended the boating season six to eight weeks. In fact, up to 60 percent of boaters and fishermen keep their boats in the water through "Striper season."
The trickle down is that bait and tackle shops are loaded with customers each morning buying fresh bait and tackle. Local bars and restaurants are filled at Happy Hour with fishermen chatting about where the "bite" is. Wawa is packed to the gills every morning at 5:00 a.m. with people going Striper fishing.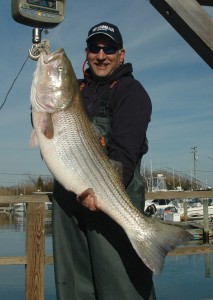 There are two local tournaments for Stripers held in Cape May that draw anglers into town as well. Talk to one out of three locals and, I'll bet you, they fish for stripers or know someone that does. You might say Stripers are a way of life in Cape May.
Stripers have a lot going for them. They are very good eating, can be caught close to shore, and are great fish to catch because of their great fight. The two most common ways to catch Stripers are chunking and drifting live baits. Chunking generally starts the second week of October. Look for these fish in areas like Sixty Foot Slough, Twenty Foot Slough, Brandywine Shoal and the Horseshoe where chunking boats will anchor up and fish four lines. The tackle used is a 36 inch/50 pound leader tied to a 5/0 hook with a fish finder rig with a 4-8 ounce weigh.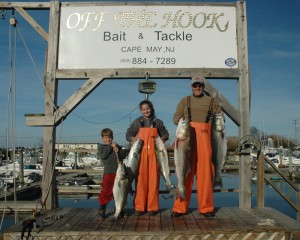 Fresh Bunker is the key. The fresher the Bunker, the more fish you will catch, period! Fresh Herring also works well. The baits are fished whole and cut into parts such as the head and body. If you want to catch trophy size Striper, chunking is the way to go!  Stripers range in weight – anywhere from 20 pounds to over 60 pounds!
The second most common method for catching Stripers is drifting live baits such as Eels, Spot fish and Croakers. The areas that are most common are known as "the rips," an area where the bay and ocean meet around Cape May Point. In this area there are numerous shoals in which bait fish school up. Stripers feed on these bait fish. Baits are drifted over these shoals using 5/0 circle hooks with a 34" leader and 3-ounce drail weight. Fishing the rips is not for the faint hearted. It's not uncommon to have 5-foot breaking waves moving over the shoals. Make sure you initially go out with someone who has fished the rips before.
Prissywick, Eph, Middle and Overfalls shoals are the most common areas when fishing the rips. Late November through December you can chase birds like "gannets" and gig bucktails with white or pink artificial worms. Stripers can also be caught off the beach on lumps and clam beds. The bait of choice is clam. This fishing usually starts late November until mid December. You can use the same tackle set up as you would drifting live baits over the rips.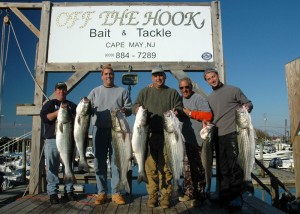 You do not need a boat to catch stripers. In fact the current IGFA world record of 77 pounds was caught on a jetty in New Jersey waters. When fishing from shore, use plugs and bucktails. At night, drift live eels without the drail weight. The jetties and beaches from the "gun mount" to the point are always productive, as the jetties around Cold Spring Inlet or the Cape May Inlet, as it's commonly called.
No matter how you fish for Stripers, the most important thing is to fish for them during the incoming or outgoing tide. Fishing around the change of tide is generally most productive.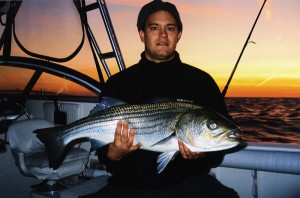 When Striper fishing, there are some things to note: These fish are considered game fish and are protected. As such, the current regulations are two fish at 28" or greater per angler. Fish must be caught within three miles from shore. Three miles or greater is illegal. You will not see striped bass on any menus in restaurants in New Jersey because it is illegal to sell them commercially. If you do see it, it's not "wild caught" striped bass, and will not taste nearly as good.
Charter and party boats all fish for striped bass. Most trips are eight hours. Boats will target these fish from mid-October until late December. So, if you have the summertime blues or football's not your thing, give striper fishing a shot and don't be surprised if you, too don't "get hooked"!

Stephen Spagnuola, a graduate of Visual Arts, New York City, worked as art director for many ad agencies in New York before leaving advertising to pursue fashion photography, and worked on such magazines as Stuff, Flatiron, and Zink. Stephen is a freelance photographer and marketing director for Sea Tow Cape May.. Visit Steve online