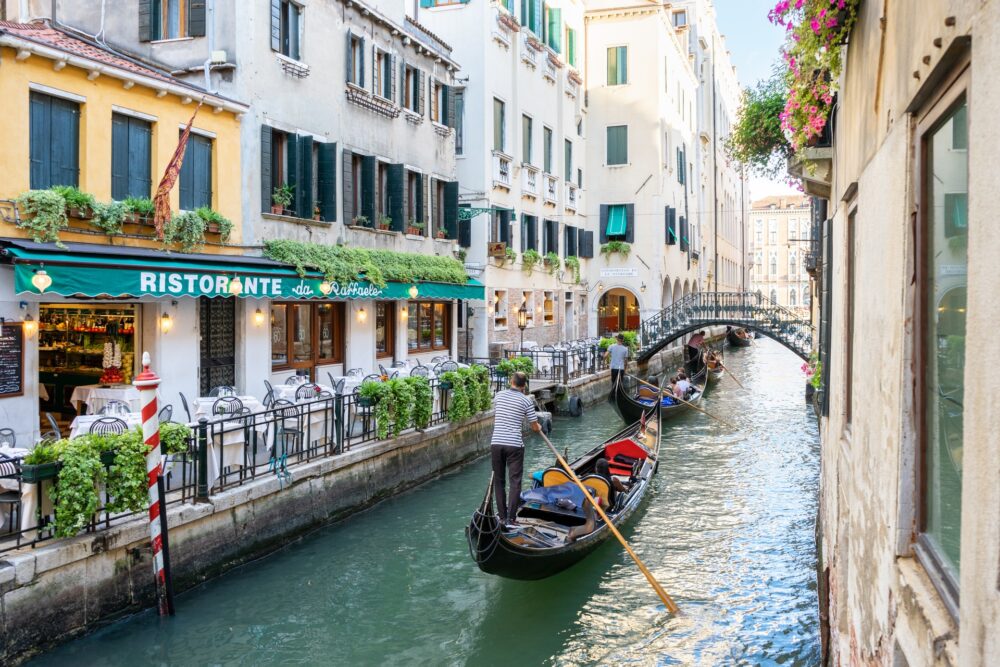 I don't think it's an accident that our best food holidays are in winter. If Thanksgiving were in July, the main course would be a Turkey Caesar Salad with dressing on the side. But the winter feasting season is here and that means an abundance of food to enjoy. One of the great things about America is that we have embraced and adopted the holiday traditions of our ancestral homelands.
Subscribers to Cape May Magazine know that in the last two Winter issues I have explored holiday traditions through food. (If you don't subscribe give yourself a holiday treat). The current issue is loaded with succulent fish recipes to celebrate the Italian Feast of the Seven Fishes, La Vigilia. However, it lacked one of the key components to any successful holiday celebration – sweets.
Notice I didn't say desserts. I don't want people getting visions of sugarplums and elaborate English puddings and trifles stuck in their head. After cooking and eating seven fishes who, besides me, would have room for a large slice of pie or cake? Any Menu Di Natale (Italian for Christmas menu) would feature an array of one or two-bite treats that go well after a large meal with a cup of espresso or almond biscotti with Vin Santo. Vin Santo is Italian for holy wine and is Italy's version of port. Originating from the Tuscany region, it is often made from white grape varietals like Trebbiano or Malvasia. Varying in sweetness, they are often served after espresso as a digestif.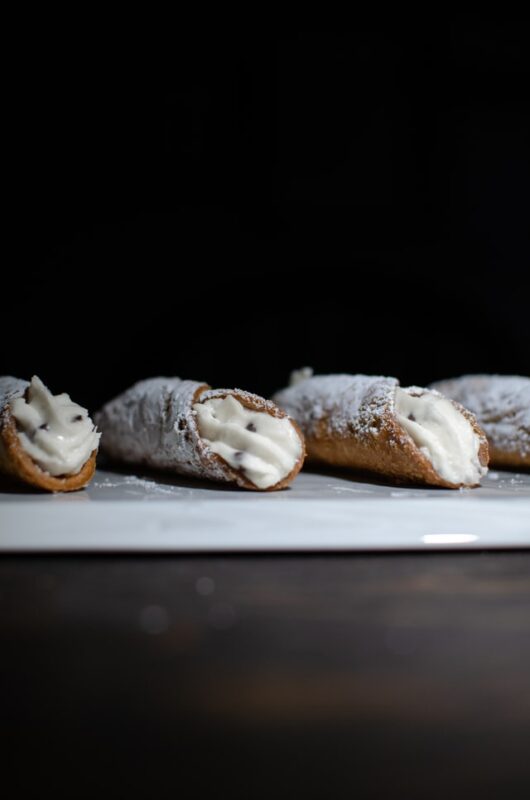 The diversity of regional Italian cuisine makes writing an authentic menu difficult. Difficult because I enjoy items from different regions that you would never find on the same table in an Italian household. Culinary dogma can be so restrictive sometimes. Since it is the holidays, I will choose to indulge in my favorite sweets even if it means uniting southern Cannolis and northern Castagne Carmellatta – carmelized chestnuts, which the French call Marron Glacé, but now I am turning the buffet into a European Union event, which is not a bad idea since the Italians have an oddly named holiday dessert, Zuppa di Anglaise. This dish could only have been created by an expatriate Brit longing for his holiday trifle and explaining it to an Italian chef. The jams and jellies are replaced with liqueurs (good change) and zabaglione is used for the custard.
A must-have for any Italian dessert for me is Almond Macaroons. The hardest part about making this dessert at home is finding almond paste. These chewy almond morsels are even great a day old. Just dip them in your morning coffee. They are also a lot simpler to make than biscotti. I also get torn between choosing Struffoli or Cenci, the latter is traditionally served at Carnevale, but I can't wait that long.
Struffoli are bits of fried dough in honey syrup and powdered sugar or, at the holidays, red and green sprinkles. Cenci are served doused in powdered sugar. I also like to dip them in fig jam.
No matter your ethnicity or holiday traditions, this Christmas season enjoy a taste of Italy with these recipe for Struffoli, Cenci, Almond Macaroons and Cannolis. Until the New Year, Buona Fortuna and Buona Appetito. My apologies to my Italian friends. I know I am butchering the Italian. I ask them to forgive me. After all, I am Scot/Welsh.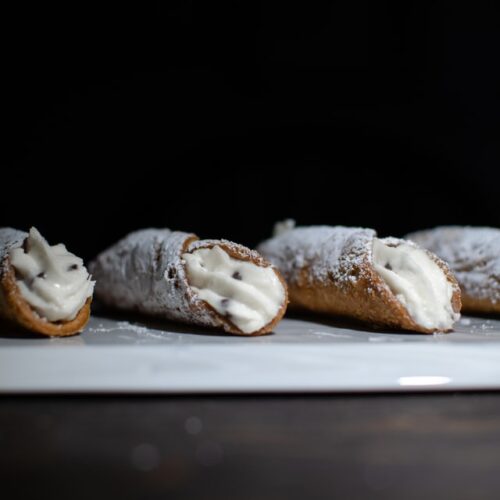 Cannolis
Ingredients
Shells
2

cups

flour

1/4

teaspoons

cinnamon

1

teaspoon

sugar

1

tablespoon

cocoa powder

2

tablespoon

butter

6

tablespoon

marsala
Filling
1

pound

ricotta

1/2

cup

superfine sugar

1/3

cup

lemon juice

1

tablespoon

vanilla

4

tablespoons

orange zest

1/4

cup

chocolate chips
Instructions
Shells
Sift dry ingredients together. Cut in butter. Add marsala. Shape in ball. Wrap tightly in plastic. Refrigerate. Roll out dough to ¼" thick. Cut 2-inch circles. Form around cannoli molds. Deep fry. Let cool slightly. Remove from molds. Let cool, then fill.
Filling
Mix all ingredients. Place in pastry bag with open tip. Refrigerate. Fill cannoli shells. Roll in chocolate chips. Dust with powdered sugar.
Struffoli
Ingredients
2

cups

flour

3

eggs

1/4

teaspoon

salt

3

cups

oil to fry in

1

cup

honey

1/2

cup

sugar

Powdered sugar
Instructions
Heat honey and sugar in saucepan stirring constantly. Cook 2 minutes.

In bowl mix flour, eggs and salt. Knead until smooth. Let rest 10 minutes.

Roll dough out until it is 1/4" thick. Cut in 1/2" wide strips. Cut strips into 1/2" long pieces. Roll into balls.

Fry in 350 degree oil until golden brown, turning with wooden spoon. Drain.

Toss in honey syrup. Let cool and sprinkle with powdered sugar.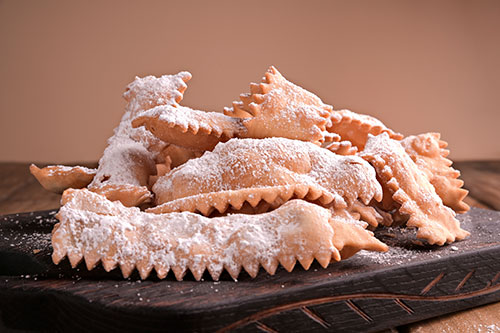 Cenci
Ingredients
2

cups

flour

2

tbsp

unsalted butter

2

eggs

1/3

cup

confectioners sugar

Oil for frying

Powdered sugar for dusting
Instructions
Mix the ingredients in a bowl until stiff dough is formed, kneading 10 minutes.

Cover. Let rest 1 hour.

Roll out dough 1/8 thick. Cut strip 2 fingers wide with serrated pastry wheel and as long as fingertip to palm. Cut each strip ¾ way down the middle.

Twist gently and fry until golden.

Dust with powdered sugar.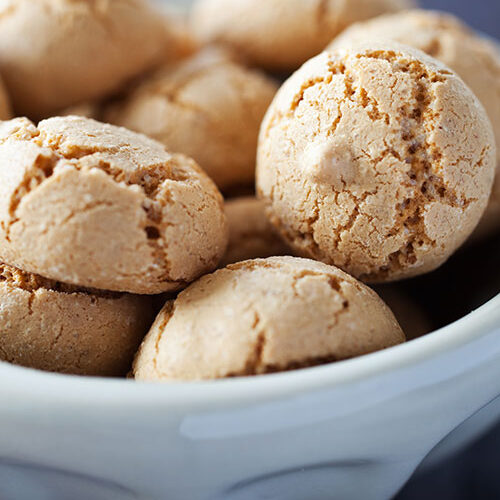 Almond Macaroons
Ingredients
1

pound

almond paste

6

ounces

confectioners sugar

6

ounces

sugar

2 1/2

ounces

pastry flour

6

egg whites
Instructions
In a stand mixer, blend almond paste and sugars until smooth. Blend in pastry flour. Slowly add egg whites, one at a time until mix is smooth and creamy.

Using pastry bag and straight tip pipe quarter-sized discs onto parchment-lined sheet pan. Space evenly.

Bake at 300 degrees for 20 minutes or until golden brown.