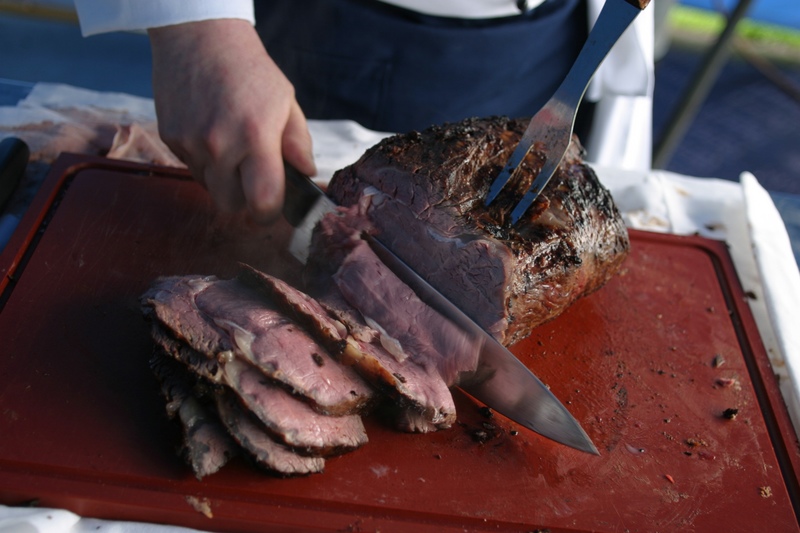 This month it is time to sink my teeth into a juicy subject. Roasting meat.
Roasting meat is probably the most ancient form of cooking. Forest fires and slow deer combined to give our ancestors their first taste of roasted meat. In the 20th century roasting came to mean cooking in dry heat in an enclosed oven. Prior to that, roasting was done over an open fire on a spit. Open fire roasting would be akin to barbecuing with a less smoky taste. Cooking meat over an open fire yields meat with a nice caramelized exterior and juicy interior. The Chaine de Rotisseurs, one of the world's oldest gastronomic societies has its origins in the Guilds of medieval France. In the 13th century, King Louis IX granted a royal charter to the goose roasters and over the years their responsibilities grew to include poultry and venison. The guilds, think of the teamsters union with knives, codified roasting techniques and controlled how, who and when meats could be roasted. In those days large spits were turned by hand or chain cranks.
Roasting today is a less arduous process, but still time consuming.
The smell of roasting meat is one of the great smells. When it emanates from the kitchen, it stirs the appetite. The smell and color of roasted meat is caused by the Maillard reaction. This chemical change of amino acids and carbohydrates occurs when high heat and low moisture conditions occur.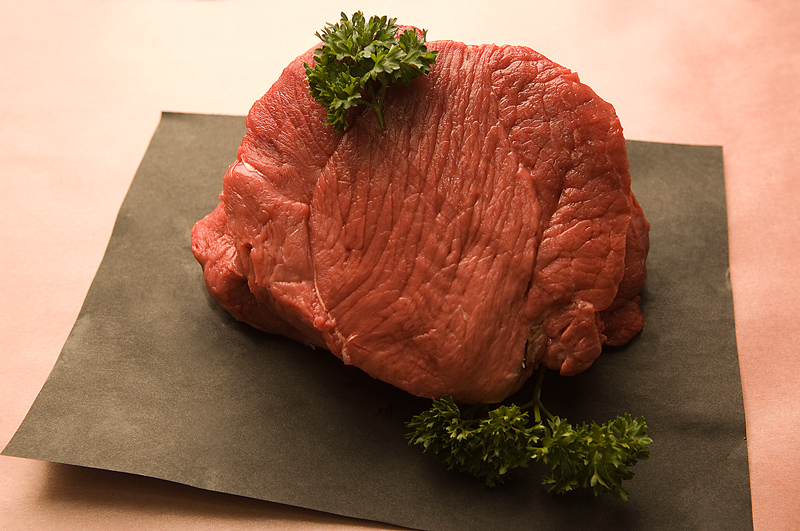 In contemporary oven roasting, there are two general schools of thought. High heat roasting or low heat roasting. Both methods have their pluses and minuses. Roasting generally involves the more tender leg or center cuts of meats. Less tender cuts such as brisket or shoulder cuts, if dry roasted, should be done low and slow.
For prime rib or English style round roasts, I prefer the high-heat method. It yields better caramelization and a tastier exterior. The downside is shrinkage. The high heat melts the fat quickly resulting in great flavor, but causing the meat to contract quickly as well.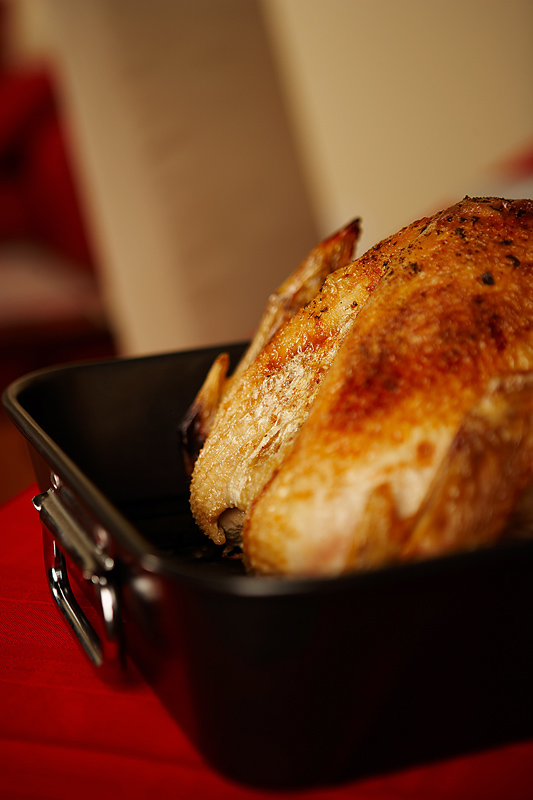 Low-heat roasting preserves the fat and has less shrinkage, but does not have the deep carmelization which means less robust flavor. The solution for me is a combination. Roasting at 500 degrees for the first 20 minutes, then dropping the heat to 250 degrees or lower until the desired internal temperature is reached. I prefer 125 degrees for rare beef counting on 10%-15% carry-over cooking. The high-heat method also yields richly colored pan drippings for gravies and sauces. Friend and fellow Cape May chef Chris Shriver is a fervent proponent of low and slow roasting. After tasting his eight-hour, slow-roasted pulled pork, one can easily be converted to his point of view. The key advantages of low-slow are tenderness and juiciness.
Besides oven temperature, another debate is whether to roast on a rack or not. The concept of the rack is to provide air flow under the meat and allow the juices to drip. This provides all around browning and keeps the bottom of the meat from steaming in its own juices.
Personally, I like to use a base of mirepoix – rough chopped celery carrots and onions. This adds flavor to the meat and more importantly to the drippings which enhances the sauce.
Certain meats are more suitable to high-heat roasting than others. Prime rib and roast beef benefit best from this technique. Less tender cuts are often best braised, but can yield fantastic flavor when roasted low and slow.
This month try my recipes for English Roast Beef with au jus, Roast Leg of Lamb with Boulangere Potatoes, and Herb-Roasted Chicken with Sage Gravy.
English-Style Roast Beef
Ingredients
8-10

pounds

beef round roast

Kosher salt

cracked black pepper

2

teaspoons

granulated garlic

2

teaspoons

chopped thyme

2

teaspoons

chopped rosemary

2

tablespoons

olive oil

3

tablespoons

Worcestershire sauce

2

onions

sliced into rings
For Au Jus
2

cups

red wine

4

cups

beef stock

Salt

Thyme

Rosemary sprigs
Instructions
Preheat oven to 500 degrees

Season meat with Kosher salt, cracked black pepper, 2 teaspoons granulated garlic, 2 teaspoons chopped thyme, 2 teaspoons chopped rosemary, 2 tablespoons olive oil and 3 tablespoons Worcestershire sauce.

Mix spices, oil and Worcestershire sauce. Rub evenly over meat. Slice 2 onions into rings and arrange over meat. Place meat on rack in roasting pan. Place pan on middle rack in oven cook for 35 minutes at 500 degrees. Reduce heat to 250 degrees and cook for 7 minutes per pound. A 10-pound roast would be 1 hour 10 minutes. More importantly, do not open oven. When done, remove roast to platter. Cover. Let rest 10 minutes.

Deglaze roasting pan with 2 cups red wine and 4 cups beef stock. Scrape pan. Well season with salt, thyme and rosemary sprigs. Simmer 10 minutes. Strain. Serve with rare roast beef
Roast Leg of Lamb with Boulangere Potatoes
Ingredients
1 8-

pound

lamb roast

Salt

pepper

4

tablespoons

olive oil

Rosemary

4

ribs celery

2

quartered onions

4

peeled carrots

split lengthwise

2

cups

merlot wine

4

sprigs rosemary

2

cups

chicken stock

2

cups

beef stock

2

teaspoons

cornstarch

2

potatoes per person
Instructions
Seasoned roast with salt, pepper, 4 tablespoons olive oil and generously sprinkled with chopped fresh rosemary.

In roasting pan, place 4 ribs celery, 2 quartered onions and 4 peeled carrots, split lengthwise. Cook at 375 degrees for approximately 1½ hours until meat thermometer reads 135 degrees. After the first 30 minutes, add 2 peeled and halved potatoes per person. Season potatoes with olive oil, salt, pepper and rosemary. Turn potatoes after 20 minutes.

Let meat rest. Deglaze pan with 2 cups merlot wine, 4 sprigs rosemary, 2 cups chicken stock and 2 cups beef stock. Simmer 10 minutes. Thicken with 2 teaspoons cornstarch dissolved in 2 tablespoons cold water. Bring jus to boil. Add slurry. Whisk. Bring back to boil. Serve with lamb and potatoes.
Herb Roasted Chicken with Sage Gravy
Ingredients
1 3-

pound

roasting chicken

4

tablespoons

chopped parsley

3

teaspoons

chopped rosemary

2

tablespoons

chopped sage

2

tablespoons

chopped thyme

Kosher salt

Cracked black pepper

¼

cup

melted butter

3

chopped onions

3

celery ribs

3

peeled chopped carrots

3

bay leaves

6

cloves

garlic

1

bunch thyme

2

lemons

5

cups

chicken stock

3

tablespoons

flour

3

tablespoons

butter
Instructions
Heat oven to 450 degrees

Place chicken in roasting pan over 3 chopped onions 3 celery ribs and 3 peeled chopped carrots. Loosen skin on chicken. Rub with herb mix under skin and all around. Stuff with 3 bay leaves, 6 cloves garlic, 1 bunch thyme and 2 lemons. Roast at 450 degrees for 15 minutes. Reduce heat. Cook 45 more minutes until 165 degrees internal temp is reached. Cover. Let rest 10 minutes.

To make gravy: Deglaze roasting pan with 5 cups chicken stock. Bring to boil. Knead 3 tablespoons flour with 3 tablespoons butter. Whisk into simmering liquid. Cook 5 minutes. Strain. Serve with chicken.