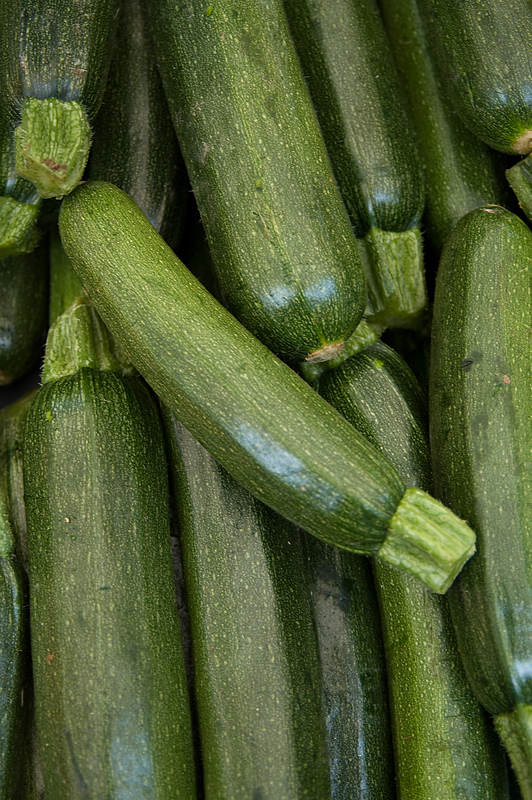 It's a verb and a noun, and soon we will be overwhelmed by it. The "It" is squash, more specifically summer squash. Growing up in New Jersey, summertime meant backyard gardens. I always enjoyed the tomatoes, corn and Italian frying peppers, but somewhere along the line I developed a fear of zucchini. I like eating zucchini. I just fear being attacked, buried alive or overwhelmed by those dark green gourds of death. The kitchen counter would be covered with them, gifts from neighbors and relatives. Some were the size of submarines and it was a NEVER ENDING supply. Every summer it started the same way, a few small ones would appear and they would be fried or sautéed. A few more would arrive with the beloved tomatoes, and there would be ratatouille. Then the zucchini bread would start appearing, first on Sunday morning, then in lunch bags, then as dessert. Then, suddenly the behemoth zucchini of death would appear. The centers would be scooped out and sautéed with ground lamb or beef then stuffed back in the squash carcass and baked. The larger the zucchini got, the more fibrous the flesh became. The small tender edible seeds grew to the size and texture of guitar picks. Chain saws were needed to slice them.
They appeared on the dinner table night after night prepared in every way imaginable and, in the case of a few recipes, best left unmentioned. In summertime, it was an all out attack of the killer courgette. But there was one part of the zucchini I rarely got to try as a child, the blossom.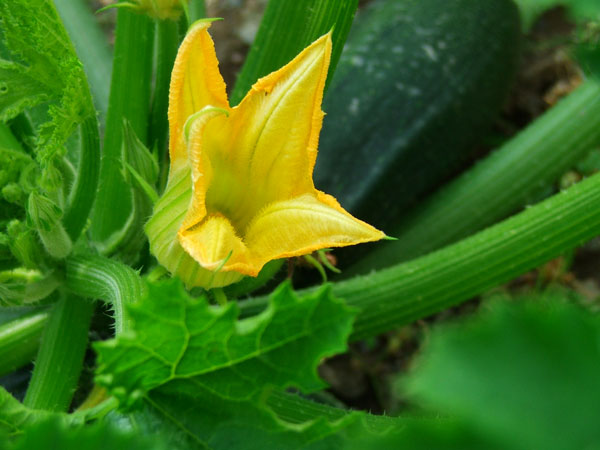 Unlike the zombie green zucchini, squash blossoms are a golden orange color that looks like captured sunshine. The fact that some people discard the blossom, or worse, let them shrivel and die on the vine is beyond my comprehension. By my thinking, the only reason to allow zucchinis to breed is to produce the blossom. Blossoms melt in your mouth. The flavor cannot be described, only experienced. They can be stuffed and fried, cooked in omelets, put in salads, and served in spaghetti. Blossoms are very delicate and require a light touch in preparing or storing them.
Surprisingly, when cooked, the flavor of the blossom can stand up to a variety of preparations. Last summer I went out to dinner at a chef-friend's restaurant, and he prepared a lightly fried squash blossom stuffed with chorizo, queso fresco and a mole sauce as an appetizer that over shadowed the rest of an excellent dinner. All I could rave about was that one dish that he came up with while drinking coffee in his garden, staring at zucchini blossoms. Good ingredients inspire good chefs. Good ingredients aspire to be cooked in well thought-out dishes.
Now I know why there were so many zucchinis when I was young. The adults were breeding the squash for the blossoms which they kept for themselves.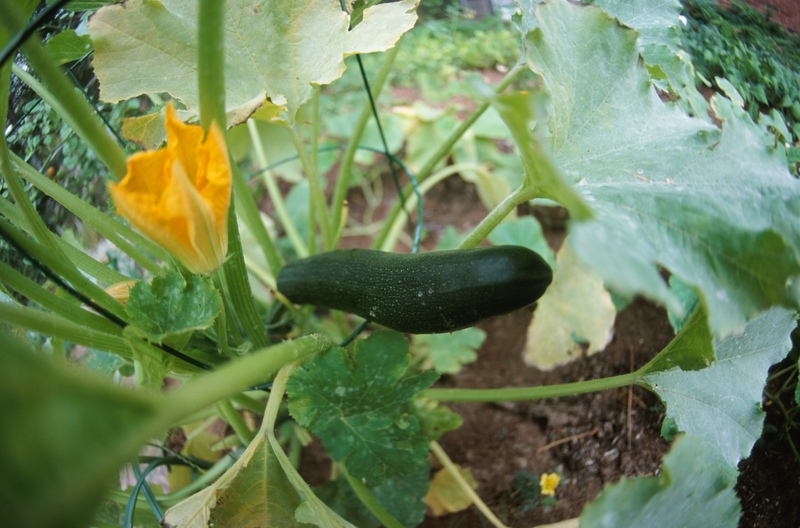 The recipes this month are simple to prepare and are perfect for a midsummer evening meal or a Sunday brunch on the patio. There are a few precautions to take when handling squash blossoms.
Rinse lightly to remove any dirt or insects that might be trapped on the inside.
Use blossoms within two days of purchasing or harvesting.
After rinsing, wrap in paper towel and store in sealed bag in refrigerator.
With your blossoms safely handled you are ready to prepare Crab stuffed squash Blossoms, Squash Blossoms with Spaghetti and/or Squash Blossom Frittata.
I use the terms squash blossom, zucchini blossom, zucchini flower interchangeably. Botanically they may be different, but from a culinary standpoint, they are interchangeable
Until next month, Bon Appétit.
Spaghetti with Squash Blossoms
Ingredients
1

pound

spaghetti

cook while preparing sauce

24

squash blossoms

cleaned and sliced

10

anchovy fillets

rinsed and minced

3

cloves

garlic

peeled and minced

2

pepperocini

rinsed, seeded, julienned

¼

cup

extra virgin olive oil

Sea salt

fresh black pepper to taste
Instructions
Cook pasta in salted boiling water. Have a ladle handy.

In large sauté pan, heat oil. Add anchovies. Cook, stirring with wood spoon.

Add garlic and peppers. Stir constantly until anchovies fall apart and garlic lightly browns.

Add blossoms and a little water from the pasta.

Drain pasta. Toss in pan with blossoms and sauce. Season to taste.
Squash Blossom Frittata
Ingredients
1 10-

inch

non-stick pan

24

zucchini blossoms

stemmed

1

small white onion

minced

salt

½

teaspoon

smoked paprika

8

eggs

whipped

2

teaspoons

chopped flat leaf parsley

3

tablespoons

ricotta salata cheese grated

¼

cup

olive oil
Instructions
Preheat broiler. Heat skillet over medium heat. Add oil and onions. Sauté until soft. Do not brown.

Add blossoms. Lightly wilt, stirring frequently.

Add salt and paprika. Spread blossoms to single layer. Increase heat.

Add eggs. Stir gently. Let egg set around edge. Make like omelet. When set but soft, sprinkle with parsley and cheese.

Brown under broiler about 1 minute.
Crab Stuffed Squash Blossoms
Ingredients
8

large squash blossoms with stems

rinsed and dried
Cheeses and seasonings
¼

cup

ricotta cheese

¼

cup

marscapone

¼

cup

pecorino romana fresco grated

5

ounces

lump crab

Nutmeg

kosher salt, pepper
The batter
½

cup

flour

½

cup

rice flour

Salt

pepper

1

egg white

½

cup

club soda
Instructions
Mix cheeses and seasonings together fold in crab. Stuff blossoms with the mixture, dividing equally. Fold ends of blossom to cover filling.

Mix flours and spices add to club soda. Whisk lightly to incorporate. Lumps are better than over mixing. Whisk egg white until foamy. Add to batter.

Dip blossom. Fry in deep skillet with oil at 350 degrees. Fry 3 minutes per side. Drain on paper towel. Serve with olive oil, fresh lemon, fresh grated cheese or fresh tomato sauce.