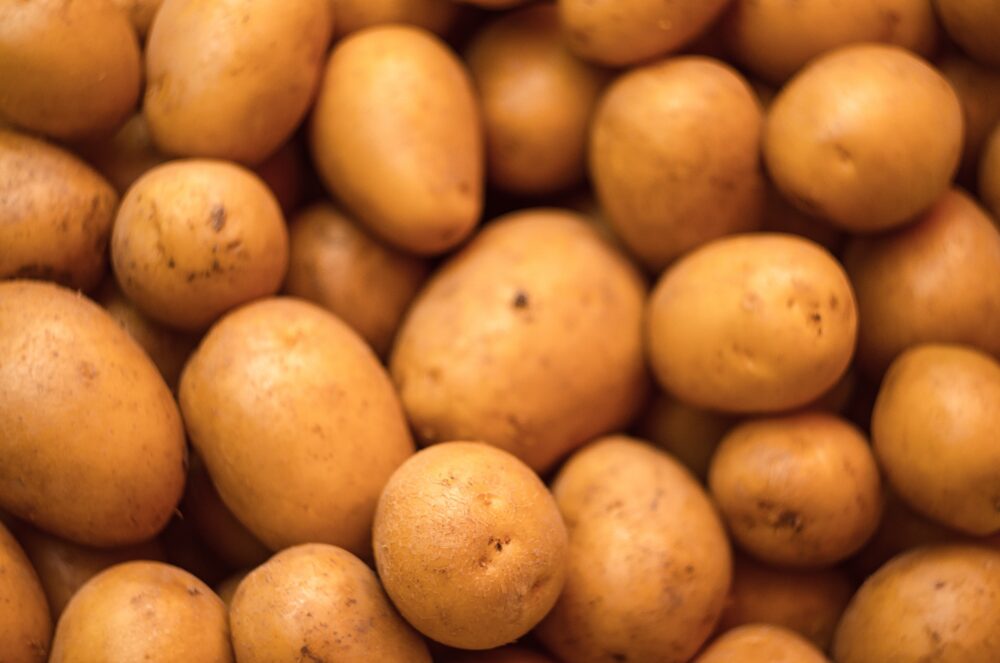 Like a good character actor in movies, a tasty side dish can steal the spotlight from the main course. The primary item in a side dish is usually plain or nondescript in flavor. Cooks should think of those items as a blank canvas that they can enhance with a palette of flavors. Rice, potatoes, grains, beans and pastas all are neutral in flavor before a cook transforms them. The flavors you build with will be determined by the proteins you choose and whether you want flavors to complement or contrast.
The potato may be America's most favorite side dish. Scalloped potatoes were one of my favorite dishes growing up both Mom and Grandma made scrumptious versions of this homegrown classic. My current beloved adaptation is bacon cheddar rendering, which proves the point that bacon does make everything better. A holiday table is incomplete without mashed potatoes. The key to good mashed potatoes is selecting the right potato. If you are looking for chunky skin on style, then large red potatoes are the right choice. Buttery and silky smooth more your style? Yukon Gold will yield the mother lode of texture and flavor. If nutritional value is what you desire, try mashing the potatoes with olive oil and vegetable stock. For a combination of flavor and nutrition, mix the potatoes with rutabagas or parsnips.
Most root vegetables can be mashed or pureed and add a nice twist to a meal. As a chef, I like to treat mashed potatoes the way Ben and Jerry treat plain ice cream – as an opportunity to add bursts of flavor, texture and calories. Most cheeses can be added to the mash. Bacon, horseradish and cheddar, with a little scallion, goes great with hearty braised short ribs. If you are serving a rib roast or roast beef over the holidays, try horseradish and cheddar cheese. Mash the combination. It works like egg and nog.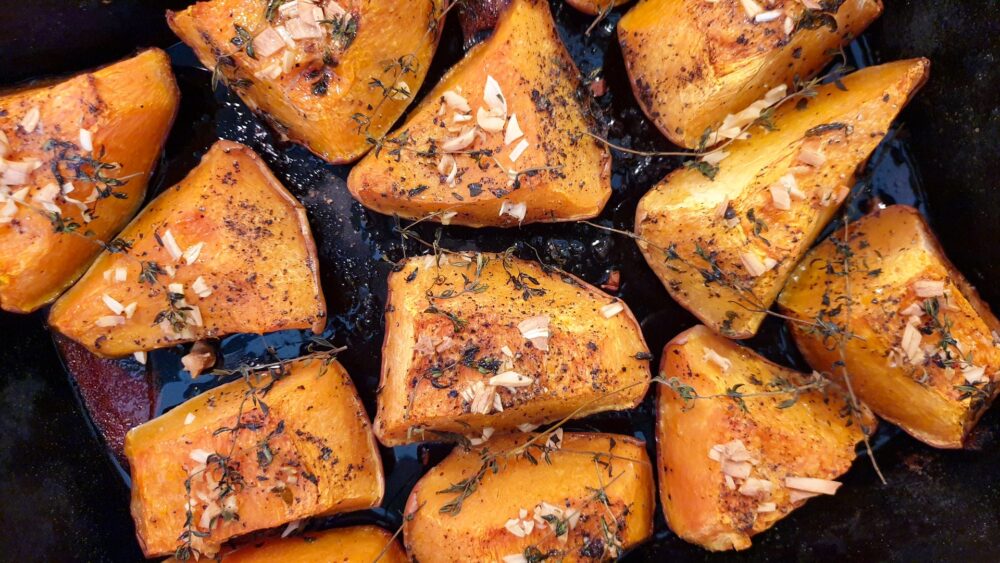 Mention sweet potatoes and some folks reel in terror with visions of orange glop covered in marshmallow goo. The humble sweet potato deserves better treatment than that. Sweet potatoes, like regular potatoes, work great in a hash. A basic hash can be made with leftover sweet potatoes. If you are starting from scratch, peel and cut your potatoes in a medium dice. Season with salt and pepper and lightly coat with oil. Bake at 350 degrees for 12 minutes until halfway cooked. Let cool and then fry in cast iron skillet with diced tomatoes scallions and bacon. This side dish works great with fish or crab cakes. Sweet potatoes can also be baked. Due to their fibrous texture mashing them is tricky since then tend to get stringy. Try pureeing in a food processor or blender after boiling. In the south, sweet potato pie is the preferred Thanksgiving pie over the Yankee favorite pumpkin. The variation I like is Sweet Potato Pecan. Rich and sweet, it will end your holiday meal by putting you on the couch in that food-induced coma, dreaming of leftover turkey sandwiches to be enjoyed the next day.
I know you will have the ardent traditionalists in your family that want plain mashed potatoes. However this fall and winter, there is plenty of time to go totally tubular with tubers. Enjoy recipes for Cheddar-Bacon-Scalloped Potatoes, Sweet Potato Pecan Pie, Sweet Potato Soup and Potato and Onion Pancakes. Until next month, Bon Appétit.
Note: There is much confusion even amongst chefs over the difference between sweet potatoes and yams. True yams come only from Africa and can be up to six feet in length. The sweet potato comes in many colored flesh varieties including orange and white. The orange flesh variety reminded southern slaves of the yams from home and the name stuck. So, in the South yams are orange and sweet potatoes are white or cream colored, but neither is a true, both are sweet potatoes. Still confused? Join the club.
Cheddar-Bacon-Scalloped Potatoes
Ingredients
8-10

Yukon Gold potatoes peeled slice quarter-inch thick

Soak in custard mix

6

eggs

1½

pints

cream

Layer in 9×11 casserole dish

greased with butter. Sprinkle each layer with salt and pepper and

8

ounces

shredded sharp cheddar

8

slices

bacon

cooked and diced

6

scallions

diced
Instructions
To create the custard, combine eggs and cream.

Soak the potatoes in the custard mix. (Reserve it for a later step!)

Layer in a 9×11 casserole dish greased with butter.

Sprinkle each layer with salt and pepper, cheddar, bacon, and scallions.

Pour the remaining custard mix over potatoes.

Top the final layer with bacon and cheddar.

Cover with foil. Bake at 300 degrees for 45 minutes.

Uncover and bake 30 more minutes.
Sweet Potato Soup
Ingredients
5

sweet potatoes

peeled and diced

1

onion

diced

2

tablespoons

butter

3

shallots

chopped

1

cup

peanuts

2

teaspoons

black pepper

Salt to taste

1

tablespoon

curry powder

1

quart

chicken broth

1

cup

cream
Instructions
In a saucepan, melt butter. Sweat onions, shallots, and peanuts.

Add spices.

Add sweet potatoes.

Cover. Sweat 8 minutes.

Add stock. Simmer until sweet potatoes are tender.

Puree.

Add cream and simmer 10 minutes.

Adjust seasonings.

Garnish with toasted peanuts and chopped scallions.
Potato Pancakes
Ingredients
2

white onions

julienned and caramelized

1

egg

Flour as needed

3

tablespoons

chopped parsley

Salt and pepper

Lemon

Salt

4

large potatoes

peeled, shredded, grated into bowl

Potato starch

Sour cream and applesauce for service

optional
Instructions
Toss grated potatoes with juice of lemon and salt. Do not cover with water. Squeeze excess moisture from potatoes into bowl. Let sit 5 minutes. Discard water. Add potato starch to shredded potatoes.

Add onions, parsley, salt and pepper.

Add egg.

Add just enough flour to bind.

Heat griddle to medium high. Add oil.

Scoop pancake in desired size.

Fry 3-5 minutes per side until golden brown.

Serve with sour cream and applesauce.
Sweet Potato Pecan Pie
Ingredients
Pie Filling
1

cup

mashed sweet potatoes

2

tablespoons

butter

⅓

cup

dark brown sugar

2

teaspoons

vanilla extract

Pinch

each cinnamon

nutmeg and cloves

1

beaten egg
Pecan Topping
2

eggs

½

cup

sugar

1

cup

dark Karo Corn Syrup

1

teaspoon

vanilla

2

tablespoons

bourbon

6

ounces

chopped pecans
Instructions
Preheat oven to 300 degrees. Mix pie filling ingredients (above) in mixer. Whip 3 minutes until smooth. Pour in bottom of pie shell.

Sprinkle pecans over sweet potato mixture. Mix eggs, corn syrup, bourbon and sugar. Pour over pecans. Bake at 300 degrees for 1 hour and 25 minutes. Let cool. Serve with vanilla ice cream.