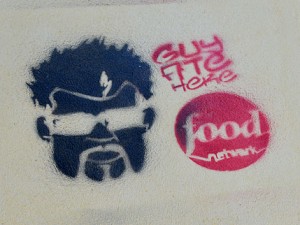 Cape May's very own George's Place was featured on the Food Network show Diners, Drive-Ins and Dives in the episode A Triple D Thanksgiving on November 15th. Guy Fieri was in town filming the episode this past August.
Fun Fact: The "Guy Ate Here" stencil can be seen on the back of the George's building. Catch a glimpse of it the next time you're in town!
Watch the episode
Original Airdate: November 15, 2010 at 10p.m. EST
Catch the reruns:
Nov 19, 2010, 9:00 PM ET/PT
Nov 20, 2010, 12:00 AM ET/PT
Nov 20, 2010, 5:00 PM ET/PT
Visit George's for yourself!
George's Place
301 Beach Ave
Cape May, NJ 08204
(609) 884-6088
If you tuned in, let us know what you thought of the show!