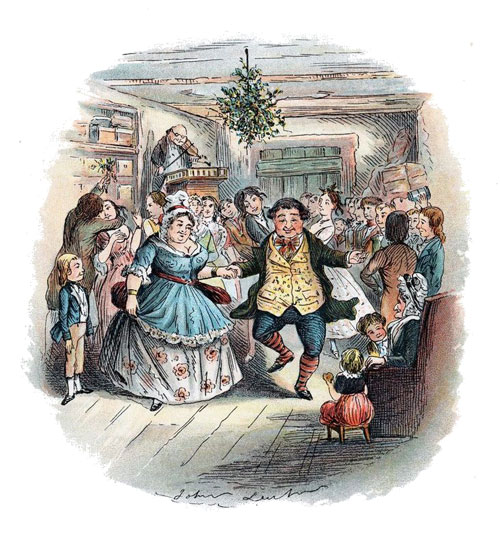 There are many ingredients needed to yield a successful holiday gathering – a tree, snow, stockings, presents, food and family. There is one unifying ingredient that helps make all these tasks easier – Adult Holiday Beverages. I am not suggesting that anyone needs to get lit up like a Christmas tree to enjoy the holidays, but a Holiday Elixir can ease the stress of crowded malls, office parties and assembling toys. Even with America's puritanical beginnings the country has a long and colorful history of Christmas beverages. Like most other holiday traditions we should raise a mug, or more historically accurate, a noggin to our European cousins for bringing these gifts to us. A noggin is an old English term for a wooden drinking cup. The English have been making the predecessor to Egg Nog, the Egg Flip, for over 400 years. Since most of the farms in England were owned by the aristocracy dairy and egg based beverages were a luxury only enjoyed by the upper crust of society. The Egg Flip was often made with brandy, cognac, Madeira or sherry. When the drink emigrated to America, it was often made with the colonist's favorite beverage – rum. Rum was called grog in colonial times and when served in taverns in wooden cups was referred to as egg and grog in a noggin. This was difficult to say sober and eventually was shortened to Egg Nog. During The Revolutionary War, Caribbean trade was disrupted and rum was replaced with American-made whiskey or bourbon.
During my years living in the mountains of Colorado, I learned of the restorative powers of warm beverages during the holiday season. Mulled wine or ciders have been enjoyed by the denizens of frigid climates for centuries. Mulled wine in Germany has been dated to the early fifteenth century. I mentioned an English version a few years back in the holiday edition of Cape May Magazine. This variant is called Smoking Bishop. This oddly titled concoction is mentioned at the end of Charles Dickens' A Christmas Carol. The reformed Scrooge toasts his beleaguered employee Bob Cratchit with this warm blend of port wine, claret, oranges and spices. The name comes from the color of port and of an Archbishops vestment. This drink requires a little advance preparation, but is well worth the effort. Mulled wines are best made with inexpensive bottles of red and are the winter seasons answer to Sangria.
Another venerable potion is the Gaelic twist on a hot toddy better known as Irish Coffee. This drink has seen many permutations in the half century since it was invented. The correct version should be made in a glass mug with the coffee poured in first, then a little sugar is added then the Irish whiskey (Jameson's for your Catholic friends and Bushmill's for the Protestant's) then take a spoon and gently pour unwhipped heavy cream gently down the back to layer the cream on top. It should be drunk without stirring. Whipped cream and crème de menthe are modern garnishes and should be avoided.
Hot Buttered Rum has been an after-skiing, sometimes during, Persnickety favorite. Most establishments use a powdered mix that should be banned. The key to a good hot rum drink is using the molasses-rich dark rum instead of inferior white rums. This will give the drink some body and substance. The recipe that is featured this month uses vanilla ice cream in the drink as a base for a richer, fuller taste. Many afternoons of slope-side research, development, and testing went into perfecting the formula. Spiked Hot Chocolate is another way to take the chill out of a winter's night. Making hot chocolate from scratch is worth the effort. Powder belongs on the ski hill not in a beverage. Peppermint Schnapps mixed in will give you a taste treat reminiscent of thin mint Girl Scout cookies. Kahlua and brandy with your cocoa on Christmas Eve may result in stockings getting hung with a little less care.
If you are entertaining with a Holiday brunch, forego the passé Mimosa in favor of the more seasonally named Poinsettia – a blend of cranberry juice and prosecco, an Italian sparkling wine. This Cape May Mad Batter Restaurant-creation has a refreshing taste and vibrant color.
Enjoy your holiday beverages in moderation and have a safe and happy holiday season. Until the New Year, Bon Appetit.
Egg Nog
For those worried about consuming raw eggs, a cooked variation follows. For safety, I just add extra bourbon to the raw version, hoping the alcohol kills any pesky bacteria.
Ingredients
8

eggs separated

1

cup

granulated sugar

1½

pints

whole milk

1½

pints

heavy cream

8

ounces

bourbon rum or brandy

Fresh nutmeg grated to garnish
Instructions
In mixing bowl, place yolks and ¾ cup of sugar. Whip until light yellow in color and sugar dissolves. Slowly blend in milk, cream, bourbon and 1 tsp nutmeg. Refrigerate.

Whip egg whites and ¼ cup sugar until stiff peaks. Fold into milk base. Chill. Pour in glasses and garnish with nutmeg.
Notes
For cooked version:
Beat eggs and sugar as above. In saucepan, scald milk, cream and nutmeg. Temper cream into egg mixture. Return to heat. Simmer to 160◦. Chill. Combine with white mixture as above. Add bourbon.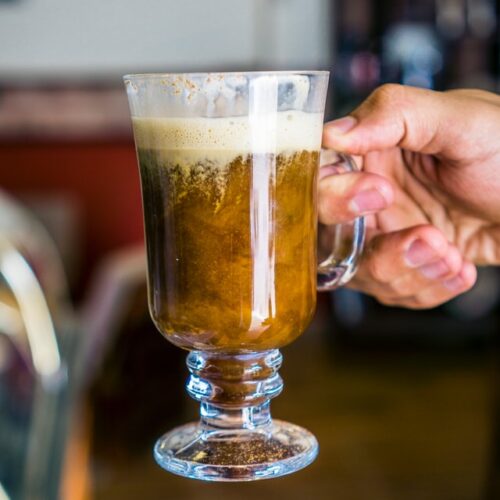 Irish Coffee
Ingredients
1

shot Irish Whiskey

3

sugar cubes

Strong hot coffee

Cream
Instructions
Heat stemmed whisky goblet.

Add 1 shot Irish whisky. Add 3 sugar cubes.

Fill to 1 inch from top with strong hot coffee.

Pour cream to top over back of spoon. DO NOT STIR.
Hot Buttered Rum
Ingredients
2

sticks butter

1

cup

dark brown sugar

1

cup

granulated brown sugar

1

pint

vanilla bean ice cream

1

tsp

cinnamon

Pinch

cloves

½

tsp

nutmeg

1

shot dark rum

Cinnamon stick
Instructions
In saucepan, melt butter. Stir in sugar. Cook until sugar dissolves and mixture caramelizes, stirring constantly. Add spices. Fold in ice cream. Stir until it dissolves. Refrigerate mix.

To assemble drink: Heat glass coffee mug. Stir in 3 tbsp mix plus 1 shot dark rum. Top with boiling water. Garnish with cinnamon stick.
Smoking Bishop
This drink will bring Great Expectations for the New Year and Pip will ask for more
Ingredients
6

oranges

split

1

ruby grapefruit

split

Whole cloves

4

ounces

of sugar

2

bottles red wine

1

bottle ruby port

2

cups

brandy
Instructions
Place fruit on cookie sheet and bake at 350° for 30 minutes.

Stud fruit with cloves. Place in warm crockpot, then turn oven off.

Add 4 ounces sugar and 2 bottles red wine. Let steep at least 24 hours.

Remove fruit and squeeze juice back into wine.

Strain through cheesecloth into pot.

Add 1 bottle ruby port. Simmer. DO NOT BOIL.

Add 2 cups brandy.

Serve in warm goblet purchased from the Old Curiosity Shop and search for Little Nell.