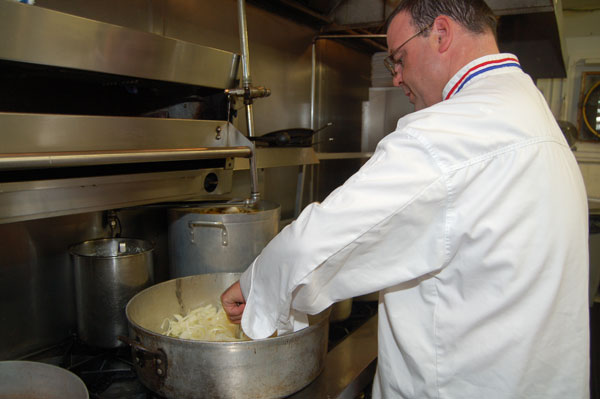 The hustle and bustle of the holiday season dissipates and gives way to the slow-paced days of the dead of winter. When there is a chill in the air and frost coats the windows, these are the perfect periods to seek refuge in the kitchen. Every being has that activity which helps them recharge and rejuvenate their inner self. For me that pursuit, for as long as I can remember, has been cooking. Spending a day concocting a complex cassoulet or perfecting the iconic chocolate chip cookie is the culinary equivalent of climbing Kilimanjaro. To prepare oneself for this epic expedition, there are a few necessities required. A willing group of tasters at base camp makes the journey worthwhile. Cooking alone is therapeutic. Sharing it with friends and family is sustaining. Also needed are the right tools and ingredients for the job. Cooking without the right supplies makes as much sense as hiking in Bermuda shorts and flip-flops.
A good wintertime project would be making soups. You can make several different varieties and throw a football party or freeze several varieties for later use. My next statement has a tendency to push the novice cook into apoplexy. Don't be so wedded to the recipe, that it constrains you. Set your goal of what dish you want to make and focus on the techniques needed to achieve that goal. I make all my cream soups following the same basic steps, whether it is New England clam chowder, cream of broccoli or potato leek soup. Gather and cut all you ingredients. In making a soup, you want to meld all the flavors together. Have a good thick-bottomed soup pan. Don't use stainless steel as it has a tendency to stick and burn.
The first step is sweating. This is cooking over medium heat in fat to soften the vegetables and release their flavors. If using dried herbs, sweat them with the vegetables to rehydrate and release flavors. Fresh herbs can also be added here if using hearty ones such as thyme or rosemary. Softer more delicate herbs like basil, chives and tarragon should be added at the end.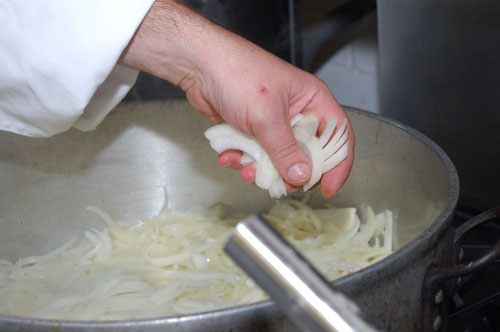 The next step will provide our thickening for the soup. Rather than make a separate roux, my preferred technique is to add flour to the sweating mixture. How much flour? Enough flour to absorb all of the fat. When adding the flour, lower your heat slightly and stir thoroughly making sure the fat and flour combine to form the roux. Cook out lightly, but do not brown. Here is where you can add wines, such as sherry, for mushroom soup.
This is also where the stock or liquid, which will make the body of your soup, is added. Whisk in small amounts of liquid at a time. Whisk to thoroughly incorporate and avoid lumping. Increase heat to bring soup to a simmer. this will allow the roux to gelatinize and expand thickening your liquid. Continue adding liquid until the mixture coats the back of a spoon evenly. At this juncture potatoes can be added. Note that the starch in the potato will thicken your soup slightly so have your mixture on the thin side. Adjust your seasoning and let the mixture simmer.
To achieve a full rich flavor cream can be added or milk for the calorie conscious. If you desire a cheese soup, bring the mixture to a boil and whisk in handfuls of cheese at a time allowing it to fully incorporate before adding more. If your soup is too thick, thin with stock. If too thin, simmer lightly to evaporate out excess liquid. For a smoother textured soup, puree with an immersion blender.
Learning how ingredients function and react will allow you to expand your culinary repertoire. Even when baking, you can tweak things if you know how the ingredients function. A good starting point for this experimentation is the Classic Chocolate Chip Cookie. Even if your cookies look strange or misshapen, people will still gobble them up.
Here are some cookie tips:
For crispier cookies, use less liquid, more sugar and fat higher cooking temperature.
For softer cookies, do the opposite – more liquid, less sugar and fat and under bake the cookie. Additionally, honey, corn syrup or molasses in your batter will make for softer cookies.
Some folks prefer chewier cookies. For this result it is necessary to use a larger proportion of sugar and liquid, but less fat. A larger ratio of eggs and more mixing will also yield a chewier cookie.
Another variable that will shape your final product is the spread. How much a cookie spreads out depends on oven temperature – the lower the temp, the more spread – and how much you grease the cookie sheet, more grease more spread.
Knowing the function of the ingredients allows the cook the opportunity to control the final product. Using a mix of different chocolates will also allow you to custom design your flavor profile.
This winter experiment with cooking and creating your own recipes can be exciting and rewarding. This task is made simpler by understanding techniques and ingredients. The following recipes will be a good starting point for your culinary journey. Until next month, Bon Appétit.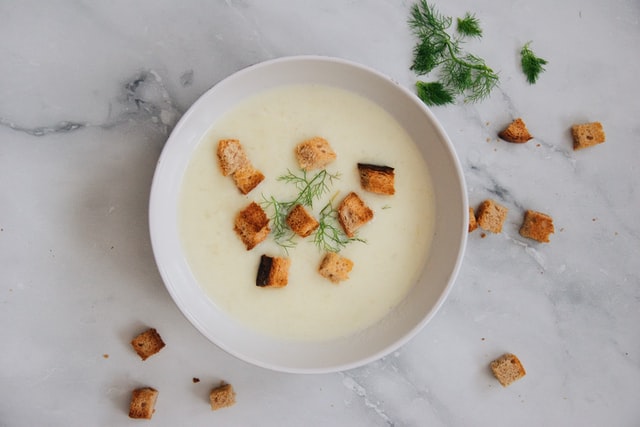 Basic Potato and Leek Soup
This base is a starting point for you to customize
Ingredients
1

onion diced

1

leek diced

4

tbsp

butter

4

Yukon gold potatoes diced

8

cups

chicken stock

1

tbsp

fresh thyme

Salt and pepper

1

cup

cream

4

tbsp

flour
Instructions
In soup pot, melt butter. Sweat onions and leeks until tender.

Add thyme. Sweat 2-3 minutes more.

Mix in flour. Slowly incorporate stock.

Season with salt and pepper.

Add potatoes. Cook until tender.

Finish with cream.
Video
Notes
Variations:
Add cheddar cheese, bacon and rosemary for a heartier chowder style soup
Omit cream and add cooked sausage, broccolirabe and parmesan for an Italian flair
Puree and garnish with chives and sour cream for an elegant touch
Remember the mantra: THE INGREDIENTS MAY CHANGE, BUT THE TECHNIQUE REMAINS THE SAME.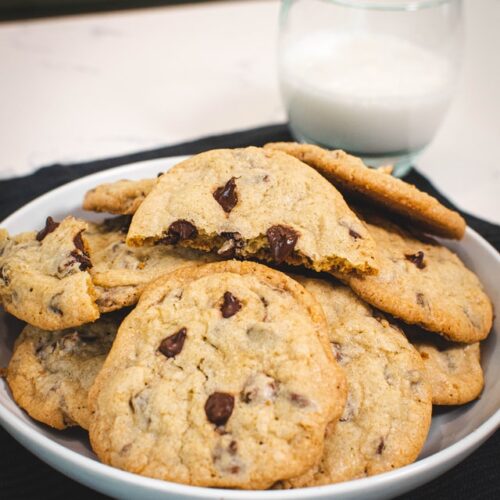 Base Chocolate Chip Cookie Batter
Chef's Tip: Play with the sugar/fat ratio and types of sugar and flour!
Ingredients
10

oz.

butter or butter/shortening combination

8

oz

granulated sugar

8

oz

brown sugar

1½

tsp

salt

3

eggs

2

tsp

vanilla extract

1

lb

4oz of pastry flour

1½

tsp

baking soda

1¼

pounds

chocolate chunked

8

oz

pecans

walnuts,

Macadamia nuts

cashews optional
Instructions
Cream sugar and butter until pale and fluffy.

On low speed, mix ingredients in sequence.

Remove from mixer.

Fold in chocolate and nuts.

Drop on lightly greased cookie sheet.

Bake at 375° for 8-10 minutes.