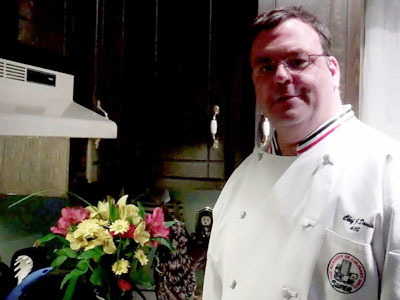 One of the biggest obstacles in preparing comfort foods is the persistence of memories. No, not the 1931 Salvador Dali masterpiece, but the reminiscences of dishes from our youth that have permeated our memories and saturated our nostalgic taste buds. Attempting to recreate that cherished childhood cuisine, although difficult, yields results that bring back places and people from the past. Flavors and aromas long nascent in the recesses of our mind can be triggered when we re-encounter them. Two categories of cooking, stewing and braising, harbor many of those responses. Perhaps, because we exist in a fast-paced world filled with stimuli that promote instant gratification, we yearn for food that cooks slowly. Food whose essence fills a room with tantalizing smells enveloping our olfactory senses and transporting us back to Grandma's kitchen.
There are many advantages to stewing and braising. Quickness, however, does not make the list. Stewing and braising take time because they utilize full-flavored, but less tender cuts of meat. These types of dishes are often better the day after they are created. Setting aside a day for stewing and braising will allow you to fill your freezer and refrigerator with meals that can be reheated quickly. A slow cooked meal after a fast paced day nourishes body and soul. One such restorative dish for me is Pork Chile Verde.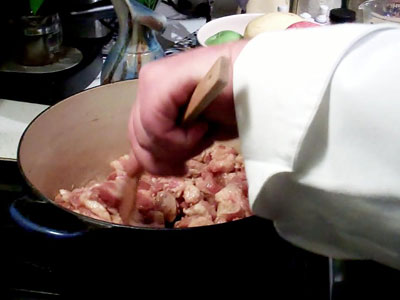 This is not a dish from my Scots-German east coast roots, rather one that I encountered as a young chef away from home for the first time. Eastern chili is an amalgamation of ground beef, canned tomatoes, chemically enhanced spices and kidney beans often overcooked to a point where the individual ingredients are beyond recognition. Chile Verde is a soup/stew/sauce that is silky green in appearance with pieces of pork shoulder glistening with fat soaking in garlic, onions and roasted Anaheim Chile peppers with bursts of heat provided by fresh jalapeños. I was hooked after the first spoonful. I am now far from a place where I can run to the corner bar for a bowl of green. Finding the chilies can be tough, but worth the effort. Even when you have to open eight itty bitty cans to yield enough for a small batch. The key to success in Chile Verde is the meat. Pork shoulder gives the stew its earthy rich nature. Don't trim away all of the fat, the interplay of searing chilies and cool creamy fat is what balances the flavor of the dish.
I often find myself craving two other dishes in the wintertime, Pot Roast and Chicken and Dumplings. The latter defines the peril of preparing comfort food. Depending on which side of the Mason-Dixon Line you were born, the term Chicken and Dumplings conjures up two very different images. If you say "Y'awl" the dish you are anticipating is a chicken stew laden with broad doughy noodles that sink to the bottom of the pot and stick to your ribs. If you say "Youse Guys" what you are hoping to set before you is a rich chicken soup topped with softball sized herbed clouds of bready goodness.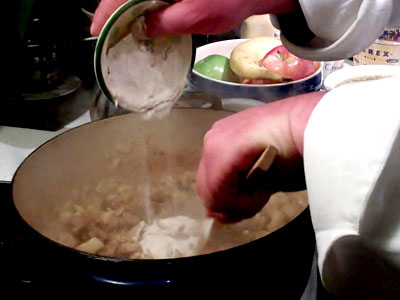 Order Chicken and Dumplings far from home and your taste memories are often disappointed. Making this dish is simple – sort of. The biggest obstacle I have encountered in recreating my Grandmother's version is finding the right chicken. This dish is best made from a stewing hen. Sadly, most stores don't carry stewing hens anymore. These tough old birds take hours to cook but the end result is meat that falls apart at the touch of a fork and golden nectar that fortifies you for days.
What are the differences in stewing and braising? Although similar in result the major differences are the cut of meat and the amount of liquid. Stew is going to use smaller boneless cuts and is simmered usually on top of the stove. Braising utilizes larger bone-in cuts that are browned first then cooked with vegetables and stock. After the meat is cooked the liquid is transformed into a sauce or gravy that is served alongside the meat. A stew is served as is with sauce, meat and vegetables in one harmonious bowl.
This month set aside a day to cook several meals that can be frozen for future enjoyment. Try the recipes for Chile Verde and Chicken and Dumplings. Check out our new video links for some of the recipes. This month's video-highlighted recipe is Pork Chile Verde. Until next month, Bon Appétit.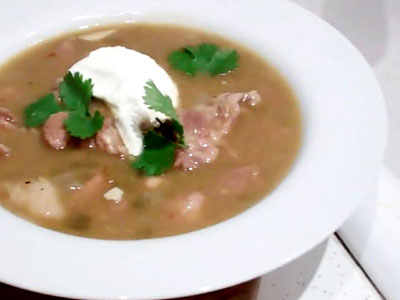 Pork Chile Verde
Chile Verde is a soup/stew/sauce that is silky green in appearance with pieces of pork shoulder glistening with fat soaking in garlic, onions and roasted Anaheim Chile peppers with bursts of heat provided by fresh jalapeños.
Ingredients
1½

pounds

pork shoulder

diced

1

white onion

diced

4

cups

diced canned green chilies

2

jalapeños

seeded and diced

8

cloves

garlic

diced

2

tablespoons

poncho chili powder

1

tablespoon

cumin

1

tablespoon

coriander

Salt and pepper

¼

cup

olive oil

¼

cup

flour

8

cups

chicken broth

Cilantro for garnish

Sour cream for garnish
Instructions
In large heavy-bottomed soup pot, heat oil. Season pork with salt and pepper, then brown lightly.

Add onions, jalapeños, spices and garlic. Cook for five minutes.

Add chilies. Dust with flour. Stir well.

Slowly add stock. Bring to boil. Reduce and simmer 1½ hours.

Adjust seasoning.

Ladle in bowl. Garnish with cilantro leaves and sour cream and warm flour tortillas.
Video
Notes
Beverage recommendation: DosEquis or Negro Modelo beer
Chicken and Dumplings
Ingredients
8

stalks celery

medium rough cut

6

carrots

medium bias cut

2

large onions

diced

1

stewing hen

2

bay leaves

1

leek

rough cut

1

tablespoon

thyme

3

tablespoons

butter

Salt and pepper to taste
Dumpling Batter
½

cup

milk

2

eggs

3

cups

flour

1

teaspoons

salt

3

tablespoons

chopped parley

1

tablespoon

chopped thyme

4

tablespoons

melted butter

1

tablespoon

baking powder
Instructions
In pot, throw in hen, leeks and half the vegetables. Cover with cold water. Simmer 1½ hours until hen is tender. Remove hen, strain and reserve liquid.

In soup pot, melt 3 tablespoons butter. Sweat celery carrots and onions. Add meat from hen. Lightly dust with flour. Add liquid. Bring to boil. Reduce to simmer until vegetables are tender. Make dumpling batter. Drop dumpling mix by spoonful onto simmering stew. Reduce heat. Cook 10 minutes uncovered. Cook 10 minutes more covered.

In bowl, whisk eggs and milk. Stir in flour and baking powder. Fold in herbs, salt and melted butter. Mix lightly. Let rest 15 minutes. Drop onto stew and cook as above.
Notes
Serve with Pinot Noir or Gewürztraminer.