Persnickety Chef Celebrates His 100th Column!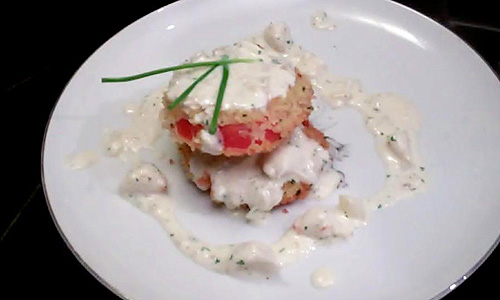 My life milestones, as with most people, are celebrated with food. Writing a food column was never part of the master plan, let alone writing a hundred columns. When I started writing this column I was running a kitchen. Six years later I am teaching, writing and consulting, working fewer hours than before and enjoying food more than ever. What drove me then is still with me today, a passion for food.
I love food. Not just eating or cooking food, but thinking about it. Exploring flavors, smells, textures and how they all interact to provide pleasure on the plate, and in so doing, making meals more interesting. All these ideas were converging as I tried to come up with a whiz-bang monster of a column for number 100. Then I heard a voice shriek, "Quit trying to be cute. Just write about the food." You got to love editors. She was right. Keep it simple. Simple is the type of food I enjoy every day. Sure, I have enjoyed my share, and sometimes more, of truffles, caviar and foie gras. Yet, I always go back to certain ingredients that provide sustenance and comfort. These are the foods I grew up with, honed my skills on, and will always be a part of my cuisine.
Fresh Seafood – Growing up near the shore meant that there was always a plentiful variety of fish and shellfish. I truly didn't appreciate the variety and availability of fresh seafood that we are blessed with here at the shore, until I moved to a landlocked state. When your choices of fish dwindle down to trout, catfish and frozen orange roughy, even the humble bluefish seems exotic in comparison. Fresh fish needs little else but butter and lemon to accentuate the natural flavor. Scallops poached in butter and herbs are sinful to taste yet simple to prepare. Local fishermen bring an array of fish every day to area stores for us to enjoy. Whether you fry, grill or sauté the catch think of those living in landlocked states eating frozen fish sticks. A person only needs to look out over the bay or ocean to see a buffet waiting to be cooked.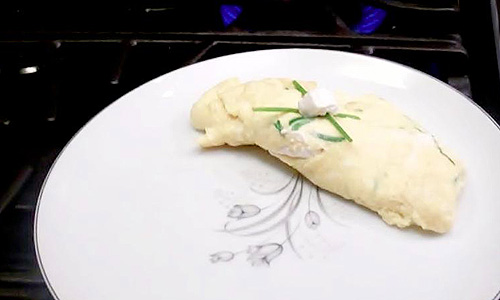 I used to get offended when I lived out west and people mocked the Garden State moniker. Now, I just laugh whenever I bite into a Jersey tomato or nibble on an ear of corn. They have never experienced what we take for granted. Local produce always tastes better than food from factory farms. There is something unique about a Jersey tomato. Scientists may be able to produce a tomato that is bright red and perfectly round, but they can never get the flavor right. Whether it is the soil or the proximity to the sea that creates the taste of a Jersey tomato, it doesn't matter. I just enjoy the fact that I am eating the best tomatoes in the country. Local farmers' markets are one of my favorite memories of growing up in the Garden state. Fruits and vegetables, always taste better from roadside stands than the big box stores. Fried Jersey Tomatoes with crab gravy combines the best of the Garden state's land and sea resources. Next time you see a farmer or fisherman, thank them for their hard work in preserving these natural treasures.
Another food that must always be on my menus is cheese and the stinkier the better. Ripe, aromatic cheeses make me wish I had the nose of Cyrano. Goat cheese, with its essence of barnyard aroma, is delicious on its own or incorporated into a meal. A chive and goat cheese omelet and a mug of French roast coffee is a wonderful way to welcome Sunday morning. The best thing about cheese is there is a variety or flavor to match almost any food. The cheese course is returning to upscale restaurants. Triple cream cheeses like Pierre Robert or St. André pairs well with berries and stone fruits. A cheese course ends a meal on a lighter note than a decadent heavy dessert. Cheeses vary in complexity of taste. The art of turning grassy scented raw milk into epicurean wheels of delight is returning to America. Artisanal cheese-makers are springing up in many states including New Jersey. Peruse your local cheese shop for some aged Gouda, creamy and sharp Cambozola or rich Roquefort. A crusty loaf of bread, a bottle of red, a wedge of cheese and some cured sausage makes for a relaxing evening meal.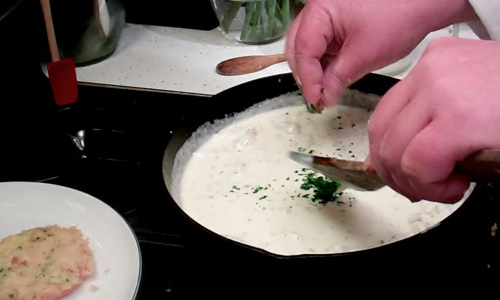 Nearly the end and I finally mention pork. Pork is the one meat that I could not survive without. I love lamb. I am IN love with pork. People that know me swear that I think the four basic food groups are bacon, scrapple, pork roll and sausage. One day I will create the ultimate breakfast sandwich with the basic four on a hard roll with egg and cheese. A cardiologist's release will be required to order. Pork is a chef's dream to work with. One animal gives us both smoky bacon and pungent prosciutto. Pork can be grilled or slowly barbecued. Stewed for posole or sautéed like scaloppini. The entire animal can be enjoyed from snout – scrapple is not scrapple without pig snouts – to hock, an essential component of any good bean soup. Pork is the meat for all seasons. Spring delivers warmer weather and Easter ham. Summer brings rib on the barbecue and succulent suckling pig roasts. Falls brings us bratwursts and pigskins on Sundays. Winter is time for comfort food and no food is more comforting than bacon. The settlers of this country survived on salt pork and bacon. The pig is maligned and shunned in many cultures. Pigs of the world, I am your advocate. This chef enjoys having you over for supper.
Food is an integral part of our lives which we need for survival. We should also enjoy preparing and eating it as well. I have enjoyed sharing my food philosophies and recipes for the past 100 columns. A special thanks goes to CapeMay.com and Cape May Magazine for giving me the opportunity and platform to express my opinions.
Celebrate spring and my favorite foods with this month's recipes. Chive and Goat Cheese Omelet, Fried Tomatoes with Crab Gravy, Sole Meunière and Shad with Oyster and Bacon Hash.
Until next month, Bon Appétit.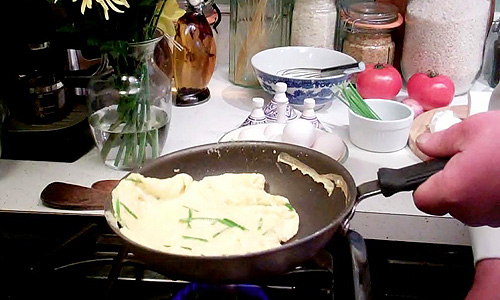 Chive and Goat Cheese Omelet
Ingredients
3

eggs

1

tbsp.

cream

Oil

3

tbsp.

goat cheese

1

tbsp.

chives
Instructions
Heat omelet pan over medium burner. Lightly oil.

In bowl, whip eggs and cream.

Add to hot pan. Add chives. Stir until set (see video for technique).

Flip. Add goat cheese. Fold and serve.
Video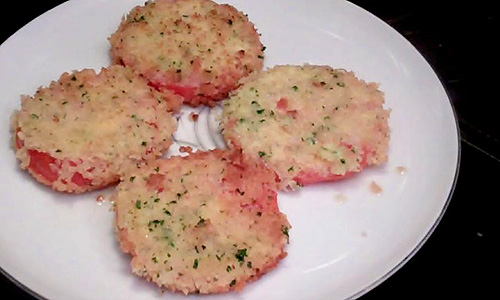 Fried Tomatoes with Crab Gravy
Ingredients
Fried Tomatoes
2

tomatoes

cut in half-inch slices

Seasoned flour

4

eggs

beaten

2

cups

panko breadcrumbs

2

tbsp.

chopped parsley

salt and pepper

break
Crab Gravy
2

tbsp

shallots

1

cup

jumbo lump crab

1

tbsp

parsley

pinch

paprika

Salt and pepper to taste

2

tbsp.

flour

1

pint

cream

Juice from ½ lemon
Instructions
Bread tomatoes. Dredge in flour, then egg wash, then breadcrumbs. Heat ½ cup oil in cast-iron skillet. Fry tomatoes 3 minutes each side or until golden brown. Drain on paper towel.

In the same skillet that you fried tomatoes, drain all but 1 tbsp. of oil. Add shallots. Sweat. Add flour. Stir to make roux. Add cream. Reduce by half. Fold in crab, parsley and lemon juice, seasoning. Reduce until thick. Serve over tomatoes.
Video
Pan Fried Shad with Lemon Cream Sauce with Root Vegetable and Oyster Hash
Ingredients
Root Vegetable and Oyster Hash
1

cup

diced cooked beets

1

cup

diced cooked rutabagas

1

cup

diced cooked parsnips

2

tbsp.

shallots

¼

cup

diced slab bacon

8

oysters

rough chopped

3

tbsp.

butter

3

tbsp.

parsley
Pan Fried Shad
4 6-

ounce

pieces shad

Seasoned flour

¼

cup

oil
Lemon Cream Sauce
¼

cup

white wine

2

cups

cream

Juice and zest of 1 lemon

2

tbsp.

chives
Instructions
Make the hash. In cast iron skillet, heat butter. Add bacon. Cook until crispy. Add shallots. Lightly brown. Add root vegetables. Cook until crust forms. Stir. Fold in oysters, parsley, seasoning. To serve, place on plate. Top with pan-fried shad.

Cook the fish. First, dredge it in flour. Heat oil in sauté pan. Cook shad 4 minutes each side. Remove.

After removing fish from pan, drain excess oil. Add shallots. Sauté briefly. Deglaze with wine. Reduce by half. Add cream. Reduce again by half. Season. Add juice zest and parsley.

Serve sauce with the shad and vegetable hash.