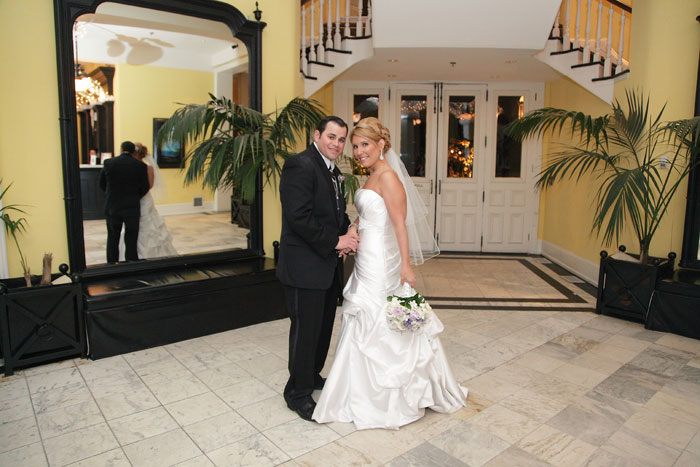 Wedding photography by J Elberson Photography
Mark and I have known one another since elementary school, and dated over nine years before getting engaged, having gotten together at 20 and 21 years old. We truly grew up together, and through our twenties, traveled as much as possible. After Mark made an off-hand remark that he might want to try a bed and breakfast some day, I, true to form, immediately made a reservation, and surprised him with a weekend at the Angel of the Sea for his birthday. It was our first time to "The Cape" since we were kids and had very little memory of it, but she made her mark quickly: we were barely on the island 15 minutes before we said, "we could live here," and started spending as much time as possible at our new favorite place.
Having dated so long, and traveled so much, we'd had lots of conversations about what kind of wedding we'd like, and we knew we wanted to be near the water. We'd talk about it during our long weekends at the Southern Mansion or Sea Crest, and while spending the week at our rental on Cape May Avenue. One summer, we happened to be window shopping and ended up in Artisan's Alcove, on Lafayette Street. Mark asked me if I'd be interested in an antique engagement or wedding ring. I'd never given it much thought in any direction, but I loved the art deco pieces and thought he might be on to something. Unbeknownst to me, in December 2009, Mark got up at 6:00 a.m., as usual, dressed for work, and left…though he didn't go to work, and instead drove to Cape May to check out rings. He wasn't even sure if Artisan's Alcove would be open, being it was after the holidays, but sure enough, it was opening mid-morning. In the mean time, he grabbed breakfast at Uncle Bills, picked up a disposable camera at Acme, and took some shots of the town still decorated for the holidays, complete with snow and ice, to commemorate the occasion. The staff at Artisan's Alcove were extraordinarily helpful, assisting him in choosing my 1920 engagement ring. He proposed that week, on the Spirit of Philadelphia at midnight on New Years Eve, under a blue moon, complete with fireworks, and with a gun salute from the Battleship New Jersey moored right next to us.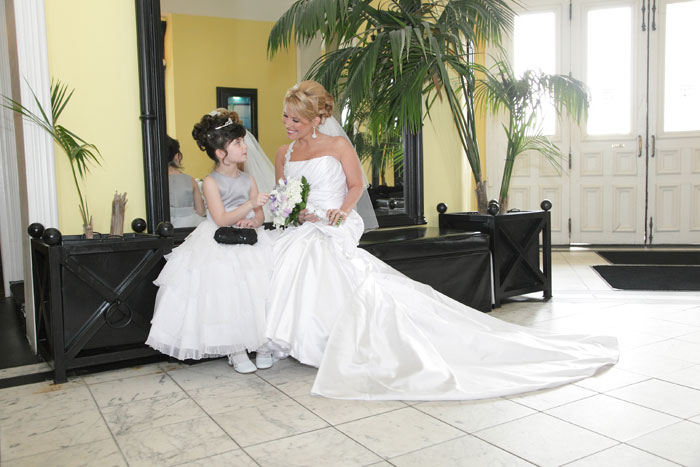 When it came down to making decisions as to when and where to get married, we almost went another way, as marrying on or near the Delaware River was a serious consideration for us, being that we live a block from the river in Gloucester County and were engaged there. However, we couldn't get Cape May out of our heads and thought we'd see what the town had to offer.
We had a few places in mind, but Congress Hall had always been our dream location. We'd often fantasize about what a wedding would look like in such a historic setting, and being that our taste is rather vintage, it seemed to fit our personalities perfectly. However, I knew we had a strict budget, and after some preliminary investigation regarding receptions in the Delaware Valley, I was almost convinced we could afford little more than a wedding in our yard! Mark wisely advised that we'd never know until as asked, so we set up an appointment with Krista at Congress Hall.
What a fantasy that day turned out to be. I hesitantly mentioned our price range, expecting to be disappointed, but Krista shuffled a few papers, and asked, "What do you think of January? We could do this in January." Interestingly, we'd never really thought about a specific month, and were giddy with excitement that our dream wedding could be a reality any time of year, so January it was! My mother-in-law even noted that it was only appropriate that the "winter babies," with December and February birthdays, have a winter wedding!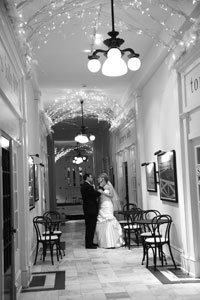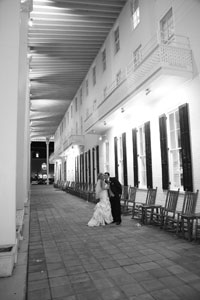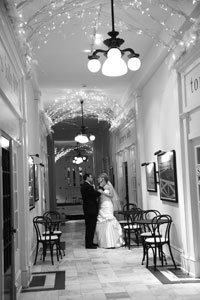 We got more than our share of raised eye-brows when we mentioned the Jersey Shore in the dead of winter, and I won't pretend that I didn't get very well acquainted with the Farmer's Almanac and Accuweather.com, but the rewards were almost indescribable. Our wedding became a weekend celebration, with family coming from New England and the Pacific and Gulf coasts, and it was almost like we had the town to ourselves. Aside from the tremendous off-season discounts we obtained, summertime issues like parking, traffic, and long lines were eliminated completely. Congress Hall did an spectacular job in helping us coordinate our rehearsal, Rehearsal Dinner, ceremony, reception, After Party, and Brunch all on site, so our guests didn't even have to leave the premises if they didn't want to. However, Cape May in January had a wonderful crispness to it that had many of our guests, particularly those out-of-state, exploring on their own. Also, given that over 100 of the 133 people on our guest list were staying overnight, it became very helpful that they were able to enjoy off-season rates for their accommodations.
There were other benefits to the January 22 date that were well worth the cold air: most appropriately, picture opportunities were amazing! Congress Hall has so many incredible locations for photographs, and we were able to enjoy shots in The Blue Pig, the Lobby, the Brown Room, and the Boiler Room, free from the summer crowds that would have made such shots impossible. Our service started in the ballroom at 4:15 p.m., but we utilized most of the interior of the hotel for pictures with our families and bridal party for hours preceding, with the freedom to move around unencumbered by throngs of sandy, sweaty strangers! We even managed some outdoor shots! My Maggie Sottero dress, while beautiful, could have never stood the humidity of the shore in the summertime, but in winter, it was perfectly comfortable. Similarly, our artfully applied make-up ran no risk of running due to the heat!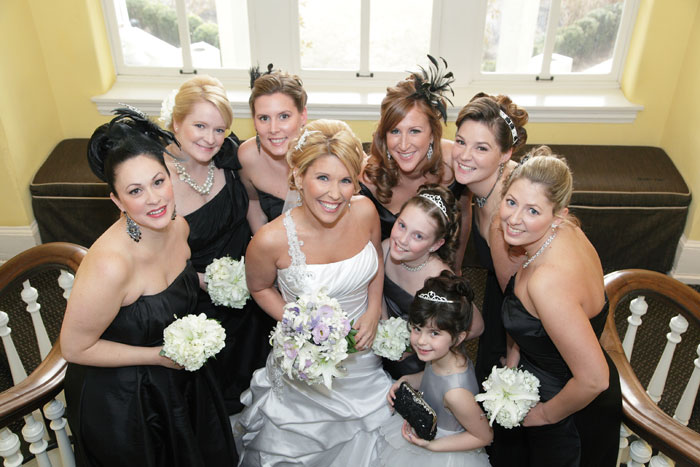 While many summertime brides have a difficult time securing vendors that might have been their top choice due to them having been booked prior, we practically had the pick of the litter, and secured tremendous bargains on the packages, too! Iovino Videography, out of Williamstown, and DiNardo Brothers Entertainment, based in Washington Township, were both able to provide very personal service during the planning process, and An Enchanting Florist, in Tuckahoe, designed a while, silver, and lavender gray palate that matched both the season and our antique inspiration. Our photographer, J Elberson Photo, from Collingswood, included our engagement sitting and my bridal portrait free of charge. Our stationary suite was able to be completely custom-made by Abbey Malcolm Letterpress and Design in West Deptford, and included totally original Save-the-Dates, invitations, menu cards, programs, place cards, table numbers made from wine bottles, and our seating chart, all at costs well below average. We were even able to name our price with some of the miscellaneous accessories we'd wanted for the reception, like streamers and matchbooks. One other vendor even mistakenly quoted us a wholesale, rather than retail, cost, and honored it due to the time of year! (We were told we'd have never gotten so lucky in June or September.) Shrewsbury String Quartet, out of Riverton, even allowed us to hire them as a trio in order to stay within our budget.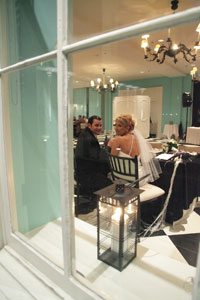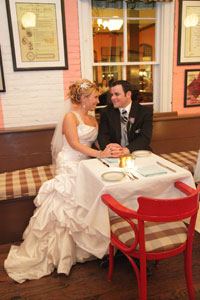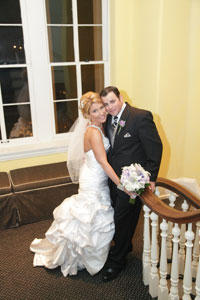 The Cape May Winery was also extremely accommodating, working with us to pick our favors, Victorian Blush splits with custom labels. We loved showing off New Jersey wine to our out of state guests…better than Napa!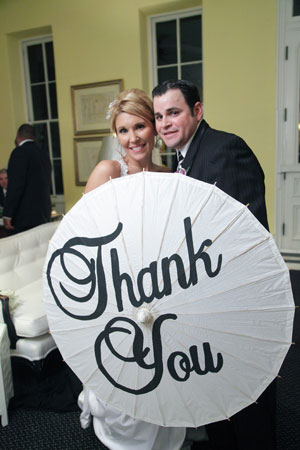 Marrying at the hotel also offered us tremendous freedom in our non-to-multi-denominational ceremony. It was important to us that the focus wasn't all on the reception, and that our wedding have meaning: Cape May City Mayor Emeritus Jerome Inderwies worked closely with us to tailor a service that was at once beautiful, touching, and completely personal, incorporating many different beliefs and traditions into a meaningful service that was entirely our own. Many of our guests commented that our service was one of the most unforgettable they'd ever witnessed.
We, along with our guests, received such personal attention while at Congress Hall. Their service, from the housekeepers to the bartenders to servers to coordinators, was all exemplary. Wedding planner Daniella even chased me as I was getting into the car to make sure we got the top of our wedding cake before heading home, which I'd almost forgotten!
We're certain that we would have never been able to have such an amazing wedding any other time of year at any other location. Cape May provided us with memories that will last a lifetime, and we're exceedingly grateful to have been able to share it with our loved ones on our most important day!
Are we allowed to do it again next year??
– Aimee, married January 22, 2011 at Congress Hall