"Shallots are for babies; onions are for men; garlic is for heroes"

– Anonymous
The same botanical family that gives us the Lily-of-the-field also provides us with onions, leeks, chives, garlic, shallots, ramps and scallions. Onions are one of the most ancient of cultivated vegetables. Prized for their durability after harvesting, the onion became a staple in most every culture. In Pharaoh's Egypt many vegetables were venerated with artwork, only the onion was cast in gold. The Bible tells of the Israelites longing for the onions, leeks and garlic of Egypt while wandering the Sinai desert. I would lament too, if these pungent lilies were forced in exodus from my kitchen. The Romans disliked the pungency of garlic, but fed it to their legions because they believed its power would make the soldiers courageous or maybe the odor would cause the enemy to flee. The medicinal properties of the onion family were also prized in ancient times. Modern medicine has validated that notion touting onions for their valuable antioxidants. Chefs of yesterday and today esteem the fragrant bulbs for the diversity and complexity they add to dishes.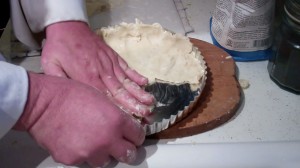 The onion rarely stands alone on the plate. Rather, its flavor and texture enhances the food it accompanies. The different types of onions have their own unique flavor profiles, from pungent Spanish onions to sweet Vidalias. The onion brings joy to my palate. However, it often brings my students to tears. The culprit is a gas released when the onion membrane is ruptured. This gas wafts up to the eyes and combines with the water in our tear ducts to form sulfuric acid causing burning and tearing. Over the years, I have heard numerous remedies to minimize the caustic effect of onions. From chewing bread, refrigerating the onions before slicing, or running water over the onions while slicing, none of these methods work effectively. The best weapons against a noxious onion are a sharp knife and fast slicing. This reduces tearing of the membrane, limiting the amount of gas released and the amount of time your tear ducts are exposed to the fumes. Cooking dissipates the fumes, so put them on the stove as quickly as possible.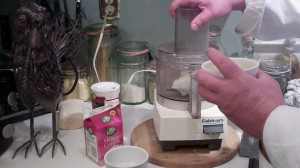 Caramelizing onions brings out their best flavor. To julienne the onion, slice it with a sharp knife, lengthwise from root to stem. This step is important to make melt-in-your-mouth caramelized onions. Place onions in a thick-bottomed sauté pan with a little bit of olive oil. Turn the heat on very low and cook very slowly. Do not stir. Do not salt until the end. Both of these actions inhibit the browning process. Once the browning process begins, stir gently with a wooden spoon so the onions caramelize evenly. This laborious process is worth the time and effort. The sugar-rich onion is transformed from its pungent raw state to a sweet, golden brown richness that enhances everything from liver, steaks, soups and tarts. Onion soup achieves its full-flavored glory from slowly caramelized onions.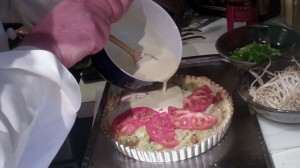 Leeks are another member of the Lily family that has been valued by epicureans for centuries. The leek even emblazoned the crest of the Bourbon family, rulers of food-centric France. When working with leeks, usually only the light-colored bulb portion is used. This bulb grows below ground so wash carefully to remove all the dirt. Leeks, unlike onions, are always cooked, sweated to be exact. Slowly cooked in butter, leeks are never browned, until they melt apart. Leeks add a complexity to soups, stews and braises. Potato and onion soup does not match the intensity of potato-leek soup. Leeks, tomatoes and goat cheese form a triumvirate of flavors that, when served in a savory tart, can stand as a light entrée or tantalizing first course.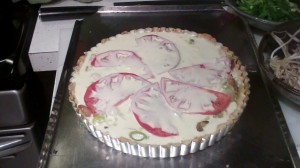 Two other members of the Lily family that are esteemed among chefs, but fairly unknown to non-foodies, are shallots and ramps. While shallots have a definite French accent, ramps are definitively American. Ramps are a wild onion that looks like a cross-between a scallion and a leek. The Native American tribe the Illini, called the variety that grew wild along the shores of Lake Michigan Chicagou, giving the settlement there its name. Ramps grow wild from the Appalachians to Canada from late winter to early spring. Served whole and lightly braised, the humble mountain-folk food is prized among chefs and gourmands. Shallots have gained popularity in recent years in American cooking. Having a distinct flavor that is more subtle and less pungent than garlic makes shallots versatile. They can be used raw in vinaigrettes, cooked in butter sauces or with subtly flavored proteins like chicken, fish or veal. Use shallots where the flavor of garlic will overpower the food or your dining companions.
I will leave the heroic garlic for another column. This month, bring the lilies from the field and into your kitchen with these recipes. Apple-Onion Soup with Fontina Crostini, Tomato Leek and Goat Cheese Tart, and Sherry Shallot Vinaigrette for spinach salad. These three dishes can combine to make one delightful dinner. Until next month, Bon Appétit.
Apple-Onion Soup with Fontina Crostini
Ingredients
5

large white onions

julienned

3

Granny Smith apples

peeled, cored and medium diced

3

Gala apples

peeled, cored and medium diced

4

ounces

butter

3

tablespoons

fresh thyme

1

cup

Madeira

Salt and black pepper to taste

2

quarts

beef broth

2

quarts

chicken broth

1

baguette

sliced and toasted

8

ounces

fontina cheese

shredded
Instructions
In Dutch oven, melt butter and caramelize onions.

When medium brown, add apples and half of thyme. Cook for 10 minutes until apples are soft.

Deglaze with Madeira.

Add stock, seasoning, and simmer for 45 minutes.

To finish, add remaining thyme. Pour soup into crocks.

Top with toasted baguette and liberally top with cheese. Brown cheese under broiler.

Serve immediately.
Shallot-Sherry Vinaigrette Dressing for Spinach Salad
Ingredients
2

shallots

minced

4

tablespoons

sherry vinegar

⅓

cup

olive oil

1

teaspoon

honey

1

teaspoon

fresh tarragon

2

teaspoon

Dijon mustard

Spinach salad
Instructions
In a stainless steel bowl, add shallots, vinegar, honey, mustard and tarragon.

Whisk well.

Add oil slowly.

Season with salt and pepper.

Serve with spinach salad.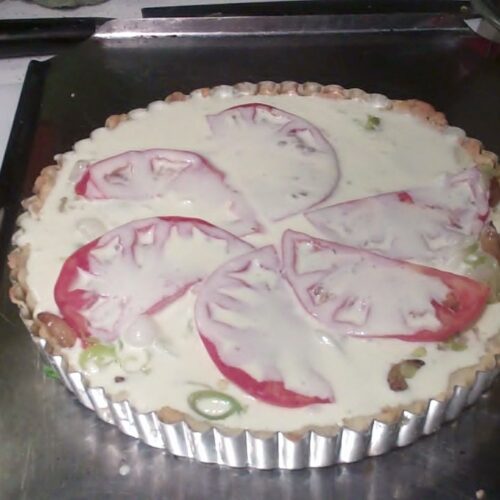 Goat Cheese Leek and Tomato Tarts
Ingredients
Dough
1

ounce

drunken goat cheese

shredded

1

cup

flour

3

tablespoons

lard

3

tablespoons

butter

Pinch

salt

Ice cubes
Filling
2

pounds

leeks

white part only. Slice in half lengthwise. Clean well, then cut into half moons

2

tablespoons

butter

6

ounces

Chevre goat cheese

1

cup

heavy cream

4

eggs

3

tomatoes

sliced

Salt and pepper

2

teaspoons

fresh thyme
Instructions
Make the dough. Place 1 cup flour in food processor. Pulse in 1 ounce drunken goat cheese. Add cold lard and 3 tbsp butter. Pulse quickly on and off. Add salt. Add ice, a few cubes at a time until dough comes together. Wrap in plastic and chill 30 minutes.

To make the filling, melt butter in a sauté pan. Add leaks. Sweat on low heat until soft. Do not brown. Season with salt and pepper. Remove from heat cool.

In mixing bowl, add eggs, 6oz goat cheese, and cream. Whip until smooth. Season. Add herbs.

Roll out dough until ¼-inch thick and line in fluted tart pan. Prick shell lightly with fork. Bake for 25 minutes in 350° oven.

Cool slightly then spread leeks evenly over crust. Top artfully with tomato slices and pour cheese mixture over top. Bake at 350°. Bake for 30 minutes. Let rest 10 minutes before slicing.
Video