I have always had an internal conflict about vegetables and their role in the grand scheme of cuisine. I know vegetables are good for you, yet somehow the idea of a meal without meat seems like culinary heresy. "Fat is flavor" is one of my most cherished culinary doctrines. Constructing whole meals around fruits and vegetables doesn't seem worth the effort. I am not ready, nor willing to traverse to the dark side and totally abstain from tasty animal flesh. My foray into flora should not be construed as fleeing fauna. This is more of a realization that has come with age that adding fried onions and mushrooms to your cheesesteak does not constitute eating more vegetables. Most of us consume more meat than we probably need in order to survive. The vision most people have of a vegetarian meal is a plate of crunchy brown rice topped with steamed vegetables. This menu motif is a relic from the flower power era. In the 21st century we have a larger variety of vegetables and non-meat food products available that can be utilized to create exciting cuisine. The following are a confirmed carnivores guidelines for enticing meatless meals.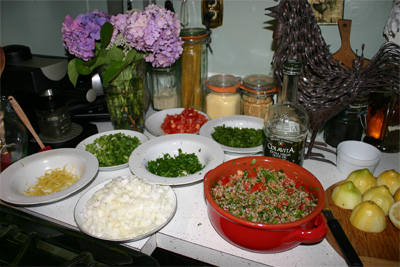 If the goal is to abstain from meat for health purposes, don't torture your family or yourself with faux meat products. Tofurkey, soy bacon and tofu dogs are for the hardcore vegans, for the novice it is just a reminder that you are being deprived of meat. In the Persnickety church of reformed vegetarianism, the main tenet is no meat. So, if you use a little butter or cheese, you will not be excommunicated. Switching dietary regimens cold turkey may result with you ending up in the bad part of town at two in the morning, face down in an alley surrounded by Big Mac wrappers and special sauce smeared on your clothes. To avoid this, the goal is to create flavorful meatless meals. Roasting and grilling are two techniques that will bring out the most flavors to vegetables while retaining much of their nutritional value. Conversely, steaming preserves more nutritional value, but adds no flavor. When grilling vegetables, a light marinade will help provide maximum flavor. Olive oil, citrus juices and fresh herbs will provide some zestiness to your grilled-garden fare. Balsamic vinegar, sesame oil and soy sauce also make good marinade components. Avoid fresh garlic as it tends to burn and turn bitter, roasted garlic added to the marinade will alleviate that particular culinary debacle. A plate of grilled produce may entice rabbits and the ashram-Birkenstock loving crowd, but will cause revolutionary upheaval in most households. To further enhance the meal, garnishing with a t-bone steak is not an option. Instead, serve with mashed chickpeas, some grilled pita bread with Greek yogurt, flavored with dill and lemon.
The family of foods we refer to as legumes – beans and peas – will help replace some of the protein lost by going meatless. Lentils, chickpeas and black beans are flavorful legumes that will also help fill you up. Lentils can be cooked as a hearty ragout or chili, as a soup, or even a main dish. Curries and peppers will add robust flavors that will please the palate. Combine lentils with hazelnuts, and an egg as a binder, and you have a vegetarian patty you can top with lettuce and tomato on a bun. This is a meatless sandwich fit for a king. Legume patties are not new to the culinary landscape. Falafel is the original Mediterranean veggie junk food.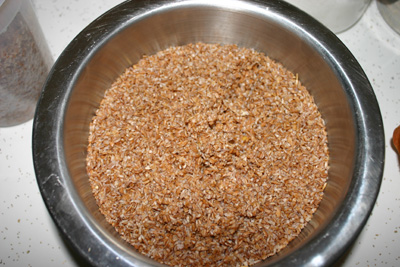 Black beans can be utilized in a similar manner. Spice with cilantro, cumin, roasted green chiles and jalapeños for a southwestern flair.
Pasta and rice are two additional ways to add substance to your vegetarian menus. I personally abhor brown rice even though it is healthier for you. I cannot get past the texture. Wild rice has similar benefits with better flavor and texture. Basmati rice is a fragrant rice from the Himalayan mountains and has long been a staple of that region's mostly vegetarian cuisine.
Pasta has always been the restaurant chef's vegetarian culinary crutch. I have even seen chef's strain the meat sauce to make the dish "vegan" friendly. Choose good quality pasta made from durum semolina flour. There are also many whole wheat pastas available. I find most of the whole wheat pastas to have a taste which I haven't acquired a palate for just yet. Hearty greens, like mustard or Swiss chard provides a strong flavor contrast to the neutral taste of pasta. Pine nuts, pecans, walnuts and pistachios add protein and richness to many pasta dishes. When using olive oil-based sauces, add a little bit of the water that the pasta was cooked in to add more depth to your sauce.
The following recipes are a creative and innovative way to incorporate healthier options into our meat-centric meals. Enjoy the recipe for Horchata, an almond milk drink. Penne Pasta with Swiss Chard and Pine Nuts, Lentil Patties, Falafel and Tabbouleh.
Remember, in the kitchen of reformed vegetarianism, rigid rules are forbidden and all food products are welcome, except meat. Until next month, Bon Appétit.
Horchata – Almond Milk
Ingredients
2

cups

blanched whole almonds

4

cups

boiling water

1

cinnamon stick

⅔

cup

sugar to taste

4

cups

ice

plus ice in glasses

Lime zest for garnish
Instructions
Combine all ingredients except ice and lime zest. Steep 5-10 minutes. Blend 3 minutes. Add ice. Blend. Strain through cheese cloth. Discard solids. Serve over ice.
Penne Pasta with Swiss Chard and Pine Nuts
Ingredients
2

cups

penne pasta cooked al dente

1

tablespoon

garlic

1

cup

pine nuts

toasted

Olive oil

Locatelli cheese

1

bunch Swiss chard

stemmed and torn in squares

Crushed red pepper flakes

Black pepper

salt to taste

Reserved cooking water from pasta
Instructions
As pasta is cooking, heat sauté pan. Add oil. Heat. Add garlic. Lightly toast. Add Swiss chard, pine nuts, cheese, red pepper flakes. Toss in pasta. Add more olive oil and a little water. Adjust seasoning. Serve.
Hazelnut Lentil Patties
Ingredients
3

cups

dried lentils

cooked

1

cup

uncooked oats

1

onion

chopped

3

tablespoons

parsley

1

cup

chopped toasted hazelnuts

3

eggs

Salt and pepper

Fresh thyme

Basil
Instructions
Mix all ingredients press into patties pan fry 3-5 minutes per side or bake at 350 for 10-12 minutes. Garnish with lettuce and tomato.
Falafel
Ingredients
2

cups

chickpeas drained

1

onion

diced

5

cloves

garlic

chopped

1

tablespoon

chopped parsley

2

teaspoons

coriander

2

teaspoons

cumin

Salt to taste

2

tablespoons

flour
Instructions
Simmer chickpeas in fresh water for 1 hour. Drain. Cool fifteen minutes. Add remaining ingredients. Mash until thick paste. Form into balls. Fry in 350 degree oil for 5-7 minutes.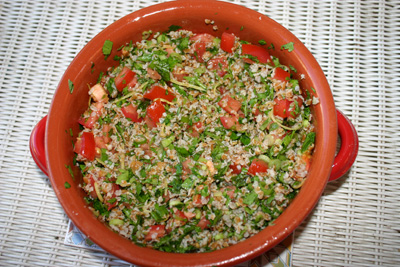 Tabbouleh
Ingredients
2

cups

boiling water

1

cup

bulghur wheat

1½

cups

lemon juice and zest of 2 lemons

2

teaspoons

cinnamon

1

tablespoon

salt

1

cup

olive oil

2

chopped tomatoes

3

onions finely chopped

2

bunches chopped parsley

1

bunch chopped mint
Instructions
Add wheat to water. Steep, off heat, for 20 minutes. Scrape steeped bulgur wheat into bowl. Mix with remaining ingredients. Adjust seasoning. Chill. Served cold.
Video