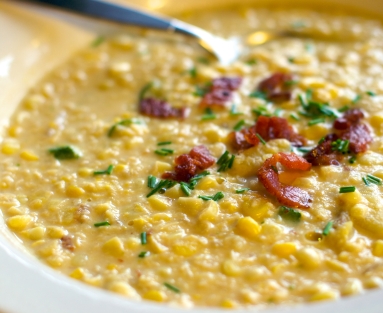 When the time comes to pull sweaters and winter clothes out of the closet, it is also the time to get back in the kitchen and cook. Fall foods are some of my favorites. Big bold and hearty flavors in the forms of stews, chowders, and braises reenter the kitchen after their summer hiatus. Of all the seasons to cook in, fall is my favorite. There is still a variety of fresh produce to work with and the cooler temperatures make it a pleasure to be in the kitchen.
Chowder may be my favorite type of fall soup. Rich and hearty, chowder can be enjoyed as a soup or a meal unto itself. What constitutes chowder is often debated. The strict interpretation of the word, as defined by puritanical New Englanders, is a thick shellfish stew that must contain dairy, potatoes and salt pork/bacon. Away from Harvard Yard, chowder is any thick soup containing potatoes. Corn chowder is a common variation that can also be made with or without shellfish.
Regardless of the ingredients, the technique for making a wicked good chowda' remains the same. When using a pork product such as bacon or salt pork, it must be rendered first. Rendering uses low heat to slowly melt the fat releasing all its rich flavors and it leaves behind the crunchy meat which adds texture to the final product. The rendered fat is then used to sweat the vegetables.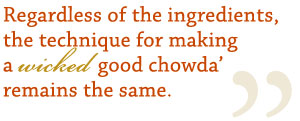 Sweating is the key step to developing the flavor of your chowder. Done over low to medium heat the purpose of this step is to soften the vegetables and extract the flavors melding them together. Adding salt during this phase aids in extracting the liquid from the vegetables as well as building flavor. The next step is adding flour to form the roux which will provide the chowder with its viscosity. Add enough flour to absorb all the fat, then cook the roux out over medium heat. Slowly add in the stock, whisking to ensure a smooth texture. The next step is to add the potatoes. Red, Yellow, Purple – skin on or off – are all personal decisions the cook gets to make to add their unique spin to the chowder. The one rule that must be followed is to cut the potatoes uniformly. This will allow them to cook evenly providing a palate-pleasing texture. When the potatoes are three-quarters cooked, add the clams (if making clam chowder) or other proteins that will toughen with prolonged cooking. When adding dairy, either milk or cream can be used depending on your diet or cost parameters. Cream is my personal preference because of its richer fuller flavor. It also provides a smoother texture to the chowder. That is chowder 101.
Following a basic blueprint in cooking allows the cook to experiment with the flavor profile of the product while being assured the basic structure of the dish remains sound. In making a new chowder, I might simply add roasted garlic to the base chowder recipe. This will result in a completely different flavor profile while the steps in making it remain the same.
In that same vein let's say you really enjoy clams casino. The basic clam chowder recipe can be enhanced by adding red and green pepper to the celery and onions while sweating. Adding garlic and oregano will further build the "casino" flavors into the soup. This approach to cooking allows for many variations within the same recipe structure. To take the casino idea to the next level, garnish with fresh bread crumbs toasted in olive oil and fresh herbs.
The best way to "create" new chowders is to take something familiar and build that concept into the base recipe. By adding sautéed, thinly-sliced beef mushrooms and onions and also incorporating provolone cheese, you now have Cheesesteak Chowda. Certainly heresy in Beantown, but if made well, it just might inspire Brotherly love at home. Not everything translates into a good soup. I worked with a sous chef that tried Rueben Chowder one day with disastrous results.
This month try some Chowda variations that will have your friends and family wondering when you became so creative in the kitchen. Apple-Bacon-Cheddar Corn Chowder and Clam Casino Chowder will hit the jackpot with your family. Until next month, Bon Appétit.
Clams Casino Chowder
Ingredients
2

dozen top neck clams

steamed in 2 quarts water, reserving the "liquor"

3

ribs celery

diced

2

green peppers

diced

2

red peppers

diced

4

shallots

diced

4

tablespoons

garlic

minced

⅓

cup

olive oil

plus more for the bread crumbs

1

onion

diced

3

tablespoons

fresh oregano

plus 1 tablespoon for garnish

4

tablespoons

Parmesan cheese

plus 1 tablespoon for garnish

12

strips bacon

diced

1

quart

clam liquor

½

cup

flour

3

Yukon Gold potatoes

small dice

1

pint

cream

1

cup

French bread

ground into bread crumbs

2

tbsp

parsley
Instructions
First, make the garnish. Toss French bread crumbs with olive oil, parsley, 1 tbsp Parmesan cheese, and 1 tbsp oregano. Toast at 350 degrees for 6 minutes. Cool and reserve for top of soup.

In large soup pot, heat oil and render bacon until crispy. Remove. Save for garnish.

In the remaining fat, sweat the shallots, garlic, onions, peppers, and celery until soft.

Add oregano then dust with flour.

Add clam liquor slowly to avoid lumping.

Add potatoes. Cook until tender.

Temper in cream. Bring to boil. Add Parmesan cheese.

Reduce heat. Add clams. Simmer 10 minutes.

Adjust seasoning to serve. Garnish with crispy bacon and garlic-herb bread crumbs.
Apple-Cheddar-Bacon Corn Chowder
Ingredients
12

strips thick cut bacon

1

onion

diced

4

ribs celery

4

ears roasted corn

scraped from cob

3

Fuji apples

diced

3

tablespoons

fresh thyme

2

quarts

chicken stock

1½

pints

cream

4

large potatoes

medium dice

2

cups

sharp cheddar

shredded

Salt pepper

3

ounces

butter

½

cup

flour
Instructions
In a soup pot, melt the butter. Add bacon and cook until starting to crisp.

Add celery and onions. Sweat them for five minutes.

Add thyme, then dust with flour. Whisk in the stock and bring to a boil.

Reduce to a simmer, and add the apples and potatoes. Simmer for 15 minutes, until tender.

Add the cream and return to a boil. Slowly whisk in the cheese.

Season and add the corn.

Serve garnished with fresh parsley and warm sourdough bread.