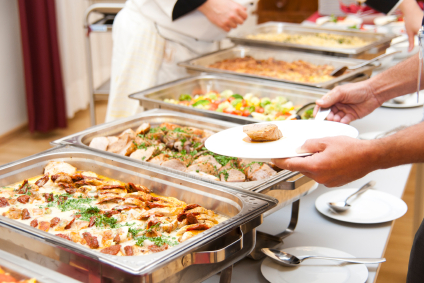 I didn't invent the concept of brunch, but I have warmly embraced the idea throughout my career. My gluttonous gourmand side gets excited at the thought of having two meals combined into one sitting. The grand Sunday brunch buffet was once the stalwart showcase of the upscale hotel. The standard hotel brunch featured items such as omelet stations with a multitude of fillings from which to choose; Belgian waffles oozing from cast-iron presses; oceans of jumbo shrimp surrounded by piles of freshly shucked clams and oysters. All attended by chef's in crisply pressed white tunics and towering toques. Glacial ice carvings and polished chrome-domed chafing dishes assaulted the eyes. Aromas emanated from beneath the polished domes and from steamship-sized roasts penetrating the nostrils, stimulating the appetite. Sadly, few hotels stage this kind of culinary carnival anymore.
While not containing the same pomp and fanfare, the home holiday brunch can still be a major sensory sensation. Brunch food can easily be prepared in quantity and in advance of the party.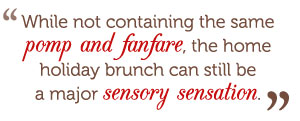 Eggs can be very time and temperature sensitive. Egg casseroles such as quiche and strata hold much better than their fried and scrambled counterparts. Both strata and quiche are baked custards that can be enhanced with a variety of savory accompaniments. Quiche is the classic French savory custard pie traditionally baked in a pie crust with gruyere cheese. This is just a starting point. What makes quiche a great brunch dish is its versatility as a component of the whole meal. Smoked salmon and crab quiches can add seafood to the meal in an inexpensive manner. The cheeses used can be varied as well. Try and utilize semi-firm meltable cheeses. Cheddar is too oily on its own. Fresh mozzarella is too watery and may prevent your custard from setting firmly. Goat cheese adds a bit of tang to the dish, as can feta cheese for a Greek-inspired quiche.
If you feel quiche is too light and dainty, then it is time to introduce you to strata. Strata is a savory meat lover's version of bread pudding. It is also a time saver for the home cook. Consisting of layers of sliced or diced leftover bread, layered with cheese and sausage and onions, then soaked over-night in a rich egg custard, strata is a hearty addition to the brunch menu. It then can be baked the next morning, cooking time is approximately 1 hour, then allowed to set prior to service. As with quiche, when making strata the basic custard formula never changes. For variety, use different types of breads, meats, cheeses and vegetables. When working with savory custards, blanching or sweating meats and vegetables first will prevent moisture from diluting your custard which would leave you with a soupy end product.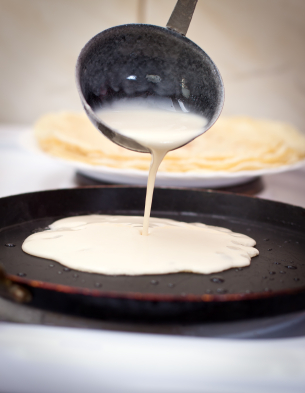 The French have also provided us with another brunch classic: the filled crepe. Crepes can be either sweet or savory. Apples and fresh berry-filled crepes can be topped with fresh whip cream for a sinful Sunday treat. For a truly decadent twist, fill your crepes with Bananas Foster and top with vanilla ice cream. Over the top for sure, but there are still a few months to swimsuit season so indulge yourself and your guests.
For savory crepes, add fresh herbs such as thyme, rosemary or dill to the crepe batter. Then fill with chicken a la reine or salmon in mustard cream sauce or even ham and cheese. Bake lightly. Another favorite from the French is Pain Anglaise, better known in the states as French Toast. Traditional French Toast, made at the last minute, can be cumbersome for the host trying to juggle cooking, while attending to their Mimosa-sipping guests. The Persnickety treatment gives this breakfast classic a time-saving makeover by telling you to stuff it. The bread that is. My current favorite twist is to smear one slice of bread with Nutella and the other slice with marshmallow fluff. Next, fold both halves together. Soak in your favorite French Toast batter. Roll in graham cracker crumbs. Finally, brown in a skillet. This dish can be done up to this step a day ahead of time. Reheat for 20 minutes prior to eating. Kids of all ages will enjoy these S'Mores even without the campfire.
No brunch is complete without potatoes. Rather than be the lonely side dish, make it central to your meal. Corned beef hash has gotten a bad rap thanks to the canned version which looks more like Fido's meal than a treat for your family. Made from scratch and topped with a poached egg, this American classic deserves a second chance at the brunch table. Hashes can also get the gourmet makeover treatment. Add roasted root vegetables to your favorite home fries recipe. Fold in leftover diced roast beef, salmon, chicken or even a can of crabmeat for a colorful and flavorful addition to the Holiday table. Herbs, caramelized onions and spinach can also be added to the home fries base to elevate the dish.
This Holiday season, recreate the classic brunch at home with some creative menu planning aided by some adult beverages you can make family and friends happy to be at your home for the Holidays. Have a safe and Merry Christmas and a Happy New Year, until next year Bon Appétit.
S'Mores French Toast
Ingredients
6

eggs

1

cup

milk

Vanilla extract

Nutmeg cinnamon

3

cups

graham cracker crumbs

¼

cup

sugar

8

slices

Texas toast

Nutella

Marshmallow fluff

Powdered sugar for serving
Instructions
In a bowl, whip eggs, milk, vanilla extract, and nutmeg until frothy.

In a separate bowl or shallow dish, combine the graham cracker crumbs and sugar.

Smear one slice of bread with Nutella and another slice with marshmallow fluff. Sandwich together, keeping the Nutella and fluff on the inside. Dip in the egg mixture, then crumbs.

Grease a skillet or griddle well and heat it to to 325 degrees. Cook the S'mores for 8 minutes on each side. Cut in half. Douse with powdered sugar.
Chicken a la Reine Crepes
Ingredients
4

chicken breasts

diced

4

eggs

2

cups

flour plus 5 tbsp flour

2

cups

mushrooms

quartered

1

red pepper medium

diced

2

green peppers

medium diced

1

onion

diced

2

shallots

minced

4

cloves

garlic

minced

4

tbsp

butter

3

tbsp

melted butter

¼

cup

sherry

1

cup

plus 1 1/2 cups milk

1

cup

cream

1

cup

water

2

tbsp

thyme

Salt and pepper
Instructions
First, make the crepe batter. In a blender, mix eggs, 1 1/2 cups milk, water, 2 cups flour, and 3 tbsp melted butter. Pulse for 10 seconds, then refrigerate for 1 hour.

In a sauce pan, melt 4 tbsp butter. Add diced chicken. Cook over medium heat until halfway cooked.

Add onions, shallots, and garlic. Sweat 3-5 minutes. Add thyme and mushrooms. Cook 5 more minutes and add peppers. Dust with 5 tbsp flour and stir until the flour is absorbed.

Deglaze with sherry. Add cream and milk, then simmer until very thick. Adjust seasonings. Cool.

Cook the crepes. [Editor's note: Cook in a lightly oiled frying pan over medium high heat. Recipes we've found recommend using about 1/4 cup batter. Be sure to tilt the pan and turn in a circular motion for even coverage. Crepes cook quickly. You'll only need 1-2 minutes per side. Loosen with a spatula and turn over to cook. Crepes should be served warm.]

Fold cooled chicken mixture into warm crepe shells and serve.
Notes
Persnickety Note: This is a universal crepe batter that can be tweaked to specific uses. For sweet crepes, add sugar or vanilla extract. Savory crepes can be enhanced by adding fresh herbs appropriate to the dish.
Salmon Hash with Easy Hollandaise
Ingredients
1

lb

cooked potatoes

medium dice

2

cups

spinach leaves

1

onion

diced

2

cups

salmon

cubed

Chopped scallion

¼

cup

parsley

chopped

4

egg yolks

2

lbs

hot melted butter

Juice 2 lemons

Salt

White pepper

Tabasco

Poached eggs
Instructions
In cast iron skillet or griddle, grease with a little oil. Sauté onions and peppers. Add potatoes and cook until crusty. Fold in trout, scallion and parsley. Season with salt, pepper and fresh thyme. Top with poached eggs and Hollandaise sauce.

To make the sauce, add the following to a food processor: egg yolks, hot butter, lemon juice, and salt, white pepper, and Tabasco to taste. Blend.

Plate the hash. Top with poached eggs and Hollandaise sauce.